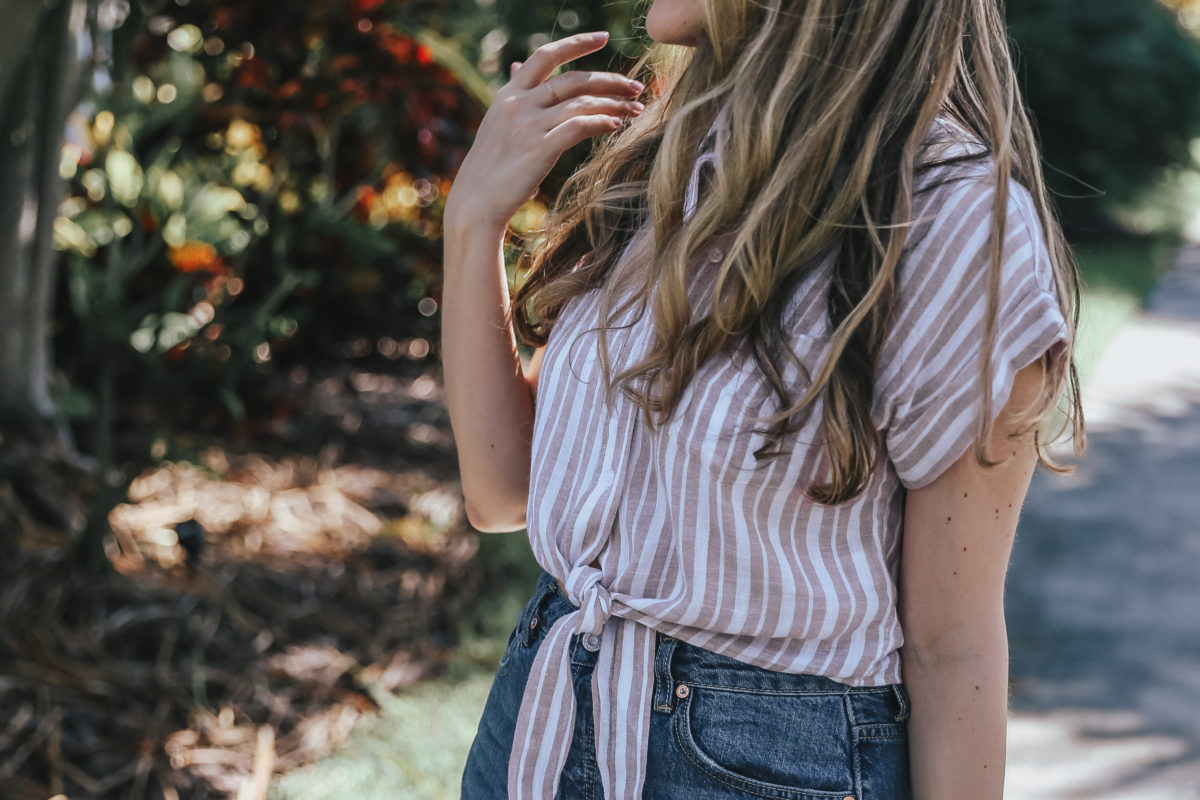 This post may contain affiliate links. Purchasing through them help support this website.
I distinctively remember when I moved in with Mark going through my closet with my mother.  I cleared out all my bodycon dresses (I still did try them on to make sure they still fit ;) a ton of shorts and all my denim skirts from college that I was hanging on to.  I debated keeping one or two classic ones that I thought would hold up to the test of time but it brought back too many memories of wearing them with tube tops and choker ribbon necklaces.  Now, I am kicking myself because denim skirts are totally back and here to stay.  I do like how they are a little more grown up this time around with a higher waist and longer length.
I picked up this one (rugged A-line denim) from Free People.  It has a button up entry, high waist, and a cinch in the back.  The length is definitely appropriate to wear with a wedge or a flat sandal.  I paired it with this crop linen top, on sale now half off and does not wrinkle! (I have been LOVING everything by Rails lately, find here on the discount) and these Greece sandals from Steven. They are super comfy but I recommend sizing up if you have a wider foot.  I'm usually a 9 but went with a 9.5.
Since it is still a million degrees in FL, the Karen Walker super duper strength sunnies are a great way to hide the sweaty face.  I even used my trusty Urban Decay setting spray but it was no match for the humidity.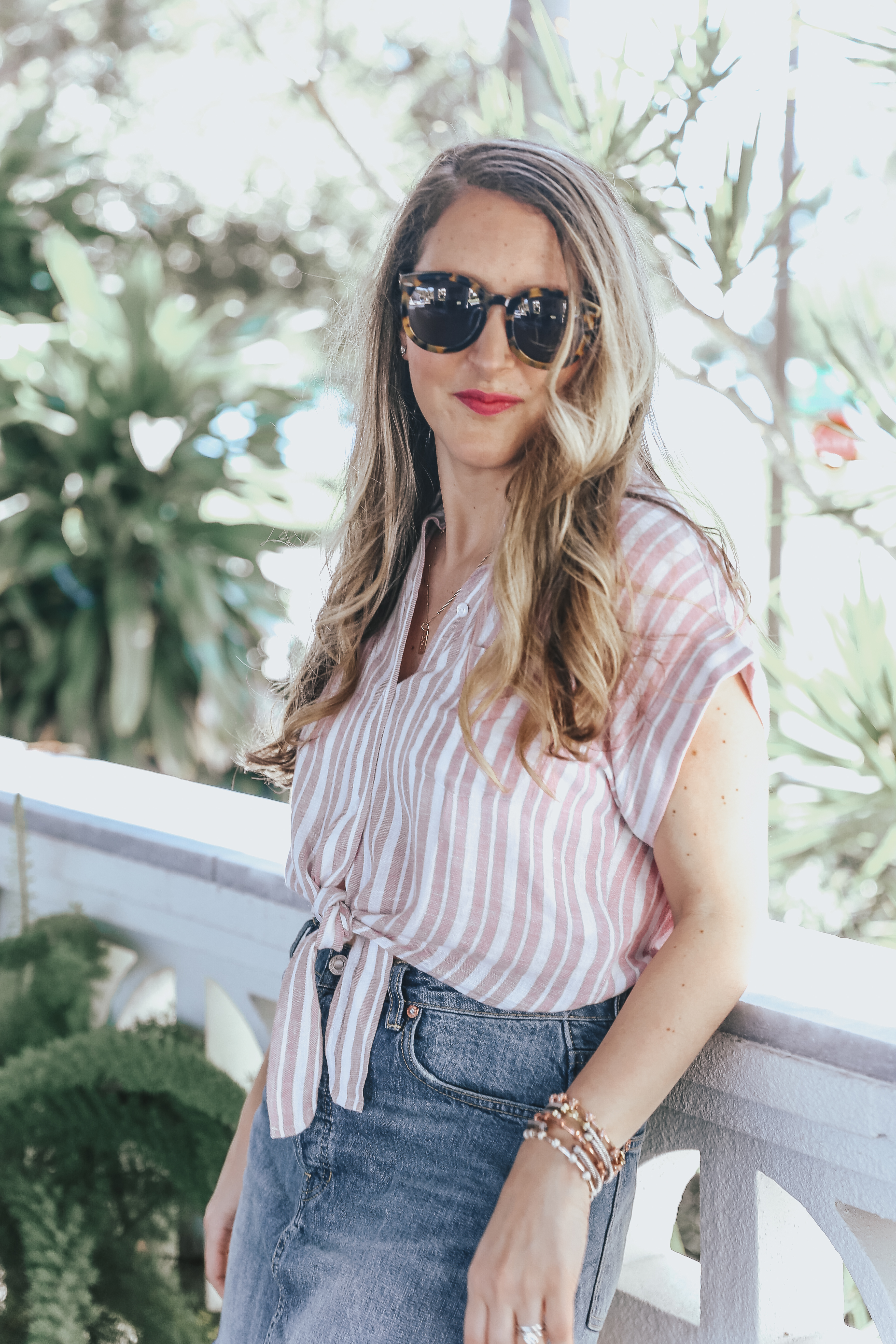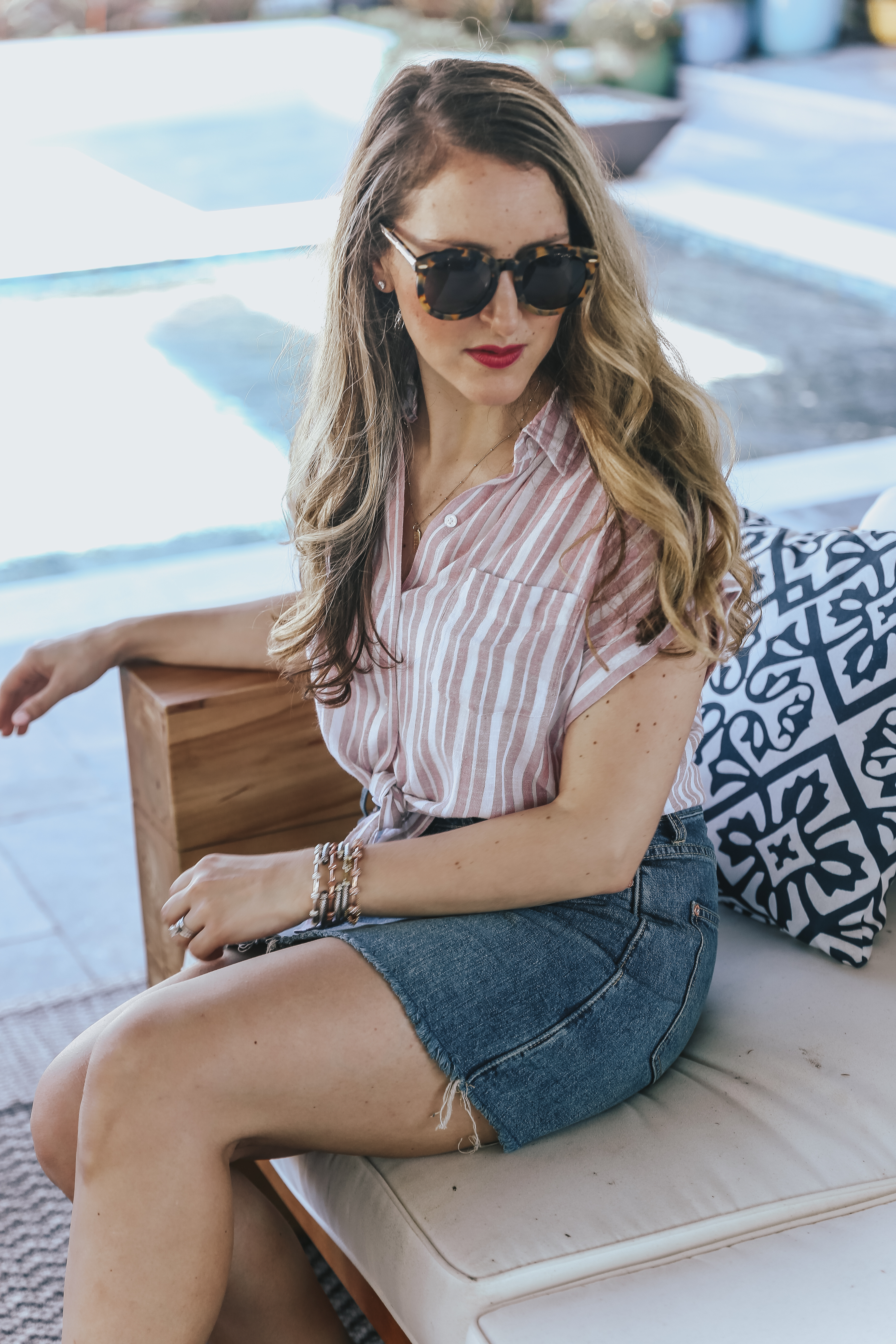 Free People high waisted denim skirt find here |||  Rails top on sale here |||  Steve Madden Greece sandals find here |||  Karen Walker sunglasses here (dupe under $25 here).
I wore this outfit for running around on Saturday for errands and stumbling upon the farmers market downtown.  Here are a few other skirts that have caught my eye.

I hope everyone had a nice long weekend!  My little one was sick so I've been playing catch up but I think he is on the other side of it finally.  Tell me what you scored during the holiday sales.
Follow on Bloglovin
Want first dibs on shopping and sales? Sign up here on Liketoknowit for direct links sent to you
Want my daily posts sent to your email inbox?!?!  Then click here and make it happen
Follow my looks along on Instagram
Pin along with me on Pinterest || Like Meet @ the Barre on Facebook
Reader Interactions