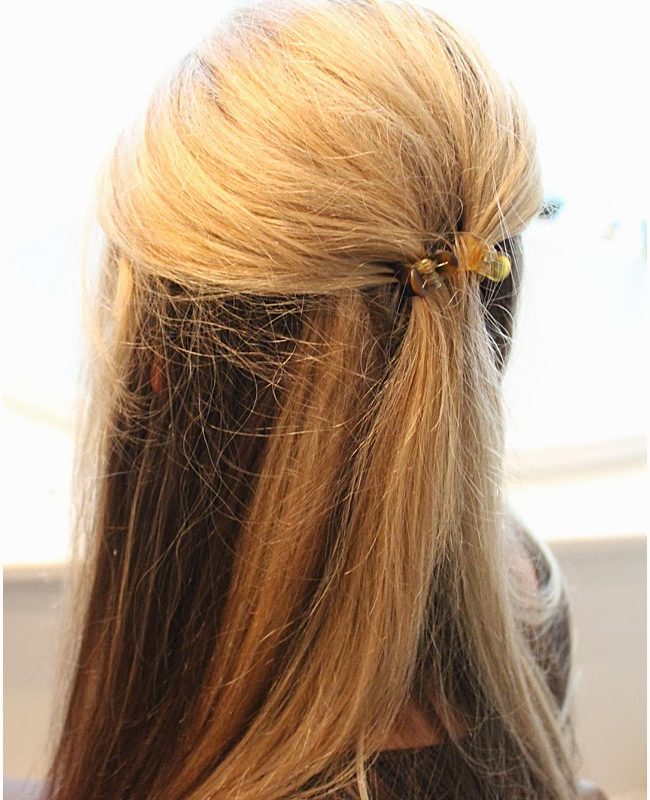 This post may contain affiliate links. Purchasing through them help support this website.
Happy Thursday so as promised in
this post here
is my review of my most favorite new hair product find.  I have a lot of hair but my actual stands of hair are very fine so creating a lot of volume at the roots is sometimes difficult for me.  I love
Redken Powder Grip Texturizing Hair Powder
 it gives a ton of volume but can dry out my hair and once you set it good luck trying to do anything else with it.  This is why I adore this product the Sam Villa iron.  The
Sam Villa Textur Texturizing Iron
.  It is a 1 inch iron that adds incredible volume.  It is the ideal product for creating updos, wedding hair, my favorite that "poof" when you do half up half down and you can texture the body of your hair prior to braiding it for a thicker braid.
Sam Villa Texturizing Iron
It has titanium coated plates which evenly conducts heat which means no "hot spots" that could burn your hair.  It is super light weight so your wrist doesn't hurt after using it for a longer period of time and it's not clunky.
Here is one of my favorite features.  It turns off automatically after 60 minutes for your safety.  I know all of you, me included have had that "oh shoot" moment where you are very far away from your house and you go "did I turn my hair iron off??????"  I mean how genius is that?
Three heat settings, low 375F for fine hair, color treated 392F and high 402F for non color treated hair. Make sure you use a heat protectant spray.  I used this one from Redken Colored Hair Heat Protection Spray.
Sam Villa is an award winning hairdresser and educator he was big in Redken (my favorite color and products!) The iron has a one year warranty and their customer service is impeccable.  I am really big when it comes to customer service, if you are going to give me a hassle I am not going to be a repeat customer.
You add the tiny texture pattern to your roots and brush it out and you get tons of volume without needing any hair powder.  For a night out I'll add a tiny bit of hairspray but daytime you don't need it.  Alright get ready for all the glory shot pictures and I also did a quick video at the end!  To help out all kind of visual learners.
What you need to do is section off your top layer of your hair clip it away and add the texture to the bottom layer.  Then you unclip the top layer and it falls over the textured roots essentially hiding all the tiny texture. Then your overall hair has tons of volume that lasts a long time.  I cannot honestly express how ground breaking this iron is for girls with fine hair like me!
See how the top part is clipped back so you can get right up to the roots on the sides and back.  When you are finished unclip and lay that hair back over.
Then take it to the other side.
See how it creates a tiny texture pattern right at your roots?
Then take it around to the crown of your head.
Then unclip your top layer and lay it over the textured layer and
 

voilà

 you have gorgeous volume without any hairspray or texture powder!  Big Hair Don't Care ;-)
Last one I promise!
So what do you guys think of this
Sam Villa
iron?  I love how much poof it gives me in the back.  The coupon code for all my Barre readers is wouldn't you know…. it's 
BARRE
 and they offer free shipping!  There is nothing that makes me happier then free shipping!  Let me know if you get it what your thoughts are!  I honestly feel like a broken record and can't say enough about how much I love this for all day volume!
Let me know what products you are loving or if you want me to do a review!  I also did a quick video…please don't laugh it is so hard to talk into a camera without feeling like a total dork but wanted to give you another visual tutorial!  xoxooxoxo
**All these opinions are my own I was not paid for this post just love this product!
Follow on Bloglovin
Want first dibs on shopping and sales? Sign up here on Liketoknowit for direct links sent to you
Want my daily posts sent to your email inbox?!?!  Then click here and make it happen
Follow my looks along on Instagram
Pin along with me on Pinterest || Like Meet @ the Barre on Facebook
Reader Interactions