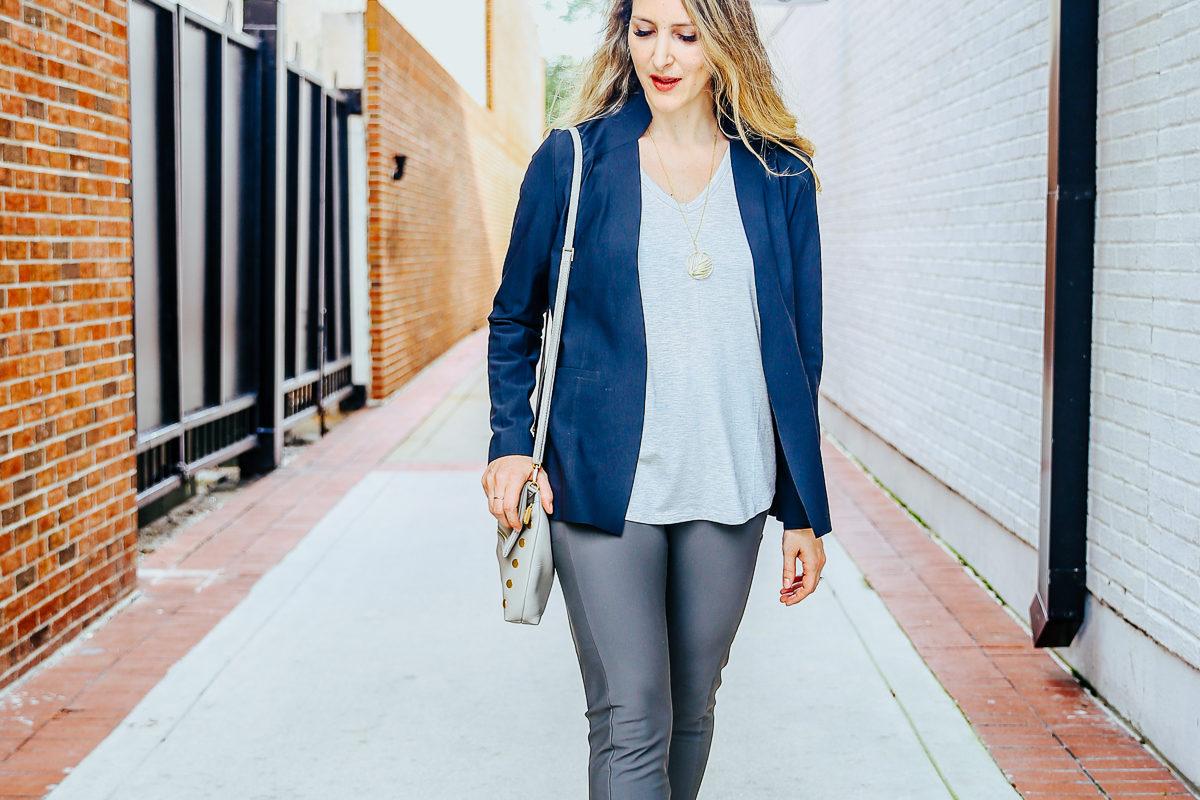 This post may contain affiliate links. Purchasing through them help support this website.
This post is sponsored by Athleta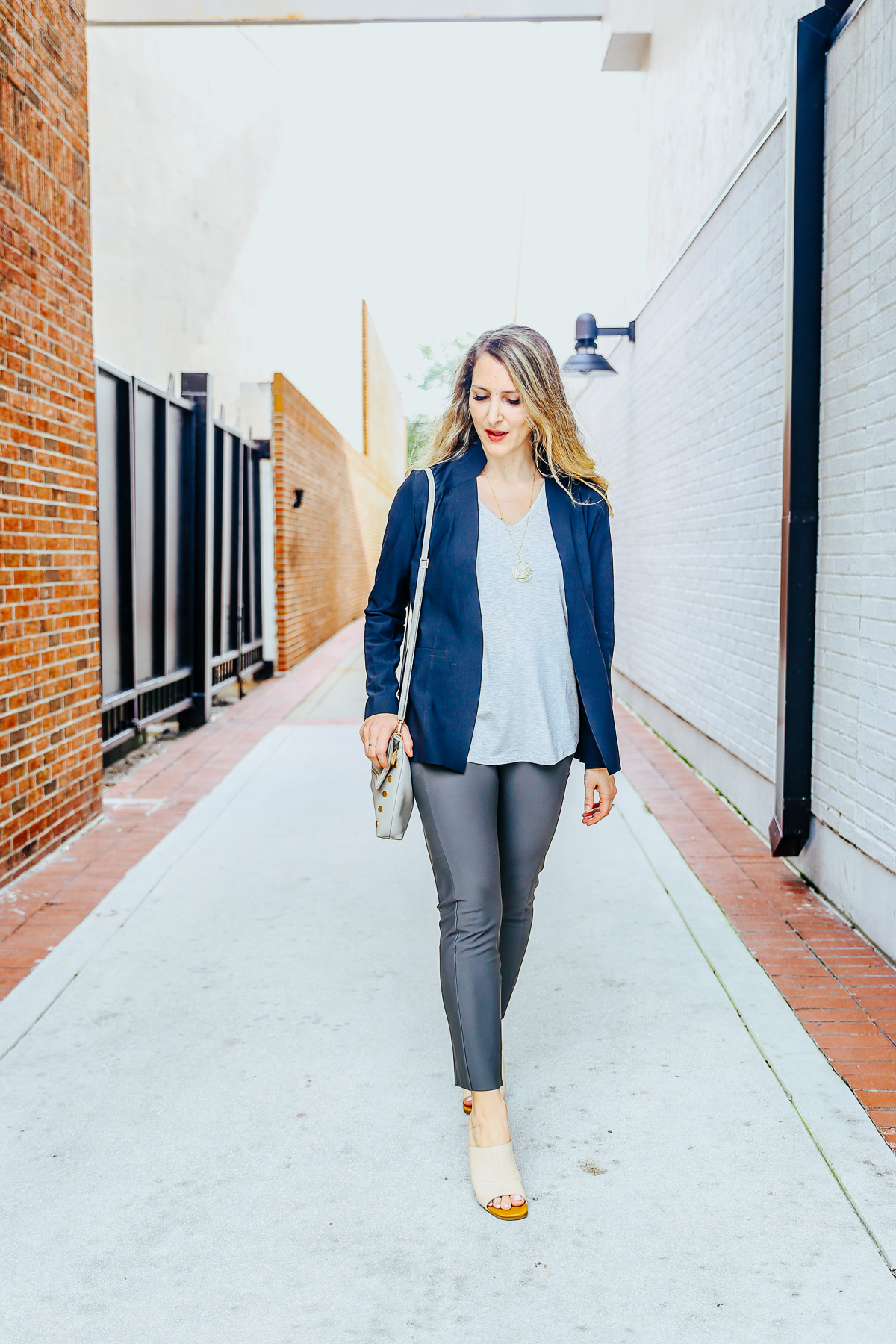 It's no secret that I keep myself very busy with all my daily commitments.  One of the things I've had to give myself a lot of grace with after having Patrick are my daily workouts.  I was really proud of myself during my pregnancy.  I pretty much hit 3-4 barre workouts a week plus at home routines with walks.  When I was on maternity leave I really tried to get at least 2-3 barre workouts done while he was napping.  Now, that I have a child who really isn't the best sleeper, workouts have been the first thing to take the back seat when the exhaustion sweeps over.  I feel like I get a great handle on his sleep and then something happens.  Currently, it's his top four teeth coming in mixed with a two-week long ear infection that had a reaction to amoxicillin and now we are at another 10-day course of antibiotics.  You really can't master anything with kids the first year.  Right when you think you've got something pretty well handled, they go and throw you a curve ball.
What I've been trying to do to at least try to and squeeze in daily activity is to engage in 5-10 minutes jaunts throughout the day.  For example, sometimes my kid decides he doesn't want to let me nurse sitting down anymore (because that would be too nice for his mommy) so I have to stand and pace with him.  Now, when I'm holding my 17 lbs baby, I stand in the second position and get outer thigh work done with plies.  I make sure to always take the stairs at work.  In the morning before I hop in the shower I do a two-minute plank.  We also try to have a family walk at least 3-4 times a week.  It's nowhere near where I used to be but at least it's an effort.
The other thing I started doing is trying to squeeze one of my workout "sessions" is to try and take 10-15 minutes during my work day to get my heart rate up.  I'll hold onto the side of my desk and do some barre leg moves.  Then I'll take the long stairs up and back from the cafeteria.  Or if the sun is not too blazing, I'll take a power walk outside.  The biggest obstacle to working out during the workday for me was always the fact I wear professional clothes to see patients.  I have found the perfect solution to this.  Athleta has come out with a "Workout in Your Workwear" line it and it the solution.  First of all these pants feel like you are wearing yoga pants but they are workwear appropriate.  They are dry wicking and sweat resistant.  Basically, even if you aren't working out they are such a great solution to the hot humid days.
This long sleeve relaxed shirt, I have been living in it!  It has a silky material that layers perfectly under this blazer.  I just took the blazer off, knotted up the top and you have a built-in workout top.  How fabulous is this blazer by the way?  I love that all the pieces are wrinkle free and so easy to take off a layer and be ready for your workout.  This sweater is a little much right now for the end of the Summer but I have a feeling I will be reaching for it a lot when it cools down.  It is incredibly soft and goes with everything.
I styled this look for work with a pair of wedges but I stuck a pair of sneakers in my bag to be able to squeeze in that quick workout.  I wore this look to work the other day and had so many coworkers inquire about this outfit.  The pants are seriously the winner in my book.  After having my kiddo, all I want to be is comfortable and this pair of pants is office appropriate but yet breathable and multifunctional.  Even though the price points on some of these are a splurge, I never feel bad dropping a little extra money on staple pieces that I know I'll get a good ROI on.  I have already worn this look too many times to count and I just picked it up a few weeks ago.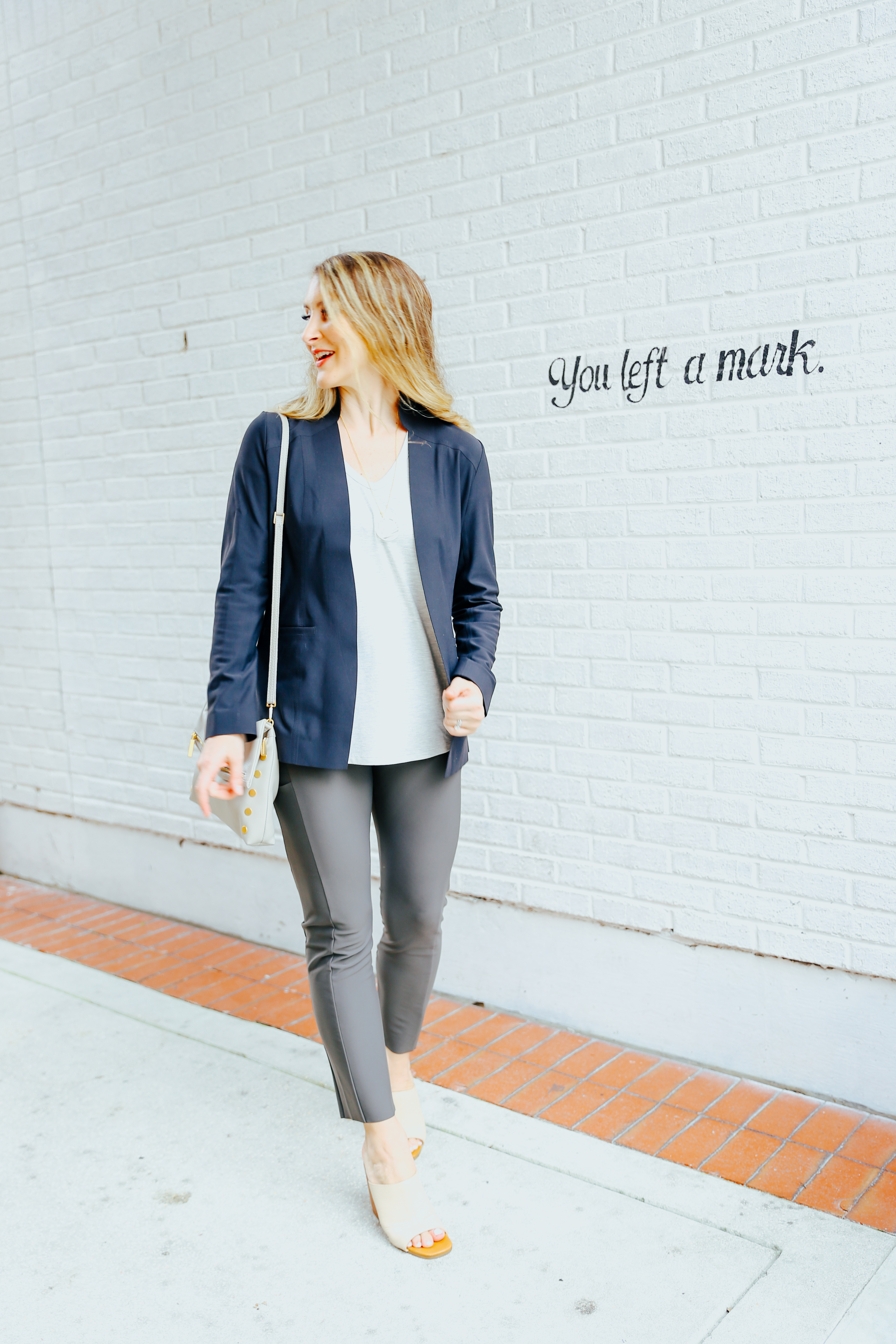 Shop this look!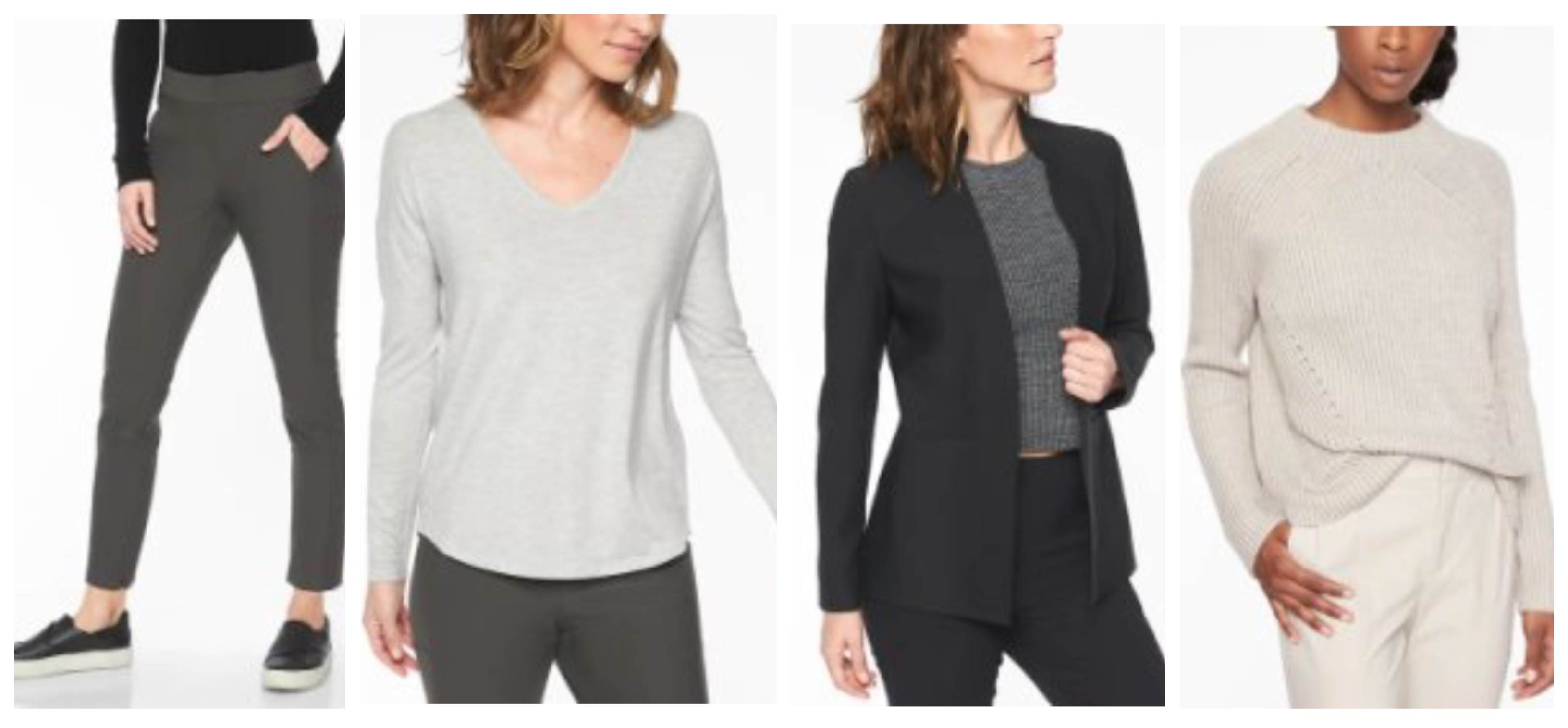 Did you know Athleta came out with this line?  Do you workout on your lunch break?  How do you squeeze in your workouts?  Tell me some of your mommy hacks for that whole work life, sleep, baby, fitness routine.  Thank you to Athleta for sponsoring this post and for you for supporting the brands that work with Meet at the Barre.
Follow on Bloglovin
Want first dibs on shopping and sales? Sign up here on Liketoknowit for direct links sent to you
Want my daily posts sent to your email inbox?!?!  Then click here and make it happen
Follow my looks along on Instagram
Pin along with me on Pinterest || Like Meet @ the Barre on Facebook
Reader Interactions