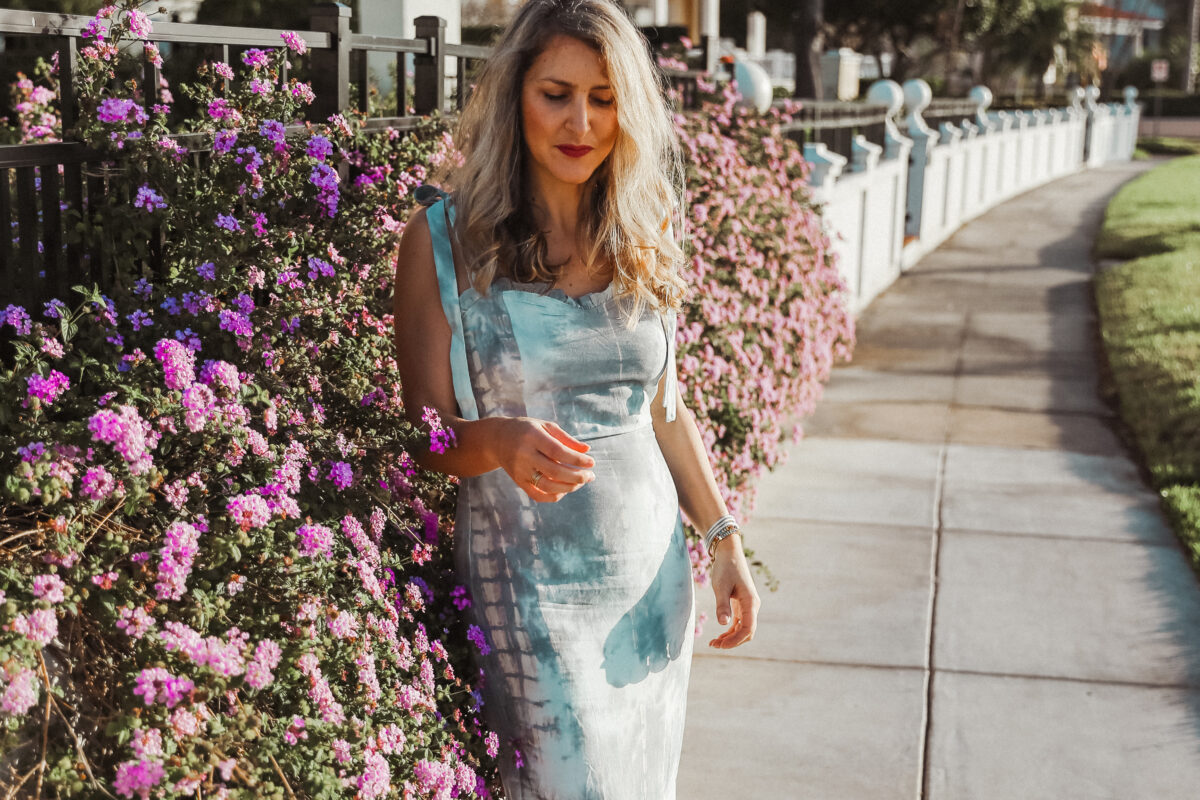 This post may contain affiliate links. Purchasing through them help support this website.
I have been blogging for over six years now.  Isn't that absolutely crazy?  When I am asked to classify my genre of blogging, I usually say lifestyle because it allows me to talk about whatever is going on with my life.  When I would read blogs back in the day most of the people I would follow wouldn't even live in the same state as me.  I just loved reading about their weekends, what they were currently shopping/eating, and favorite products.  It all was pretty "real" and you felt like you knew them without ever meeting them.  This past weekend I had a little bit of extra time so I was sharing a lot of my favorite products and clothes around the house.  I felt the need to let people know what I was talking about wasn't sponsored.  Isn't that a funny thing.  I have been at this for a long time folks.  I really don't believe Tula is that game-changing or those little caffeine bars are that filling.  When you see the same products circling around the most "influential" people of IG, it makes me suspicious.  I honestly have been getting back to the OG days of blogging where I just spill what's on my mind and move on.  If I happen to earn 10 cents on a random Target affiliate link from a post four years ago, hey that's cool thanks.  So I swear I am coming to a point.  Nowadays people don't really have that much time to research everything.  They turn to their trusted girlfriends or friends from blogging that they have never actually met in real life (like Lindsey) and ask them what they are really loving.  I follow a handful of people that when they tell me to buy something, I do, and 95% of the time I love it.  Then there are the people on IG that everything looks so adorable on them and then I get it and I'm like ughhhhhh this is meant for a 12-year-old Tik Tok teen and it immediately goes back.  So, I wanted to share with you a few of my recent "I've been influenced lately" and what I loved and what got shipped back.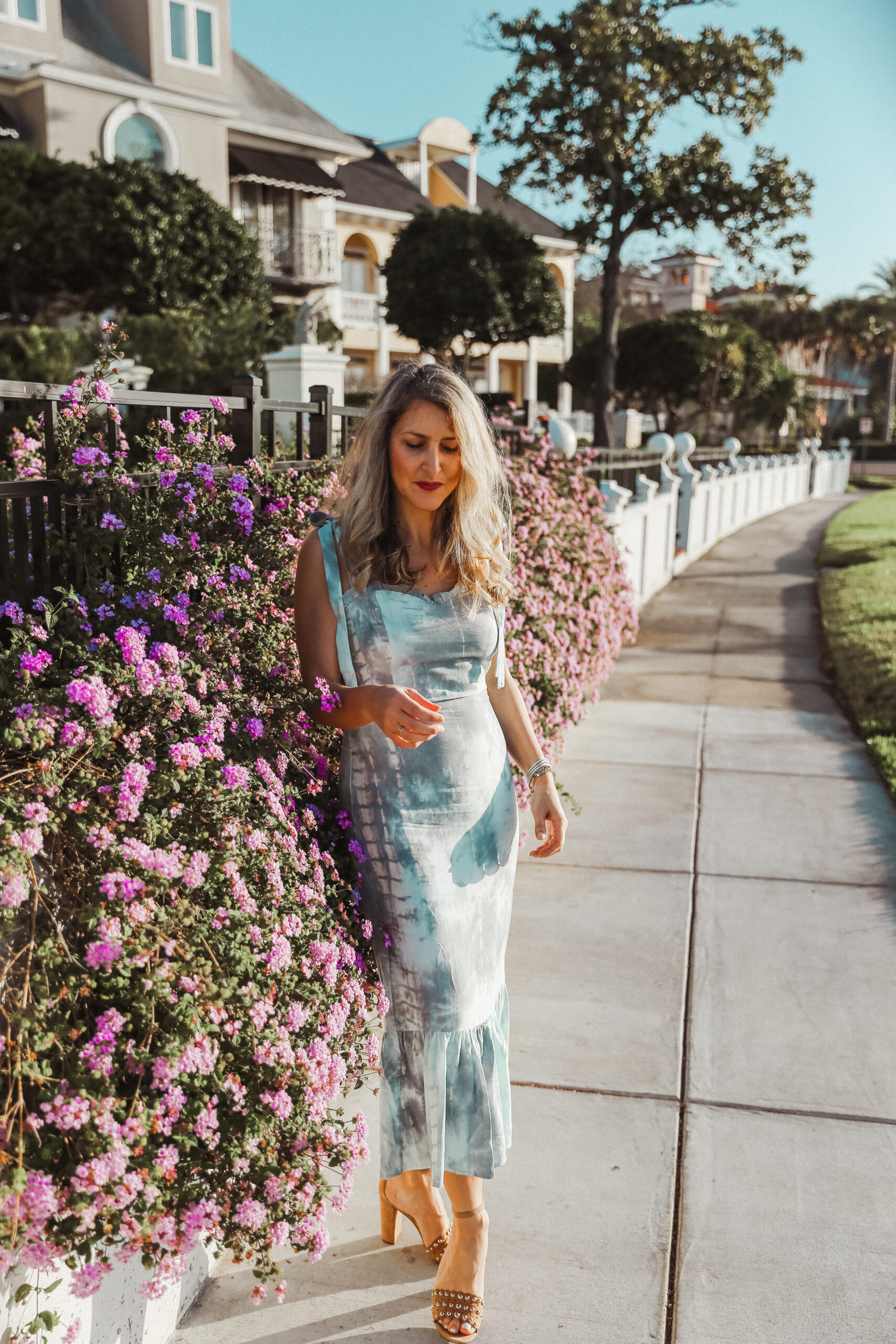 This tie dye dress I scooped up when I saw it on Rechal Roe, I love her style.  Sandals are old but similar here.
Things I Bought and Liked is a fan favorite for a reason.  She never accepts free products, she is a working mother, and I feel like she is a tiny bit high maintenance.  She will splurge on some things and coupon load up on others which I appreciate.  I have bought a handful of things from her recs and they are usually spot on.  One of her absolute favorites is this jewelry cleaner.  It is so good that I even paid for the shipping.  This little foam bottle has lasted me forever and it makes my ring and earrings look showroom sparkly.  She also introduced me to Kathleen Jennings Beauty and she has inspired me to start masking more.  I need to get my hands on these Pixi depuffing eye masks. I even ordered one of these chin slimming masks.  Can't wait to try it.
I was so sad when Ally stopped blogging because she was my go-to for all things clean products and healthy mommying.  I have literally bought more things than I can count from her but my recent favorite is this stain remover.  You can read the entire ingredient list, the bottle has lasted me months, and it's one of those spray it on and forget about it kind of products.  It even got a pen mark out of a silk shirt!  Ally is back to blogging and active on her Instagram as well, definitely check her out!
I was influenced by every single big blogger to get a pair of Golden Goose sneakers.  Y'all have you seen the price points on them?  You can get a pair of classic Louboutins for them.  I had to finally order them to see what all the hype was about.  They had to be so comfortable and not make your legs look like tree trunks while wearing shorts right?  They supposedly have some lift in the back heel to help.  Well, the three pairs I have tried over the past six months have all went back.  For one I am totally in between sizes and I haven't gotten a pair to ever fit.  Second, I just cannot justify the price point for them.  The last pair was the cutest by far but they were over $500 and really just not that comfortable.  They went back and I have never had SO MANY DMs on Insta with people telling me they just didn't get them either.  I actually found a pair of Veja sneaks (Lauren Kay Sims wears them all the time).  They are a much better price point and are pretty short wearing flattering.  They tend to sell out quickly so jump on your size if you see them.  I am a size 9 and went with a 39.
I was influenced to get this "Cartier dupe" bracelet and it looked so cheap.  I should know better than to get dupe anything jewelry from Amazon.
I did get this winter coat that everyone talks about from Amazon and it was super legit.  It is form-flattering, a great price point, and ridiculously warm.  I also love all the front pockets.  I didn't even bring a purse most days, just a small thing of wipes and an extra diaper for Patrick shoved in one of those many pockets.
I got "that hairdryer" that everyone swears will change your life.  I will say it does give a very nice blowout but it really doesn't have enough power for me.  I let my hair pretty much completely air dry and then just hit the ends with it.  Otherwise, I feel like it takes way too long to dry my hair.  For the price point, it is fine but I don't think it was literally life-changing.
I was influenced to get these Ray-Ban sunglasses because they looked so freaking cute on everyone else but they looked terrible on me.
There is a popular mom fashion blogger who literally has the cutest style.  I have come to realize that she is a perfect size 2 and everything looks amazing on her.  I have bought these shorts no lie four different times in various colors and always return them.  They are see-through, always wrinkled, and just never looked right on me.  I have now realized that I need to stay true to dressing for my body type.  I am not a petite and most things that have a Junior sizing esque to them are never going to translate well to me.
Abercrombie must be giving the big blogger's gift cards and they aren't disclosing it because I am seeing sooooooo many of their pieces popping up lately.  I just can't do it.  I spent too many days in High School in those fitting rooms and I just can't bring myself back to it.  Has anyone tried them lately?  How are the quality and sizing?  I feel like I'd have to order a size XL now in my post child have hips body.
Honest Darling has the most beautiful style and I totally ordered this necklace after I've seen her style so many things with it.
I love Little Blonde Books style.  She is an itty bitty thing but I love her styling looks.  I have these jeans in my cart and I think they may work on me.
Ashley influenced me to buy this hand cream and it's amazing.
Lindsay said this sweater was blanket soft and I've had it in my Amazon cart for a month now.  Definitely going to get it in the white.
I have been influenced about this Target bathing suit and my mind tells me it's going to be completely see through but I still ordered it.
Okay now that I am sharing some of my recent ways I've been influenced, let me share some of my recent favorites with you!
This Pixi moisturizer seriously makes my skin feel so hydrated.  I tend to have dry skin on my cheeks which makes my foundation not always go on flawlessly.  It is super affordable and really works.  I do sometimes pair it with this oil and I do believe it is worth the price point.
This spray on hair treatment seriously feels like a mini keratin treatment.  I notice a significant difference when I take the time to apply it and leave in.  Sometimes I'll spray it in, put a face mask on and paint my toes.  That way I really give it the time it deserves.
This brush is a splurge but honestly, I have never noticed such a difference with a hairbrush.  It gives volume, distributes shine, and detangles every little knot.  Wait till Shopbop has their next sitewide sale and got for it.
I love it when I can shop locally.  I picked up this lotion at my neighborhood farmers market and it is heavenly smelling.  It absorbs super easy and you can actually read the ingredient list.  I also picked up the lip balm and will be ordering this insect repeller lotion for Patrick.  He gets the craziest mosquito bites when we go for walks or at the playground.
This one is kind of a combo one.  I have seen Thredup from a ton of bloggers, I felt the need to check it out myself.  It is an online consignemnt store and honestly they have every single big brand name you can think of.  I searched by my favorite "big label" names and couldn't believe how many current pieces they had.  I took advantage of the new client signup where you can get up to 50% off your order.  I got a Veronica Beard silk top, a cashmere Brochu Walker sweater, a Parker dress, and Ganni top for all under $100.  Every piece looked brand new with tags off.  If you use my code I get $10 off and so do you.  You can also consign your clothes and use your own unique link for your friends as well.  I found the easiest way to search the site was by my favorite desginer and size.
Now a few fashion picks. This is my absolute favorite Winter top (on mega sale) that works with the warmer weather as well (I love tucking it into skirts).  This Sorel slippers are on sale and MZ Wallace seriously makes my favorite bags.  Happy shopping!
So there you have it.  How I've been influenced lately.  Tell me some of your favorite people that influence you and what you have loved lately!  Cheers to OG blogging right?
Follow on Bloglovin
Want first dibs on shopping and sales? Sign up here on Liketoknowit for direct links sent to you
Want my daily posts sent to your email inbox?!?!  Then click here and make it happen
Follow my looks along on Instagram
Pin along with me on Pinterest || Like Meet @ the Barre on Facebook
Reader Interactions