This post may contain affiliate links. Purchasing through them help support this website.
I am excited to share with you a beautiful Florida property review.  Even though my little one is a really good flier, we live in one of the most beautiful states and we really try to take advantage of drivable staycations.  My family had the pleasure of staying at the Pelican Grand Beach Resort and it was one of our most recent top stays.  This was our first time staying on Ft. Lauderdale beach and the resort did not disappoint. The property is situated right on the beach which is one of my requirements when traveling with a little one in the state of Florida.  Little boys have so much energy and I love how he can play in the sand while I can relax.  I also look for hotels that are high end but are still family friendly.  There is nothing worse than feeling uncomfortable with your kiddo in a stuffy non kid friendly resort.  There was so much for him to do between the beach, pools, games set up around the resort, and the lazy river.  This is a very family friendly place.  The Pelican Grand Beach Resort is one of the only hotels on Ft. Lauderdale beach that is actually situated right on the sand.  It was so relaxing opening up the balcony doors and hearing the calming ocean waves lull you to sleep.  Here is my full review of the Pelican Grand Beach Resort.
Review of the Pelican Grand Beach Resort 
Where it is Located
The Pelican Grand Beach Resort is located in Ft. Lauderdale right on the beach.  The hotel sits ocean front and the balconies of the rooms open up overlooking the beautiful Atlantic Ocean.  We usually stick to the West Coast of Florida but I was pleasantly surprised by how pretty the beach was on the other coast.  It was a little under a four hour drive from the Tampa area.  If you were flying in from out of state I would recommend flying into the Ft. Lauderdale airport.  We stayed on property the whole time but there were other restaurants and activities to partake in that were close by.  There was a water taxi that would bring you to waterfront restaurants or shopping.  There was also a very friendly concierge that would arrange activities for you.  We overhead him setting up an Everglades tour for another patron.  There is certainly plenty to do, see, and eat around the area if you feel like venturing off property.
The Rooms
I was really impressed with the rooms at the Pelican Grand Beach Resort.  The property has undergone massive renovations and the rooms are so on point.  They are extremely large especially if you have are bringing multiple children or even having an extra adult stay with you for another set of hands.  They have a beach vibe without being cliche.  Every attention to detail was paid from the full length mirror to the egg chair in the bedroom.  My favorite part of the Noble House Collection hotels are the signature bath products.  I really think the next time I am going to buy the products to take home with me.  These pictures are from a Seaside suite.
The Food
There was one restaurant on site that served breakfast, lunch, and dinner.  There was also a coffee/ice cream shop, a full bar with light bites, and poolside dining.  The resort is not massive so it was very easy to get reservations or poolside service.  Every night there was live entertainment that we were very impressed with.  I honestly feel like when we live in Florida and have access to such beautiful beachside resorts who needs the aggravation of flying to islands?  The food was very good.  The staff was excellent, genuinely friendly, and top notch service.  The breakfast was actually my favorite even though I will say we dined very early in the AM and it was already very toasty out.  We did stay in early June.  South Florida is hot.
The Beach & Pool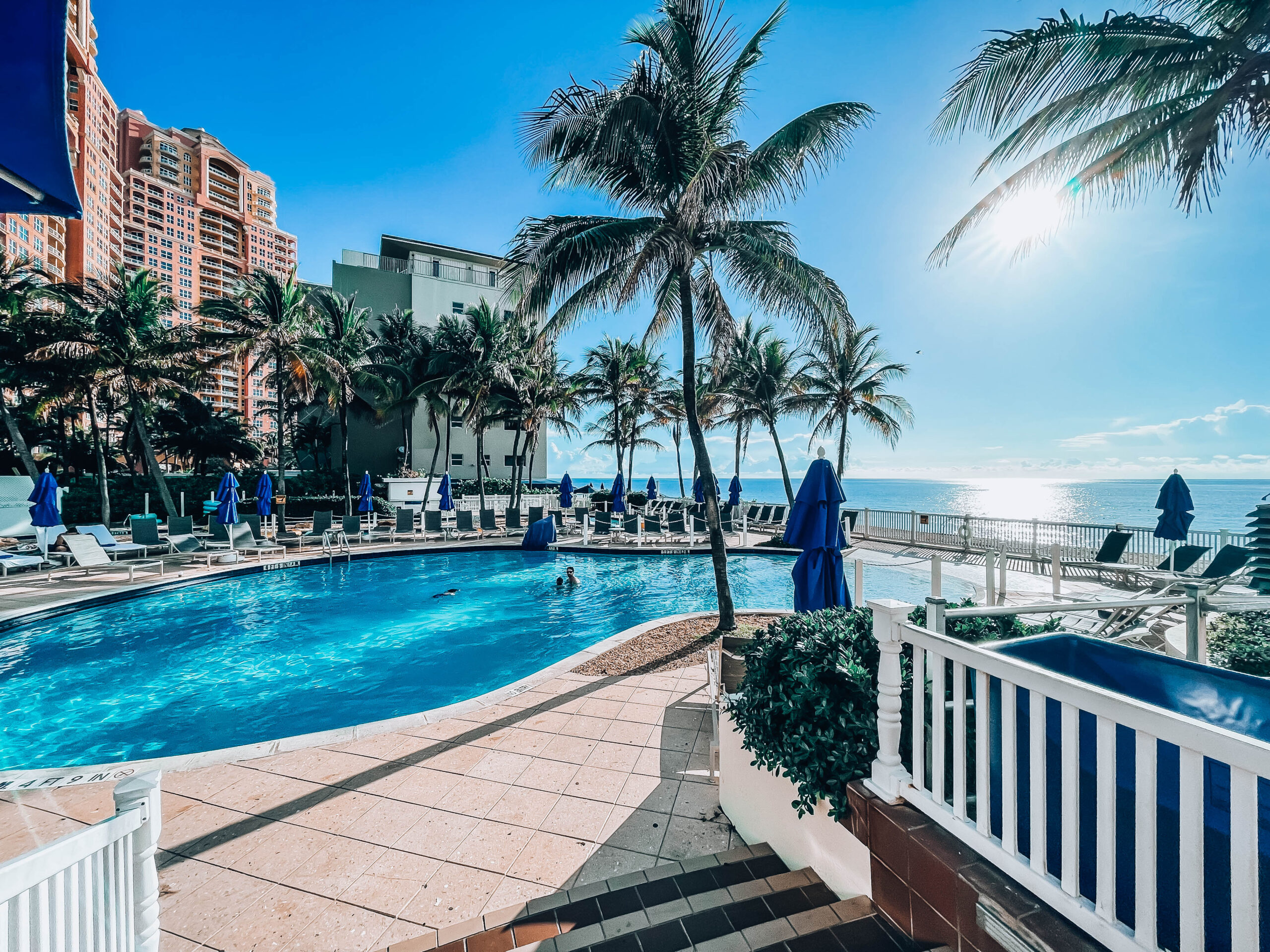 This resort opened right onto a 500 foot private beach.  It was so nice to lounge beach front with an oversized umbrella and relax while my little ones played in the sand. The resort staff was very accommodating to help set up your chairs and open umbrellas.  There was no beachside dining/drinks from what I could see but there was very quick service by the pool.  You could also pay for water sports, stand up paddle boards, and other beach activities. The pool was overlooking the beach and there was a perfect sized lazy river that my little one wanted to stay in the whole day.  It was a nice combination of scenery, relaxation, and poolside fun.  We were there during the week so there wasn't a hurry up and be down by a certain time to grab chairs but I can't speak of the weekend difference.  I loved the live music by the pool.  We ended up spending most of our time there.
Takeaways
This was such a pleasant surprise of a vacation.  We usually stay in large beach resorts that can sometimes feel a little overcrowded.  This was an intimate luxury beach resort that had a lot of personal touches.  It was luxurious without feeling pretentious.  The rooms opened up onto the beach.  There were plenty of on site options to choose from. There was a ton of great amenities and activities such as beach yoga.  There was a spa and workout area on site but I didn't have time to partake.   The on site dining was excellent.  It is a family friendly resort but not overrun if you wanted a more quiet oasis to relax.  I highly recommend putting the The Pelican Grand Beach Resort on your radar.  We can't wait to go back.  I would be happy to answer any questions.  This was a trip that we will remember!
Follow on Bloglovin
Want first dibs on shopping and sales? Sign up here on Liketoknowit for direct links sent to you
Want my daily posts sent to your email inbox?!?!  Then click here and make it happen
Follow my looks along on Instagram
Pin along with me on Pinterest || Like Meet @ the Barre on Facebook