This post may contain affiliate links. Purchasing through them help support this website.
Oh Monday Monday Monday……how did you get here so quickly? Summer has definitely arrived in Florida! Linking up with my girl Biana for her second annual weekending post. I'm not going to lie, my weekend wasn't too glamorous but I got a few classes in, slept with no alarm and got tons of work done. Everything is better with visuals right?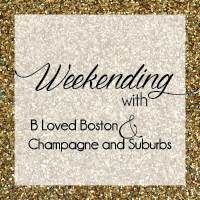 Finally got our group picture from the Grand Opening party! Love teaching a full class.
We headed to our favorite sushi place. Threw on this maxi.
My absolute favorite bottle of pinot
Finished the weekend grilling by the pool and enjoying the gorgeous Florida weather. See I do eat healthy I promise! Grilled veggies, swordfish and rice. Adult libation while we waited.
Words to live by….
Follow on Bloglovin
Want first dibs on shopping and sales? Sign up here on Liketoknowit for direct links sent to you
Want my daily posts sent to your email inbox?!?!  Then click here and make it happen
Follow my looks along on Instagram
Pin along with me on Pinterest || Like Meet @ the Barre on Facebook