This post may contain affiliate links. Purchasing through them help support this website.
Every time I run into my friends they always say to me something about how much I travel and where is the next place we are off to.  Secret over here, I have so much PTO saved up because we always travel long weekends and are back to work on Monday. Yes those Monday's are pretty rough but I'd rather save up those vacation days to keep for these fun dashes!  Chicago is definitely one of my top places we go every year for our birthdays and take advantage of the long July 4th weekend.  The best part of Chicago it is such an easy city to navigate and this past weekend we did not take one cab.  I will also give a disclaimer I clearly do not live or have not lived in Chicago this is an outsiders view so if any locals have any additions please feel free!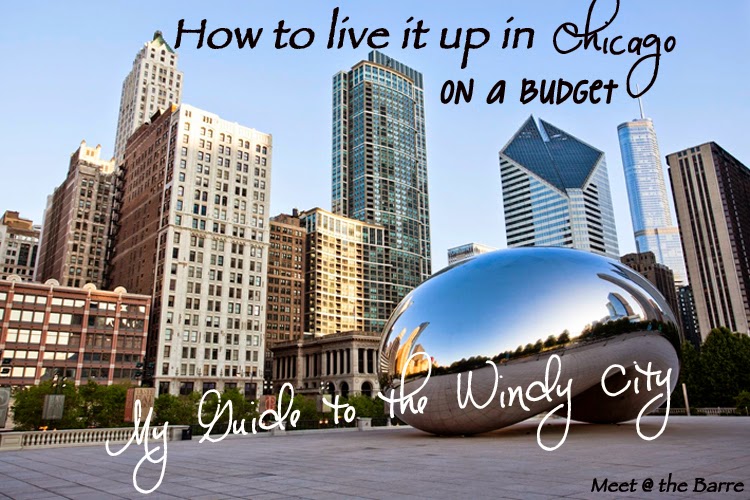 My How To Guide To Live It Up In Chicago Without Making Your Wallet Cry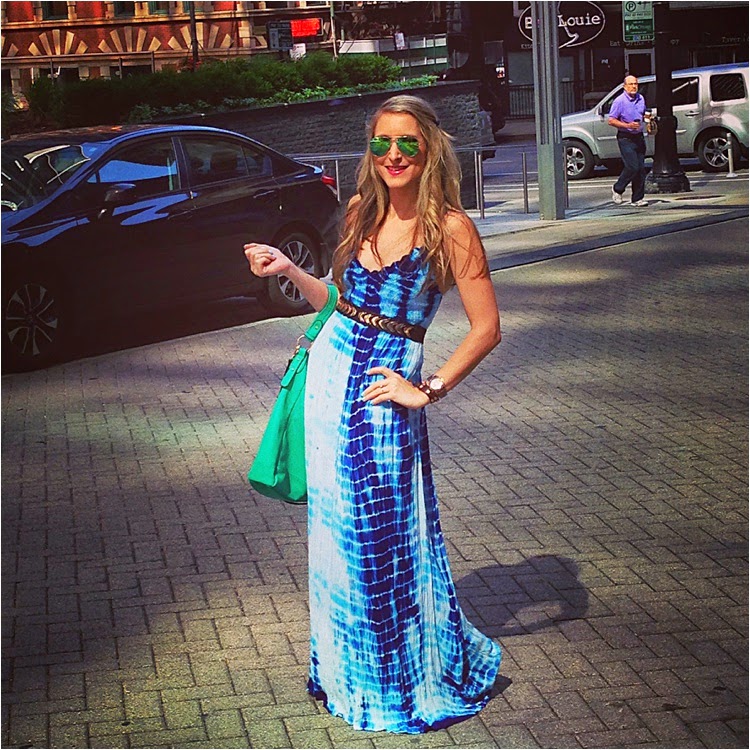 Somehow these colors worked for the 4th right?
Dress sold out similar here///handbag here///gold belt similar here///Watch sold out similar here///Tory Burch cuff bracelet here///Ray Ban Aviators here
Take The Train
The airport is a direct shot on the train into the city.  We flew up Southwest which brings you into Midway which is a shorter train ride into the city from the Orange line, just about 30 minutes.  On the way back we flew United which flies into O'Hare.  O'Hare is at the end of the blue line which is roughly 45 minutes into the city.  Total fare is $2.25 for each person.  I would say $5 is way cheaper than a cab ride.  Bringing our bags onto the train were no problem.  You can easily route your way using this. We were staying in the River North section so we got off at Clark/Lake which is a major hub and walked the three blocks to our hotel.  Last year we took the train out into the Lincoln Park area to go to the Goose Island Brewery Tour it was a fabulous way to spend an afternoon especially with all the great restaurants and shopping out that way.  After we got from the airport we never took a cab and walked the entire time which brings me to my next point.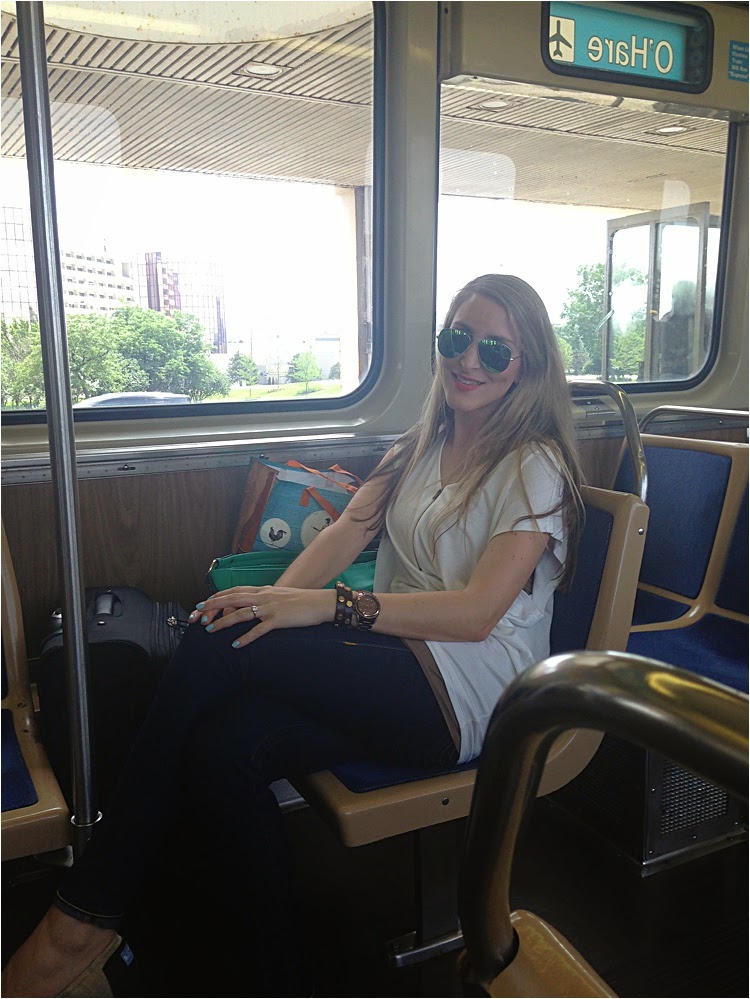 Here I am riding the train safe and sound (in a hideously unflattering shirt but that is besides the point).  Peep that blue polish from yesterday's post.  Wasn't joking how much I loved it!
Pick A Hotel Close To All The Action
We stayed in the River North section.  It was two blocks off Hubbard where all the bars are and close to Illinois where a lot of the restaurants are that we like.  It was walkable to everywhere we wanted to go.  I found the hotel using Priceline, they had a coupon code (naturally).  I picked the stars I wanted and location and got a great hotel.  When we arrived I asked for any available room upgrades.  We ended up getting on the club level which had free breakfast, hors d'oeuvres, water and a Nespresso machine.  He also threw in the internet all for a very reasonable upgrade price (like less than a lunch out kind of range).  We were also two blocks away from the Bloomingdale's home store so we definitely checked out the new Nespresso flavors……daily ;-)  The very sweet concierge also sent up a bottle of wine with a cheese and cracker tray (like how did he know how much I love??) for my birthday.
(pretty much eat four of those a day while I was there)
Go To All the High End Places…….For Lunch
Gibsons for dinner……yeah right.  Gibson's for lunch absolutely.  I love high end places for lunch because they usually have menus you would never see for dinner.  Like their spicy Lobster Cobb salad.  It is perfection and $14.  Pair that with a nice glass of wine and plenty of people watching…..that is the way to do it.
Revlon matte lip balm also from yesterdays post
Oh and Mark loves going to David Burke's Prime House for their Steak burger…..I got the regular burger, so good!  Honorable mention to Ruth Chris for Happy Hour but it was only during the week day, that ahi tuna was amazing.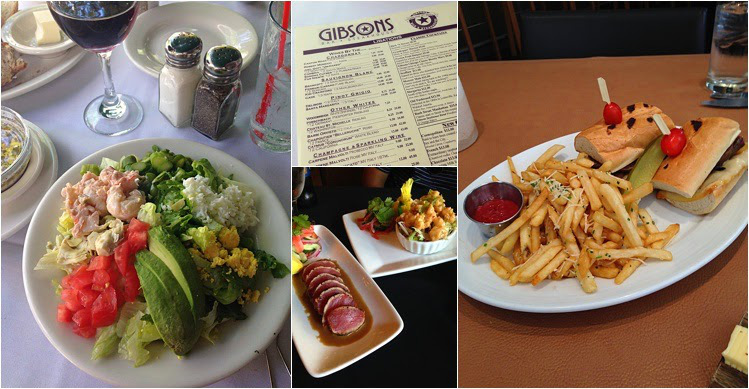 Check Out The Deal Sites
Groupon, Living Social, Travel Zoo…..all of them.  Check out the deals.  If anything it will give you good ideas of places or events to check out.  Like hello Counting Crows concert.  Just make sure to check the fine print some of them don't work for weekends or holidays.
All those swanky rooftop bars
Go during the day.  You will get an amazing view of the city but won't have to be bullied into buying bottles to reserve a couch or table space.  Plus you will have the place to yourself to sit and enjoy an adult libation while catching up with your company.  My favorite of the trip was the Ivy Hotel.  Thanks Katie for the suggestion it was the most amazing view and friendly staff!  Our girl Amelia was beyond sweet and took like 15 pictures for me without even asking to change the angles and poses….she just got me ;-)
Ask The Locals
I sent out a mass email to the locals in the area asking their opinions about all the places we needed to try.  That way we stayed out of the tourist traps that are usually very expensive.  Thanks so much to Stephanie and Katie for your fabulous recommendations!
Don't Shop There
I mean you can window shop and have a blast cruising up and down Michigan Ave.  Unless the deals are amazing…..the 10% sales tax is craziness.  Or if you shop at Nordstroms have them ship it to your house so you won't have to pay their taxes.  Or do like I do…..ship everything to my sisters house in New Jersey.  The few good parts about Jersey, no tax on clothes and they pump your gas for you.
Bring Lots of Small Bills
Tipping is greatly appreciated and seriously when someone helps you with a service it is expected.  Then you can also hit them up for their local knowledge.  Or just by being genuine and nice you may wind up on a high level floor with a gorgeous room of the city.  A great tip I learned from my sister before traveling make sure to go to the actual bank and get lots of different bills, ones, fives and tens. Instead of the 20's you get out of the ATM which seem to magically disappear when no one has change.  That way you will have small bills for tipping and you won't blow through 20's as easily.
Finally………….
Live It Up
I mean we all work hard and you can't be buried with it.  So if you want to sit on the rooftop drinking a fabulous glass of wine or those shoes you had an eye on might just magically be making it to your sisters house in the next week…..go for it.  You will always think of that great trip when you pull them out and it will make staying those extra few hours worth it when you can really enjoy yourself on vacation.
Did I miss anything?  What are your insider trips when you travel?  What is your favorite place in Chicago to hit up when you get there?
Honorable Mentions
Sunda
We go every year for my birthday there.  The sushi is definitely expensive but good.  Mark ordered the short ribs and I was insanely jealous of his order.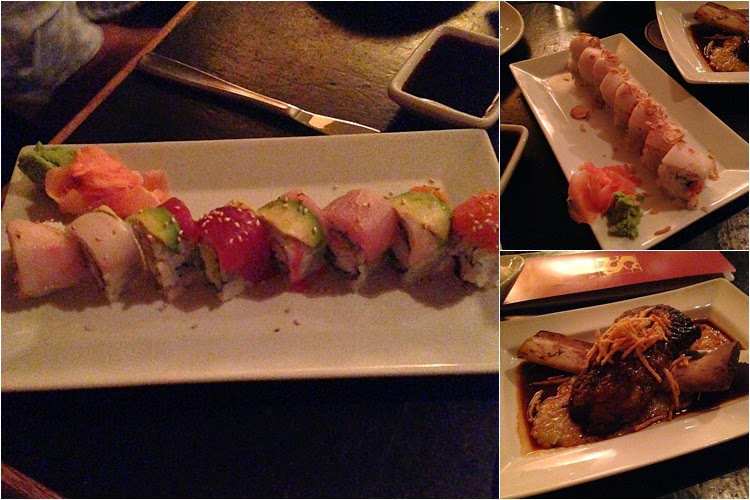 Glazed and Confused
I mean I am still dreaming of that red velvet donut.  Also if you show their your ID on your birthday you get one free!
Make Sure Not To
Have a random hippie couple take your picture…..they will take it shooting you from the ground up.  Let's be honest nobody looks good that way unless you are Christina Aguileria in the Genie in the Bottle video.  Then those said hippies will ask you to take a picture of them with their digital camera because they don't have "a fancy phone like you"……then they proceed to take out a Zack Morris size digital camera and then insist on putting it on nigh time mode.  Don't worry.  I'll wait.
I also wanted to thank all of you for your incredibly sweet and thoughtful birthday wishes!  I have definitely accomplished a lot in my 20's and I can't wait to dive into these 30's and see where it takes me!  xoxoxoxo
Follow me on Bloglovin ||  Follow my looks along on Instagram || Get my latest blog posts daily to your email here || Pin along with me on Pinterest || Like Meet @ the Barre on Facebook || Check my latest tweet here
Follow on Bloglovin
Want first dibs on shopping and sales? Sign up here on Liketoknowit for direct links sent to you
Want my daily posts sent to your email inbox?!?!  Then click here and make it happen
Follow my looks along on Instagram
Pin along with me on Pinterest || Like Meet @ the Barre on Facebook