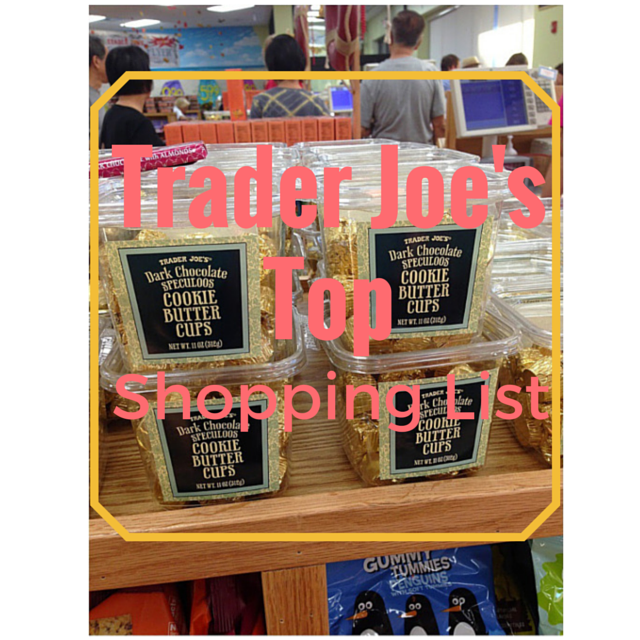 This post may contain affiliate links. Purchasing through them help support this website.
I have been meaning to get this list together for some time but every time I go to Trader Joe's I forget to take pictures.  Let's be honest that place is a little overwhelming, there are so many different products!  I have read lists about the top products and then I never know where to find them.  These are some of my tried and true favorites……..like the ones I buy on repeat.  Don't get me wrong there are a few products that have definitely gone back.  Do you know that about their return policy?  You can take anything back!  I've even brought my receipt and told them I didn't like something and they just take it off.  Fabulous customer service.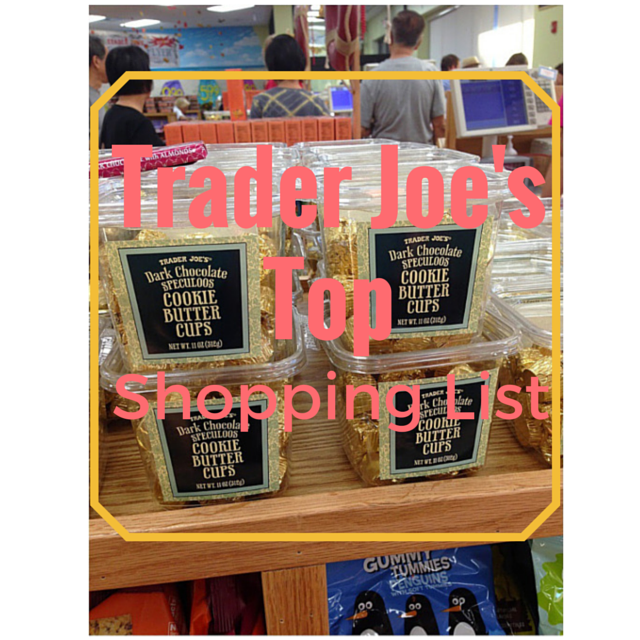 Here is my Top Ten List for Trader Joe's Products.  First let's start with the staples.
Cold Brew Coffee
This is seriously the best cold brew concentrate I've found so far.  I mix about 1/4 cold brew over ice with 1/2 water and then 1/4 almond milk in a large Tervis tumbler.  The adding of the water is crucial otherwise it's super strong.  I don't even need to add sweetener it is that good.  They have been keeping this by the coffee and tea section right where they hand out samples in the back of the store.
Cluster Cereal
I have to limit my consumption with this cereal because I can pretty much eat the whole box in one sitting.  I mix it with my boring Go Lean and that helps with the longevity of the box.  I pretty much buy this every time I go.
Sparkling Pinot Grigio
I also buy this every time I go.  It has just the tiniest bit of sparkle to it.  It is a very light white that isn't sweet and pairs really well with food.  Definitely one of my top 3 buys!
Pizza Veggie Burgers
True story I could never get Mark to get a veggie burger until these.  They are so good and are perfect over a salad, in a sandwich or when you are exhausted and it's late they are great for dinner.  Mark eats these a lot when he gets back from softball late.  Find them in the freezer section next to all these frozen burgers.
Wild Blueberry Vanilla Chèvre Fresh Goat Cheese
Side note that is not my hand…..they were out when I went……just wanted to clarify.  This is straight up addicting.  It is a little sweet but a little goes a long way.  I usually put it over these crackers with that above sparkling pinot…..that is a perfect dinner in my mind!
I honestly try not to buy it because it's so good you can eat it out of the jar with a butter knife….when all your spoons are dirty.  I mean look they were basically out when I went.  I also really like their almond butter and it's the most affordable price around.  Even though I think they recently just brought it back after being recalled…..so may lay off that for a little while.
The Chicken and Tuna Salad
We get this a lot on the weekends for a quick lunch either over salad or on bread with avocado and sriracha drizzled over the top.  I also really like their canned tuna I get this one.  I usually mix the canned tuna with half salsa and a little mayo, lots of flavor and cuts back on the mayo calories.
Really quick dinner to have on hand.  I usually have these with a salad and the package feeds the two of us.  It is all beef and no pork additives.  I haven't bought the pumpkin ravioli yet…..still can't figure out what to put on top of it yet.  Find these to the left of the tuna/chicken salad in the refrigerator section.
Another quick dinner.  Let it sit out for 30 minutes out of the fridge.  Press it out, add sauce, cheese and load it up with veggies. Such a healthier option than ordering pizza.  Also found right near the ravioli in the refrigerator section
I really wish this bag was bigger and they weren't so dang expensive.  I have tried making kale chips on my own but they still don't compare to these!
Yes it really is that good.
Dark Chocolate Speculoos Cookie Butter Cups
This is why I love the store.  The last time I was there I was eyeing them at checkout and I simply stated to the checkout girl "I really want to try those but I don't trust myself with the whole thing".  She grabbed them and opened them and was like "let's try them!"  Naturally they were amazing and as I walked out she took a large handful and threw them in my bag.  I mean what grocery store does that?  So naturally the next time I went back I bought them.
As far as the frozen meals…..I haven't really fallen in love with very many of the frozen dinners.  A lot of the chicken dishes use dark meat and I'm not down with that.  The great news is you can take back those receipts and they will give you cash back for the things you didn't like!  I also love getting their peppers and Brussels sprouts, so much cheaper than my local Publix.
What are some of your favorite Trader Joe's buys and where do you find them in the store?  I also love getting their flowers. Super affordable and add such a cheery pop of color!  This is one of my current lists.  I'll keep adding to it if y'all are interested in hearing more of my favorites!  I can also make an avoid list…..or a certain someone said he would have "no problem coming up with that one"…….Oh and for all my local Tampa peeps the best time to go when there is absolutely no parking issues is Wednesday at 5pm.  Don't ask me why but seriously it is like a ghost time every time I head there around that time!  Have a fabulous day!!!  xoxoxo
Follow on Bloglovin
Want first dibs on shopping and sales? Sign up here on Liketoknowit for direct links sent to you
Want my daily posts sent to your email inbox?!?!  Then click here and make it happen
Follow my looks along on Instagram
Pin along with me on Pinterest || Like Meet @ the Barre on Facebook
Reader Interactions