This post may contain affiliate links. Purchasing through them help support this website.
I am so excited to share my nursery with you! This is my first real decorating project in our new home and I definitely had a vision in mind when I was designing the space. I really wanted a calm and serene nursery without having anything that was too loud or character driven. What is it with babies that makes everyone want to put loud animals on everything? will certainly look into getting some. I also spent so much time researching cribs. I wanted a quality piece without that breaking the bank because let's be hones, they are only in them for such a finite amount of time. I went back and forth between grey fu white because it was back to my calm setting and felt that even though I loved the grey, I worried it might be a little trendy. I immediately was drawn to the Darlington Crib by Million Dollar Baby Classic. I love the linen insert on the back. It makes it look high-end but for a reasonable price point. The linen can easily be removed to clean or even switch it out to something else if you choose.
I was very impressed with the customer service and packaging of the furniture. There was not a single blemish. The pieces are sturdy and the drawers even have a soft close feature. I also love the feet on the Darlington Dresser, sometimes when dressers don't have feet they look squatty to me. I also like to be able to clean underneath them. I initially had gone with the crib and dresser only. Then with looking at my space, I added the Darlington Bookcase. I love how it all came together. Mark read to Patrick every night during my pregnancy, we have a ton of books to house! I really like the scale of the bookcase.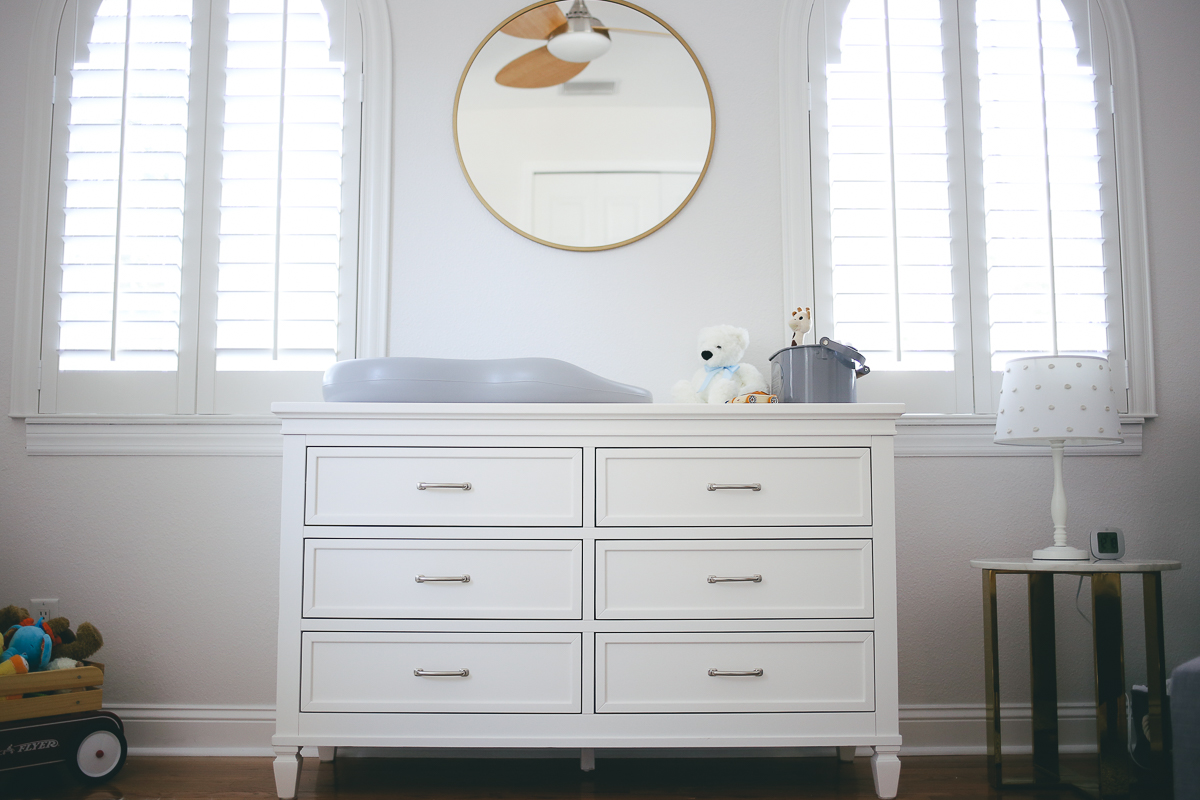 I researched mattresses like crazy and finally went with the Newton crib mattress. I have never read so many positive reviews. It is breathable, lightweight and has two sides, for them to grow into the toddler bed with. I should mention that the crib is a conversion crib that goes into a toddler bed and then full size bed.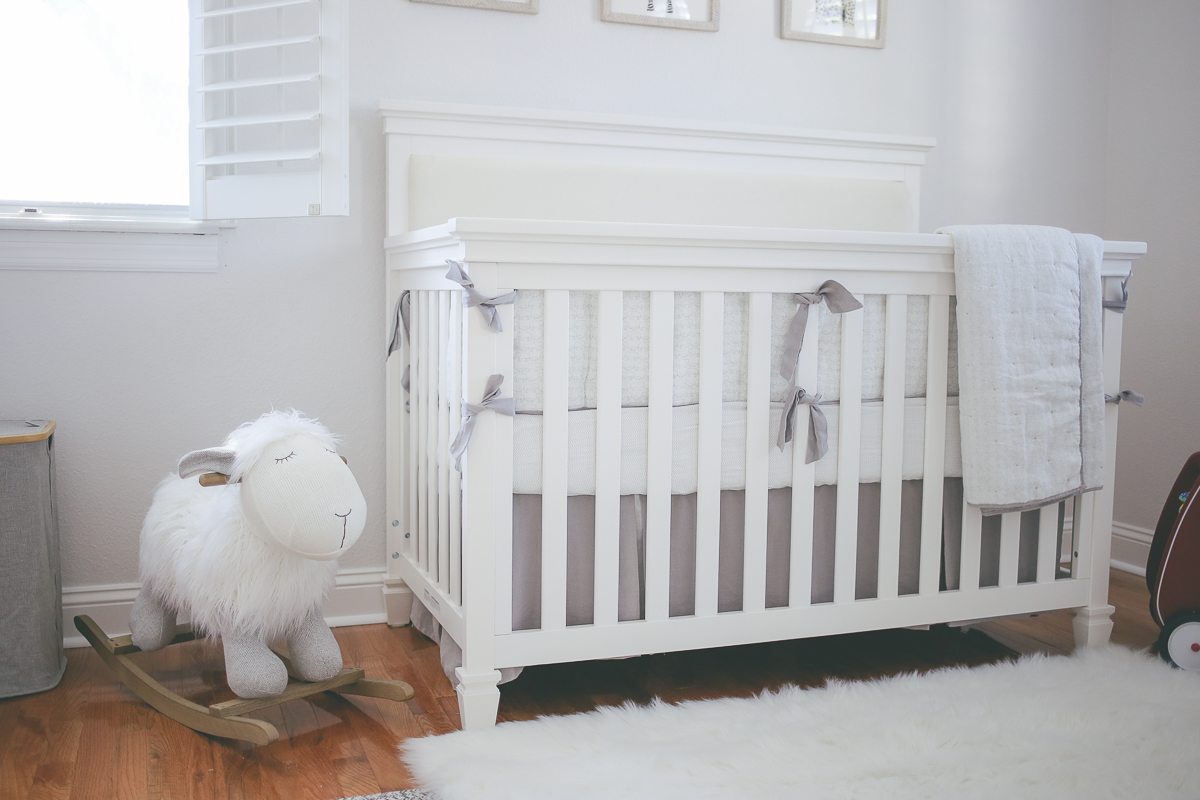 My changing table is from Keekaroo and I see why so many people rave about it. I will say that he likes to pee probably once a day when I change him out of his diaper…..this leads to a really easy clean up. Just wipe it down without having to replace all the linens on traditional changing pads.
I also spent a lot of time looking into chairs. This Toco swivel chair by Babyletto is the perfect size. It is super comfortable, I can lean my head back on it and the ottoman is key. It is also a great price point because chairs can get crazy expensive!
Finally, I am in love with my animal artwork above his crib. I initially wanted the set from Restoration hardware but I didn't like how I couldn't customize the frames or animals. I remembered that Minted has a whole artwork division and they work with individual artists to create really unique pieces. I had such a hard time narrowing down which animals I wanted but love how they all came together. How pretty are the herringbone frames right?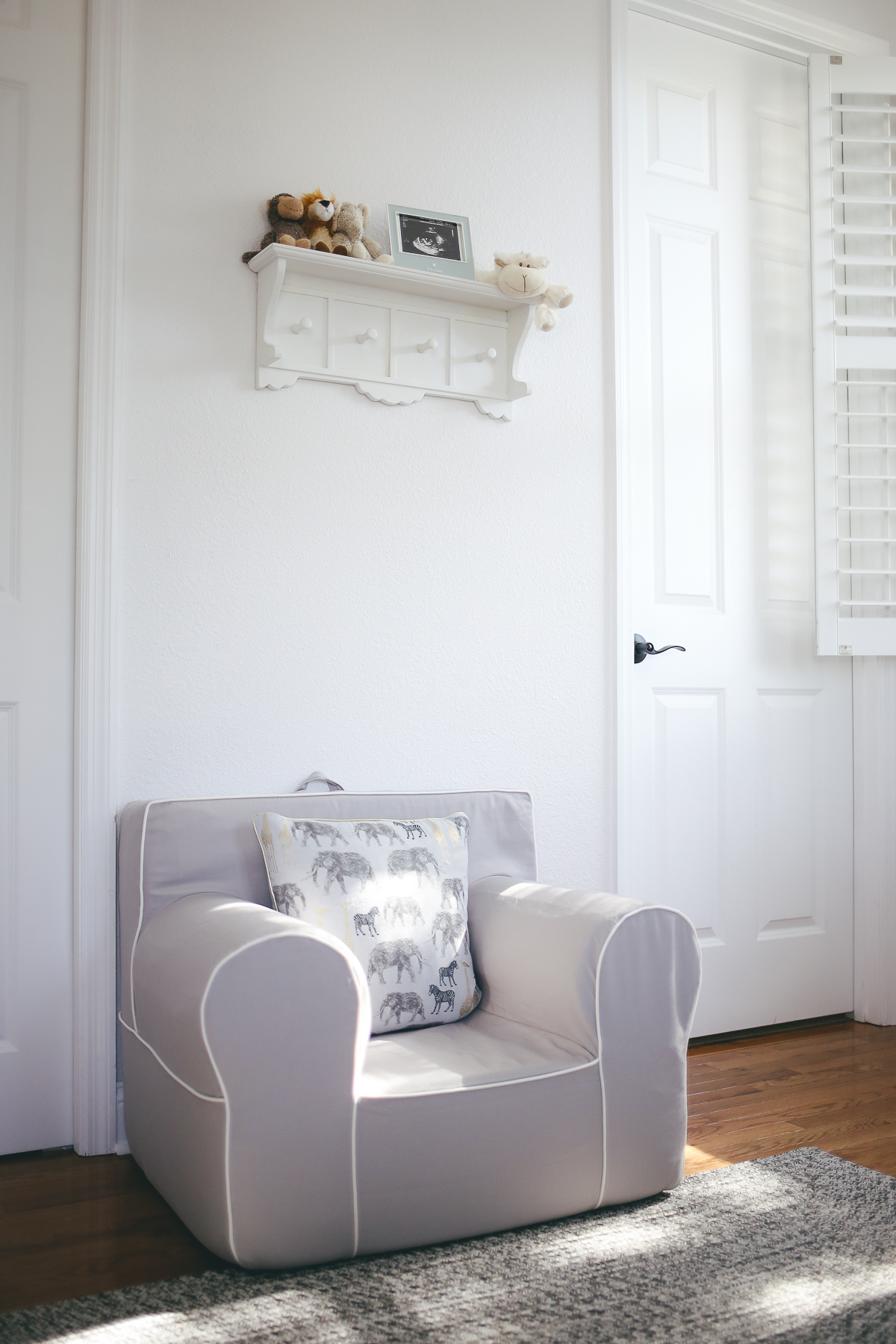 Now for the really exciting part! Million Dollar Baby Classic is giving away a crib to one of my readers! There are a few ways to enter. You can comment on my post here with how you entered by the comment or via Instagram. You have to follow my page and Million Dollar Baby Classic as well. The giveaway will run on Instagram for one week and starts today at 9 am. I haven't been able to participate in the 12 giveaway days of Christmas so let's go big here! I am so honored to be able to work with such a wonderful company. You can read all about their philosophies here. They are a Christian based company who believes in giving back in as many ways as they can. They are also environmentally conscious with recycling their wood and paint. The company also uses recycled cardboard to ship in. Their cribs are made in New Zealand from sustainable forests. This is one of the most sustainable and renewable wood resources available. I am so fortunate to be able to partner with such an amazing company for this exciting project! Make sure to head to Instagram and enter there as well.
Sources: Darlington Crib find here ||| Darlington Dresser here ||| Darlington Bookcase here ||| Rocking chair here ||| Marble & gold table here ||| Gold circle mirror here ||| Changing pad here ||| Lampshade find here ||| Lamb rocker here ||| Bedding here ||| Grey everywhere chair here ||| Area Rug here ||| Artwork find here
Thank you to Million Dollar Baby Classic for this amazing and generous giveaway!! Also, thank you to my readers who support the brands that work with Meet at the Barre.
Follow on Bloglovin
Want first dibs on shopping and sales? Sign up here on Liketoknowit for direct links sent to you
Want my daily posts sent to your email inbox?!?!  Then click here and make it happen
Follow my looks along on Instagram
Pin along with me on Pinterest || Like Meet @ the Barre on Facebook
Reader Interactions