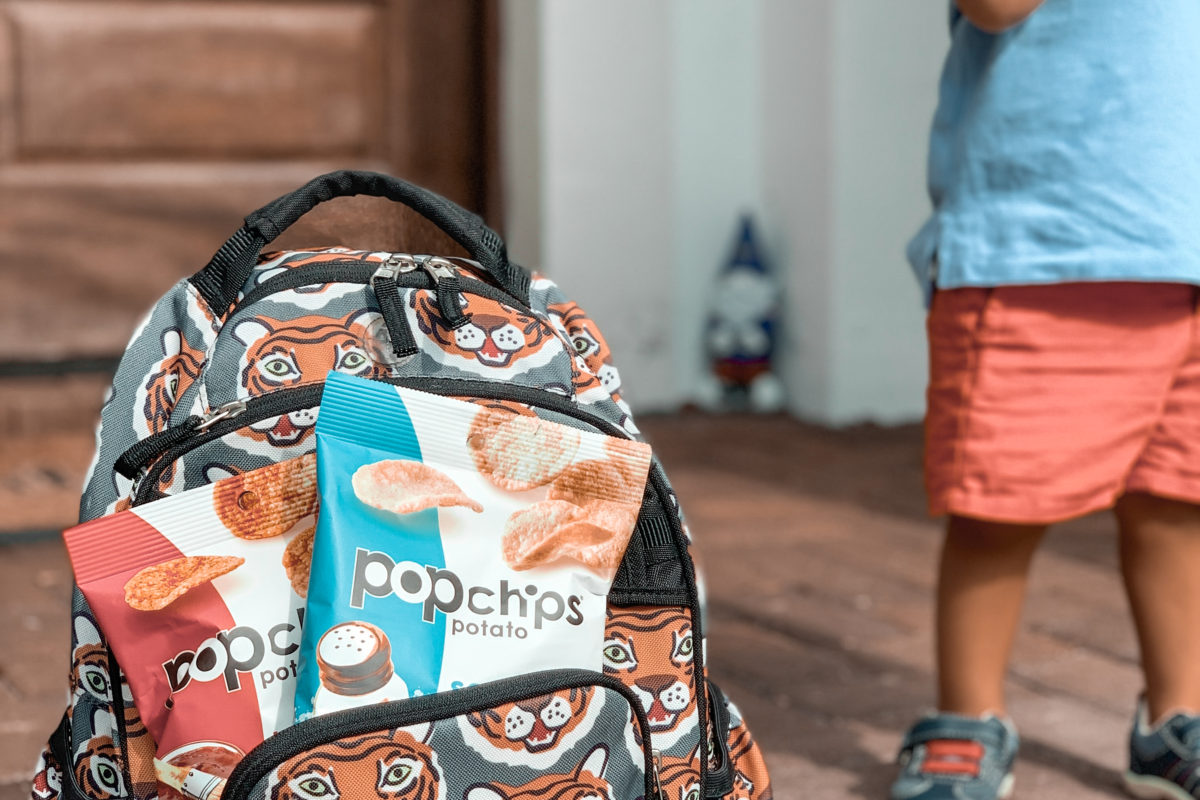 This post may contain affiliate links. Purchasing through them help support this website.
This post is sponosored by Babbleboxx.com on behalf of popchips.
Oh it is that time of year when my social media feeds are jam packed with everyones adorable kiddos going back to school. My favorite pictures to see are when they post the year before in comparison to see how much their kids have grown in a year.  My little one is now in the toddler class at his preschool and we are now on a week + break between the Summer session and Fall starting.  I have had a role reversal now with being home every day with a very active toddler.  We have had lots of trips to the aquarium, Trader Joe's and stroller walks around the neighborhood.  I just did a big turnover in his closet from Summer to Fall clothes plus the put away bin of 12-18 month clothes into storage.  Now that he is going into his next school year I have a few tips that I have incoporated to help make the transition as seemless as possible.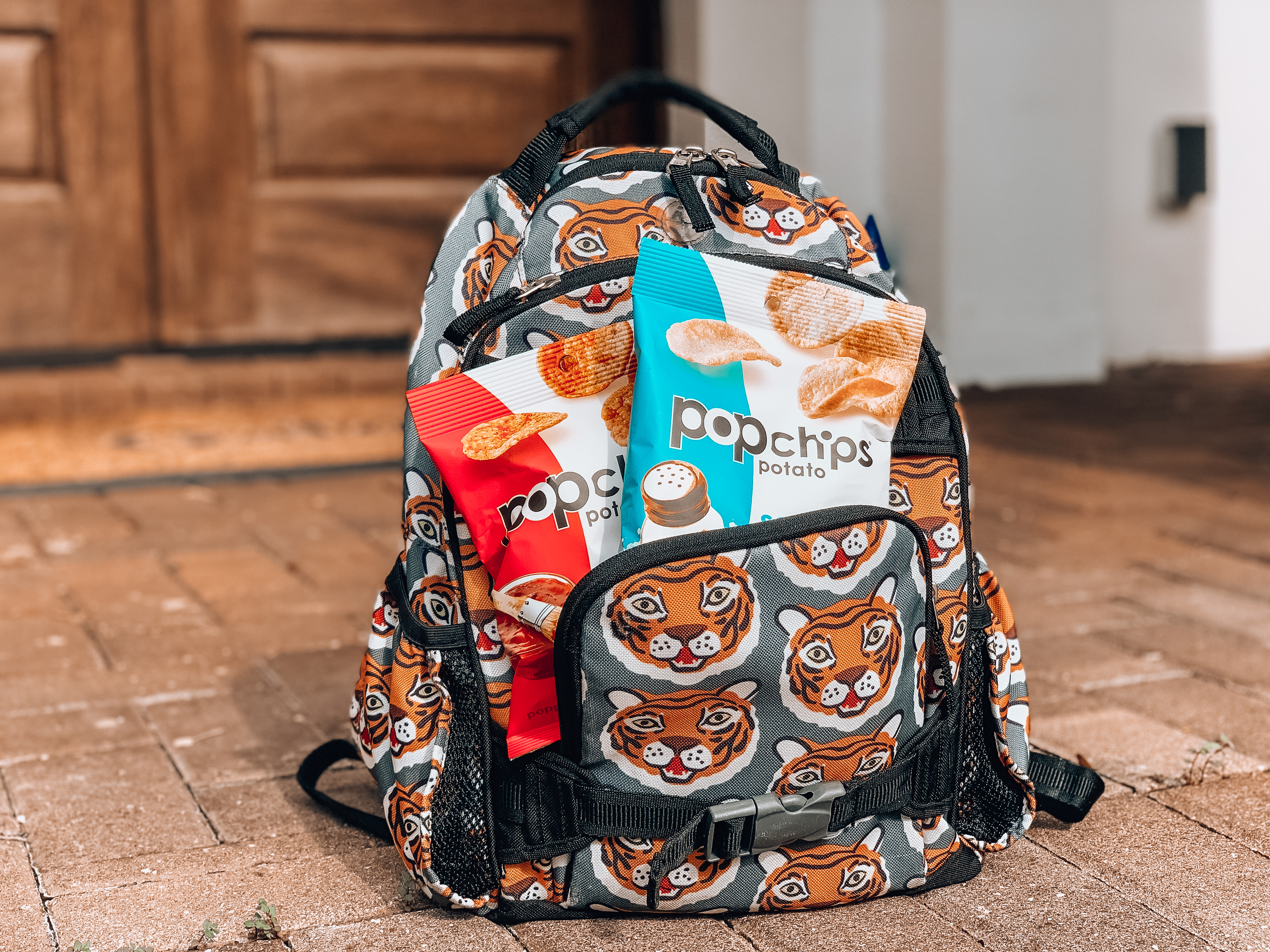 All the Laundry & Clothes Prep
I went through all his drawers and stored all the pieces that are getting too small and put like minded things together.  That way in the chaotic morings I just grab XYZ Nike set or the plaid shorts that go with this polo.  It makes the morning routine that much smoother.  If I really get it together I actually lay out his clothes the night before to make it really eay in the morning.
Pack it the Night Before
I really try to pack everything the night before and have it by the door.  I can't tell you how many times I've driven to school and realized I forgot his sheet for nap at home.  I have also resorted to having another full set of things in the car so I can grab that in a total pinch.  That includes having a sleeve of diapers in the car because you can never have enough of those in my opinion.
A Functional Lunch Box
Now that he is in the toddler room we no longer have access to a fridge everything has to be kept in his backpack.  It has really made me become very creative with my lunch packing abilities.  I even bought a hot thermos to keep his pizza and mac & cheese warm.  That was only after I realized some other moms were sending warm lunches and here was my kiddo with PB&J every day.  I picked up this thermos and it really keeps things super warm.
All the Snacks
One of the hardest struggles for me when I would pick him up was finding a snack that satisified his melt down hunger trying to buckle into car seat tears without filling him up too much that he wouldn't eat dinner.  How many of you have that same struggle?  One of my new found go to snacks is popchips.  One bag is 100 calories and is just enough to tide him over until dinnertime.  His two favorite flavors are the BBQ and Sea salt.  They come in a perfect snack size bag that I usually keep one of in my purse and one in his backpack.  I just feel so much better giving him this type of snack instead of the calorie/salt laden traditional chips.  Plus, these melt a little easier in their mouths so I feel like these are a good crunchy snack option for a toddler.  Also, since there are a lot of allergies nowadays these are gluten free and Non-GMO so they are great to bring to playdates, picnices, the park, etc.
I always like getting snacks that not only my kiddo likes but I can eat as well.  I don't like buying the traditional high calorie kid snacks because it really impedes my goal of keeping a healthy weight as well.  Before you know it those goldfish and animal crackers really add up. These popchips are a guilt free snack that my entire family can enjoy.  I like dipping the sea salt in hummus to add a good protein punch to them.  The BBQ go really well with sandwiches and roll ups.  They have the perfect tangy punch to them.  I feel good knowing that popchips are never fried and have an ingredient list that you can actually read and understand.  They are such a great healthy kid friendly snack that the whole family will love!
Tell me some of your favorite snacks to pack for your kiddos and what you do to prepare for the school year!
Follow on Bloglovin
Want first dibs on shopping and sales? Sign up here on Liketoknowit for direct links sent to you
Want my daily posts sent to your email inbox?!?!  Then click here and make it happen
Follow my looks along on Instagram
Pin along with me on Pinterest || Like Meet @ the Barre on Facebook
Reader Interactions