This post may contain affiliate links. Purchasing through them help support this website.
Happy Friday dolls.  These weeks are just flying by at home with my little one.  He is going to be two months next week.  I really want to hit the pause button but yet I am loving all of the changes in his development on a daily basis.  I have a ton of friends that are pregnant right now and have been coming to me for advice and questions….which I love btw.  The one questions I'm getting a lot is what to buy for maternity clothes.  It is tough because it is such a short time but my advice is to buy a few quality items because you end up wearing the same five things over and over again.  They have to be able to hold up over all that wash and wear.  Here is my tried and true staples that still look as good as the day I bought them.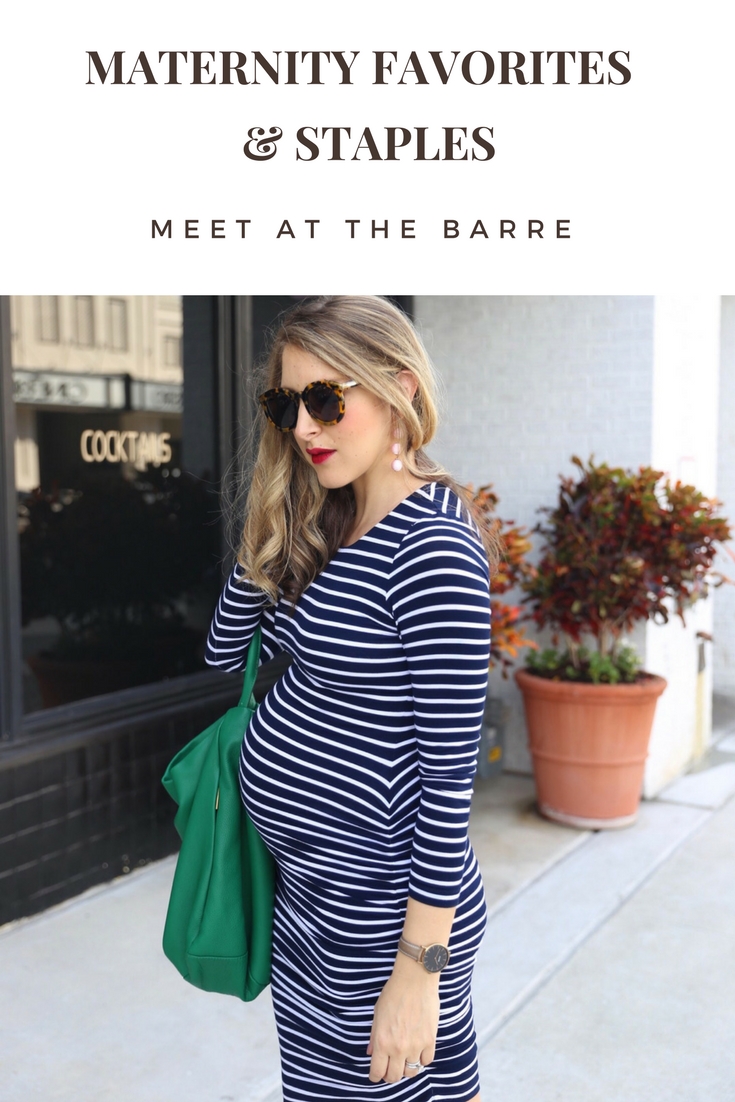 This tank dress I lived in.  Can be worn casually with flip flops, throw a long cardigan over it for work, or add heels to dress it up.  Target makes a version as well as well but I can't speak of the quality, it looks pretty identical.
These bras.  Buy a few.  They are called brallelujah!  They expand with your growing assests….there is no uncomfortable closures in the back, the material is extremely soft, and the straps don't dig in.  I do recommend sizing up.
These Lush tops are the best staples and don't break the bank.  I got away with them for work and also worn casually as well.
I splurged on these black jeans (the Twiggy under the belly) because I could wear them to work.  They didn't bag out and still look great.  Order your regular pre pregnancy size.  I've also heard great things about the Ingrid & Isbel jeans from Target but can't speak first hand experience.
I lived in these jean shorts (majorly on sale!).  Mark probably wants to burn them.  Insanely comfy and the band on the side you can still tuck shirts in the front and feel a little put together.  While you are ordering from Gap, throw in these leggings.  They are very soft and what I would put on when I got home from work.
These two dresses here and here I lived in from Bae the Label.  They are an Australian company.  I was super impressed with the quality.  I washed and wore them multiple times a week.  Ingrid and Isabel also has a great staple striped dress.
Then the rest of the staples, these long tanks for layering.  I loved these pj's and even brought them to the hospital when I delivered, super high quality for a low price point.
Last.  If you have any problems with swelling like I did, I wore these compression tights, these socks if I wanted a little more style.  Also, invest in a good pair of expandable ballet flats like these or these.
There you have it.  My pregnancy/maternity wear favorites.  What were some of yours?  Link up and tell me your favorites from the week and what your plans are for the weekend!
Follow on Bloglovin
Want first dibs on shopping and sales? Sign up here on Liketoknowit for direct links sent to you
Want my daily posts sent to your email inbox?!?!  Then click here and make it happen
Follow my looks along on Instagram
Pin along with me on Pinterest || Like Meet @ the Barre on Facebook
Reader Interactions