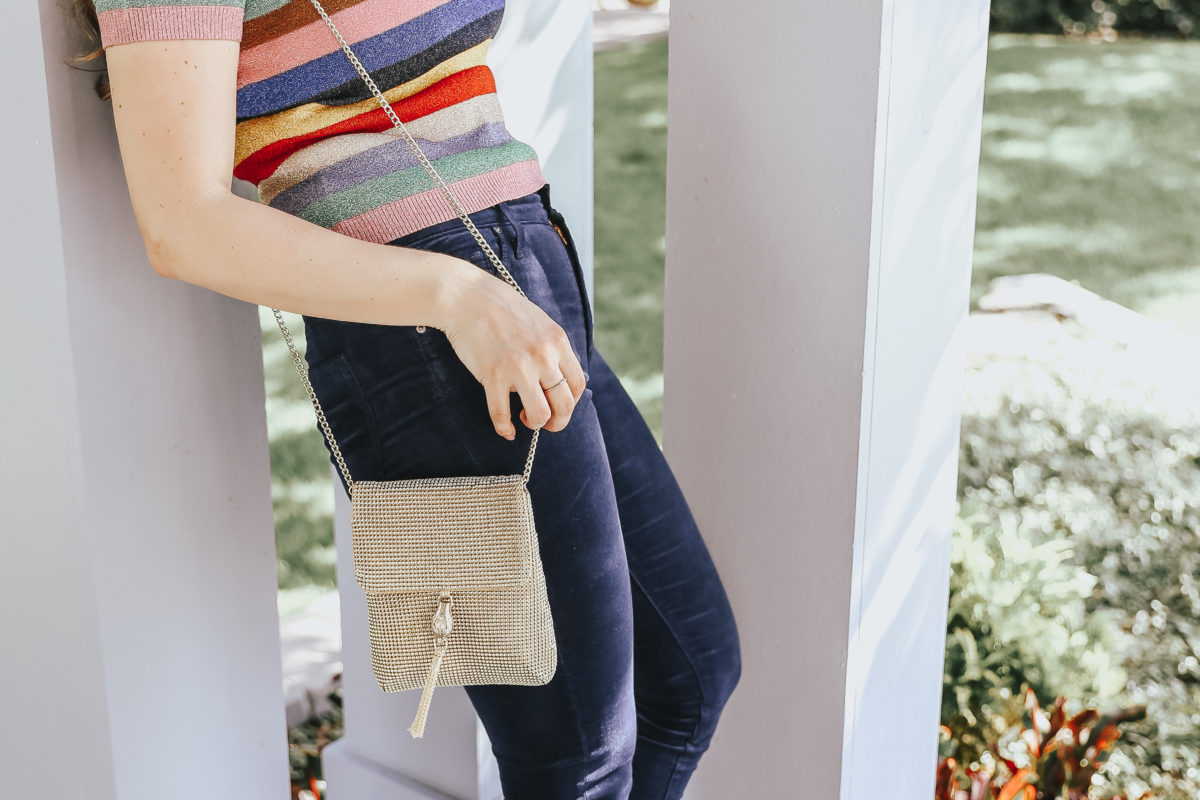 This post may contain affiliate links. Purchasing through them help support this website.
Happy Friday dolls!  I apologize for my radio silence this week.  Work has been pretty crazy and I've been exhausted at night.  I haven't had the energy to crack my computer open when I get home.  I finally had a little time to catch up so here we are.  I hope everyone is having a great week.  These months are really flying by.  I feel like October is going to be over so soon and then the holidays will be upon us.  I'm seeing emails already about gift guides and I'm just not ready.  What about you?  This weekend will be low key over here.  We are really looking for a break in this heat down here to enjoy "Fall".  It just feels a little ridiculous going to a pumpkin patch in 90 degree heat.  Let's get into a few favorites from the week!
Multicolor top by Alice + Olivia find here |||  Velour high waisted pants by AG find here |||  Gold purse by Whiting & Davis find here |||  Sunglasses Gucci find here ||| Pink pumps find here
I'm all about dresses with sleeves and this one is a great price point and comes in a lot of colors.
I am pretty much obsessed with this sweater.  It's in my cart and I'm about to pull the trigger on it.
Give me anything that has cheese and pasta in it and I'm sure I'll love it.  How delicious does this recipe look?
If you have time, a good read about the Pinterest changes of 2018 here.
I totally have a resistance band in my closet that I should break out for this workout.
Alright your turn!  Link up and tell me your favorites from the week and the plans for the weekend.
Follow on Bloglovin
Want first dibs on shopping and sales? Sign up here on Liketoknowit for direct links sent to you
Want my daily posts sent to your email inbox?!?!  Then click here and make it happen
Follow my looks along on Instagram
Pin along with me on Pinterest || Like Meet @ the Barre on Facebook
Reader Interactions