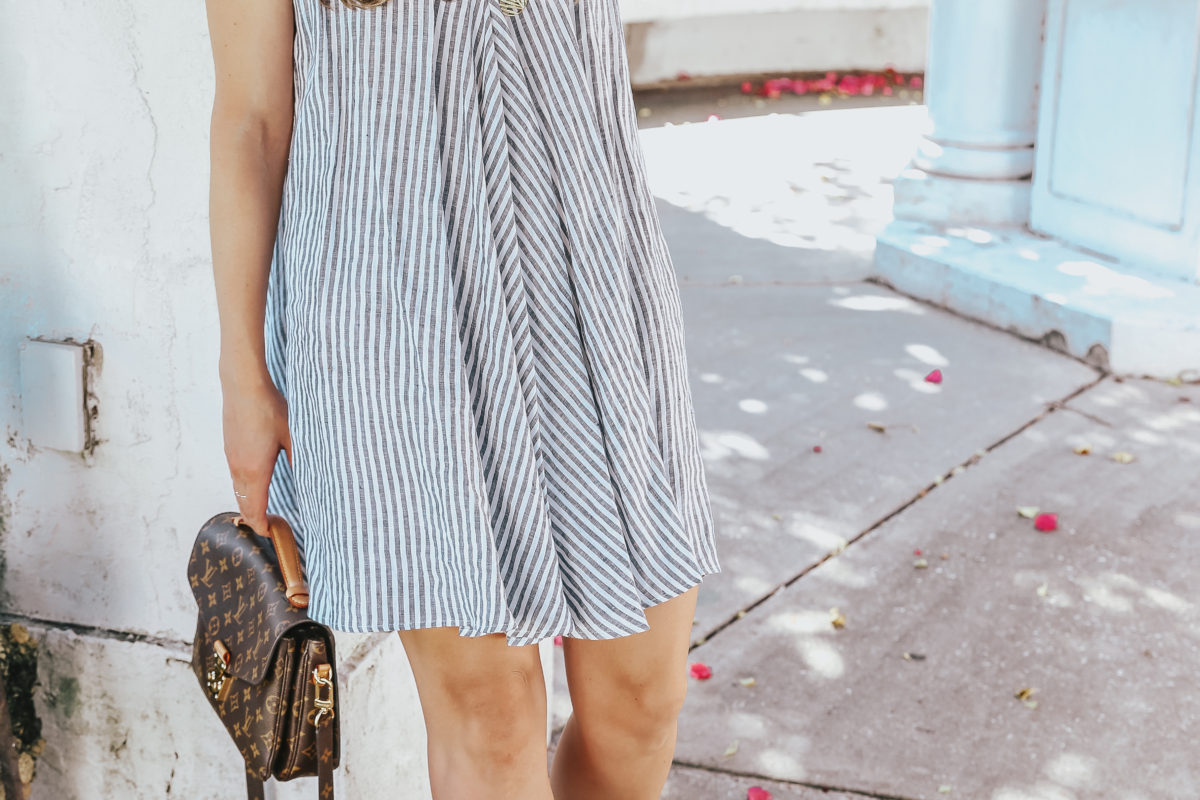 This post may contain affiliate links. Purchasing through them help support this website.
I'm currently in a really bad habit of rotating through about 5 items.  Pretty much I do laundry.  I hang it to dry on the drying rack. Then I grab it off because it's clean and I don't want to take the time to find a place to put it away.  I have been wearing this dress on such heavy rotation.  It's linen but doesn't wrinkle.  Since it's still blazing hot in Florida, I love how lightweight and airy it is.  It has pockets, is on sale, and surprisingly it's pretty flattering.  To transition it to the Fall, add some booties with it, a denim jacket, and a darker wool hat. Riller and Fount are one of my favorites basics line.  The material is always very soft and the clothes drape beautifully.  I hope everyone had a great weekend.  Patrick is currently breaking through his two upper top teeth, therefore, I have been running on fumes.  I actually fell asleep on his playmat the other day.  Thank goodness Mark was there to watch him.  When I woke up my entire right side of my body was numb.  Glamorous stuff over here.  We made it out of the house for lunch so I decided to put myself together and reached for this dress!
Shop This Post!

Dress find here on sale!  |||  Booties old Joie but I actually found them here |||  Denim jacket Madewell find here |||  Red lipstick Mac find here |||  Celine dupe sunnies under $10 here |||  Janessa Leone hat old but similar here |||  LV Metis Pochette find here
I hope everyone has a great start to their week!
Follow on Bloglovin
Want first dibs on shopping and sales? Sign up here on Liketoknowit for direct links sent to you
Want my daily posts sent to your email inbox?!?!  Then click here and make it happen
Follow my looks along on Instagram
Pin along with me on Pinterest || Like Meet @ the Barre on Facebook
Reader Interactions