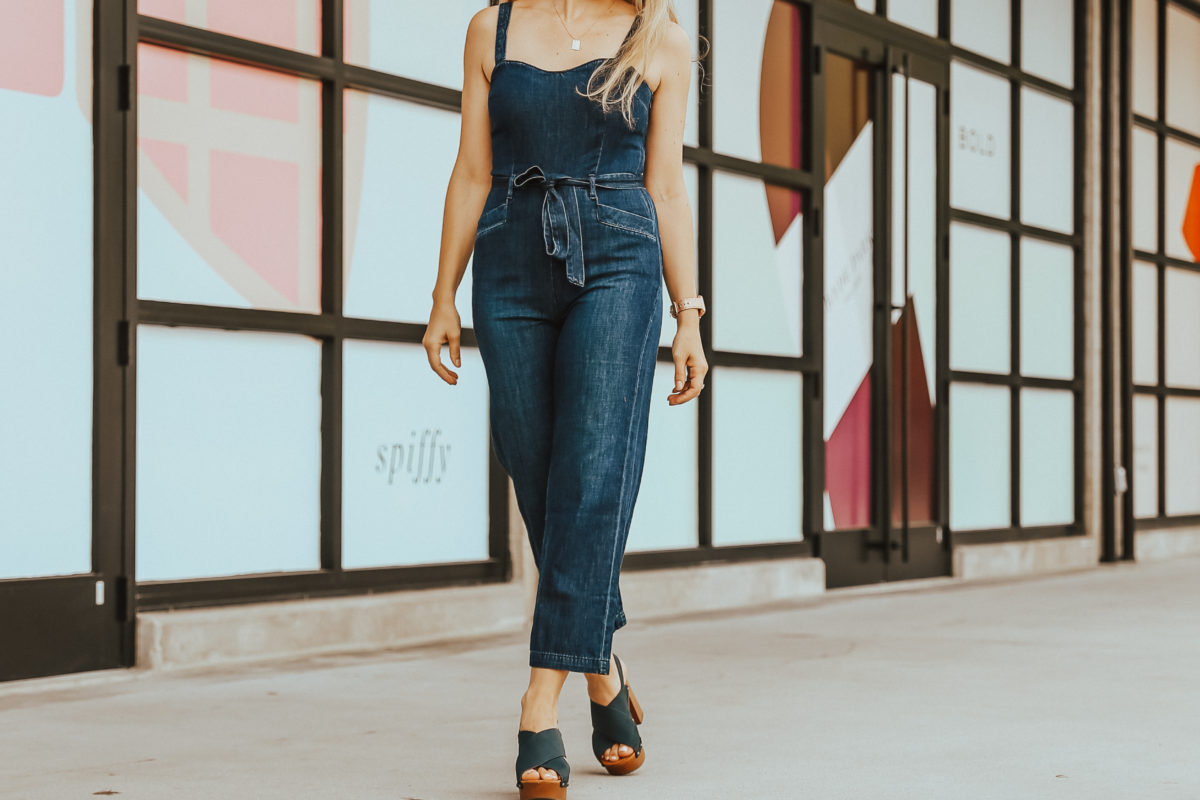 This post may contain affiliate links. Purchasing through them help support this website.
I took a poll on my Instagram when I originally tried on this denim jumpsuit because I wasn't 100% sold yet.  I got a 75 to 25 yes to no over keeping it.  My husband has strong opinions about jumpsuits….aka he hates them but he actually told me I should keep this one.  It is super flattering and really easy to throw on.  You don't need too much styling with them.  I feel like they are pretty 70's looking.  Add a chunky heel, big sunglasses, or statement earrings and you are pretty set to go.  We ran errands all day on Saturday and this was an easy outfit to run around in and was great to transition and feel put together for an early dinner out.  I should also say a little housekeeping around here.  I had all these lofty goals of getting back to posting three times a week and that was a complete fail.  I am really going to try and stick with Mondays and Fridays.  I know it's Tuesday but yeah….life happens.  Do people even really read blogs anymore?  I feel like people read them but commenting is a thing of the past.  Is everyone all on Instagram or some other social media platform like Tik Tock (which I still don't really get).  Tell me what all the youngins are on :-)
Denim Jumpsuit Exact from Paige Denim here |||  Budget Friendly under $30 here
Wedges on sale from Indigo Rd c/o find here
Sunglasses Karen Walker here |||  Budget friendly dupe here
A few other jumpsuits on the radar.

I hope you are having a great week!  Tell me are you down with this trend?
Follow on Bloglovin
Want first dibs on shopping and sales? Sign up here on Liketoknowit for direct links sent to you
Want my daily posts sent to your email inbox?!?!  Then click here and make it happen
Follow my looks along on Instagram
Pin along with me on Pinterest || Like Meet @ the Barre on Facebook
Reader Interactions