This post may contain affiliate links. Purchasing through them help support this website.
Does it feel like recently that your Instagram feed/stories are inundated with "Amazon Fashion Hauls"?  Don't get me wrong.  I love me some Amazon Prime.  I started with the Amazon buying lists forever ago but they usually included things like SD memory cards and dishwashing gloves.  Now, seriously every single time I scroll through Insta someone is promoting the same paper bag shorts and long maxi dress.  Let me give you some background on my personal history with working with Amazon.  Amazon about a year ago (or maybe even longer, my reference point following child is all off)….started reaching out to influencers and gave incentives to promote the Amazon fashion line.  In return, you had to sell a certain amount to reach that threshold to get the reward for the following month.  You also get a small commission off your sales.  That was just my personal experience with it.  Amazon is also linked to Rewardstyle so bloggers get their pennies when you buy something through their link.  I think a lot of people are doing hauls right now to hit their quota and also because with Prime it is so easy to buy (and return cough cough but that is a whole different story).  Anyways, I can't speak for others just my own experience…..In all open honesty, I am no longer part of this specific program.  I do use my reward style links whenever I link something.  I made enough money last month to buy coffee at work from the fancy place in the lobby. I even opted for the extra pump of vanilla.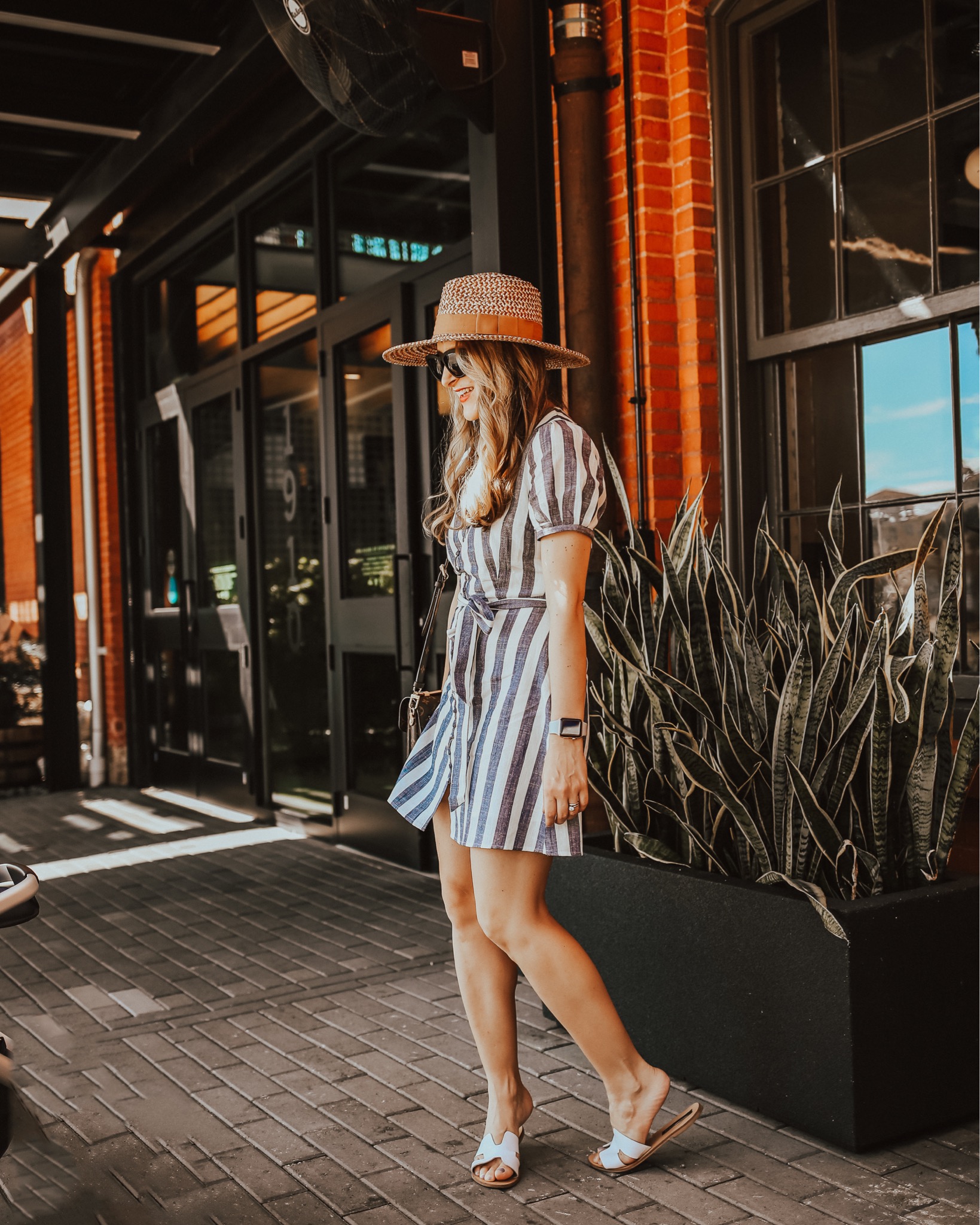 Dress find here |||  Hat here |||  White sandals here
So personally, I got sucked into the hype because everything looks good on a size 2 blogger try on haul in front of their selfie mirror and ordered a few things.  Let me tell you.  I have returned pretty much every single thing I have gotten.  I have also been very confused because some things are "Prime" and then they come from China and take two weeks.  Now, I LOVE Amazon.  I pretty much order all my everyday household items through there but have been very underwhelmed (once again personally) when it has come to fashion pieces.  The clothes have come super wrinkly, smelled odd, very weird sizing, and most of the dresses are see through.  I do want to differentiate that this the Amazon brand fashion pieces.  I have ordered "name brand" things are there before that are linked to shops such as Shopbop/Zappos etc and they have been fine.  Here are a few things that I have recently ordered.
These tie-waist shorts.  I wanted to love them but they were wrinkled even after steaming and spraying them with wrinkle release.  I ended up getting this pair from Nordstrom Rack and love them even better.
This oversized beach hat.  It was tiny for my head and came crumpled.  Same with this hat.  I'm still on a mission to find the ultimate black fedora.
This sweater.  It smelled terrible and was super scratchy.
This button-down dress.  It was completely see through and super short.
This polka dot skirt.  It came from China and I'm not returning it (even though it was listed as Prime and took two weeks to arrive).  Will probably style it with a tucked in chambray top.  Okay for the price point but still think Forever 21 has better quality than it.
What I did keep (mainly because I'm sick of sending stuff back).  This bathing suit.  You've seen it on everyone.  Two of the little pom pom balls had fallen off when I took it out of the package.  I love the bottoms and will probably pair it with another black top I have.  The bottoms are very flattering.  The top is teeny tiny and the mesh panels show a little too much if you're not careful.
These black sunglasses.  They are less than $11 and great to leave in the center console of your car and don't worry about.
This watch band.  I LOVE IT.  Makes my otherwise sporty Apple watch a little more feminine.
I just ordered these hair clips.  I don't have high hopes but I will report back.
So this is just my personal experience with Amazon fashion lately.  I'm sure there are some good pieces but I just haven't found them yet. I'm going to stick to my finds like this sunscreen for my little guy (it rubs in so easily!) and Swiffer washable mop pads because of mom life right now.  I grew up bargain shopping but I also believe in quality pieces and so far the things I've gotten haven't passed the test.  I know people love a good buy so I am really going to try over the next few "shopping hauls" to find affordable pieces that are good quality as well.  Tell me, have you had a positive experience or any pieces that you've gotten and kept?  I'd love to hear your thoughts!
Follow on Bloglovin
Want first dibs on shopping and sales? Sign up here on Liketoknowit for direct links sent to you
Want my daily posts sent to your email inbox?!?!  Then click here and make it happen
Follow my looks along on Instagram
Pin along with me on Pinterest || Like Meet @ the Barre on Facebook
Reader Interactions