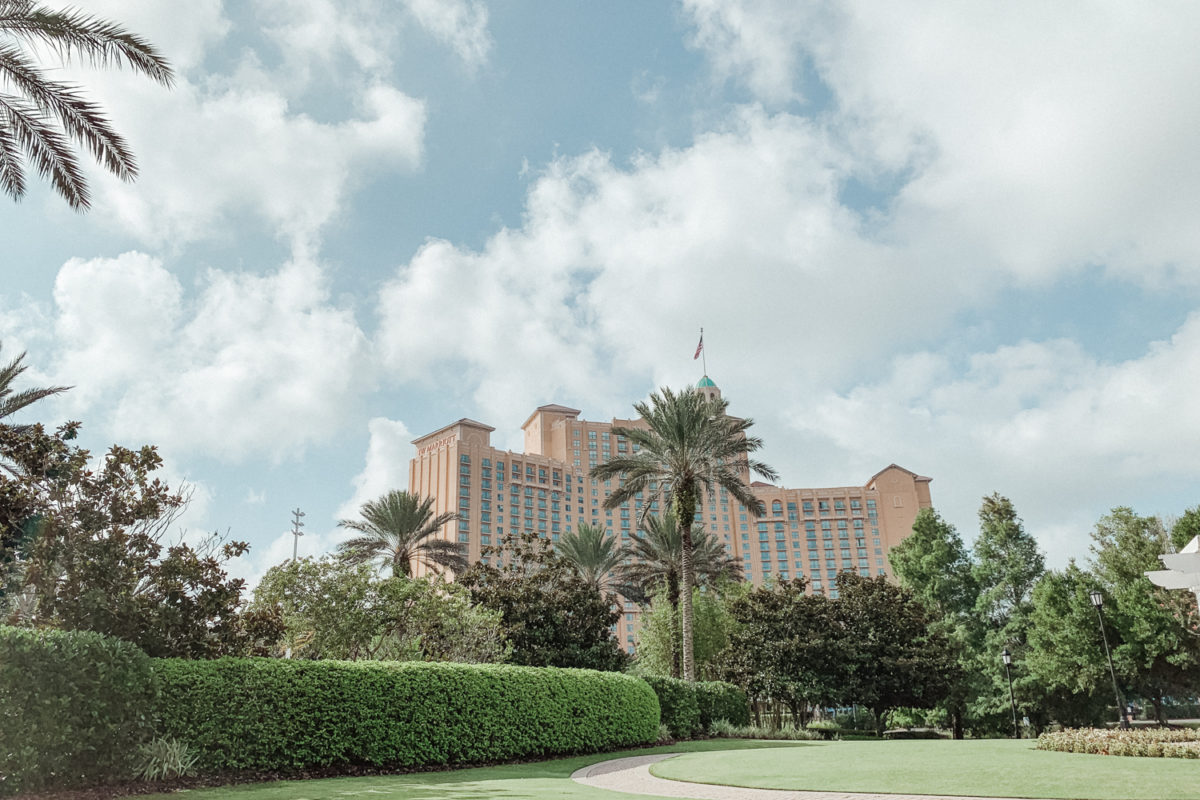 This post may contain affiliate links. Purchasing through them help support this website.
I am so excited to share with you today my review of the JW Marriott Orlando, Grande Lakes resort.  After researching for days on how to travel with a toddler on flights we decided to stay local for this Summer.  Living in Tampa we are an hour away from some of the best beaches in the country and Orlando.  Orlando is a little different now with a toddler since the theme parks are more limited to the Disney side since Universal doesn't really have a lot to offer little ones in my opinion.  We wanted a quick staycation and jetted over to the JW Marriott at Grande Lakes.  This property is absolutely beautiful and is adjacent to the Ritz Carlton where you can enjoy the amenities there as well.  The number one thing we wanted to do was relax and the pool was definitely where that was at.
The check-in process was completely seamless and our room was available a little earlier than expected. We were able to unpack and hit the pool before his nap.  The lobby was beautiful as expected with top notch customer service.  I really loved the kid's area with large bean bags and a movie playing if you needed a little place for the kiddos to unwind after a long car ride.  The Whisper Creek restaurant was to the right, a full beautiful bar area overlooks the pool, and of course, the expected full-service Starbucks was available as well.
We were able to stay in an Executive Suite which I highly recommend for the extra space.  It would have been fully accommodating if you wanted to bring a nanny or family member to watch your kids at night while you escape for a dinner on your own.  Or if you are staying quite a few days it had a large kitchen area that you could bring your own breakfast, lunch, snacks to make traveling a little more budget friendly.  There was a large sitting area (where we actually set up the pack and play) and the large room to the right. No JW Marriott stay would be complete without the most comfortable beds ever.  I actually got a really good night sleep even with a toddler nearby.  Insiders note, I always put the phone away when we enter any hotel room. What is it with toddlers and wanting to "talk" on the phone.
The bathroom was outfitted with the standard JW Marriott product line which is an unmistakable aromatherapy line that I love the smell of.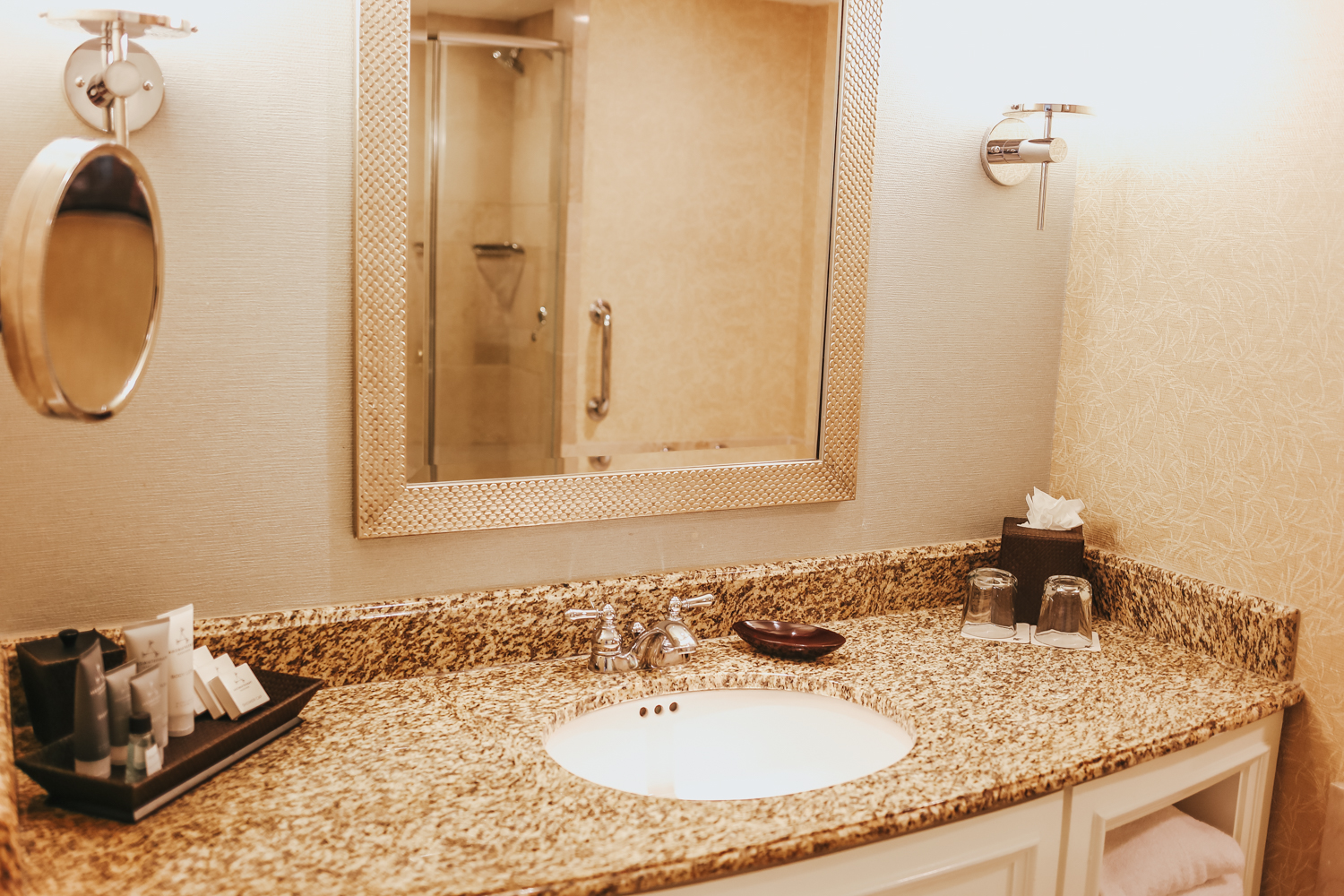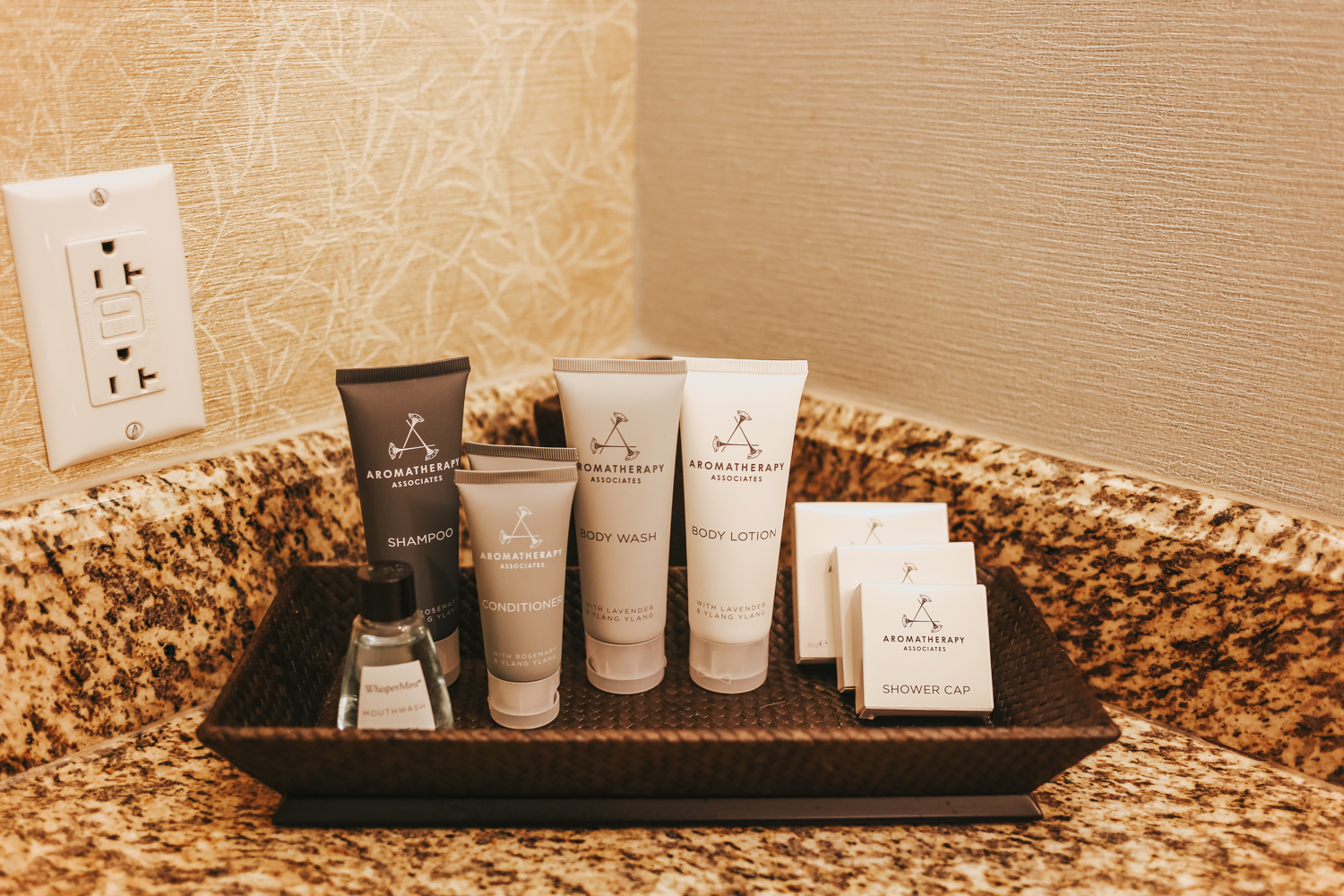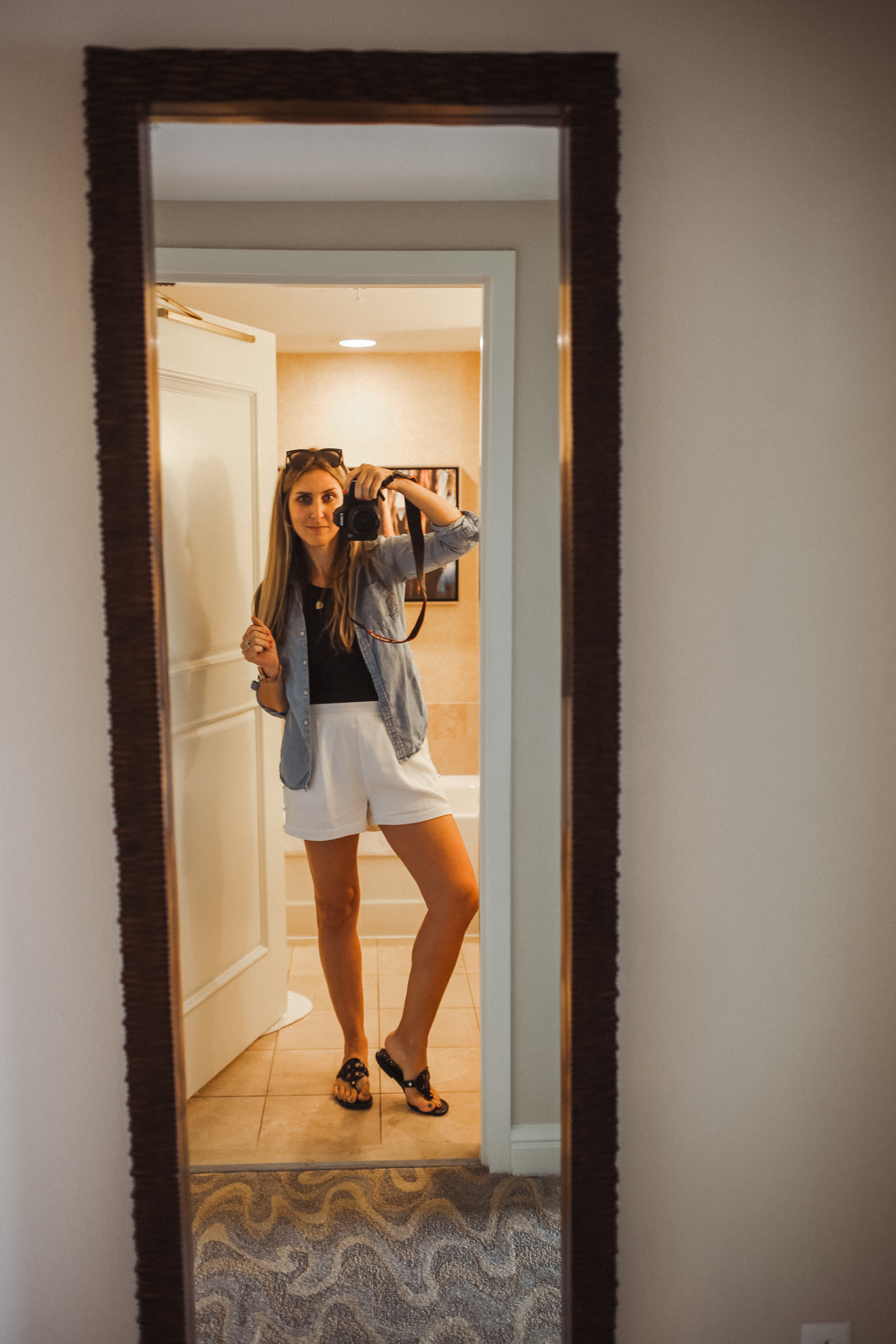 Love how one piece bathing suits can be worn with shorts and a chambray top.  This scallop one is $24!
We had a great view of the pools and grounds.  The JW Marriott Orlando Grande Lakes is set on 500 acres including a golf course designed by Greg Norman.  In the morning we took a nice walk around the lake area and saw lots of people on their morning runs.  There were canoes and other lake activities available as well.
We spent the majority of the time in the pool and floating around the lazy river.  The resort fee includes two pool floats and Patrick had such a great time hanging out on our floats with us.  There were plenty of chairs (my pet peeve with the "towel saving" wasn't an issue there was plenty of availability).  There is also an aquatics course if you want to try something different.
After a nap from the kiddo, we freshened up and headed to dinner at Primo.  It is an upscale dining experience but I didn't feel uncomfortable with a toddler in a high chair.  The margarita pizza was the winner for all of us but the lobster pasta and vegetable lasagna were close seconds.  The majority of the vegetables were from the garden underneath the restaurant and we made sure to take a quick view of the grounds.  Nothing like really true farm to table that you can see.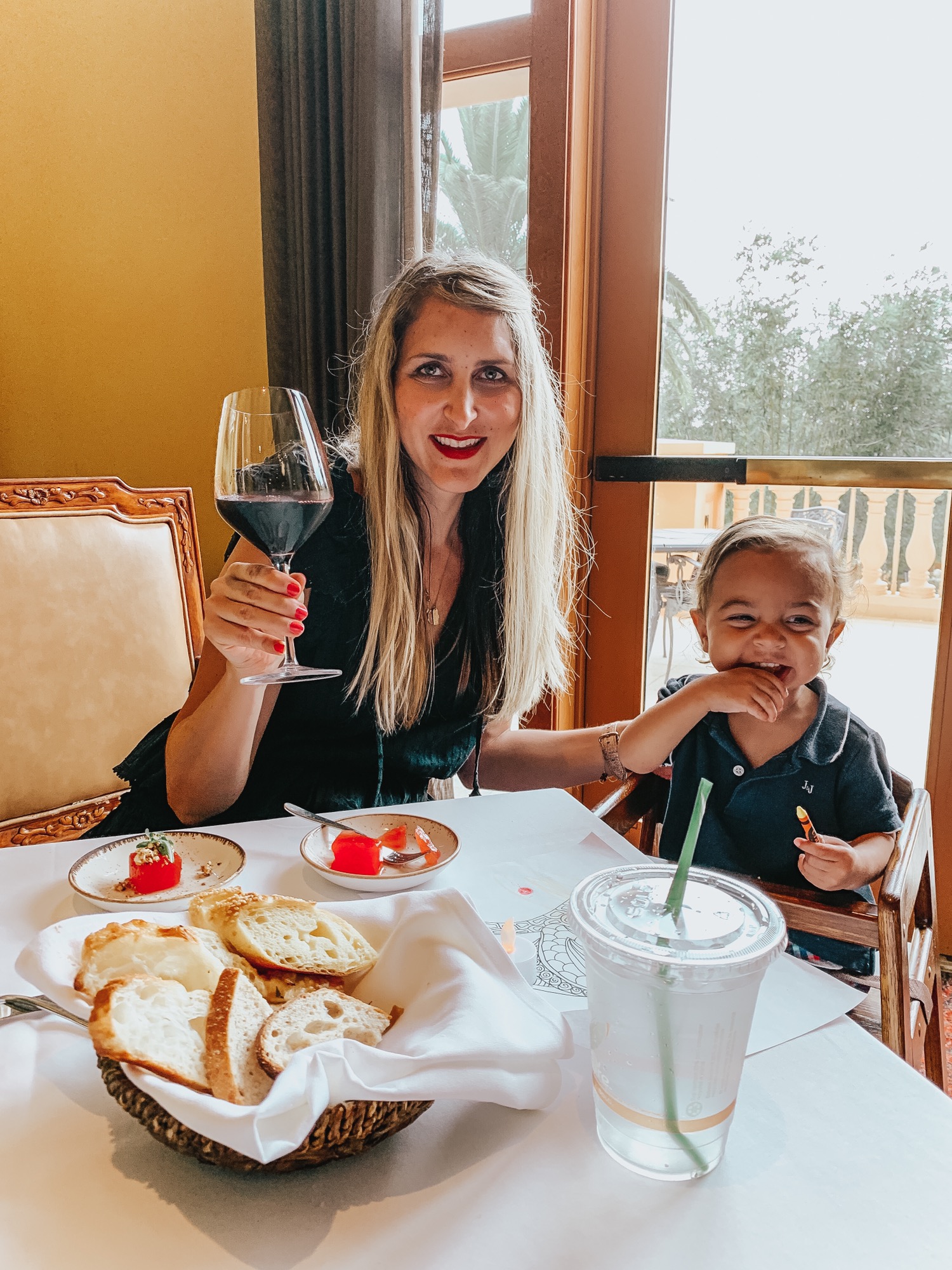 The next day we headed to the pool for the morning and made sure to head out to optimize a drive home during nap time.  We didn't partake in breakfast after being too full from the night before but there was a fully stocked breakfast buffet that looked delicious.  We had to option of having Patrick go to the Ritz kids club in the morning but we opted for more pool time but I love when properties have that option if parents want to have a few hours to themselves.  I should note the property also has beautiful ballrooms (there was a wedding and dental conference going on while we were there).  There is also a spa (which I usually partake but we were only there for a day) a driving range, workout facilities, and games such as pool tables to name a few extras that are available to you at your stay.
We had such a great time and can't wait to go back!  The JW Marriott Orlando Grande Lakes is one of those properties that there is a ton to do on site but yet is close enough to all the parks and attractions that Orlando has to offer.  I highly recommend checking it out if you are in the market for an Orlando stay!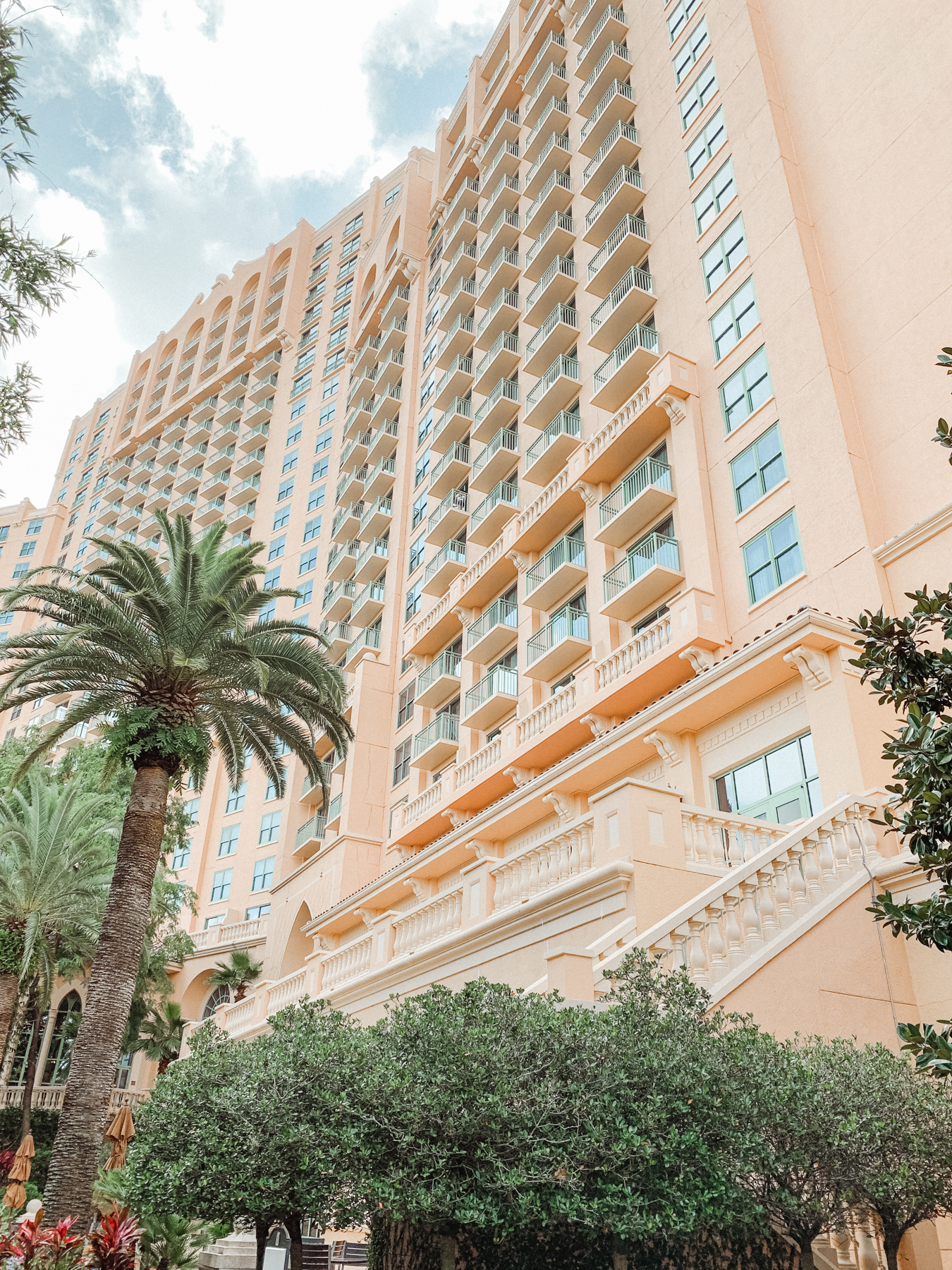 Thank you to the JW Marriott Orlando Grand Lakes for this stay.  I received a complimentary stay for my honest review.
Follow on Bloglovin
Want first dibs on shopping and sales? Sign up here on Liketoknowit for direct links sent to you
Want my daily posts sent to your email inbox?!?!  Then click here and make it happen
Follow my looks along on Instagram
Pin along with me on Pinterest || Like Meet @ the Barre on Facebook
Reader Interactions