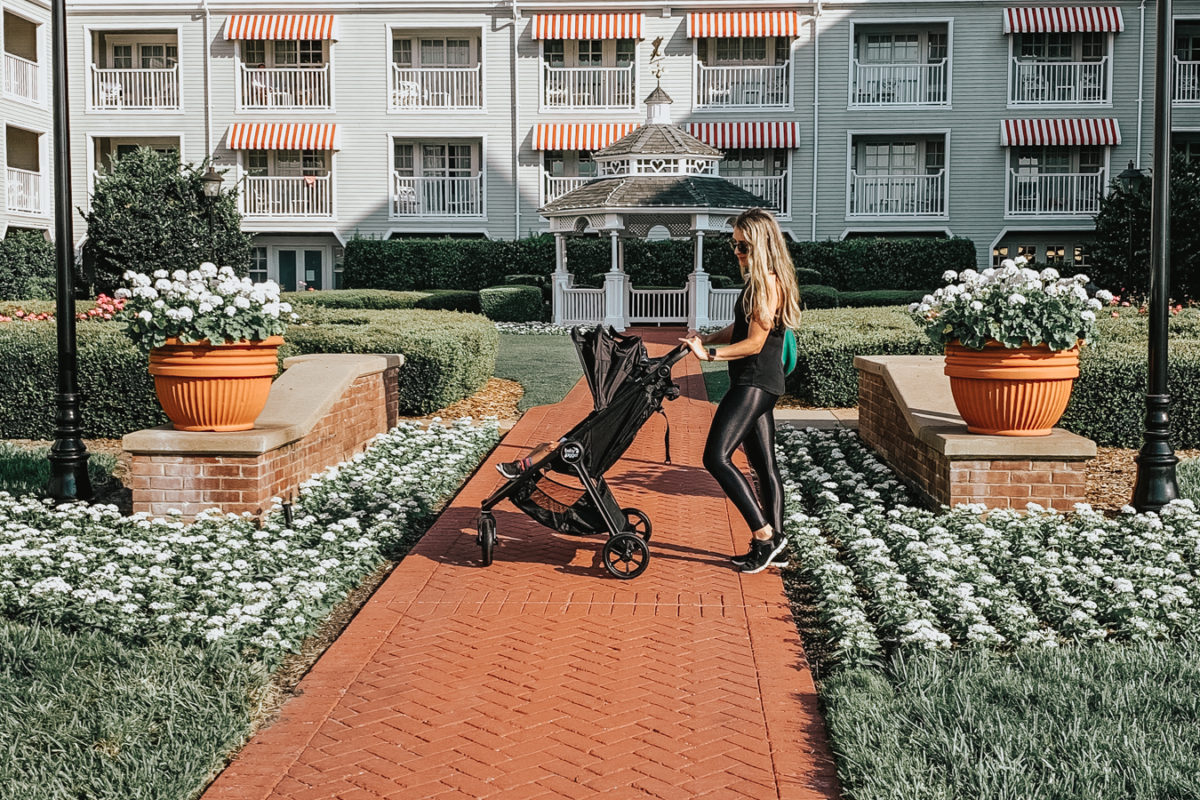 This post may contain affiliate links. Purchasing through them help support this website.
I always say to my husband we live where everyone likes to vacation and we've really been trying to make an effort to take advantage of that fact lately. We are pretty much an hour drive to all the theme parks and some of the most beautiful beaches in the country. I have gotten such great feedback in the past from my travel guides and one of my upcoming goals for the summer was to get back into travel blogging. We recently took a long weekend to Orlando for a little get out of Tampa refresh. We stayed at the Dolphin resort and it was the perfect mix of kid-friendly and adult retreat. We had a room on the 14th floor and had a view of all three parks and their fireworks. With a glass of wine, it was the best viewing party. Patrick was out by 730 and slept throughout the night. The combo of swimming in the pool and toddling on the boardwalk after dinner really wore him out. So here are a few of my suggestions for making a trip with a toddler a little bit easier.
Bring All the Snacks
The only reason my little one gets cranky is when he is tired or is hungry. I try to not fill him up on snacks and give him breakfast, lunch, and dinner but sometimes he is too busy playing that he won't stop to eat. Or in the car, I can't give him his full meal so snacks to the rescue. This especially rings true with flights, train rides, etc.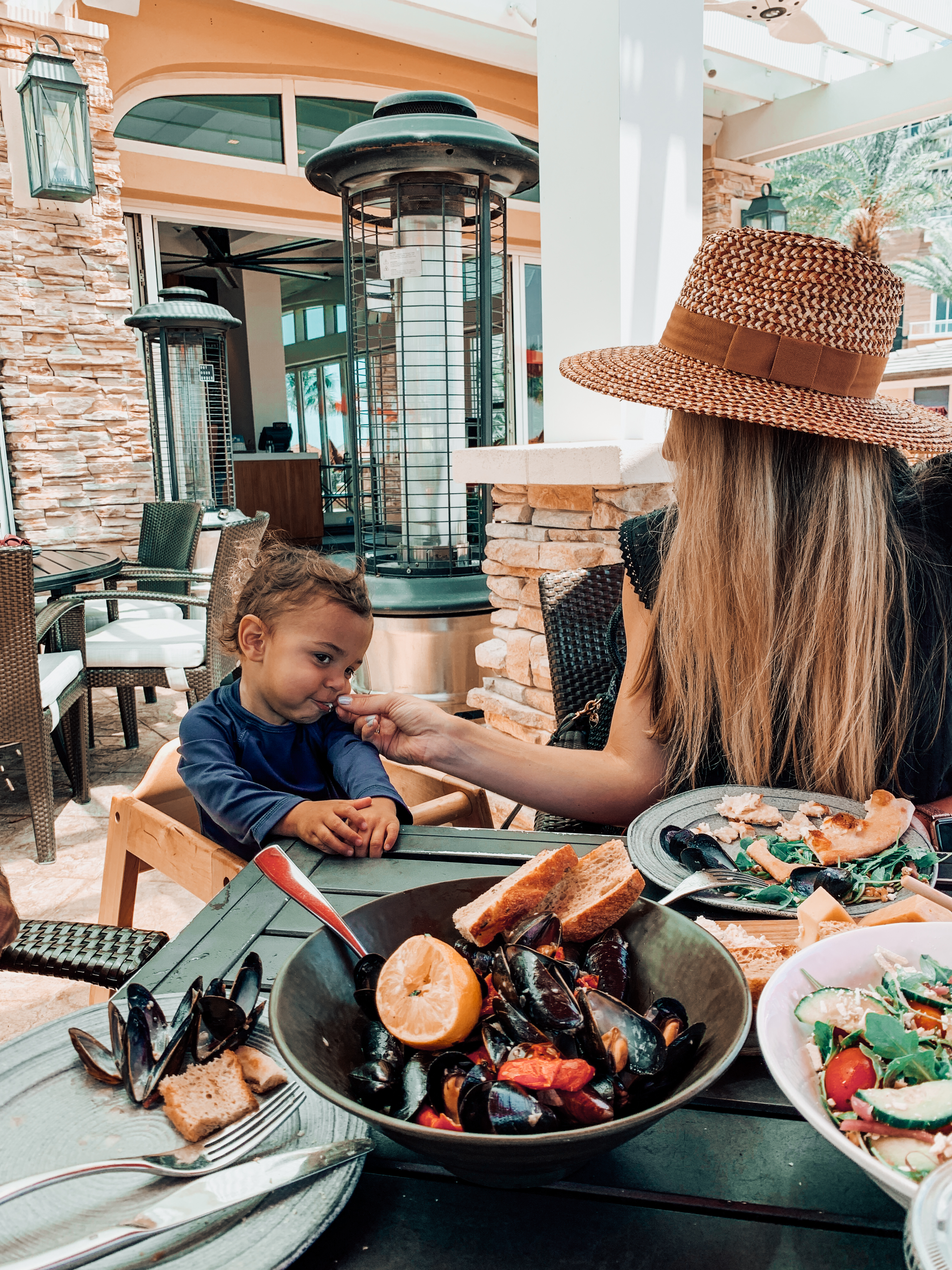 Don't Overpack
Every trip, we seem to get better about this. The first time we went down to Marco Island, I must have had about ten separate bags because I thought it would be easier to keep everyone straight. A bag for myself, Mark's, Patricks, a bag for toys, one for snacks, etc., etc. Now, we have one big travel bag, and I pack in packing cubes. That way, we pull the one bag, the pack and play lay on top of it, I put Patrick in the stroller, and I can carry the few miscellaneous things. It has made for less terse conversations between Mark and me when we are packing to leave on each end. It also makes me feel less scatterbrain like I forget something when there are fewer bags to keep track of. I make sure to lay out outfits for each day and not just to start throwing clothes in just in case. I do always bring extra PJ's for Patrick, more underwear than the number of days, and an oversized scarf because it is multi-purpose. A black maxi can be used so many ways and a one-piece bathing suit can be worn as a bodysuit which takes up minimal room. Of course, finding the right swimming bodysuits for you can be easy if you know where to look.
Make sure to bring a small kit of band-aids, Neosporin, and Benedryl because inevitably, they will skin a knee, and you can't rely on the hotel for everything. I also like to travel with Benedryl just because I want to feed him what we eat, and you never can be too cautious with potential food allergies.
Be Okay With Getting off Schedule
With that said, try your best to work around that schedule. We always try to schedule our travel times around when he naps. We usually leave to go home on a Sunday or Monday. We get up in the morning, have breakfast, go to the pool or beach, get him cleaned up, and pack the car. That usually puts us right around noontime when he takes a nap. I can guarantee a good 1-2 hour car nap that way. He sleeps with white noise, so if he starts to stir, I put it on my phone, and it lulls him back to sleep. That way, when we get home, he is refreshed, in a good mood, and we still have the rest of the day together with happy kiddo.
A Pack and Play
This is perfect for them to sleep in and also keep them contained. Whenever we are unpacking or packing, I put Patrick in there with a few toys, and it helps keep him occupied, so he is not dragging around all the clothes I just neatly packed in the suitcase. A lot of hotels also have them, just make sure to bring your sheet. I personally have this Graco one and it's held up so well!
A Good Stroller
I recently was gifted the Baby Jogger City Mini GT2 and have loved it for travel. It takes up hardly any room because of its lightweight, compact, 3-wheel design, and has the easiest one-hand fold. It's funny whenever you get a new stroller as a mom. You spend at least half the day trying to figure out all the nuances of it, especially when it comes to opening and closing it. Want to see a couple on vacation argue? Give them an unfamiliar stroller with a screaming child and watch. I remember when I first started looking for a stroller, I thought I would be looking for the best car seat stroller combo 2020! I felt like I was never going to find the perfect fit, but after some serious contenders, I did finally find the right fit. The Baby Jogger City Mini GT2 was so intuitive. You grab the strap and pull up, and it collapses in one swoop. To open it, lift the catch on the side, and it just folds right out. I like that the handlebars adjust, so it accommodates to whether Mark or I am pushing him. The ride is very smooth with the forever air rubber tires and all-wheel suspension. I also like the new addition to the 2019 model, which has calf support that pops up. It did take me a youtube video on how to get it back, but basically, you just pull it out, and it collapses back down. I always tell myself, these are supposed to be user-friendly if it feels too forced…..I'm probably doing it wrong.
Since we live in Florida, I appreciate the oversized sunshade that has UV 50 barrier protection. We were at Busch Gardens last week, and it was almost 100 degrees, but Patrick was very comfortable under the shade of the stroller. It is easy to maneuver over lots of different terrains, and it is straightforward to push.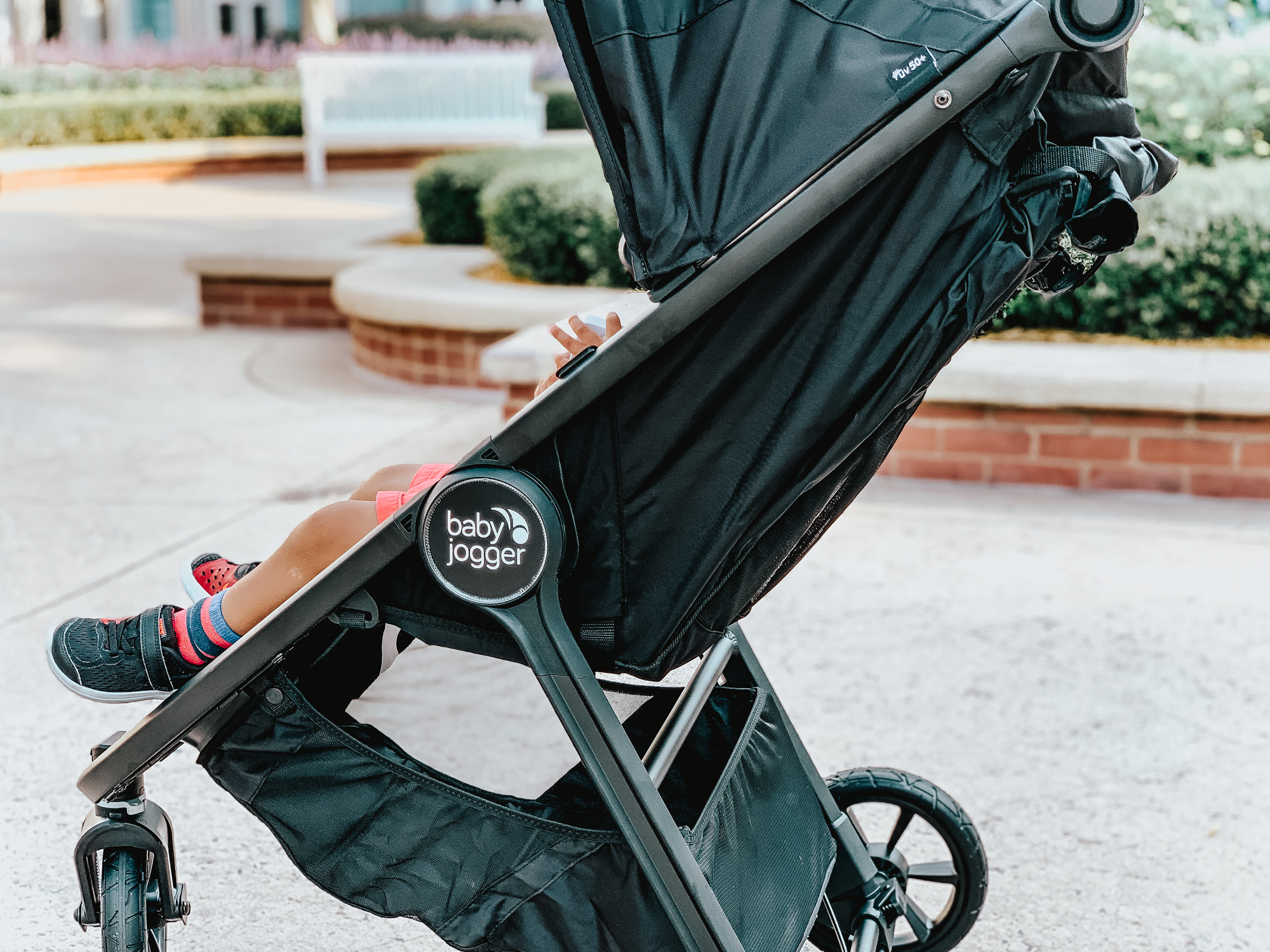 Overall, I have been turning to this stroller more and more lately. It takes up less room in my trunk, it easy to flip open, has one hand close, and my kiddo is very comfortable in it. It also comes with attachments if you want to clip your infant car seat into it, but we are now in the toddler years and beyond that stage. I am pleased with the Baby Jogger City Mini GT2 and would be happy to answer any questions on it!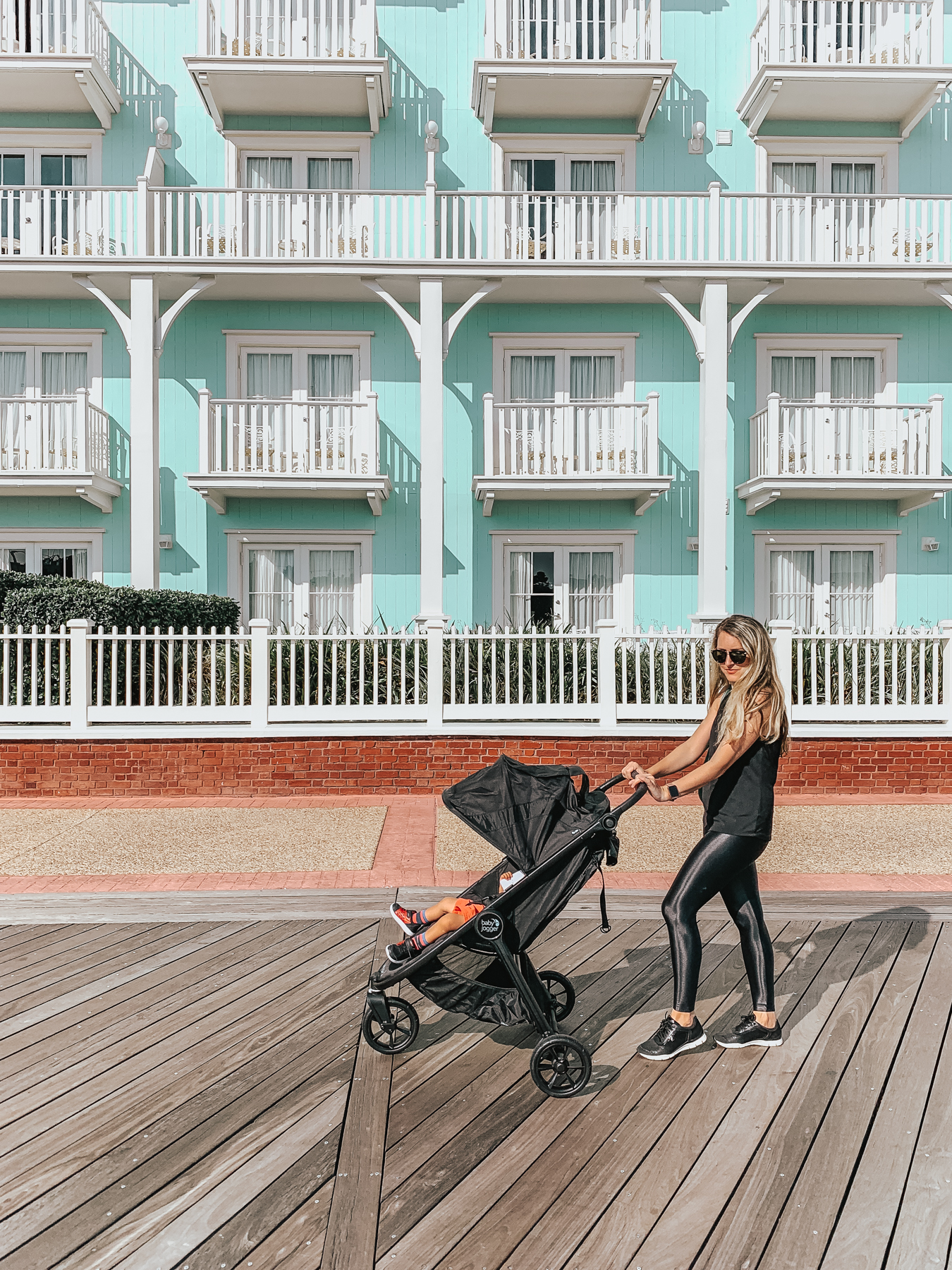 Patience
I always tell my husband before we travel anywhere; it is going to take twice as long and be a lot more expensive. We need to have patience with each other and with our little one. I try to anticipate the needs of the trip and individuals to help combat that, but life happens when traveling, right? I find when you go to places that are familiar with families, it really helps. Mark and I were always really great with traveling before having a child, and Patrick is following in our footsteps. He is such a good toddler and loves traveling!
Those are some of my tips for traveling with a toddler! Give me some of yours; I would love to hear them! Thank you for Baby Jogger for sponsoring this post. I did receive the stroller for my participation in this review.
Follow on Bloglovin
Want first dibs on shopping and sales? Sign up here on Liketoknowit for direct links sent to you
Want my daily posts sent to your email inbox?!?!  Then click here and make it happen
Follow my looks along on Instagram
Pin along with me on Pinterest || Like Meet @ the Barre on Facebook
Reader Interactions