This post may contain affiliate links. Purchasing through them help support this website.
I am excited to share this review of the Four Seasons Orlando at Walt Disney World.  I feel so fortunate to live in Florida and have access to all these beautiful staycation opportunities.  Staying at a Four Seasons has been on the top of my travel bucket list. I was a panel speaker at a conference and it just so happened to be at the Four Seasons Orlando.  We snuck in a following day at the parks to round out the trip to Orlando.  The Four Seasons Orlando is the only five diamond award property in all of Central Florida.  It sits on 26 acres and boosts a 5 acre water park, lazy river, kids pool, water slides, adult only pool, luxury spa, golf, meeting spas, wedding venue, and tons of dining options.  During this heightened time of travel I will say that I felt very comfortable with the safety precautions the hotel was taking.  There were only a few entrances open and each one had a body temperature screening with a person monitoring all activity.  They have strict mask protocols, everything was extremely clean, and distanced.  You can read about the full precautions here with their Lead with Care.  Let's get into the full review of the Four Seasons Orlando
Where it is Located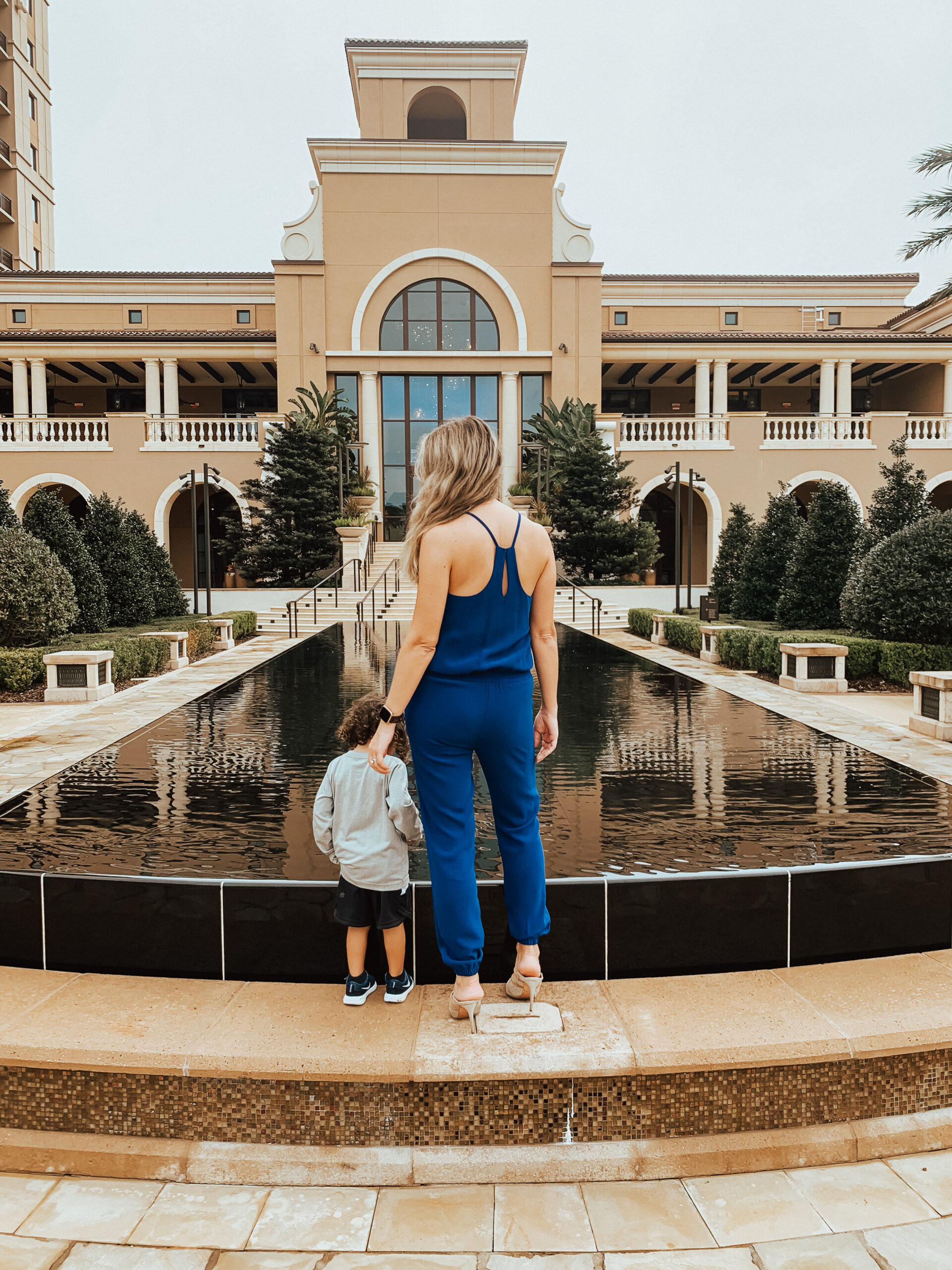 The Four Seasons Orlando is located on Disney property.  They have a luxury shuttle bus that runs every hour to all four Disney Parks. You can read more about this here.  The bus was my kiddos favorite ride of the day.  The parking at Disney parks is $25 a day so this is a really nice perk.  There is also a character breakfast every Saturday.  At this time, they are the only one Disney property that has this!  You also have the perk of Extra Magic Hours benefit.  This will be especially beneficially when parks start increasing capacity again.
The Rooms
We stayed in a "standard" room that was very nicely appointed.  The beds were very comfortable.  They were quite spacious, had an on demand wine dispenser, and Nespresso coffee.  The bathroom was the star of the show.  I love giving my kiddo a bath when we travel.  It's a great way to keep them entertained for an hour.  There was a TV in the mirror.  He had the best time watching Shrek and playing in the tub.  We had a beautiful view of the grounds and pool area from our balcony.
The Food
We have stayed in a few different hotels since everything has reopened from the pandemic.  The majority of the hotels only have a select restaurants open with very limited menus.  That is not the case with the Four Seasons Orlando.  All their restaurants are open, full menus, and operating with the upmost precautions.  We dined at Capa and PB&G.  We also had service by the pool. We didn't have a chance to eat at Ravello but I want to go back just to be able to.  Capa is located on the 17th floor.  It is considered a steakhouse but we felt very comfortable with our toddler.  When the fireworks start back again at Disney, there is no better place to watch them.  They also had a talented guitar player singing while we were there.  I had the seabass and my husband had the steak.  One of the biggest perks with staying at the Four Seasons Orlando is that kids under 5 eat free when you order an adult meal.  My child eat so well the entire time.
PB&G is casual outdoor dining.  We came in from the pool and had a delicious lunch.  There were tons of outdoor tv's so all the guys were posted up watching the various football games.  I had the soba bowl and it was so good!  My husband and I actually split it.  It was large and very tasty.
Ravello is an Italian restaurant and also houses the character breakfast on Saturdays.  The truffle ravioli is something I really want to go back and try!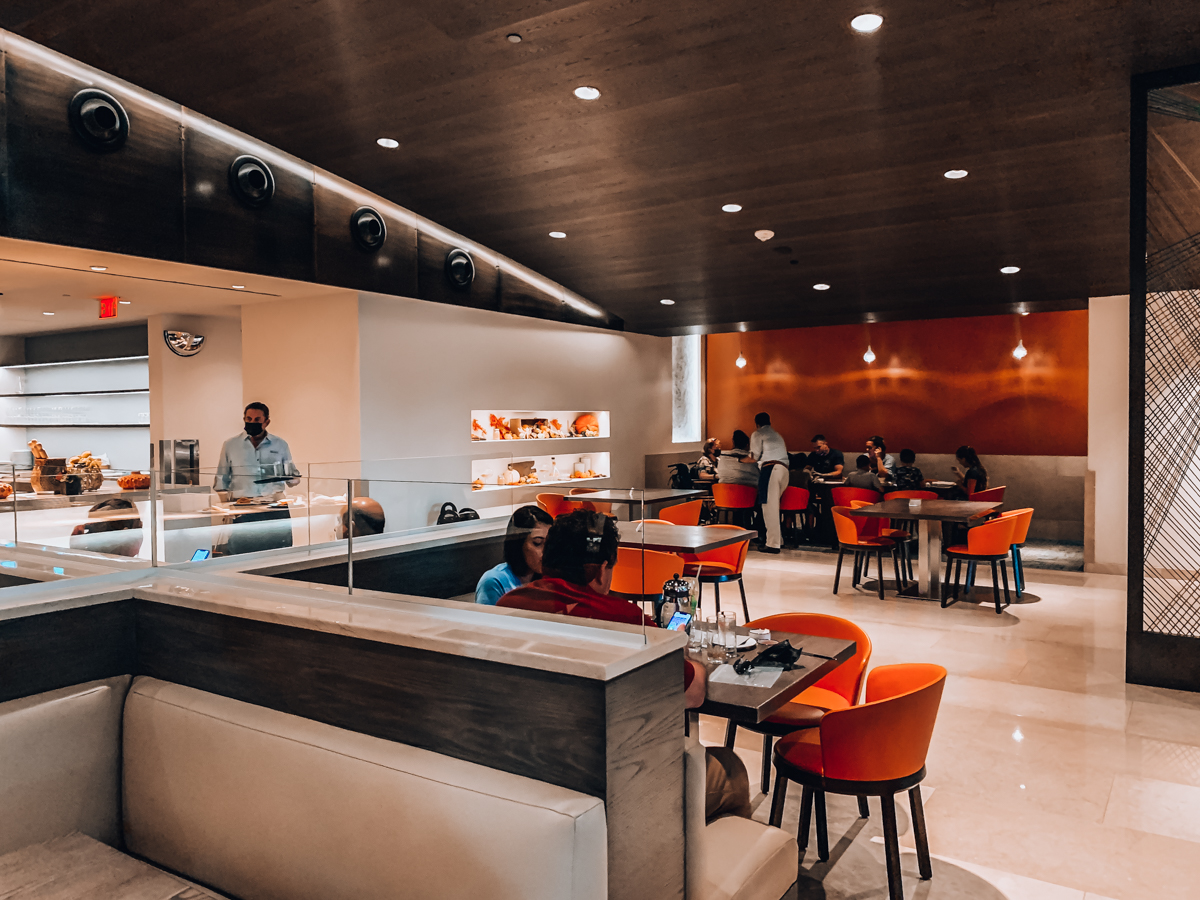 There is also a grab and go type of coffee shop right off the lobby.  The coffee was delicious and we also got a scoop of gelato for completing a scavenger hunt with Patrick.  Wow it was really good.  We also met a mutual couple friend in the lobby bar which was comfortably spaced out.
The Pools
You could spend the entire day outside by the pools.  There is a lazy river, a huge splash pad, water slides, and an infinity pool overlooking the beautiful grounds.  The service was top notch.  We were never without a cold glass of water or poolside dining.  This was absolutely our favorite part of our stay.  There is also an adult only pool if you want your own little sanctuary.
The Amenities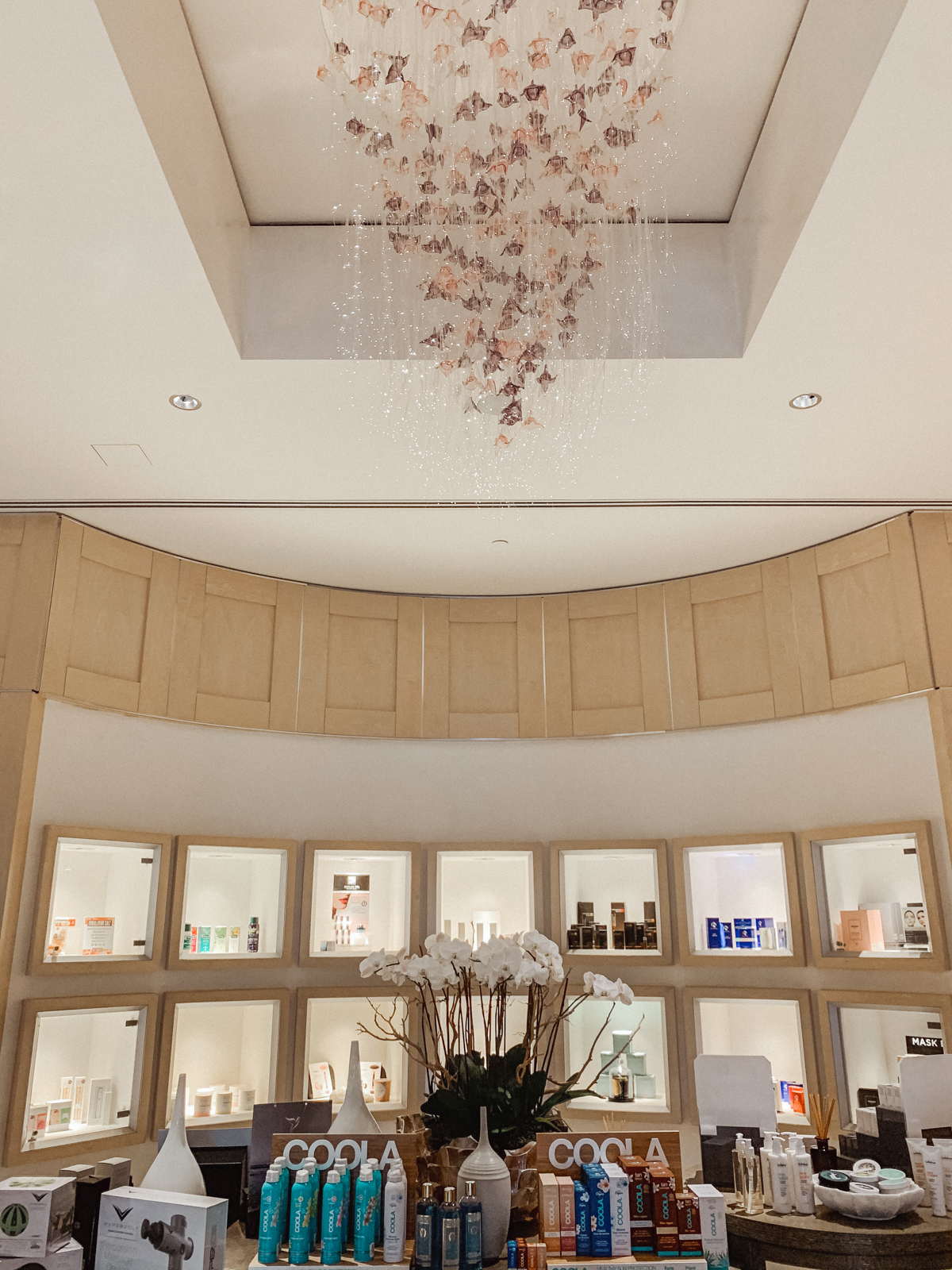 I have never been more impressed to every single detail and service.  The grounds were immaculate. You could spend the entire day just playing in all the various water activities and pools.  There is a kids club that is free for ages 4-12.  You can indulge in the adults only pool during that time, hit up the spa, or grab a quick workout.  They have also rolled out a new "schoolcation".  If you are traveling during school days, you can enroll your child for a fee (half day or full day available).  They will have supervised virtual learning, food provided, and then "recess" is available at the pools/water park.  One of our favorite activities was the "drive in" movie around the pool area at night.  My kiddo loved that and it was a great way to wind down before bed.  The Four Seasons Orlando is extremely family oriented.  They have pretty much thought of everything!
Takeaways
This was our first time ever staying at a Four Seasons property.  The initial sticker shock of the price of rooms sometimes has been a deterrent.   I will say it completely stands up to the price point.  The service is top notch.  This property is welcoming and not stuffy.  The staff is extremely accommodating.  I felt extremely comfortable with their health precautions.  There was body temp screening at every opening and masks were strictly enforced.  Everything was extremely clean and appropriately spaced out. There was no need to leave the property.  There was plenty to do and lots of places to eat.  If you plan on going to the parks, the extras from this property are totally worth it.  It is a very family friendly resort that is worth the splurge.  We cannot wait to go back and experience everything this property has to offer!
Thank you to the Four Seasons Orlando.  I did receive a media rate for my review.  Thank you for supporting the brands that work with Meet at the Barre.
Follow on Bloglovin
Want first dibs on shopping and sales? Sign up here on Liketoknowit for direct links sent to you
Want my daily posts sent to your email inbox?!?!  Then click here and make it happen
Follow my looks along on Instagram
Pin along with me on Pinterest || Like Meet @ the Barre on Facebook