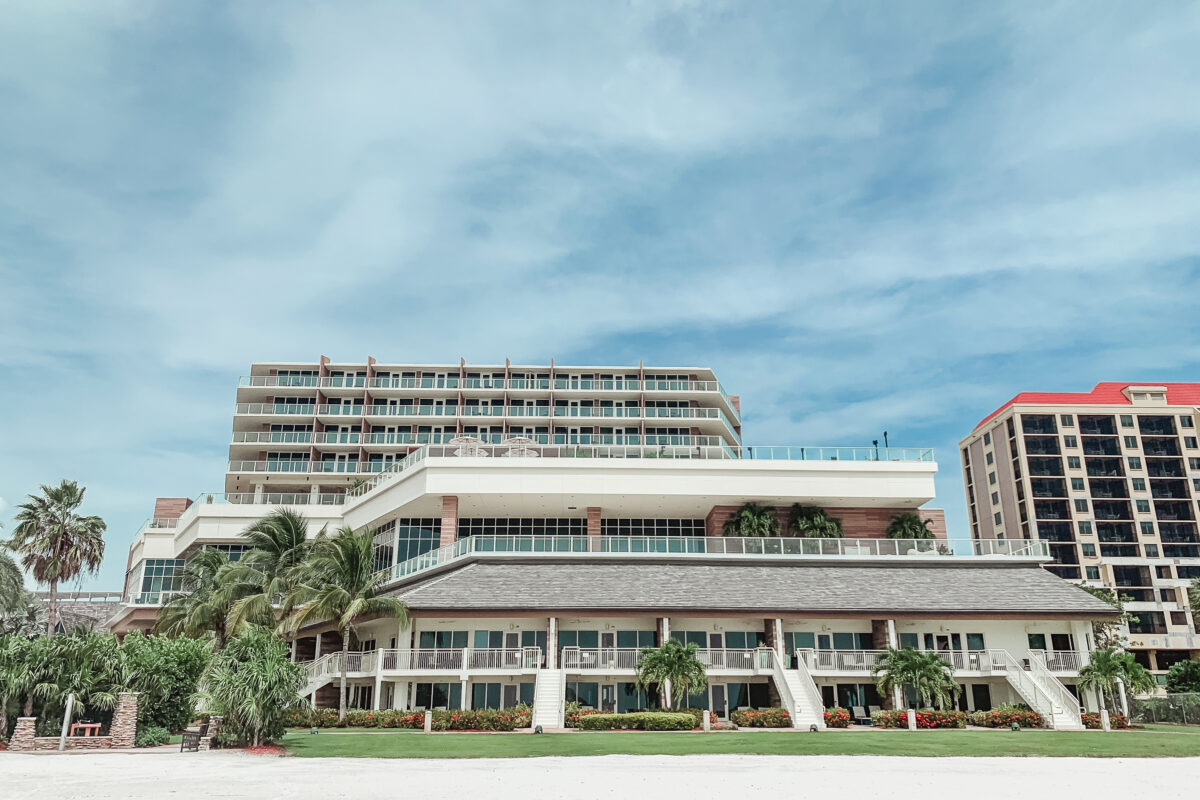 This post may contain affiliate links. Purchasing through them help support this website.
I am so excited to share this review of the JW Marriott Marco Island and the Lanai Suite.  I have been blogging for seven years now and travel blogging has been one of my absolute passions.  I have worked with this property over the years and it is really special to me.  I first went with my husband for one of our early anniversaries and now we are back with my three-year-old son. I have stayed in about every room type that the resort has to offer.  If you are traveling without kiddos I highly recommend staying in the Sirene tower.  Here is my full review of that here.  This time we had the absolute pleasure of being able to stay in the JW Marco Lanai Suite.  As for many, the past year has been very different.  We are a family that usually travels somewhere about once a month.  We live in a beautiful destination state and have now been taking advantage of the long weekend staycations.  The first place I wanted to go to when we decided to start traveling again was the JW Marriott Marco Island.  I can't wait to share this review and our experience with the Lanai Suite.
How to Get There
The JW Marriott is located on Marco Island which is roughly about 30 minutes outside of Naples.  For Floridians, it is a perfect long weekend staycation destination.  We live in Tampa and it takes 2 1/2 hours to get there.  We usually stop at the Costco in Naples to gas up and grab any snacks/beverages before heading to Marco.  For the locals to Florida who live in the Miami area, I highly recommend getting out of South Florida to check it out.  Most out of town guests that we talked to flew into Ft. Myers airport which is about an hour away.  The hotel can arrange for transportation or Uber/Lyft or rental cars are great options.  As I said, there is so much to do on property that I really don't think a rental car is that necessary if you are out of town.  The property is walking distance to other restaurants on the island if you do want to venture out but I warn you it is a sleepy island that shuts down very early.  Plus, there are so many great dining options on the property that you don't need to leave.
The Lanai Suite Layout
What I absolutely loved about this suite is that it made a large property feel like you were in your own private sanctuary.  The JW Marriott Marco Island is a sprawling large resort.  When you walk through the revolving doors the majority of the rooms are off to the right.  The Sirene tower is over to the left.  The Sirene Tower is adults only so right away there is a calmness to walking to the left (I have a child….I can say that ;-)  The Island suite is accessed by its own elevator.  When you are trying to socially distance, it was so important that we never shared an elevator the entire time we were there.  The elevator doors opened up to a quiet isolated hallway that was flanked with flowy white fabric.  I instantly felt like we were back to our honeymoon in Greece. We opened the door and the layout of the suite is incredibly smart when traveling with a family.  There is a long hallway with a half bathroom that leads to a large sitting area that has a pull-out couch, dining table, TV, and kitchen area.  The wet bar area has an oversized mini-fridge, microwave (so key when traveling with kids right?), and a sink.  There is also a TV.  That room can be closed off so that kiddos can sleep out there and have access to their own bathroom.  Through the french doors, it leads to the master suite with a King-sized bed and a full bathroom.  I really like bathtubs with a toddler.  Easy way to keep them entertained and wind down after a long day before bed.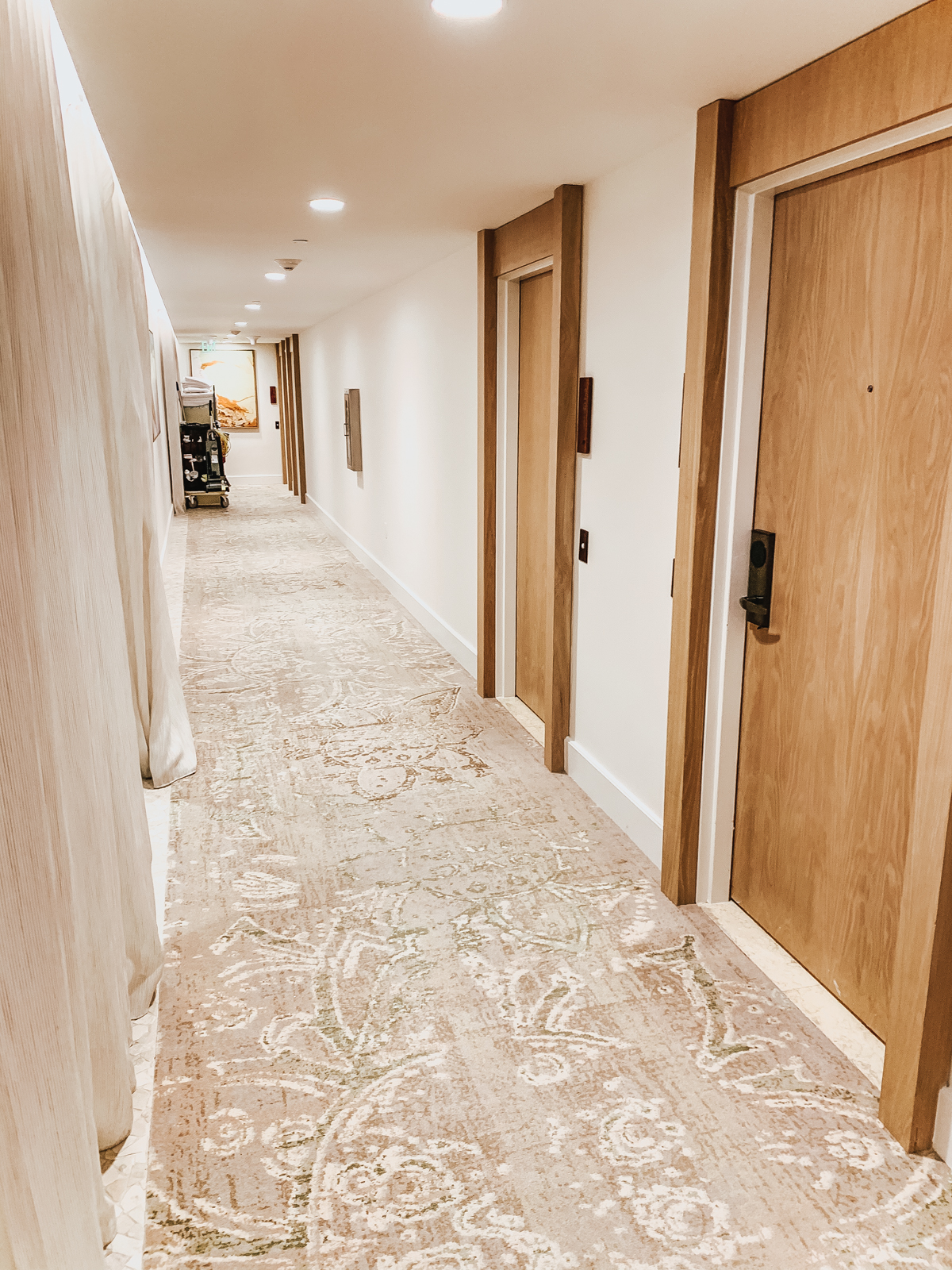 The best part of the room is the direct access to the beach.  You walk down a set of stairs and you are onto the beach.  Having a little one it was so nice to be able to carry all the beach necessities such a short distance.  It honestly felt like our own private resort.
The Food Options
The dining at the JW Marco Island has always been something that we have looked forward to.  During this time some of the restaurants are closed and menus at the ones that are open are limited.  I think if you know that coming in, you are able to set your expectations.  Tesoro is currently closed but Ario is open with beautiful outdoor dining.  Quinns on the Beach as well as 400 Pazzi's is available as well.  Ario is one of our all-time favorite restaurants.  The food and service are top-notch.  We once again had an incredibly passionate and knowledgeable staff that delivered a quality dining experience that we have come to expect.  I actually opted for the Seabass which I'm still dreaming about.  My husband had the lamb chops at the recommendation of our lovely server.  My son had the kids filet which he only let me sneak one or two bites before he devoured it.
We also had 400 Pazzi's.  The menu was significantly limited but the food was still excellent.  This is the best place to grab some casual pizza and pasta.  The tiramisu is worth it to save room for.
The Beach
Since we have been diligent with socially distancing we spent the majority of our time at the beach.  The resort fee includes beach chairs and towels which will be set up for you.  Quinns has a truck that is stopping by to provide libations and refreshments as well.  The service was once again excellent.  Our chairs were set up promptly and there was plenty of space in between guests.  You cannot find a prettier beach in my honest opinion.  The water is extremely calm, clear, and warm.  We spent the majority of the time in the water and playing in the sand.
Other Amenities
The pools are open at this time.  During the week it tends to be very open.  The weekends were honestly busy.  I tend to fall into the crowd of being outside with fresh air and sunlight is one of the best things for your overall mental health and wellness.  However, if people are being strict I would give advice to either go very early to the pool or spend most of the day at the beach.
The spa which is my favorite is open but the pool is not.  That is one of my best-kept secrets of the resort that with a spa service you get access to the exclusive spa pool area.  That may change soon now that the governor has allowed FL to open to phase 3.  It is something that I recommend to ask when you make your reservation.
Takeaways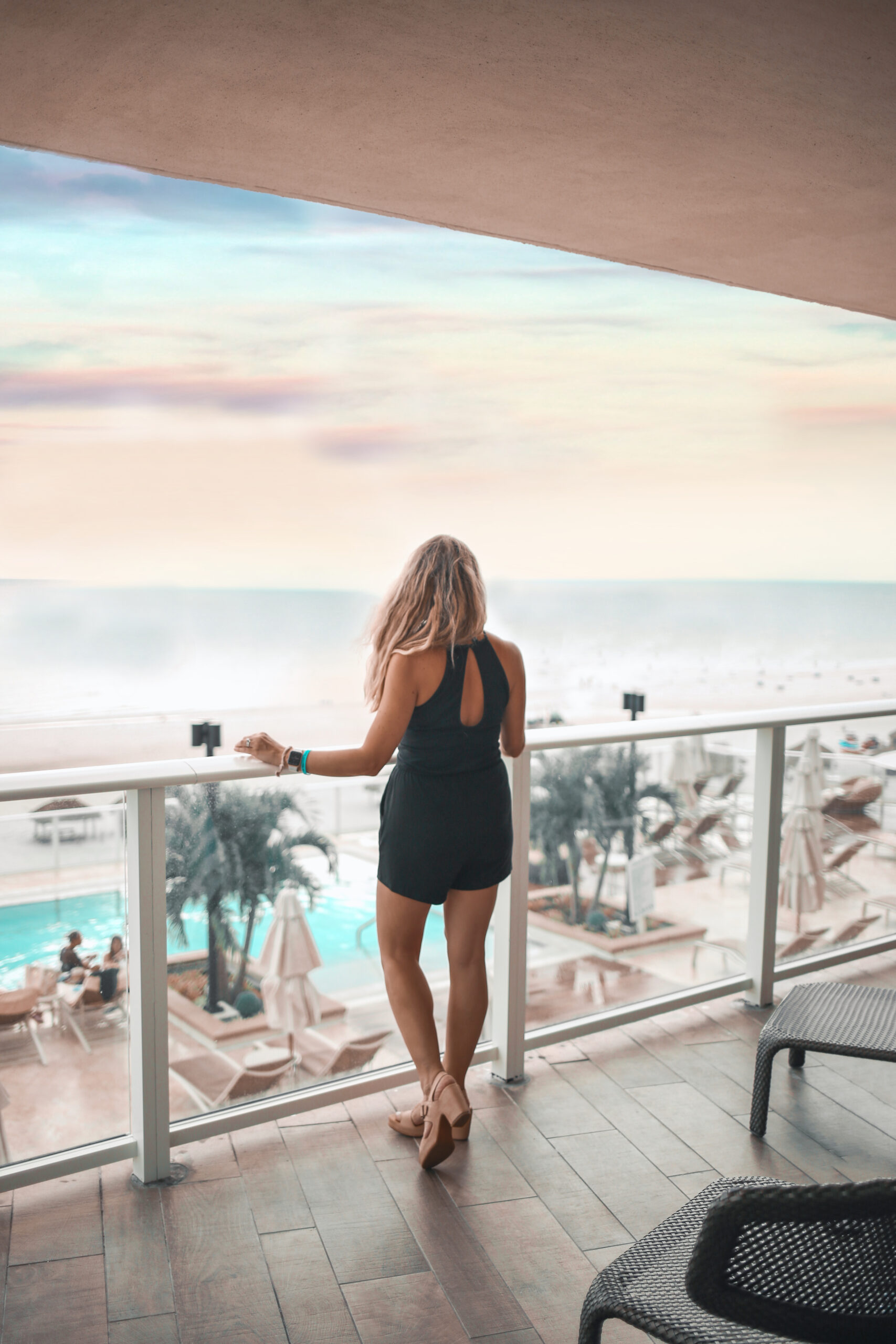 The JW Marriott Marco Island is a special place.  It is the only JW Marriott that is located on the beach.  It is one of those vacations that you look forward to knowing that you are going to truly be able to unplug.  If you are ready to start traveling again, I really recommend this property.  It feels like you are in a tropical paradise that is a car ride away for Floridians.  The travel/hotel industry has taken a tremendous blow during the pandemic.  They are taking all the necessary cleaning precautions. There are hand sanitizer stations everywhere and every staff member was diligent with their masks.  The rooms were impeccably clean, the beach is beautiful, and the food was excellent.  The JW Marriott is a brand that is consistent and holds itself to a high standard.  This was a memorable stay that was a beautiful reminder of how lucky we are to live in paradise.
Thank you to the JW Marriott Marco Island.  I received a complimentary stay for my honest review. Thank you for supporting the brands that work with Meet at the Barre.
Follow on Bloglovin
Want first dibs on shopping and sales? Sign up here on Liketoknowit for direct links sent to you
Want my daily posts sent to your email inbox?!?!  Then click here and make it happen
Follow my looks along on Instagram
Pin along with me on Pinterest || Like Meet @ the Barre on Facebook
Reader Interactions