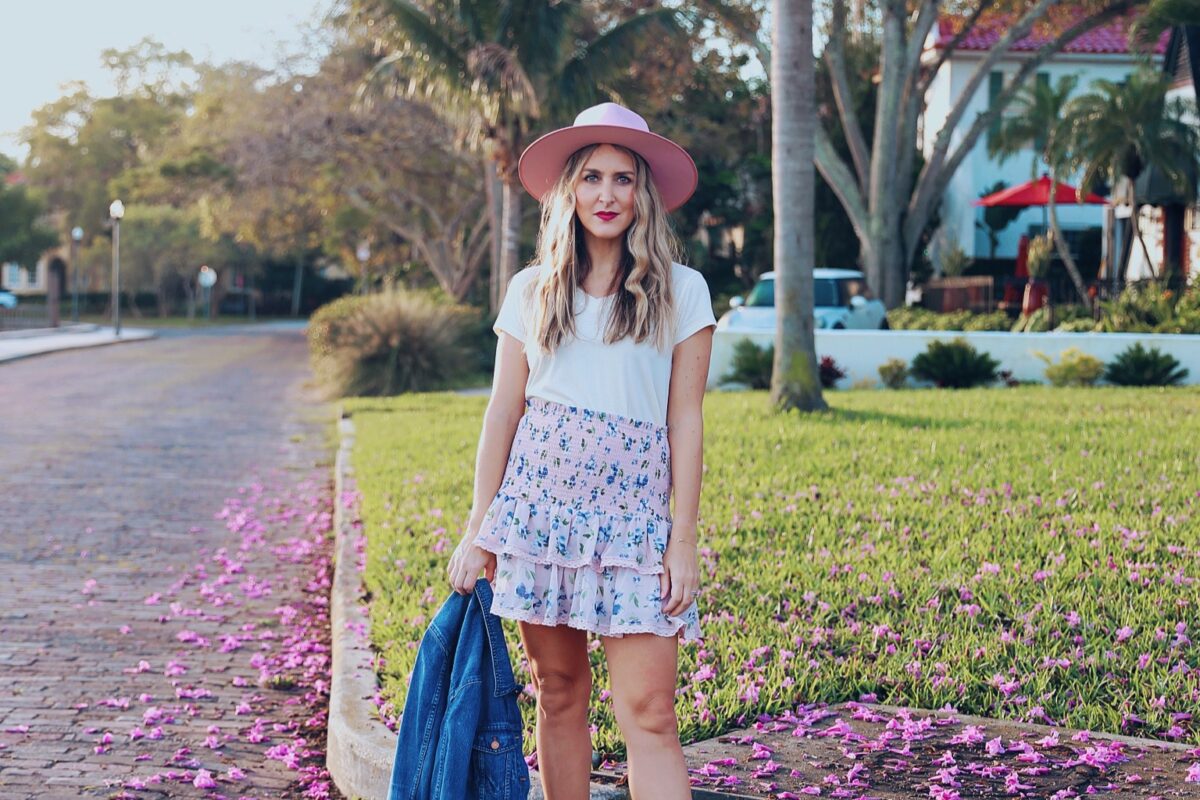 This post may contain affiliate links. Purchasing through them help support this website.
Happy Friday.  March certainly flew by right?  I hope everyone is doing okay and staying safe with all the crazy storms lately!   I have some family in town that I haven't seen in a long while so my weekend is starting a little early today.  I wanted to check in with some Spring Favorites that I have been loving lately.  Definitely feel free to share some of yours as well!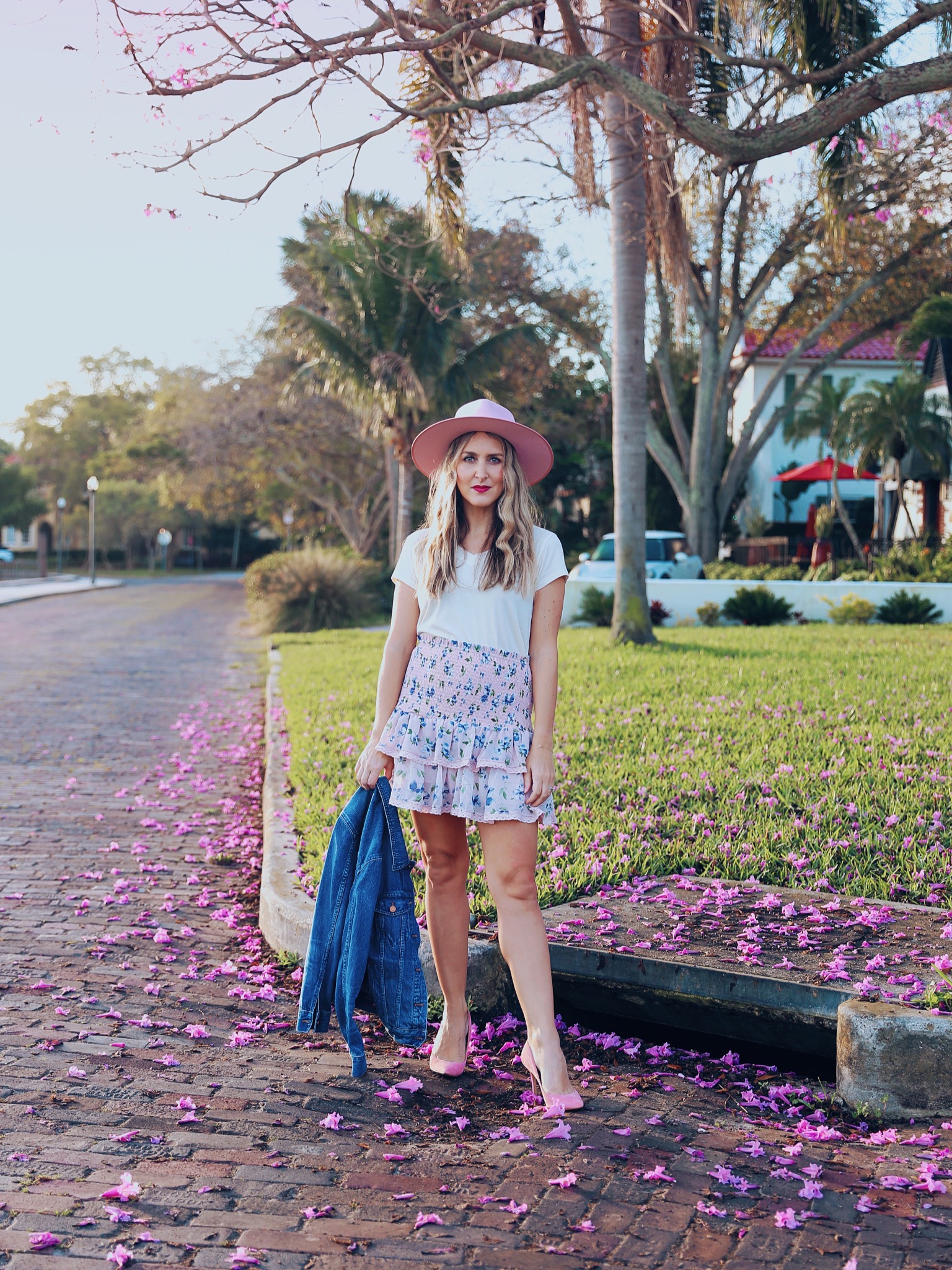 Skirt English Factory
The perfect crop top for high waisted pieces from Z Supply (Ava Rib V neck tee)
Obsessed with this pink hat from Lack of Color
Heels still my tried and true favorites from Sam Edelman
This denim jacket is from Madewell and looks as good as the first day I got it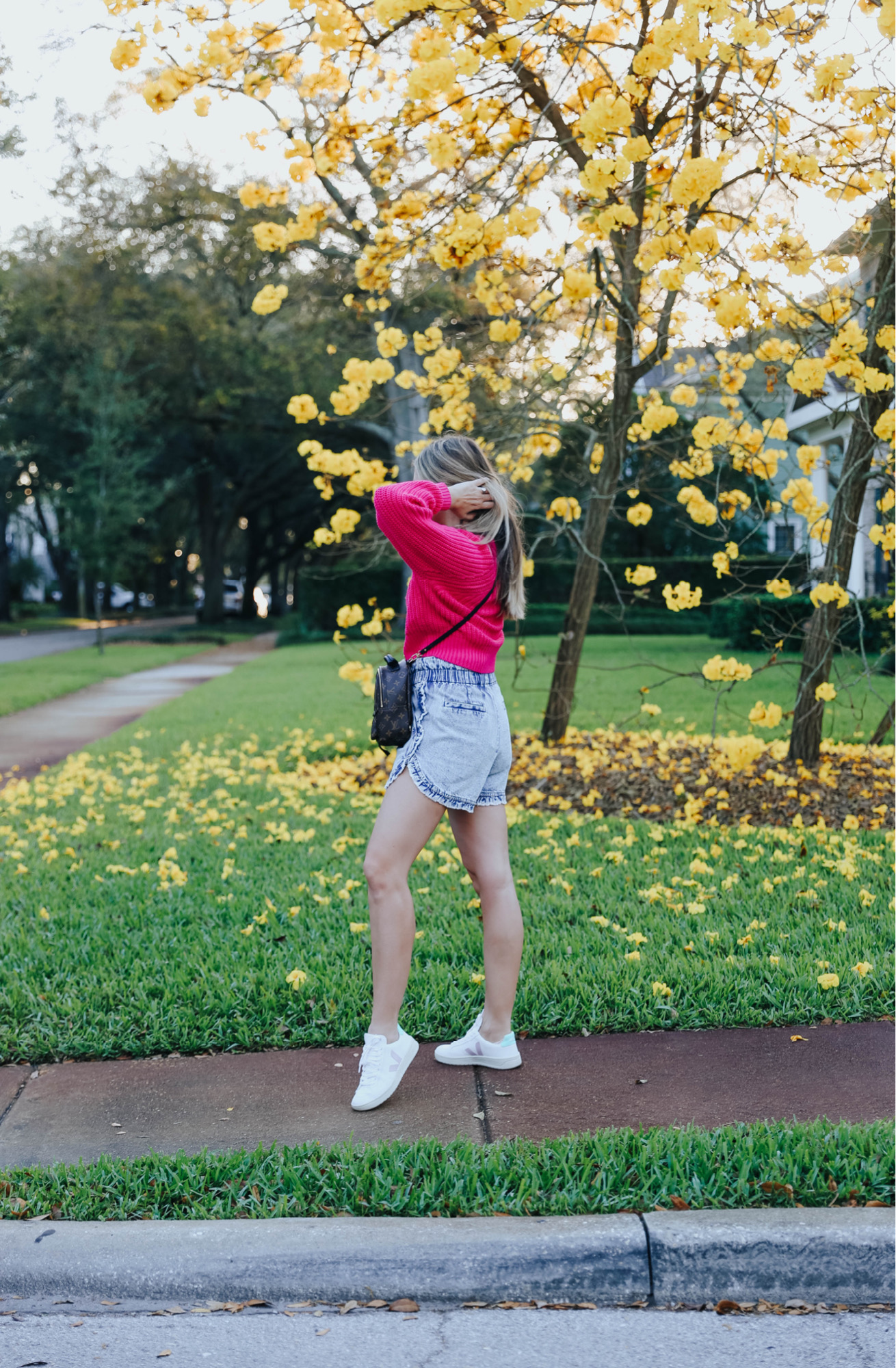 Obsessed with these Veja Sneakers.  They are seriously perfect for the Spring and are super comfortable.  These are the V12 sneakers.  They have a tiny lift in the sole to make your legs look super long.
These shorts from Sea are a total splurge but are super flattering.  I also found a save version here for $15.
This hot pink crop sweater is under $30 and gives off some major Ulla Johnson vibes.
My absolute favorite pajamas which are the perfect dupe to the Eberjey two piece PJ's now come in tie dye and shocker they are amazing.  Grab them for $22 here.
I know everyone has been talking about the liquid Modere for hair and nails but I've been using the Mary Ruth Biotin gummies and my hair gal cannot stop raving about how fast my hair is growing.  They also taste delicious.  I added the Zinc to my nightly routine as well.
I snagged these joggers and they are the perfect put on when you come home from work and can still run an errand without looking sloppy pair of updated sweats.  I actually do believe they are worth the $35 price tag.  I ordered a medium and I'm 5'7.
You wouldn't think it was so hard to find a long hooded robe for a toddler that wasn't that weird fleece material (ugh it just doesn't feel right when wet right?). I splurged on this bamboo one and it is basically hotel spa quality for a 3 year old.  I wish they made them in my size.  Bonus point it is from a small mom run company.
I am still absolutely loving this face cream at night.  It is a total contender to my pricey Skinceuticals Triple Lipid cream.  This is $23.  It gives that perfect soft dewey without being sticky.  It absorbs in really well.  I also now use this face depuffer thing.  Salt has not been kind to me ever since I turned 35.
I'm obsessed with Tesalate beach towels.  They fold up super small, repel sand, and are quick drying.  They have the prettiest colors.  15% off with the code Meetatthebarre.
I also bought the DIME lash serum and the Olive & June mani kit to see what all the hype is about.  I will give my unbiased feedback to you soon!
Those are a few of my current favorites.  Tell me what you have been loving?  Work has finally been a little less crazy so I really look forward to regular scheduled programing over here.  xoxoxoxoxo
Follow on Bloglovin
Want first dibs on shopping and sales? Sign up here on Liketoknowit for direct links sent to you
Want my daily posts sent to your email inbox?!?!  Then click here and make it happen
Follow my looks along on Instagram
Pin along with me on Pinterest || Like Meet @ the Barre on Facebook
Reader Interactions