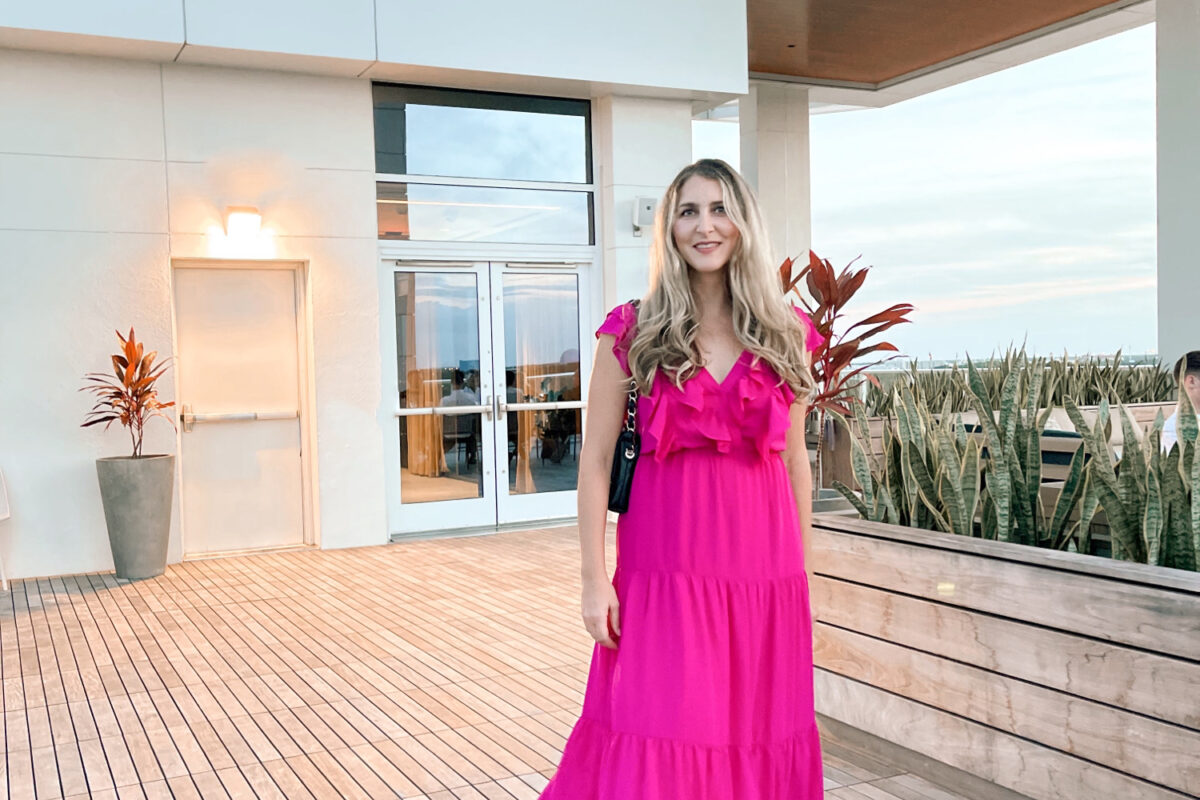 This post may contain affiliate links. Purchasing through them help support this website.
Happy October!  This is my absolute favorite month.  Being from the Boston area, the Fall was honestly my favorite season.  I loved the turning of the leaves, the crispness of the air, bright blue skies, football, and the start of the holiday season.  It is still 90 degrees in Florida but we at least put out all the Halloween decor to make it feel more festive.  I wanted to check in with a few things that I've been loving lately.  We have also started back to traveling so I also wanted to share a some travel favorites.  We actually were supposed to go to Dallas last weekend but our flight got cancelled.  We decided to pivot and head to the JW Bonnet Creek in Orlando instead.  They just opened Illume which is the restaurant on the 9th floor and has the best views of the Disney fireworks.  I highly recommend if you are looking for an Orlando stay to check it out.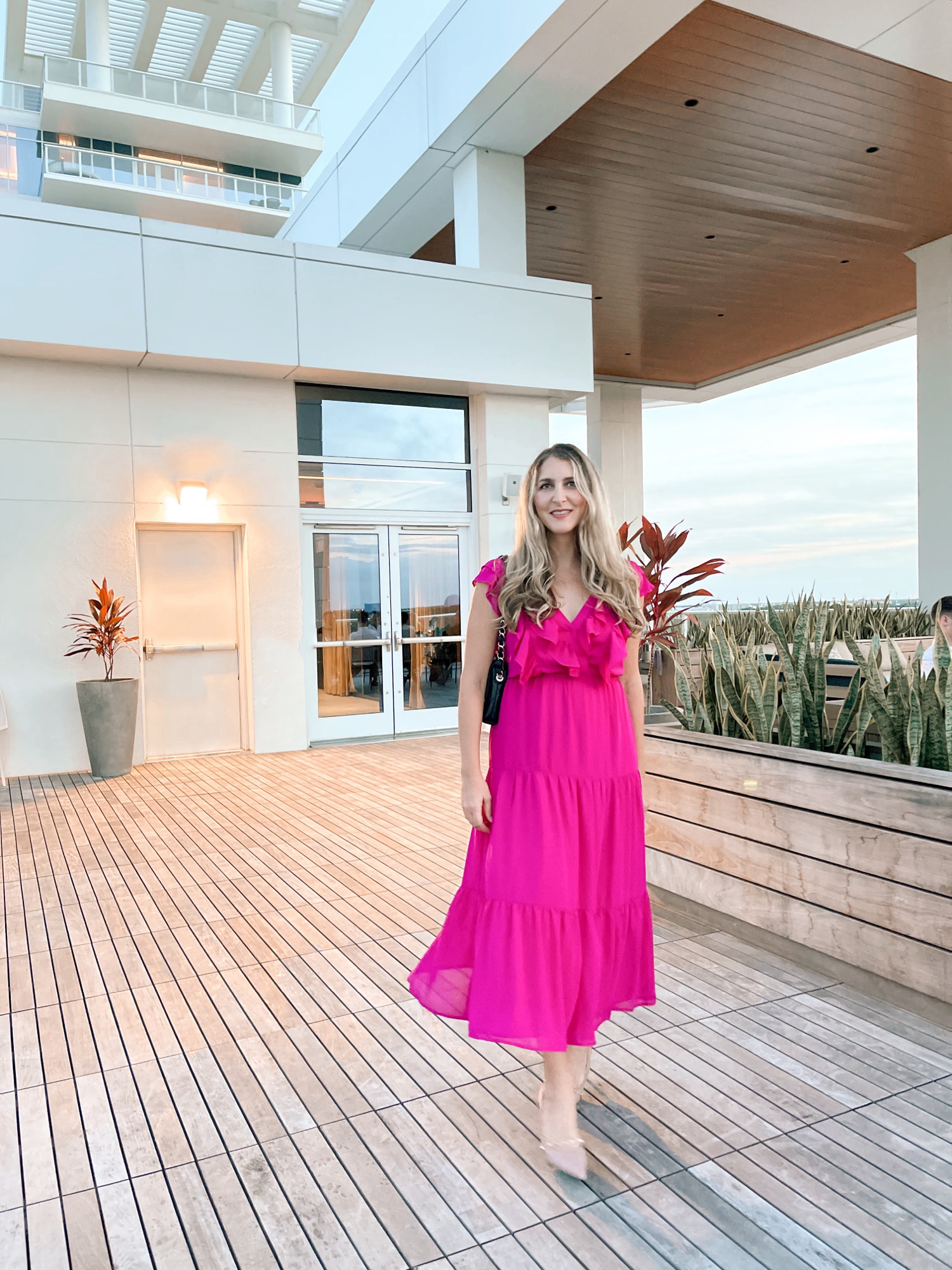 -This hot pink Wayf dress is finally back in stock but sells out quickly.  It is also on sale!!!  It is super flattering, forgiving, and can be dressed up or down.
-I got this strap for our luggage to travel with our convertible car seat.  This car seat is super easy to install and only weighs 8 lbs.  Use this strap to attach it to your suitcase and its easy to pull through the airport.  I also love that car seat for when grandparents come because it's an easy install.
-Finally a thermos that actually keeps food hot for my kiddos lunch.  It has a nice large opening but isn't super bulky.  I do think it is worth the price point.
-These yoga joggers are perfection.  They are tailored enough to not look sloppy when you wear out of the house.  You can actually work out in them and they are quick drying.  I got in a small and they fit perfectly.
-This cardigan rivals the Barefoot dreams one at a fraction of the price.  I love wearing it over dresses in the office or comfy over a T-shirt with jeans.  I got in a small and it is oversized but is the correct size.
-We have cold weather for short a short time that I don't like spending a ton of money on coats.  This puffer jacket is incredible warm, the fit is flattering, and I love the hood on it.  I went with a medium in the olive green.
-I like easy to throw on Halloween outfits and I picked up this light up skirt.  I have some cat ears so basically my outfit is done :-)
-6pm has a really good sale right now on shoes.  I love Marc Fisher because they are always super comfy and really good quality.  I just picked up these mules which are easy to throw on for work and go with everything.
-I finally found a good coverup for the beach/pool.  It has held up very well and comes in a ton of colors.  I personally have it in the royal blue and love it.
-My kid is obsessed with cars and I bought him this mini Mac trailer.  He spends hours with it and it doesn't take up a ton of room.
-Finally, this sweater looks super high end.  It's incredibly soft.  It looks super cute with high waisted denim or open over a dress.  I am totally obsessed with it.
Those are the top things on my list right now.  Tell me some of your favorites and how you are doing!
Follow on Bloglovin
Want first dibs on shopping and sales? Sign up here on Liketoknowit for direct links sent to you
Want my daily posts sent to your email inbox?!?!  Then click here and make it happen
Follow my looks along on Instagram
Pin along with me on Pinterest || Like Meet @ the Barre on Facebook
Reader Interactions