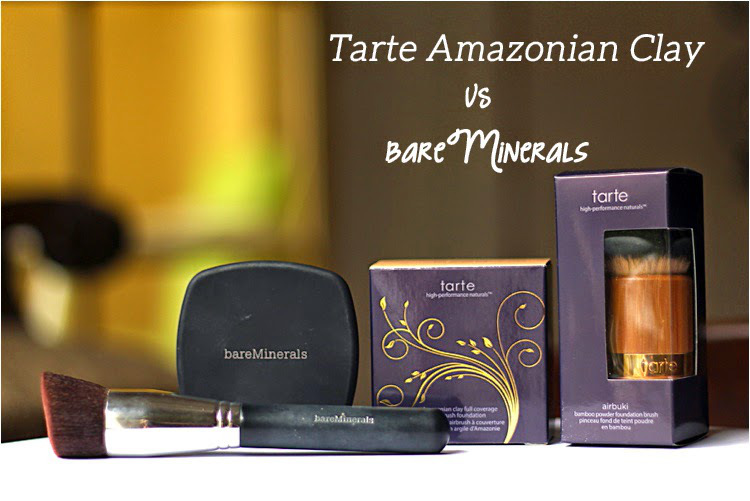 This post may contain affiliate links. Purchasing through them help support this website.
Welcome to my favorite things to write about. Reviewing two popular makeup brands and see who comes out on top. Today the competitors are Tarte Amazonian Clay Airbrush Foundation vs BareMinerals pressed foundations for the makeup showdown.
Tarte Airbrush Foundation Amazonian Clay vs Bare Minerals Pressed Foundation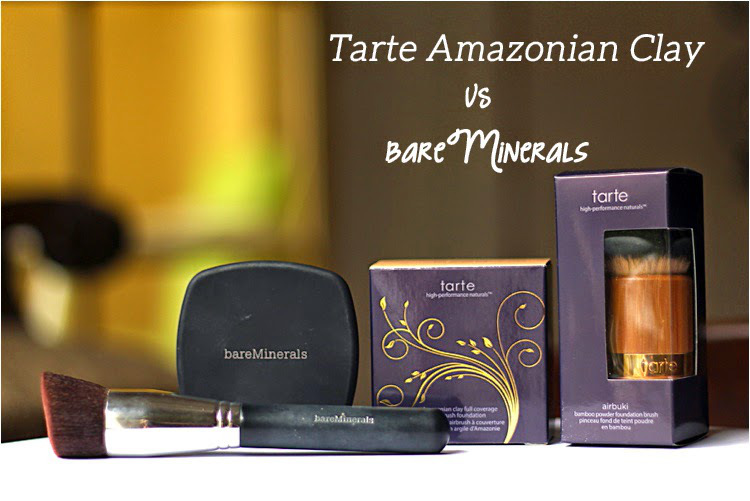 I hope everyone had a wonderful long holiday weekend!  I know I did a ton of catching up for this upcoming week!  I wanted to share my thoughts for my Products I've Been Digging Lately weekly post.     Alright, first things first.  Seriously beauty bloggers how do I get pictures of myself where I don't look straight up scary when taking beauty makeup pictures?  I even recruited Mark to have him take before and afters and it's hard!  Anyways getting right into it.
So I am a bareMinerals gal.  My face is super sensitive it breaks out or is dry in some places and oily in others and BareMinerals is the only product that has never irritated my face.  I started out with the loose minerals and it was okay but honestly, we all know how accident prone I am and the fact I have to travel between homes…..the loose was always one twist from becoming a disaster.  So when they came out with pressed foundation I was like first in line to get it.  No joke.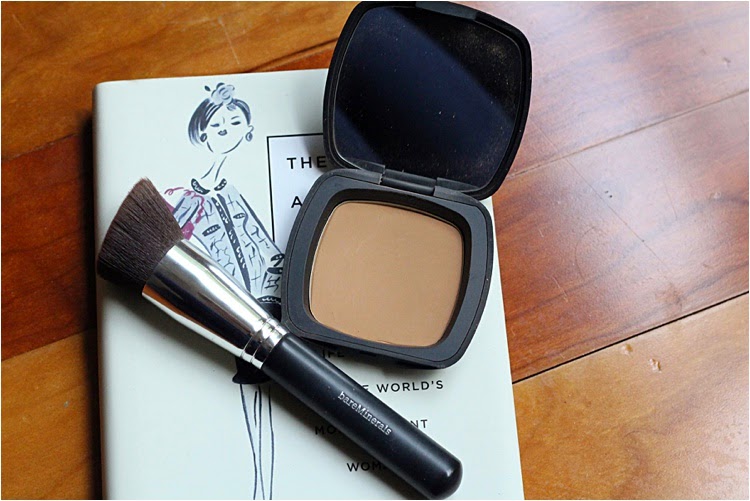 I have been very faithful to the pressed foundation.  Even buying the ridiculous brush that goes with it.  I will say though this brush is seriously the best thing I've ever used.  It has a flat stubby end that picks up the perfect amount of product and for real makes your skin look airbrushed.  I even bought it in the travel size.  So I was as faithful as can be…….until you shatter a brand new compact.  Then you cry.  Then you get talked into the new Tarte  airbrush foundation by the girl at Sephora.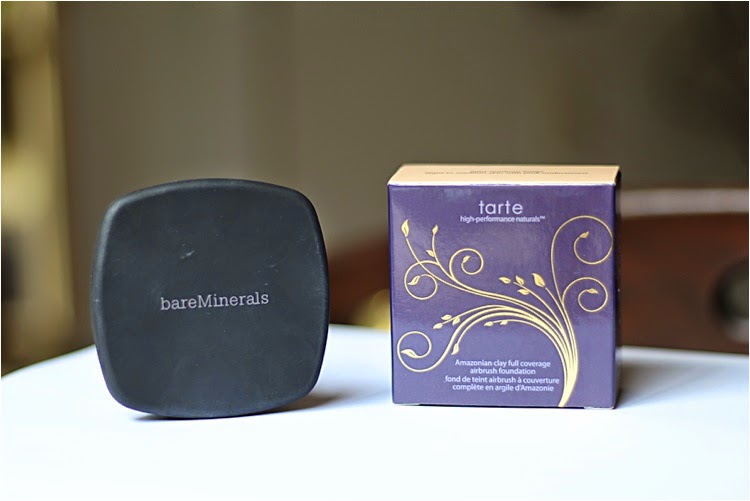 So let me start things off by saying I was so hesitant to try the Tarte airbrush foundation.  Do you want to know why?  I honestly felt like I was taking a step back.  I was past that screw top loose foundation and the potential disaster that ensues.  So when I got the product and opened it up I immediately liked the design better.  It has this column on the inside that keeps the product from spilling all out into the inside bowl area.  When you open the lid you don't have a war zone of powder that has found it's way to the top.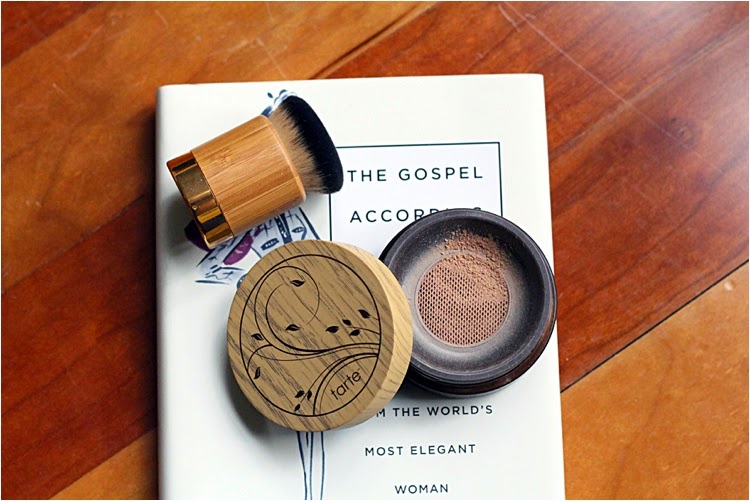 Next thing I was put off again that I had to buy the special brush it came with.  I was seriously getting deja vu.  So not only do I have to buy the
$36 foundation
now you are telling me I have to buy the brush as well?  I did it though because I wanted a fair review between the two.  So here is the
Airbuki Bamboo Powder Foundation Brush
.
In all fairness, if I hadn't already been familiar with the bareMinerals Precision Face Brush I probably would have liked the Tarte one but that wasn't the case.  Therefore, I was very turned off by the brush.  It is a small surface area and picks up entirely too much product.  Too much product = running out fast of said expensive product.  I ended up using my bare minerals brush to apply it and liked it significantly better.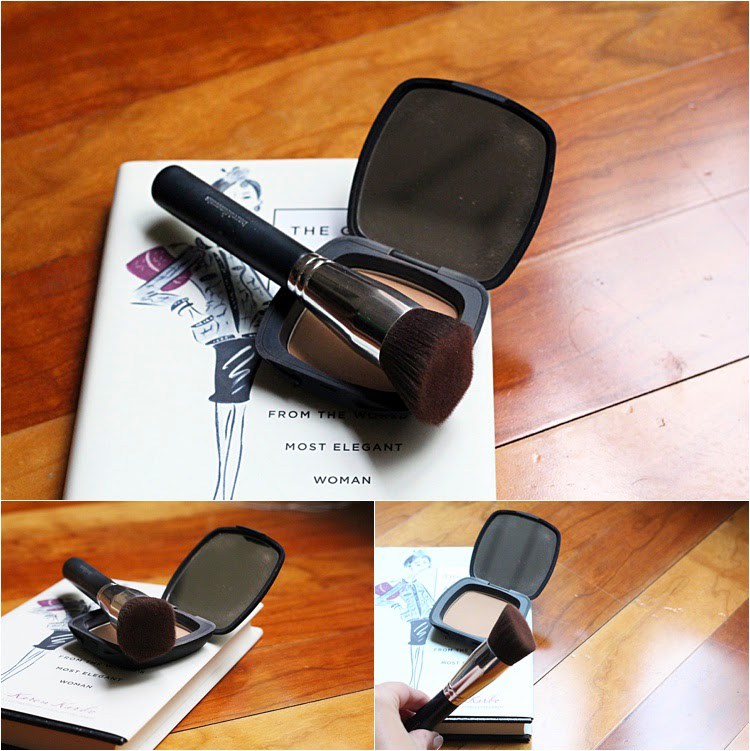 Both products have the effect that when you put it on and it hits your skin it almost warms up and after a minute it almost covers like a full liquid foundation but with an airbrushed light look.  When it boils down to it with a side by side comparison they pretty much came out looking the same to me.  The tarte color actually matched a little better to my skin down so therefore I am partial to that.  It is $7 more expensive than the Bareminerals which the pressed foundation lasted me forever…….I have a feeling the Tarte will run out quicker due to the packaging and loose minerals.     What will I buy next when they run out?  I kind of like having both to tell you the truth.  They both bring a little something different to the table.  The Bareminerals is a little more matte and works better when my skin is oily.  The tarte has a little bit more translucent/shimmer (I use that loosely because it's not sparkly by any means just has a little more life to it).  I like using it when my skin is dry because it tends to not aggravate the situation or make it look worse which the pressed foundation can do when my skin is flaky.
I am open to a few more options.  I am thinking of trying the YSL Foundation, MUFE HD Invisible Cover Foundation, or the Tarte Amazonian Clay Full Coverage 12 Hour Foundation.
Here is the side by side.  Can you tell a difference between the two??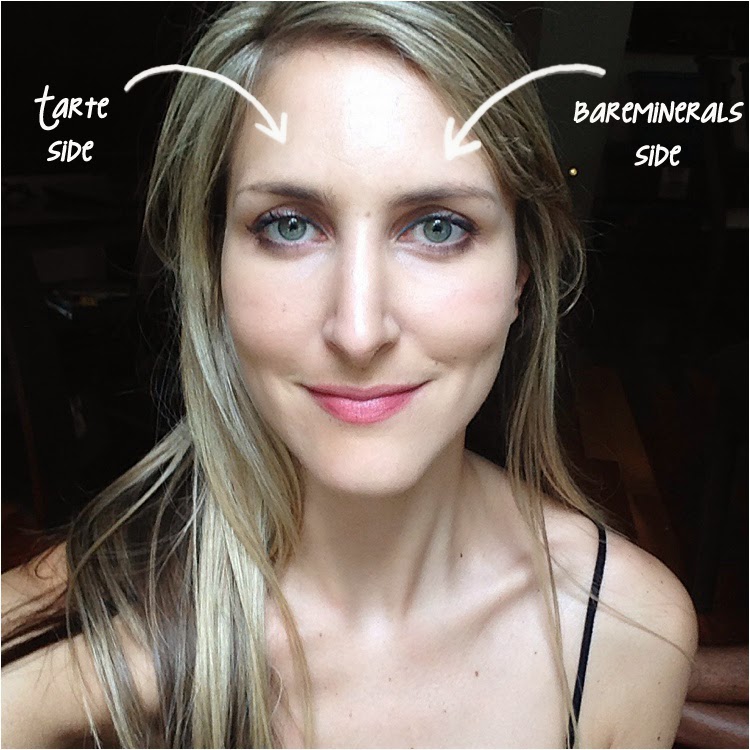 I will also tell you I use the bareMinerals bb primer cream every time I do my makeup (medium color for reference).  Some morning I just use the bb cream and swipe some bronzer and roll out.  It is seriously my new favorite find.  It gives you a beautiful evened look, your makeup stays better and it has SPF 30.  My only recommendation is to not put the cap on immediately after you pump the product out.  It causes the pump to get clogged and then it's a mess to get out.  After I stopped doing that I've had no problems.  I love this and my sister cannot stop raving about it!     What do you think?  Have you used these two products?  Hope you are easing back into this work week!  xoxoxo
Follow me on Bloglovin ||  Follow my looks along on Instagram || Get my latest blog posts daily to your email here || Pin along with me on Pinterest || Like Meet @ the Barre on Facebook || Check my latest tweet here
Follow on Bloglovin
Want first dibs on shopping and sales? Sign up here on Liketoknowit for direct links sent to you
Want my daily posts sent to your email inbox?!?!  Then click here and make it happen
Follow my looks along on Instagram
Pin along with me on Pinterest || Like Meet @ the Barre on Facebook
Reader Interactions