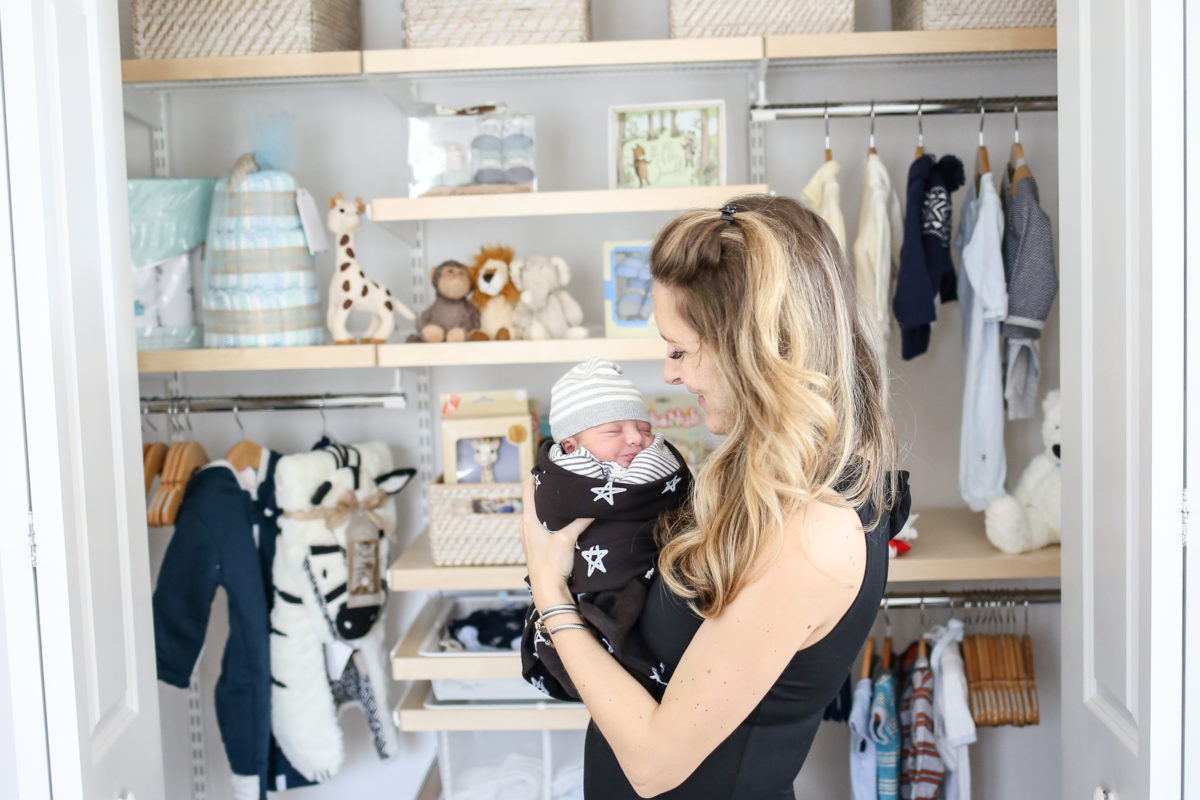 This post may contain affiliate links. Purchasing through them help support this website.
Happy New Year's!  Doesn't it feel so odd writing 2018?!  With the start of the New Year are you a resolutions kind of person or more of a goal setter?  One of my goals is to be more efficient with my time especially since I want to spend every moment with my new addition. I want to stop wasting time on social media and use those precious minutes for creating content.  The New Year is also a great time to get organized, refresh, and get rid of the clutter.  I am so excited to be working with The Container Store to give you some ideas about how to organize for the New Year.  Right now they have a HUGE sale with their Elfa custom closets.  I had a custom closet put into Patrick's nursery and I am over the moon excited about it.  The entire process was seamless.  I am lucky to have a Container Store nearby but it is just as easy to design a closet with an online specialist.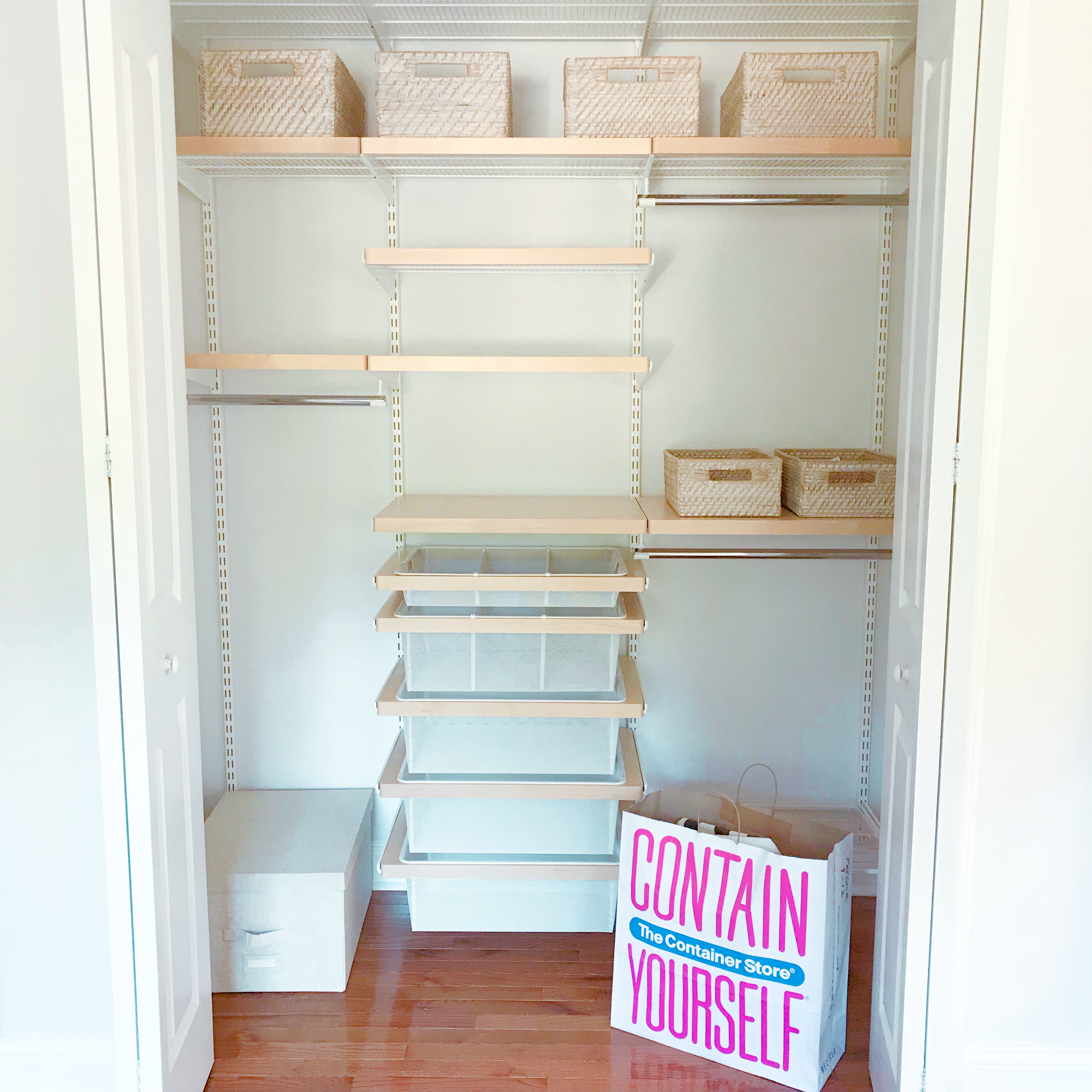 I made an appointment with a designer and came into the store to view all the options.  I was immediately drawn to this color scheme.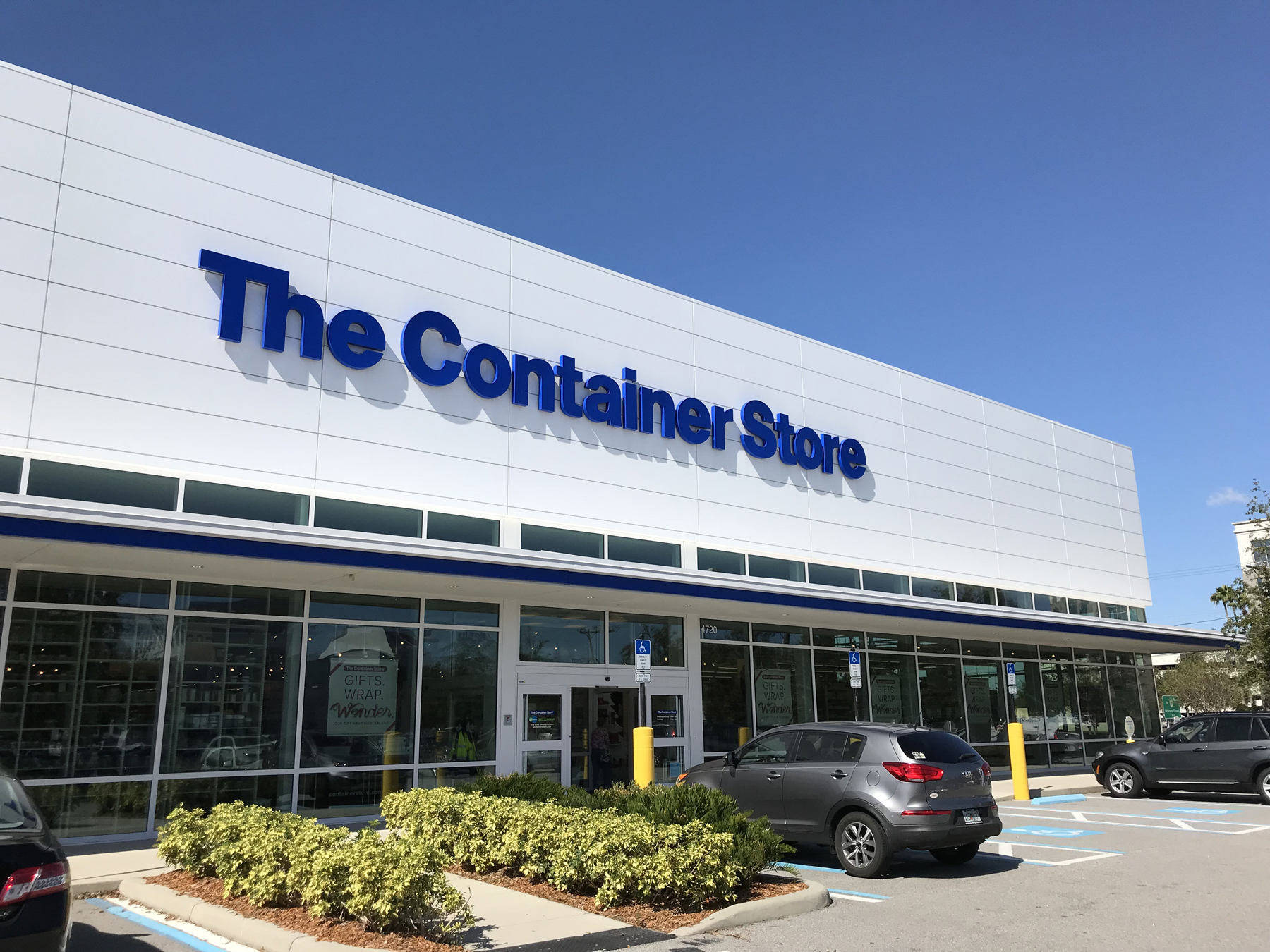 Here is an available Elfa option.  Talk about closet goals right?  Dreams right here.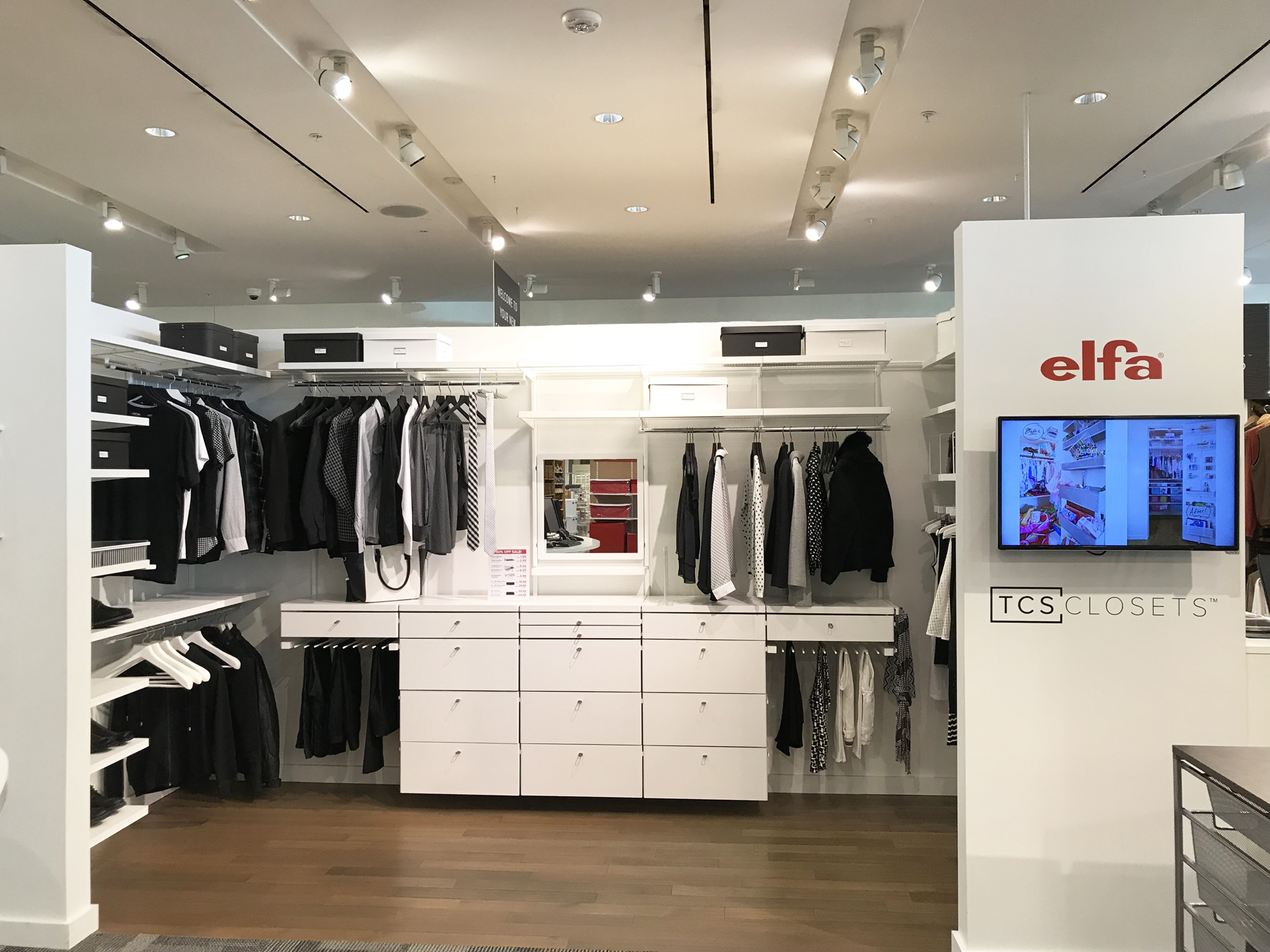 I had my installation date a a few days after the closet was designed.  The installer who came was extremly professional and walked me through the whole process.  From start to finish, it was completed in under two hours.
Talk about the finished product!  I am in love with the functionality, design, and the mesh breathable pull drawers.  This closet is extremely functional now and capabable of so much storage.  Here it is with Patrick's digs inside.
You may think the hangers are a splurge but they really complete the closet and it keeps like outfits together.  The no slip grip on them are the best.  The boxes give additional storage for loose items and outgrown clothes.  I also use them for the next stage of sizes.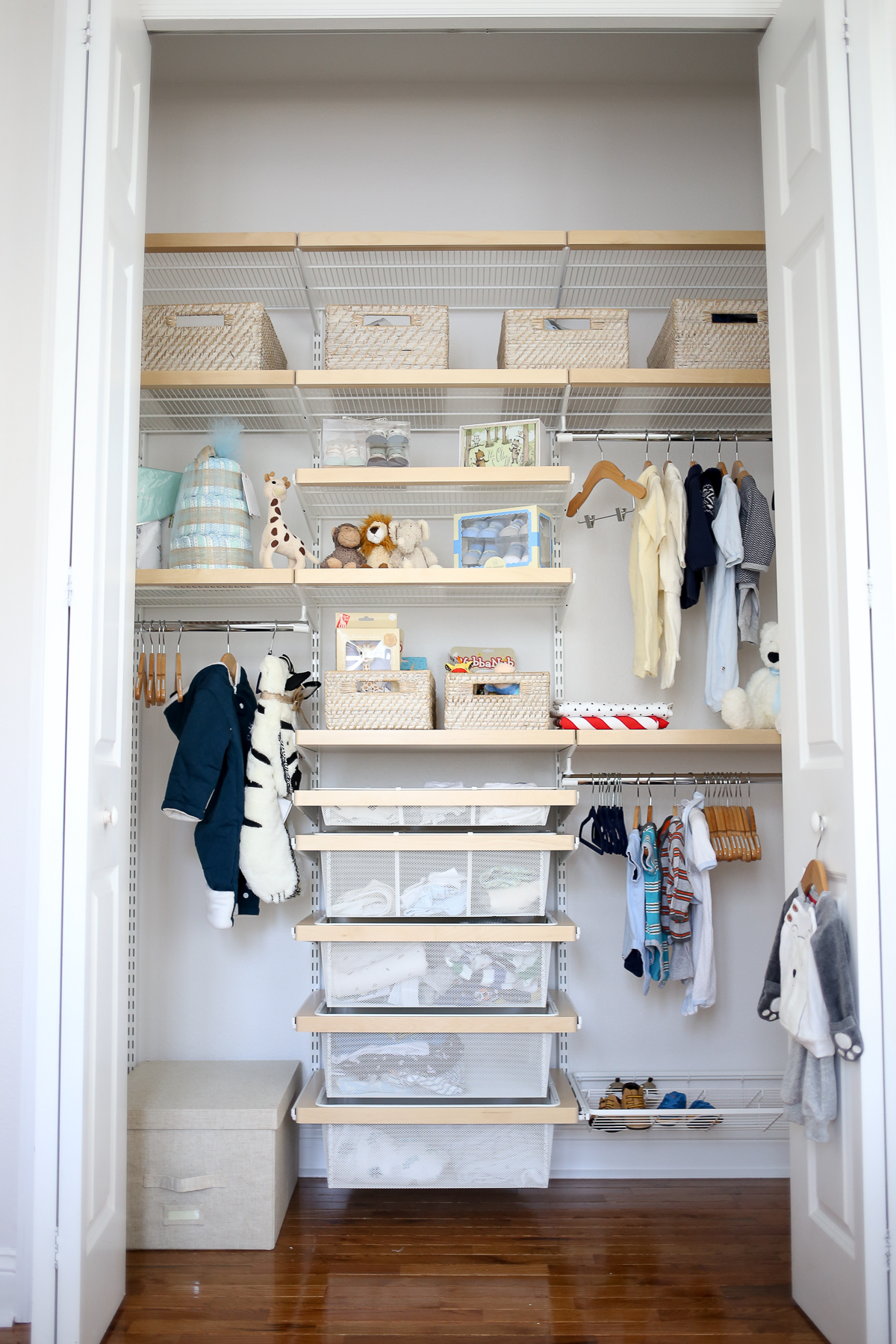 If you are in the market for organization and closet solutions,  I highly recommend checking out The Container Store.  Take advantage of the 30% off Elfa storage solutions.  This is a sale that does not happen often!
Elfa closet here |||  Matching baskets here |||  storage bin here ||| hangers here
Thank you to the Container Store for sponsoring this post and to my readers who support the brands that work with Meet at the Barre!
Follow on Bloglovin
Want first dibs on shopping and sales? Sign up here on Liketoknowit for direct links sent to you
Want my daily posts sent to your email inbox?!?!  Then click here and make it happen
Follow my looks along on Instagram
Pin along with me on Pinterest || Like Meet @ the Barre on Facebook
Reader Interactions