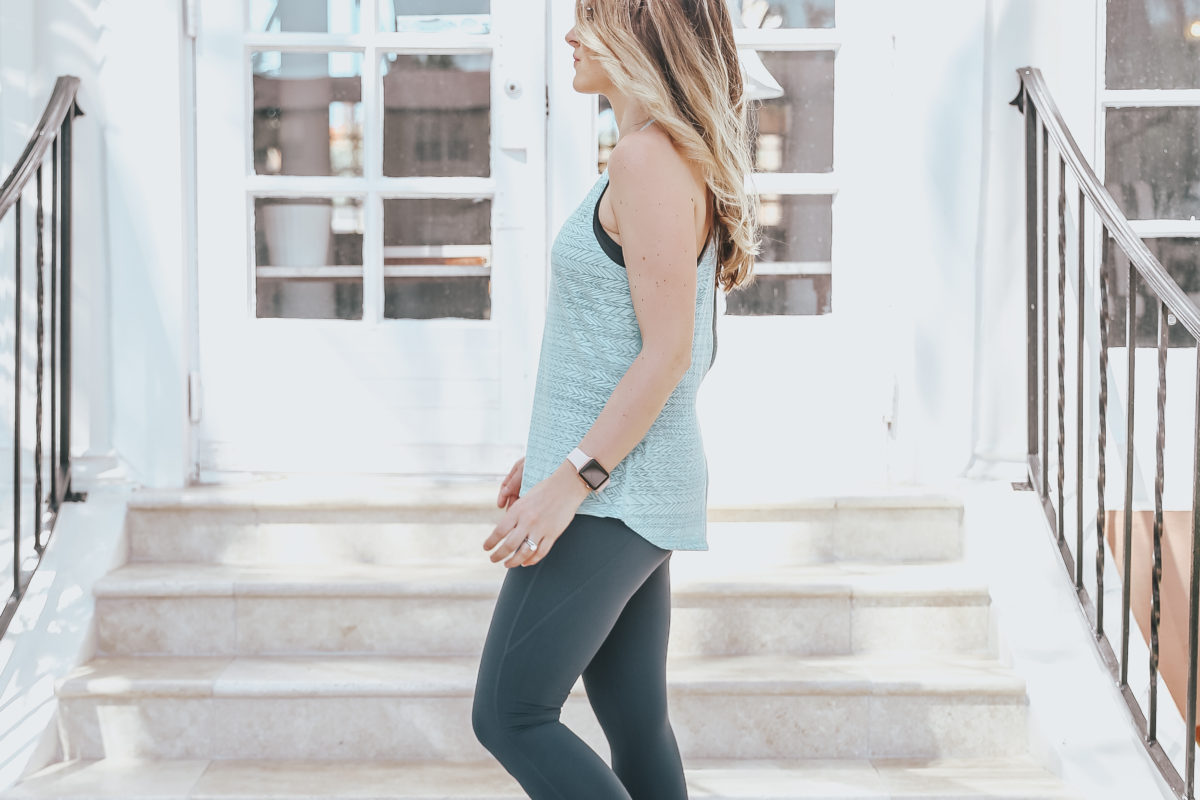 This post may contain affiliate links. Purchasing through them help support this website.
This is a sponsored post with Zappos and The Northface.  All opinions are 100% mine.  Thank you for supporting the brands that work with Meet at the Barre.
During my pregnancy I can honestly say I was really proud of my workouts.  I not only taught barre classes well into my third trimester but also tried to take class a few times a week.  Even when my raging reflux made ab work excruciating, I powered on through because I loved the feeling of calm and accomplishment when I was done.  The first few months after my little one was born was a complete whirlwind.  No one really prepares you for what true sleep deprivation does to your body.  I put him on a strict eating and sleeping schedule and I am proud to say that he pretty much sleeps through the night on a routine basis.  He is exclusively nursed and I haven't introduced solids.  I have a 7pm sharp bedtime routine that I have been so faithful to that this child knows when it is time to go to bed. Now, four months later, I feel like I'm truly coming up for air.  I have a daycare that I feel very comfortable with and I'm back to work on a semi part-time/full-time basis.   The one thing I have not gotten back into is my fitness.  I just feel like when I'm home with my little guy, the last thing I want to do is leave him and go to a class.  I know he will only be this little for such a short amount of time that I don't want to miss a thing.  I have made it a point to be really engaged when I'm with him.  I put my phone in the other room and I'm on the ground with him on his play mat.  I'm reading him 10 books a day.  I'm singing and dancing with him in my kitchen.  I just want him to know that I'm fully present with him.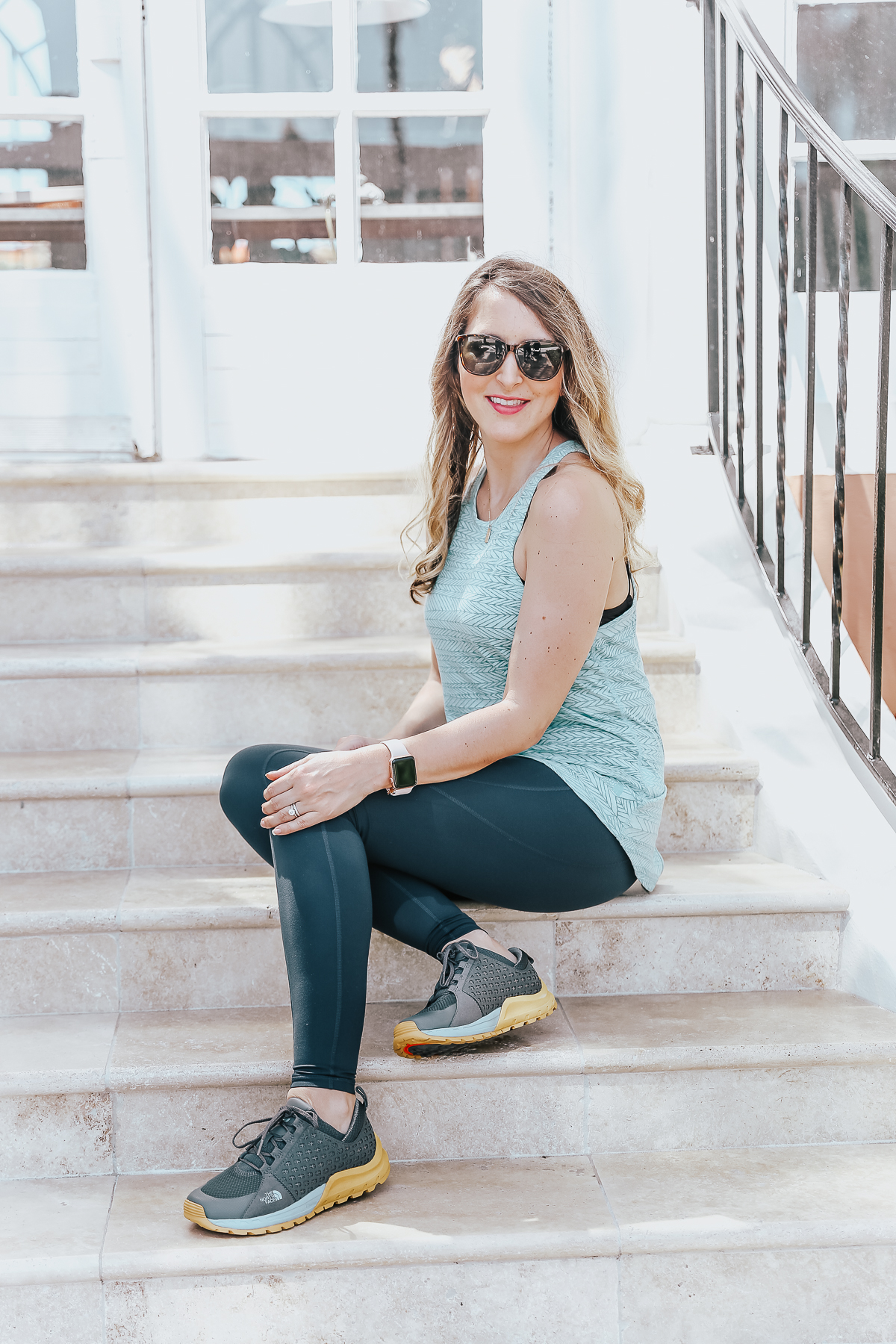 Now, I really don't care for the expression when someone says "you have your body back" after having a baby.  In my mind, it will never be the same and I am totally okay with that.  I created and grew a tiny human inside of me for 9+ months and I'm now currently sustaining that child entirely myself.  It's such an amazing concept and I don't want it to go back because in my mind, I'm a completely different being now.  Exercising is so good for your aerobic health so I have made sure to incorporate walks a few times a week but I've started to become creative with my strength training.
I have slowly started to add at home workouts.  I get down on the floor when Patrick is on his play mat and try to increase my plank times.  Planks are seriously one of the best bang for your buck workout.   Or I put him on my stomach and do bridge lifts.  I also will hold onto him and do a combo of squats, lunges, and a few tuck under barre seat moves.  He loves being held and I get to add a 14 lbs weight to my lower body exercises.  This way I can build back up my strength but I'm not losing any time away from my kiddo.
Let's be honest, a big motivator for working out for me is the cute gear.  I am pretty picky with my barre leggings because they have to stand the test to teaching and taking.  I was so excited to try out The North Face active wear line.  These Perfect Core High-Rise Tights hit at the perfect mid-waist area, have that buttery soft texture, great compression, and are quick drying.  I opted for navy since I definitely have enough black leggings.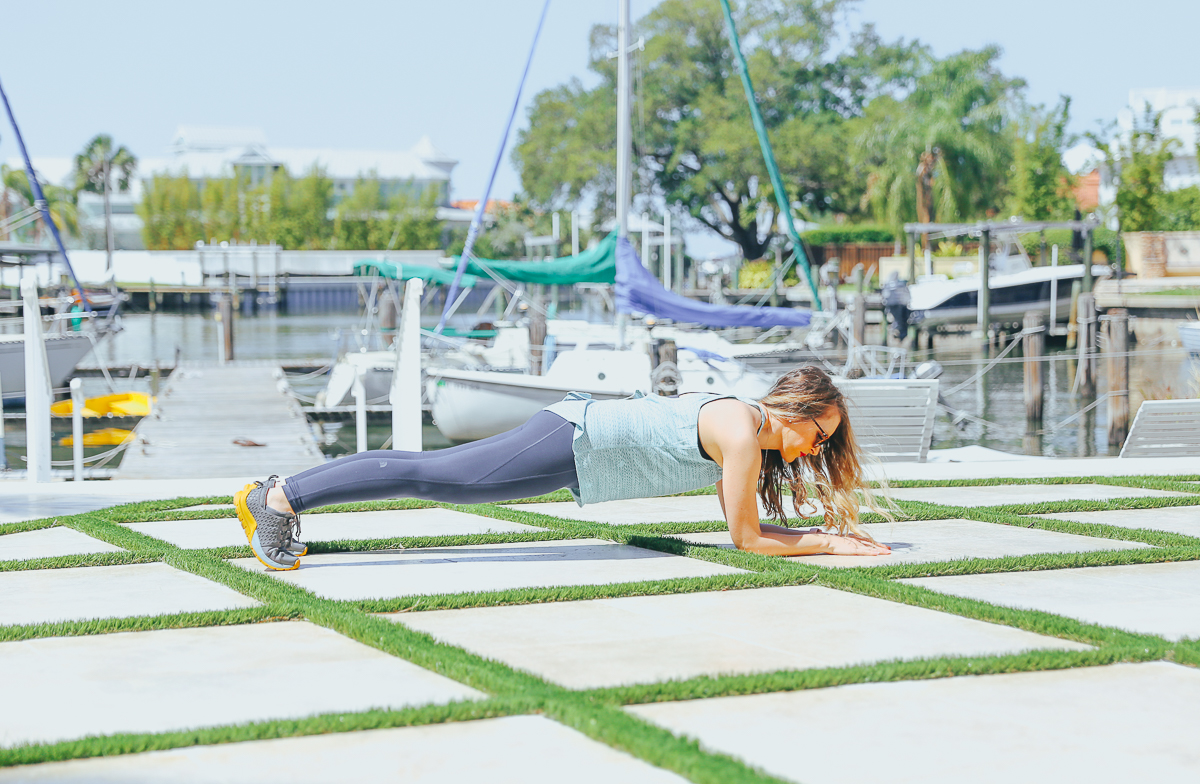 I love the back cutout detail of this Afterburn Tank Top.  It's lightweight and breathable which is very helpful in the Florida heat.  Isn't the pattern so fun?  This is one of those athleisure wear type of tops that is functional for working out but then still looks super cute to grab a coffee in later.
I rounded out the outfit with these Mountain sneakers.  They are lightweight and have great traction.  I feel really steady working out in them and they are adorable to run errands in as well.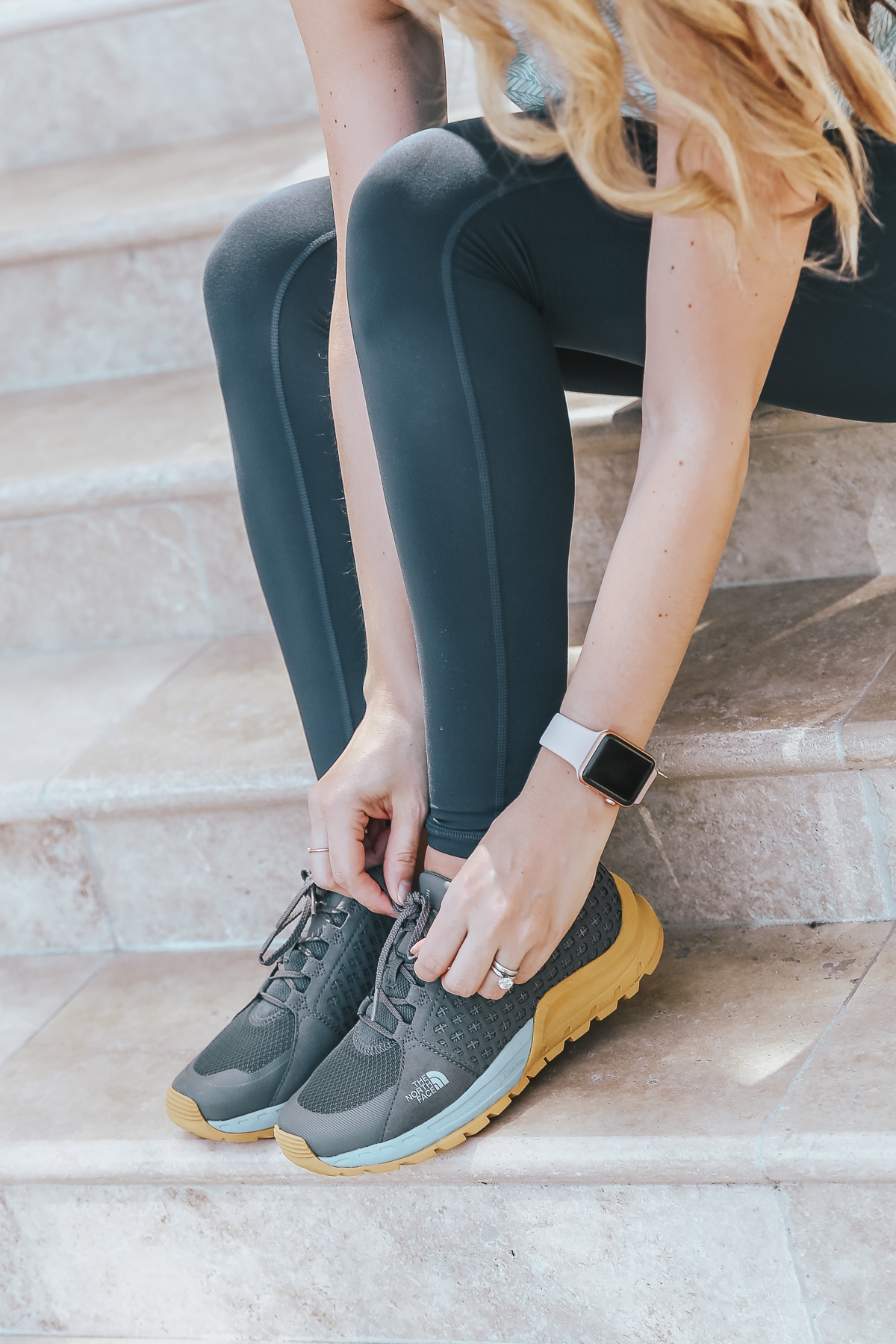 I am so excited to be working with Zappos again.  I am all about customer service and Zappos leads the pack in this department.  If you ever have a problem they fix it no questions asked.  Plus, their shipping speed is unheard of.  I swear they must have a warehouse fulfillment in my town because I always get my order the next day.  Being a momma with a little person, I pretty much entirely shop online now.  Knowing that I can get my order so quickly is another reason I consistently order with Zappos.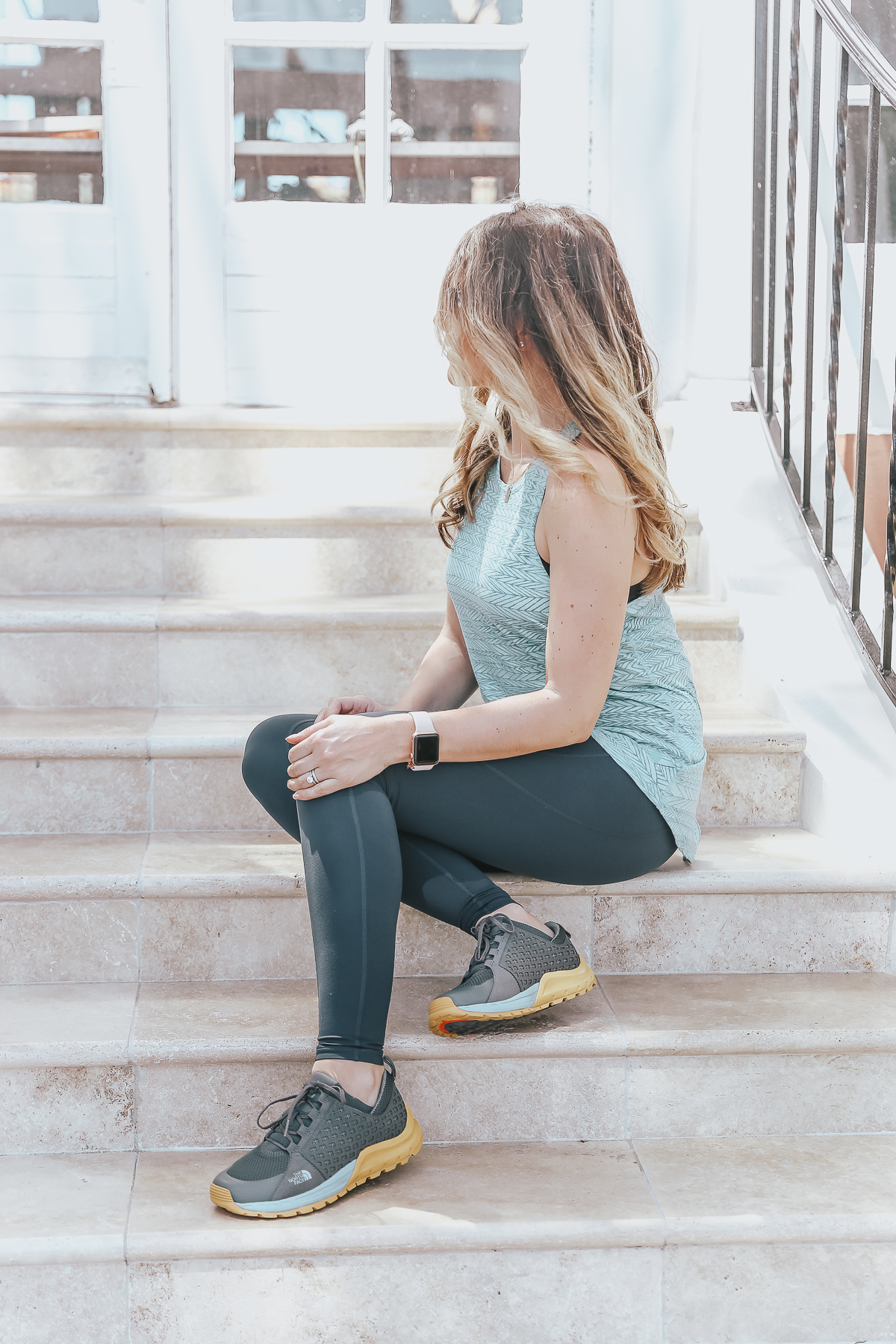 Getting back into working out after having a baby has been a challenge for me.  I have definitely had to be more creative and give myself a lot of grace when it comes to being a little more forgiving on myself.  The things I used to do with no problem are now not so second nature to me.  I am working on building back up my strength and having high quality gear to support me makes such a difference. Thank you to The North Face and Zappos for sponsoring this post and for the brands that work with Meet at the Barre.
Follow on Bloglovin
Want first dibs on shopping and sales? Sign up here on Liketoknowit for direct links sent to you
Want my daily posts sent to your email inbox?!?!  Then click here and make it happen
Follow my looks along on Instagram
Pin along with me on Pinterest || Like Meet @ the Barre on Facebook
Reader Interactions