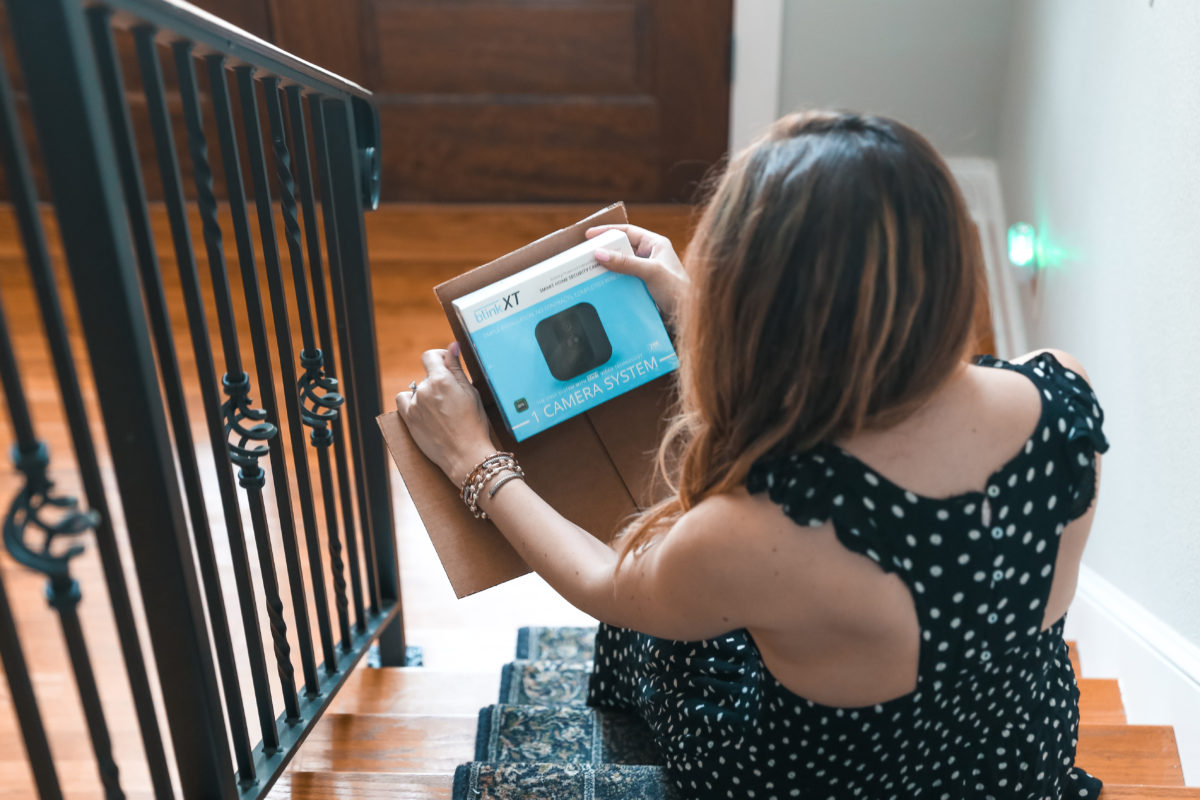 This post may contain affiliate links. Purchasing through them help support this website.
This is a sponsored post from Blink for Home.  I did receive a free camera and compensation for my review.  All opinions are my own.  Thank you for supporting the brands that work with Meet at the Barre.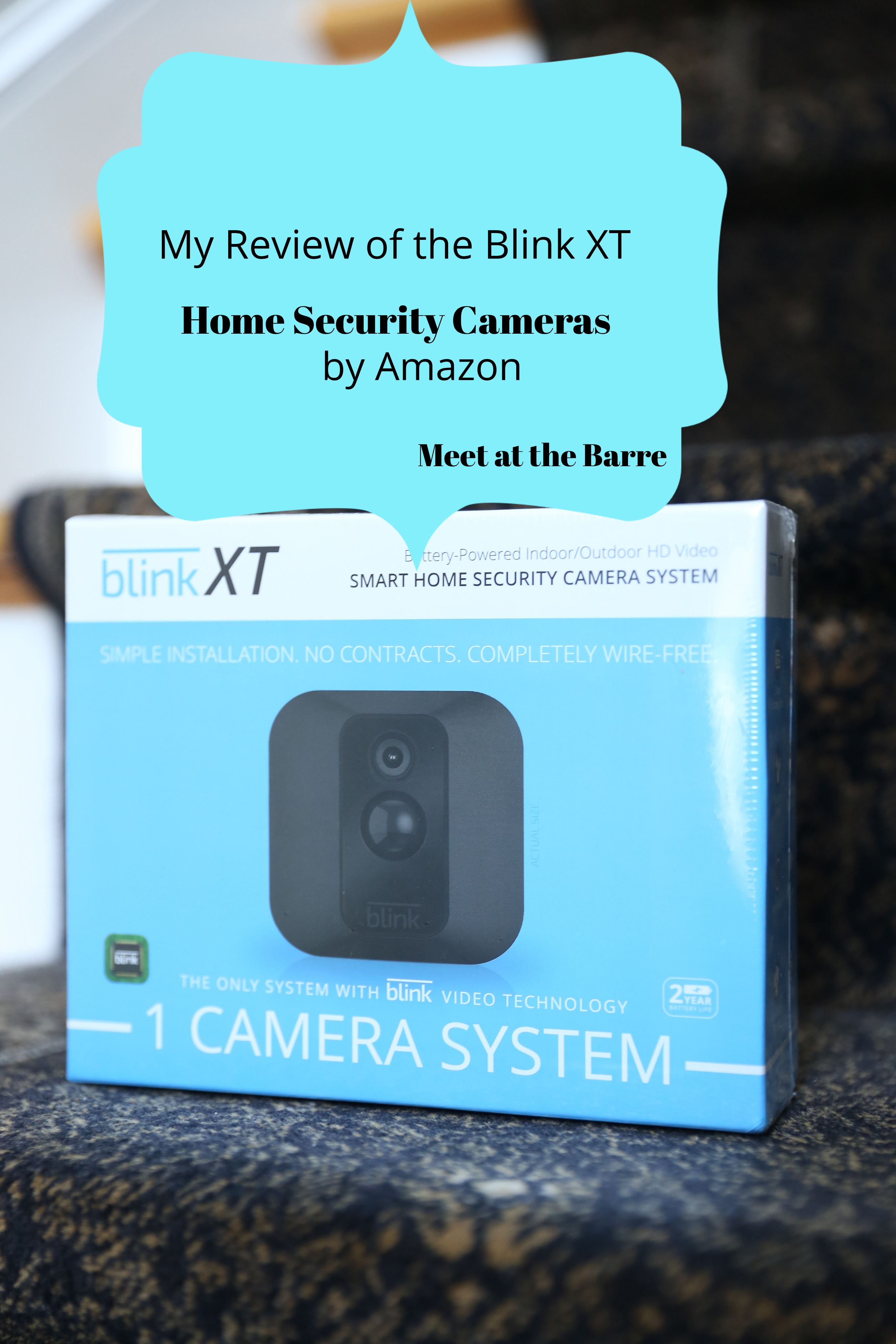 When I got married a few of you knew this already but I moved into Marks condo a little farther out of the city from where I had been living before.  It wasn't mileage wise very far but it was across a very congested bridge that I had to make it across to work every morning.  It added so much time and emotional energy on to my day and commute.  The area we wanted to eventually buy a house is located in a highly desirable area for not only its central location convenience but the A+ rated schools.  I poured a ton of energy into finding our house and I'm happy to say it met every single criteria point even down to the flood zone.  One of the first things we did after moving in was set up a home security system.  I never had an alarm growing up.  I lived in a small town and I'm pretty sure we didn't even lock our back door have the time.  Times have certainly changed and we set our alarm even if we are going for a walk around the block.  The current alarm we have is for the inside of our home but we started looking into how to expand our cameras outside and I started researching the Blink for Home.
There are two types of cameras from Blink For Home. The Blink XT shown here is for outdoor/indoor use.  They are weatherproof and do not require any cords since they are powered by Lithium batteries that are good for up to two years.  We set up this camera to be able to view the front door as well as our driveway.  There is a lot of new home construction going on so I like to be able to get a birds-eye view of our front area property.
The Blink XT has motion detection, infrared night vision, live view, video alerts, a microphone, and free cloud storage.  They have basically thought of everything.  When it detects motion it sends alerts with HD video and audio right to your smart phone.  You can then check in with live HD video at any time as well.  It has infrared night vision with really clear images which is helpful to see what is going on at night.
It has a really low profile.  You can stick this little camera pretty much anywhere and they run on two lithium batteries for up to two years.  I also think my favorite part of this system is how it can store recordings to the cloud.  The camera I bought for my little guys nursery makes you pay a monthly service for that.  How cool it is included!
The other great part since it is an Amazon product, it syncs with your Alexa so you can give it commands with your voice.  It was also incredibly easy to install and setup.  It took me less than 10 minutes to have all components synced and ready to go.  I just had to find the right spot for the outdoor use to be able to get the best angle!
Overall, it was super easy to set up!  Everything was working out of the box within 15 minutes.  The App is very user-friendly.  I like that I get an alert when anything steps into the camera space.  I like seeing when my blog packages are delivered and there have been a lot of "porch thieves" around where I live so I like the piece of mind of seeing if anything was fishy in my area.  I have included the video so you can hear the quality of the audio.  It's also easy to send the snap shots via text.  For example, there was a delivery and I sent the video to Mark and he was able to get home to bring it inside early.
Here are some video clips of daytime and nighttime.
Now that I have actually been using this system with all its capabilities I really wish I bought another camera for the nursery especially with the free cloud storage!  My current one makes you pay for that service.  Tell me if you have a home security system and what you like and don't like about it.  I am happy to have found this setup and have a better piece of mind knowing I can see what is going on outside my house even when I am not there.  Did you know that Amazon made security cameras?  How great is the free storage right?
Follow on Bloglovin
Want first dibs on shopping and sales? Sign up here on Liketoknowit for direct links sent to you
Want my daily posts sent to your email inbox?!?!  Then click here and make it happen
Follow my looks along on Instagram
Pin along with me on Pinterest || Like Meet @ the Barre on Facebook
Reader Interactions