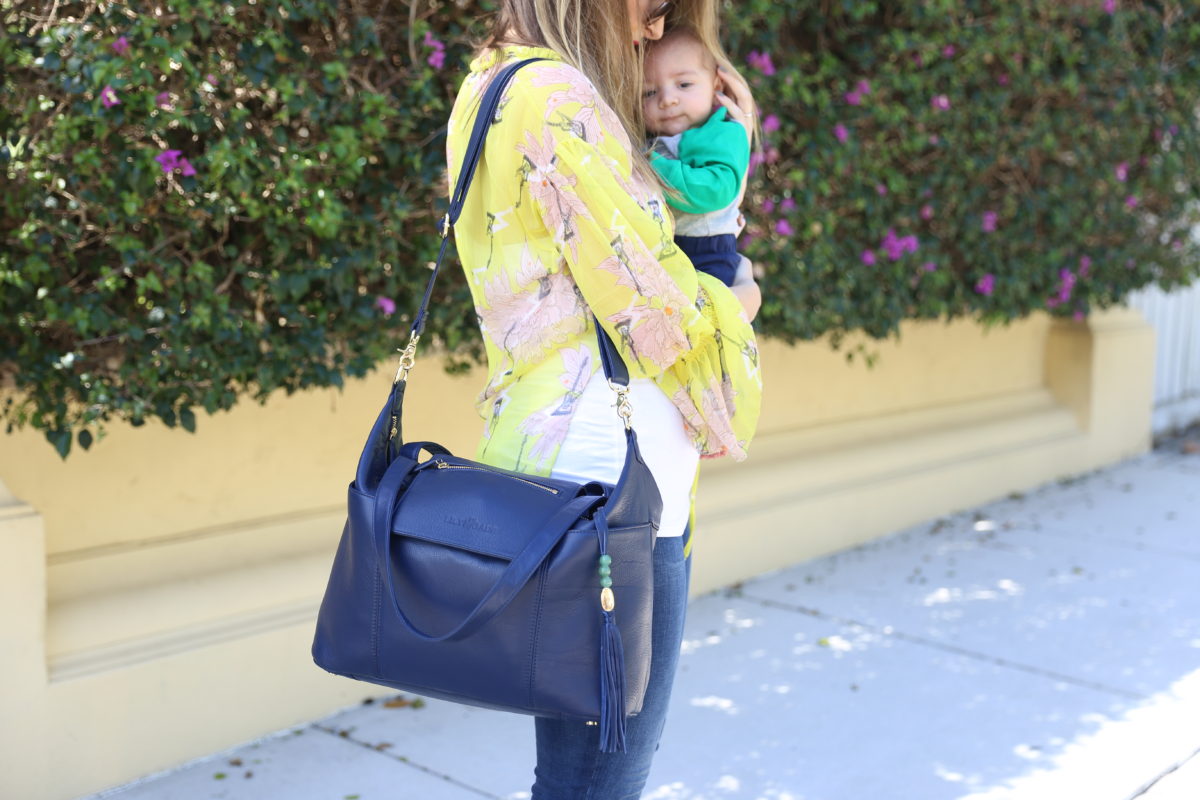 This post may contain affiliate links. Purchasing through them help support this website.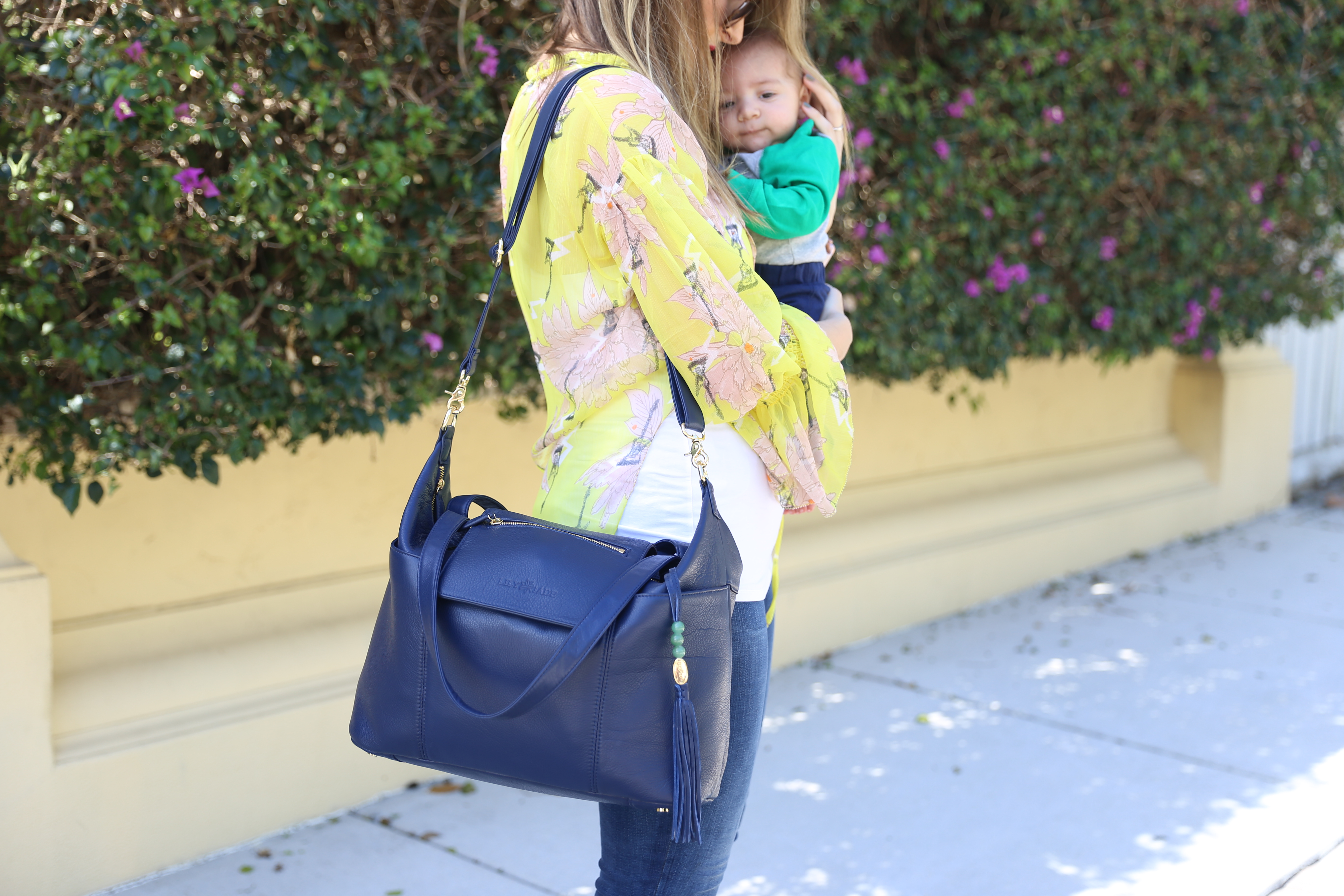 My goal is to nurse my little one for a year and we will see beyond (I have quite the freezer stash going!)  I have read so many forum posts about how when women go back to work their supply drops and let's be honest, pumping feels like a full-time job.  I wanted to share a few products that have made it easier and my typical routine because I have gotten that question a lot!
Getting a hands free pumping bra has made all the difference honestly!  I can pump, chart, eat lunch, drink water, participate in conference calls, whatever when I have both hands free.  It also makes the time go by quicker.  Talk about feeling like the ultimate in multitasking.  I have this one and love it.  I make sure to put the flange in first and then hook up the rest of the parts to it.  That way you can get everything centered correctly before you attach the bottles.
I have a lightweight bag that I keep all my parts in (plus a whole set of just in case extras already back in the pump bag).  Every night I come home and fill a large mixing bowl with warm soapy water, then rinse and into the sterilizer.  I use this one.  I then hang them on this drying rack.  The next morning I grab all my parts and into the large ziplock gallon bag in my bag.  I also pack two quick drying cloths (a large burp cloth or cloth diaper works as well).  I pump twice while I'm at work.  I have two sets of parts.  When I unhook everything I lay it on one cloth, carry it to the bathroom and rinse out in warm water.  Then put it in the side of my bag.  When I get home both parts go into the soapy warm bowl.  I always make sure to have lots of clean pumping/storing bottles.  You can never have enough of those in your pump bag if you ask me.  Also, when I get home I make his bottle for the next day so the following morning I just grab and go for him.
A 40 oz water bottle.  I make sure to bring one to work and then refill it.  That way if I drink two, I'm already 80 oz into my total goal of water intake for the day.  A key for a good supply for me so far has been pushing those fluids.  I still allow myself one cup of coffee.
Nursing bras and these tanks.  So easy to layer under shirts the tanks and the bras are so soft and comfy.
I have two pumps that I use.  I started off with the Medela PISA and I got into a great routine with it.  I love the storage insert that goes right into the fridge.  I actually stick it inside of a ziplock bag because again I'm weird about shared fridges.  The hands free bra helps give you back some freedom but I will say the pump itself is bulky.  I am very lucky that I have my own office.  I usually keep my pump at work so I'm not carting it back and forth.  I have an extra pump that I keep at home because of my sister who had a spare that wasn't used.  Most insurances cover them now so make sure to look into that.  My other PSA on this subject is make sure you put your pump together and get familiar with it before delivery.  I did not do this and was crying over facetime to my sister trying to figure out which tube goes where and what part clicks into what.
I was sent the Willow pump a few months into my pumping journey and I've never had so many messages on Instagram about it!  It is truly the first hands free of its kind.  I plan on giving a full review of it but it definitely takes a little getting used to like all things when you've started with something else first.  I like that you can take it on the go, it easily can fit into a purse for you to pump on the go.  I know a lot of women pump in the car if they have a long commute.  I luckily do not have that anymore but that would be a fantastic option especially since it does not require a power source.  Stay tuned for my full review on this!
Last, a few nursing friendly dresses have been the key to success for me with going back to work.  I realized that pretty much 95% of my wardrobe would not accommodate pumping at work without a full outfit change.  Bae the Label was my go to full maternity wear and they have a whole "feeding line".  My favorite is this dress which has side zippers to get to easy access.  Also, this dress which has a button criss cross front.  They are both a tiny bit pricey but worth every penny.  They wash and wear perfectly.  The quality has stood up with multiple washes.  I wear them pretty much every week!
I read a statistic the other day that a large majority of women start out successfully breastfeeding and more than half stop at 3 months which directly correlates with back to work.  It definitely takes a lot of coordination and routine but I am happy to say I'm going strong at 6 1/2 months.  I'd be happy to answer any questions (shoot me an email!) if you want me to give any additional pointers or things that helped for me!  I love helping all my mommas out there to give as many resources as possible to be successful with sustained breastfeeding.  It is something that I feel like is a committment but gives me a lot of joy for my little one as well!
Follow on Bloglovin
Want first dibs on shopping and sales? Sign up here on Liketoknowit for direct links sent to you
Want my daily posts sent to your email inbox?!?!  Then click here and make it happen
Follow my looks along on Instagram
Pin along with me on Pinterest || Like Meet @ the Barre on Facebook
Reader Interactions