This post may contain affiliate links. Purchasing through them help support this website.
Can you seriously believe we are already into August?  I honestly feel like June and July didn't even happen.  This Summer was basically over in a blink of an eye and football season is going to be here.  My little one started at a new school this week and he has been sleeping so much better.  I honestly feel like a new woman!  The past few months have been a little tough running on fumes of sleep and working full time.  I finally am starting to feel my creativity come back as well as my ability to multi-task.  There would be nights where I was so exhausted, I would open my computer screen to write and my brain would actually just hurt.  I couldn't even figure out how to put a sentence together.  I never knew what true sleep deprivation was until I had a baby going through a sleep regression.  Fingers crossed my recent sleep training sticks and I can get back to feeling like a human again.  Let's get into a few favorites from the week.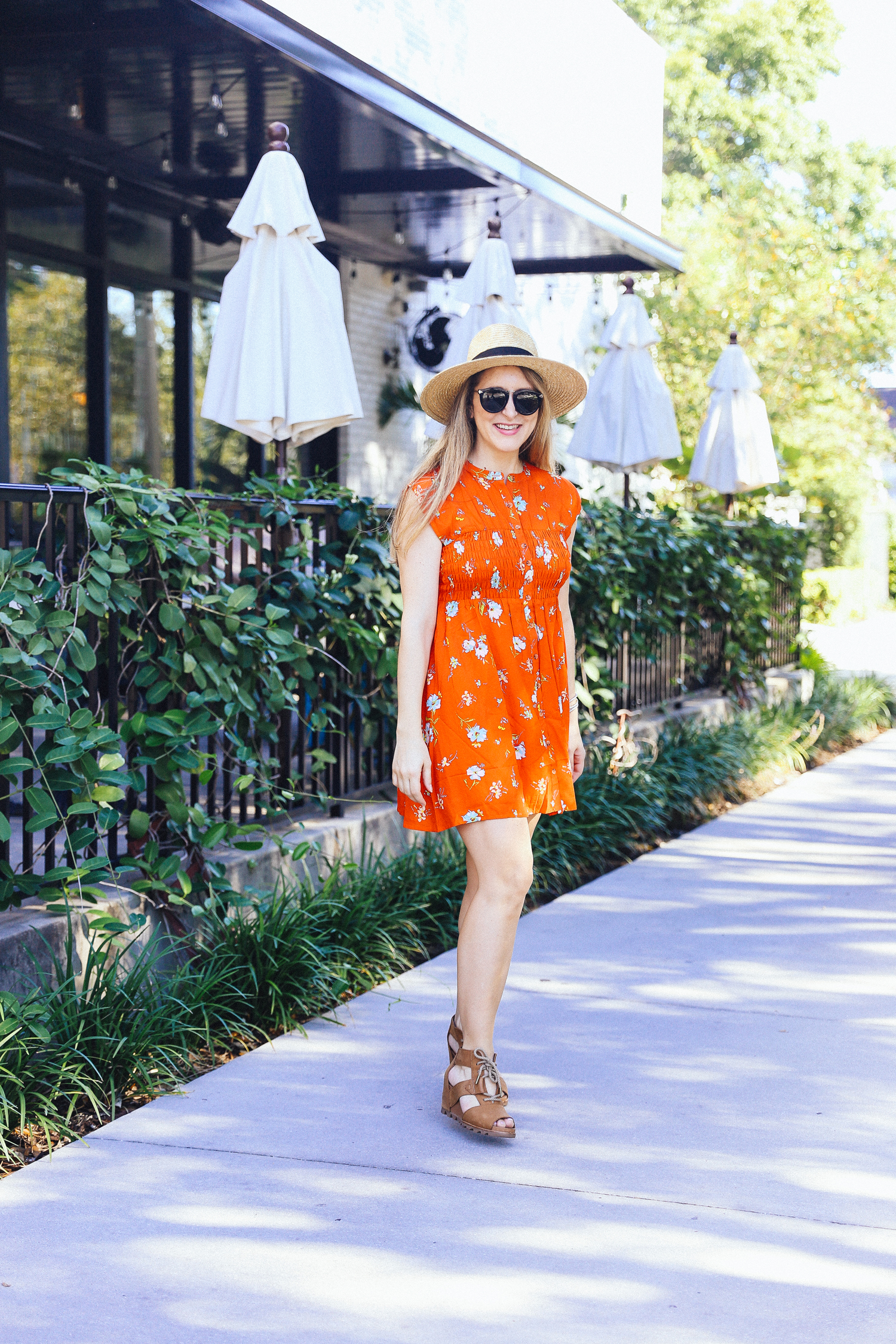 I just adore this smocked mini dress from Free People.  It's perfect to beat the Summer heat right now. ||| go-to to Summer hat  under $50 |||  These Sorel sandals are on sale, so comfy I swear you can walk miles in them!
Do you know that Shopbop now carries the Baublebar line?  They have a ton of unique pieces and I'm loving all the hoop earrings.  I also have my eye on this Baggu small canvas circle purse that is under $50.
I just picked up these Hazel pumps in the embroidered stitch and they will be worn on such repeat for the Fall.  I recommend sizing up a tiny bit (I went to a 9.5 from my usual 9) they don't have as much give as the typical leather).
I will definitely be doing this workout over the weekend.  Barre + HIIT, sounds like the perfect combo.
I'm trying to cut back on carbs at night and this recipe looks hearty enough that I think Mark would even eat it.
A great Lightroom tutorial for editing here.
This cult classic bralette now in the prettiest color here.  These dark rinse jeans look super flattering and under $60.  How gorgeous is this eyelet top?
I get way too many emails to count about brands letting me know about the newest product about to launch.  I usually ignore 98% of them but this one caught my eye.  How horrifying are the stories of people leaving children in cars?  Mark and I have a system of always calling each other after we drop little man off.  This safety technology is just another safety net because honestly, it can happen to anyone especially when you are out of your routine.
I hope you have a great weekend!  Tell me your plans.  Link up and share your favorites from the week!
Follow on Bloglovin
Want first dibs on shopping and sales? Sign up here on Liketoknowit for direct links sent to you
Want my daily posts sent to your email inbox?!?!  Then click here and make it happen
Follow my looks along on Instagram
Pin along with me on Pinterest || Like Meet @ the Barre on Facebook