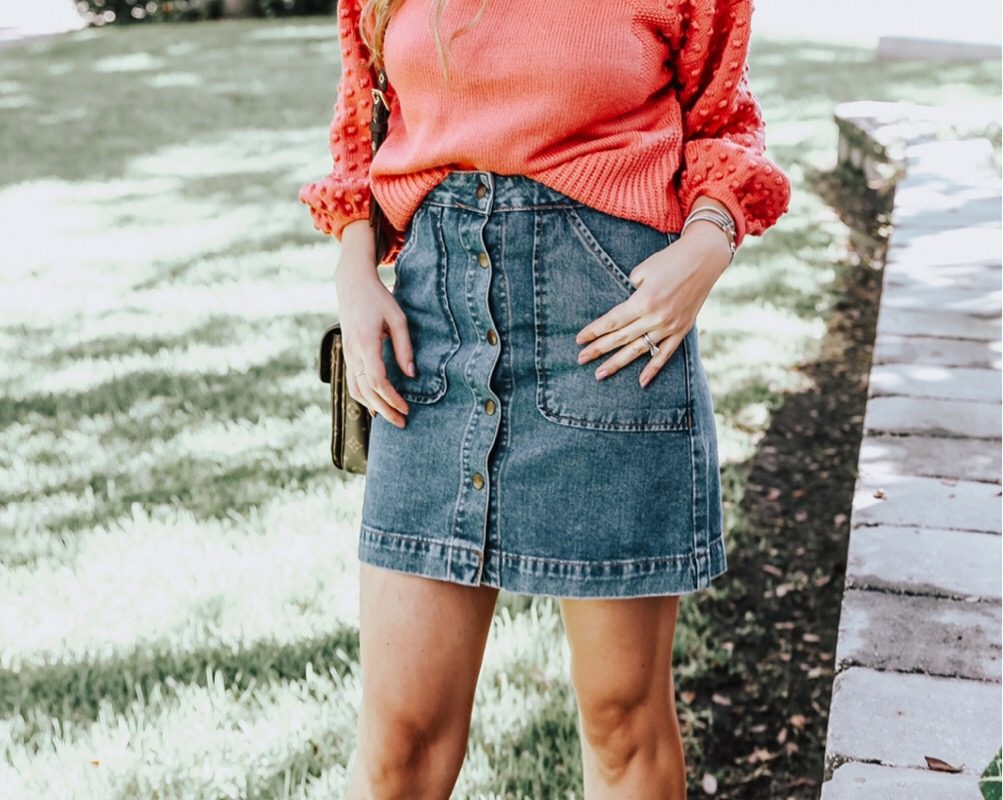 This post may contain affiliate links. Purchasing through them help support this website.
Happy Wednesday dolls!  I hope everyone had a great weekend and week so far.  My brother was in town and then my parents came up so I got lots of great family time in.  My brother is really into all the camera and video gear.  We took his drone out for a spin and seriously that is some next level stuff.  I would love to know how to fly that thing for vacation shots.  So it has been in the 90's here every day and I am just ready for a little break in the weather.  I ordered a bunch of Fall pieces from the last Shopbop sale and I really want to start incorporating some of them into my rotation.  I am finally moving away from everything having to be so nursing friendly but the weather really needs to cooperate!  One thing I've been seeing a lot of for the Fall trends is big chunky pink sweaters.  I am totally loving this trend and here are some great options for you!  I styled this one by Nude knits with a 70's esque denim button up skirt (pre-pregnancy buy yeah! for being able to fit back into it).  I think these would look great with high waisted denim or even a houndstooth skirt.
Shop This Post

Pink Sweater exact here |||  Budget friendly here
Skirt old here |||  Similar options here and here
Booties Marc Fisher here (selling out like crazy, 25% off!) |||  Budget friendly here
Sunnies under $10 and great quality here (look just like the Celine ones!)
Other pink sweaters that have caught my eye!

I hope everyone is having a great week.  I've been getting back into the brainstorming with content over here and thinking about writing a post about my current photography editing.  Let me know if that's something you're interested in!
Follow on Bloglovin
Want first dibs on shopping and sales? Sign up here on Liketoknowit for direct links sent to you
Want my daily posts sent to your email inbox?!?!  Then click here and make it happen
Follow my looks along on Instagram
Pin along with me on Pinterest || Like Meet @ the Barre on Facebook
Reader Interactions