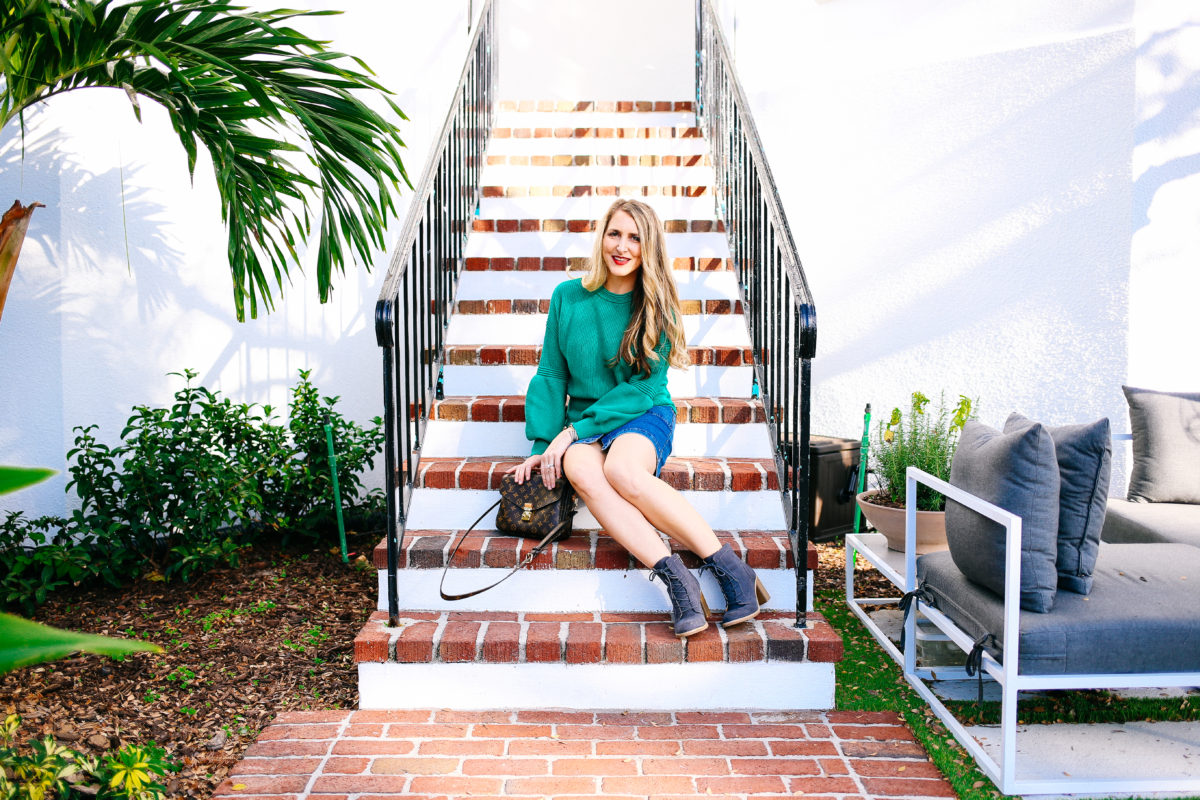 This post may contain affiliate links. Purchasing through them help support this website.
I made a goal to blog three days a week and then my child decided to go on a complete sleep strike. Sooooo here we are a little behind schedule but trying to keep up with my promise to myself of consistency. Around the holidays I was pretty quiet around these blogging parts. I was super oversaturated with everyone and the swiping up of the same five sales. I really want to get back to my roots in 2019. Honestly, Rewardstyle is so saturated that the measly $20 a month or whatever I used to make is not even happening now. So like who really cares. I just want to write blog posts that make me happy. I want to share products, clothes, experiences, and mommy stuff that I would find interesting. If I have a sponsored post it will be clearly defined otherwise this is just me sharing what is truly on my radar at the moment. I never did a roundup of my favorite products from 2018 so thought this would be a great time!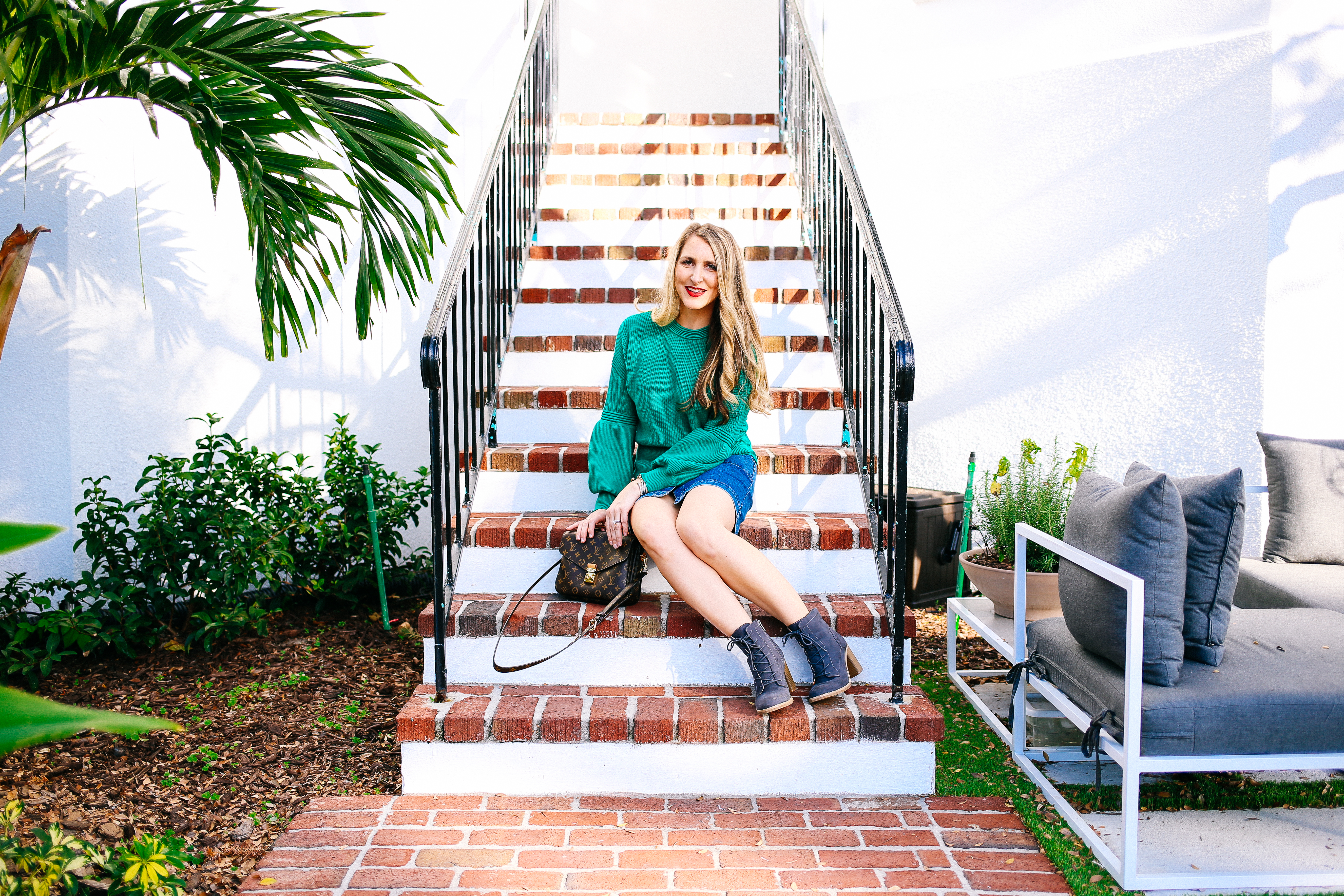 Green sweater The Fifth Label, adore the sleeves! ||| Skirt old but similar here ||| These booties on sale here
Favorite 5 Minute Makeup
This CC cream with SPF. It has a cult following for a reason. This bronzer which is great for contouring, it doesn't have any sparkle to it. This setting powder gives a great airbrushed look. My favorite blush in Mata Hari. Love this cream blush. This concealer is the only thing that brightens up my no sleep in one-year mom eyes right now (worth the splurge). This lipstick prep is a must whenever I'm applying any nonforgiving color. My favorite red lip color.
Skincare:
This Vitamin C is pricey but worth every single penny. It has completed transformed my skin. I pair it with this cream. I also got sent this in an Influenster box and it's under $20 and I saw it instantly soften the fine lines on my forehead. I was very impressed, especially for the price point. I love this scrub which has turmeric in it. Makes your skin so smooth and bright. A makeup eraser cloth is the only thing that I use to get makeup off. It takes off red lipstick with warm water, it's a little magician.
Hair:
Hair changing product here. Makes your ends feel like Keratin treatment. It is pricey but I have a sample size and it has lasted me months. I got sent this thickening shampoo and conditioner, loved it so much I repurchased it. I have tried to stay away from dry shampoo lately because it makes my scalp so itchy but this is my favorite and it's super affordable. Makes your hair feel clean again. How I curl my hair and it's on sale.
Nails:
This nail care line is the best at home gel-like manicure it lasts for a solid week. I always use a glass nail file and then buff them with this.
Staple Clothes
Spanx faux leather leggings and I have been living in the moto ones. These Ashton jogger sneaks from Vince are a splurge but are so easy for mom life because they slip on and I stuck them in the washer machine and they look brand new again. High waisted Farrah skinny AG pants. I have them in black and navy velvet, I wear them to work at least once a week. The Highline high-rise distressed jeans from L'Agence were a major splurge, I got them on a SHOBOP sale. I have people stop me whenever I wear them to ask me about them. They are so flattering and fit like a second skin. I have never reached for a sweater more than this one from Madewell. It is the perfect drape, length, weight, and goes with everything. It is on sale and selling out quickly. Search for Colorblock Madewell cardigan to see the other colors it comes in if your size is out. Amanda Uprichard makes my favorite staple tops. I am currently lusting over this one and this one. They drape beautifully and launder like brand new. I splurged on a plaid Rails top and it is buttery soft. I love it with leggings, jeans, or tucked into a skirt. There are some on sale here. My favorite button-up dress from Madewell (Retro Waisted dress) is back in stock. I pretty much wear it once a week. This hat from Janessa Leone which was old is BACK IN STOCK (the Alara hat). A total splurge but it is worth it. I can't tell you how many of these hats I have gone through trying to find the perfect fit and it meets every qualification. Get it before it sells out again. I am now finding as a mom I need good quality pieces that wash and wear well. As much as I find it ridiculous sometimes that I'm wearing jeans that cost over a hundred bucks but when you get spit up how many times a day and you're washing things as much as I do. They need to stand the test of time. These perforated booties from Isola are on sale, beyond comfortable and go with everything. Also, still loving the Lush tunics. The Hazel pumps from Sam Edelman are the most comfortable pumps ever and come in a million colors. You can also find them on sale here.
Randoms:
My favorite whitening toothpaste. This year I have been taking more care of my teeth. Oral healthcare is so important but a lot of people tend to overlook it. An old friend of mine recently had her teeth professionally whitened by a Dentist in Greenbelt and she has inspired me to think about doing the same. Have you ever had your teeth whitened? What are some of your favourite oral hygiene products? Let me know in the comments. If I ever wear perfume it is this one. This jewelry cleaner will make your diamonds look like they came out of the showroom. It is so good I even paid for the shipping. I've been asked a lot which planner I use and this is my trusted favorite. It has the perfect monthly calendar overview. This hand cream is on my nightstand. This is my go-to chapstick. These under $10 sunnies that look just like the Celine ones.
There you have it! A round-up of my favorite products from the past year. I still use these in heavy rotation. I am looking forward to trying out different brands in the New Year and will definitely be sharing all my favs!
Follow on Bloglovin
Want first dibs on shopping and sales? Sign up here on Liketoknowit for direct links sent to you
Want my daily posts sent to your email inbox?!?!  Then click here and make it happen
Follow my looks along on Instagram
Pin along with me on Pinterest || Like Meet @ the Barre on Facebook
Reader Interactions