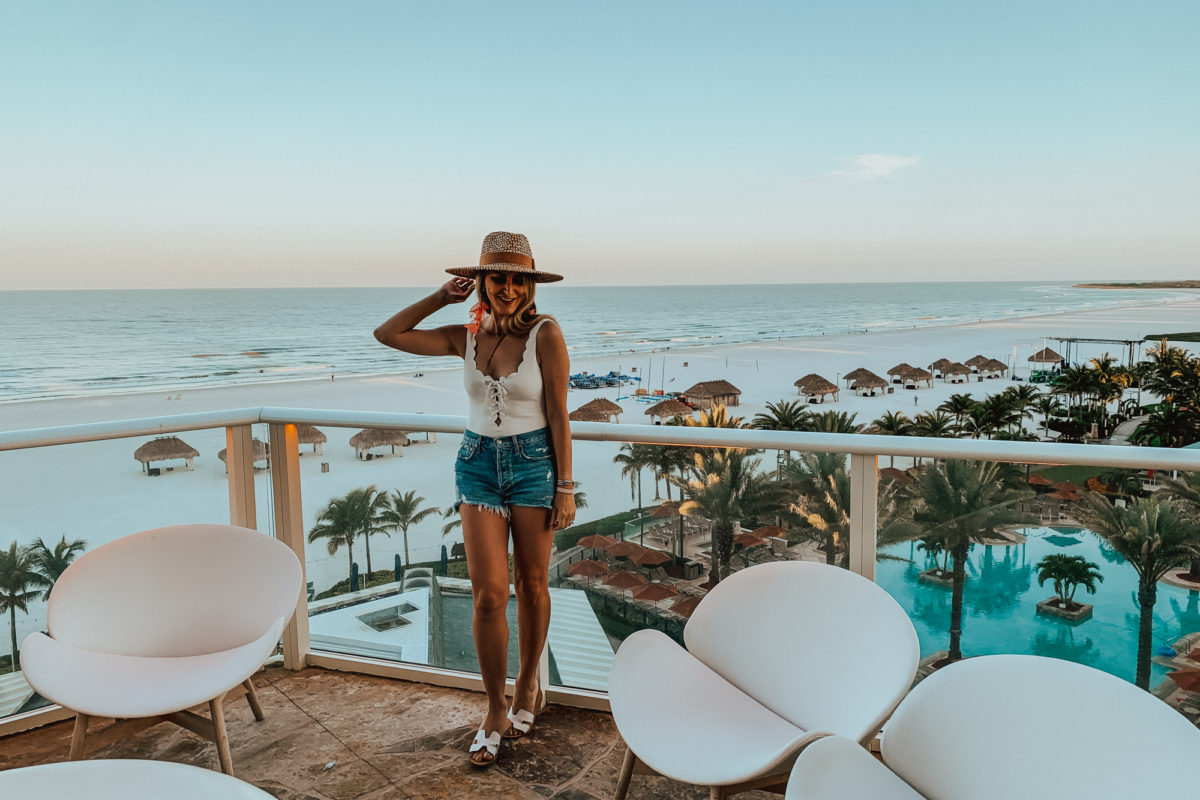 This post may contain affiliate links. Purchasing through them help support this website.
Happy Monday!  This month has just been flying by.  I can't believe it is going to be a few more weeks and the Summer will be here.  Patrick starts in his toddler room at the start of June and I can't believe his school year is already gone.  That year went by so fast!  I wanted to check in with a few pieces that I've been loving lately and wearing on major repeat.
This white scallop bathing suit by Marysia is definitely a splurge price point but it's a good ROI.  I pretty much lived in it on vacation.  Slipped some jean shorts on and was ready for lunch.  A maxi skirt and it was ready for dinner.  It is definitely thick enough for full coverage.  I recommend sizing up, I got a medium in it.  I also picked up this scalloped one piece for under $20 and it a good budget-friendly alternative.  Here is another alternative dupe.  The material doesn't look the same but a similar cut.
These jean shorts (Parker Vintage loose cut) are the current blogger cult favorites and I can see why.  I will say I don't have a butt and I think that is why they fit me well.  They hit at the perfect spot around the waist and aren't too short.  I am also picking them up in white.
I pair those shorts with this green Amanda Uprichard top (Halifax top) pretty much every chance I get.  It can be casual with flat Greece sandals or I've dressed it up with white pumps to go out.
The perfect Summer hat at a great price point.
These pink chiffon feathery earrings really dress up any outfit and good price point as well.
I bought these rhinestone snap hair clips and they add just the right amount of glitz.  They also snap down really tight.
These metallic Birkenstocks are back in stock.
I let my lash extensions grow out and now I'm trying to rehab back my little stubby lashes.  Since I'm inept when it comes to falsies with glue I picked up these magnetic liner lashes and they 100% work.  My only feedback is I can't wear them for everyday use because the base of the magnets is a little heavy on my eyelids.
This natural deodorant smells amazing.  It works pretty typically like the other ones but the scent is the best I've tried so far.
These are the best Summer Sneakers.  They are lightweight and super flattering for the leg.  I have them in the periwinkle blue color.
I've been using this mask once a week and have noticed such a difference.  My face is literally baby soft after use.
There you have it!  Some of my tried and true favorites lately.  I hope everyone had a great weekend.  Tell me about your upcoming Summer plans!
Follow on Bloglovin
Want first dibs on shopping and sales? Sign up here on Liketoknowit for direct links sent to you
Want my daily posts sent to your email inbox?!?!  Then click here and make it happen
Follow my looks along on Instagram
Pin along with me on Pinterest || Like Meet @ the Barre on Facebook
Reader Interactions