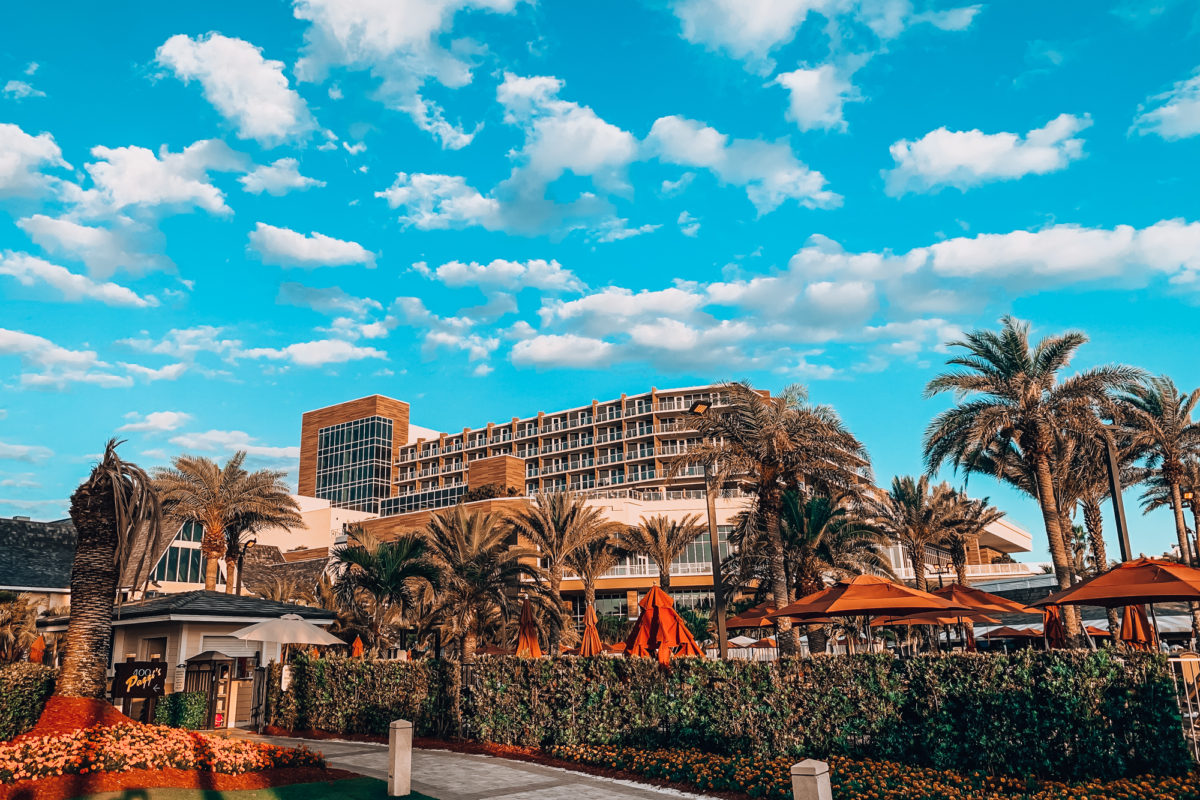 This post may contain affiliate links. Purchasing through them help support this website.
I am so excited to be able to share my review of the JW Marriott Marco Island Paradise by Sirene Adults Only Lanai Tower with you today!  I have worked with a lot of the JW Marriott properties in the past and can always say when you book with these properties, expect first class service.  The JW Marriott on Marco Island is the only JW property that is located beachfront.  There are a lot of properties that are waterfront but this is the only one that you can walk right out of your room and onto the sparkling blue water Gulf of Mexico.  Now, this is a large property that once you check in, you really don't ever have to leave.  In 2018, the expansion of the Lanai Tower was completed.  It is a 21 plus exclusive tower of 94 expertly appointed rooms and suites overlooking the beach.  The Paradise by Sirene is the top 5 floors of the Lanai tower that has an Adults only pool, restaurant, beach area, and includes breakfast every morning.  I thought I would walk you through our long weekend experience start to finish!  Here is my full review of the JW Marriott Marco Island Paradise by Sirene recap.
****Editors note.  This has been a popular google travel search review.  If you enjoy this one please make sure to check out my other recent travel guides and hotel reviews here.  Also make sure to follow me on Instagram here!  Enjoy this review!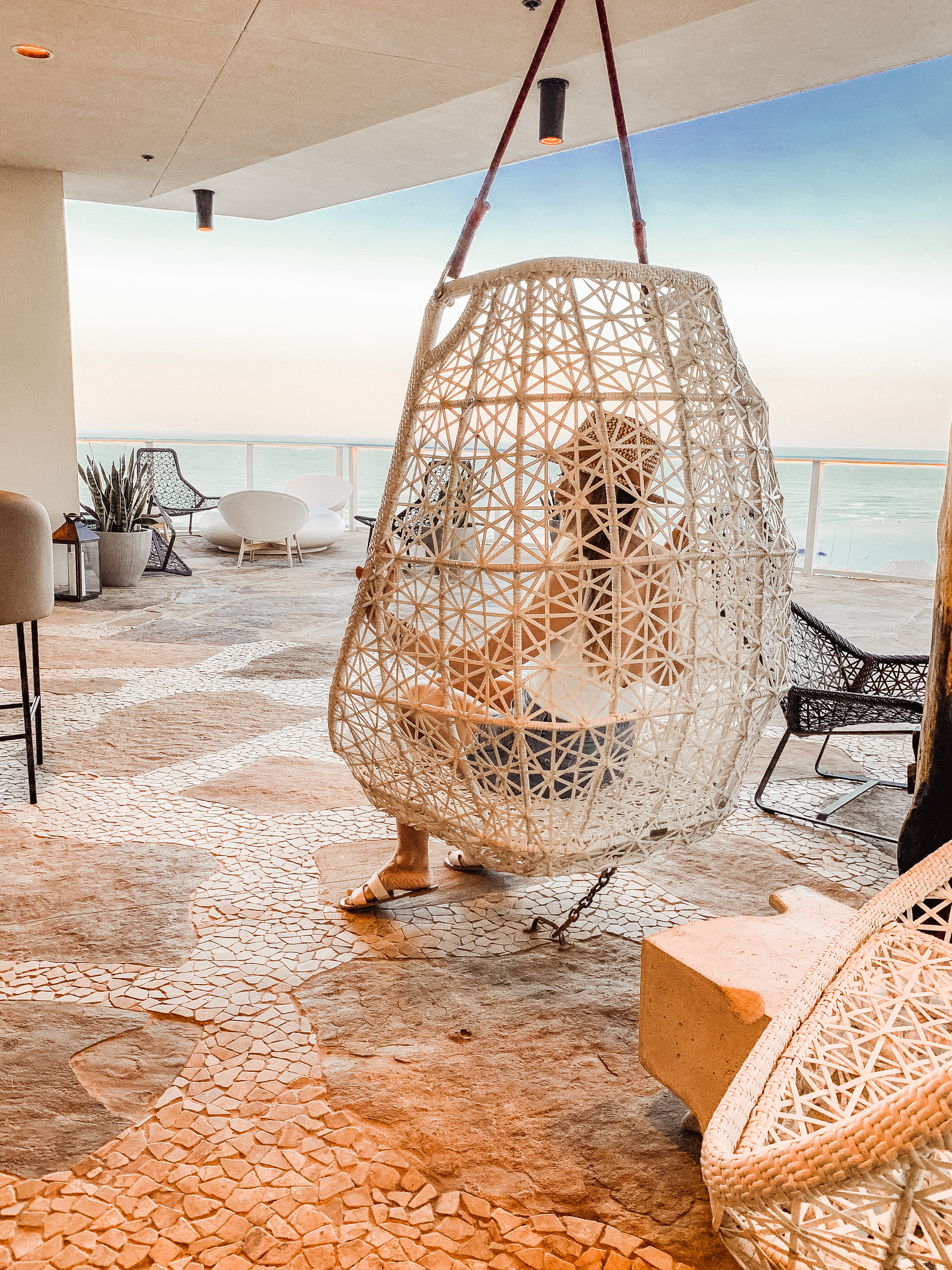 Review of the JW Marriott Marco Island Paradise by Sirene Adults Only Tower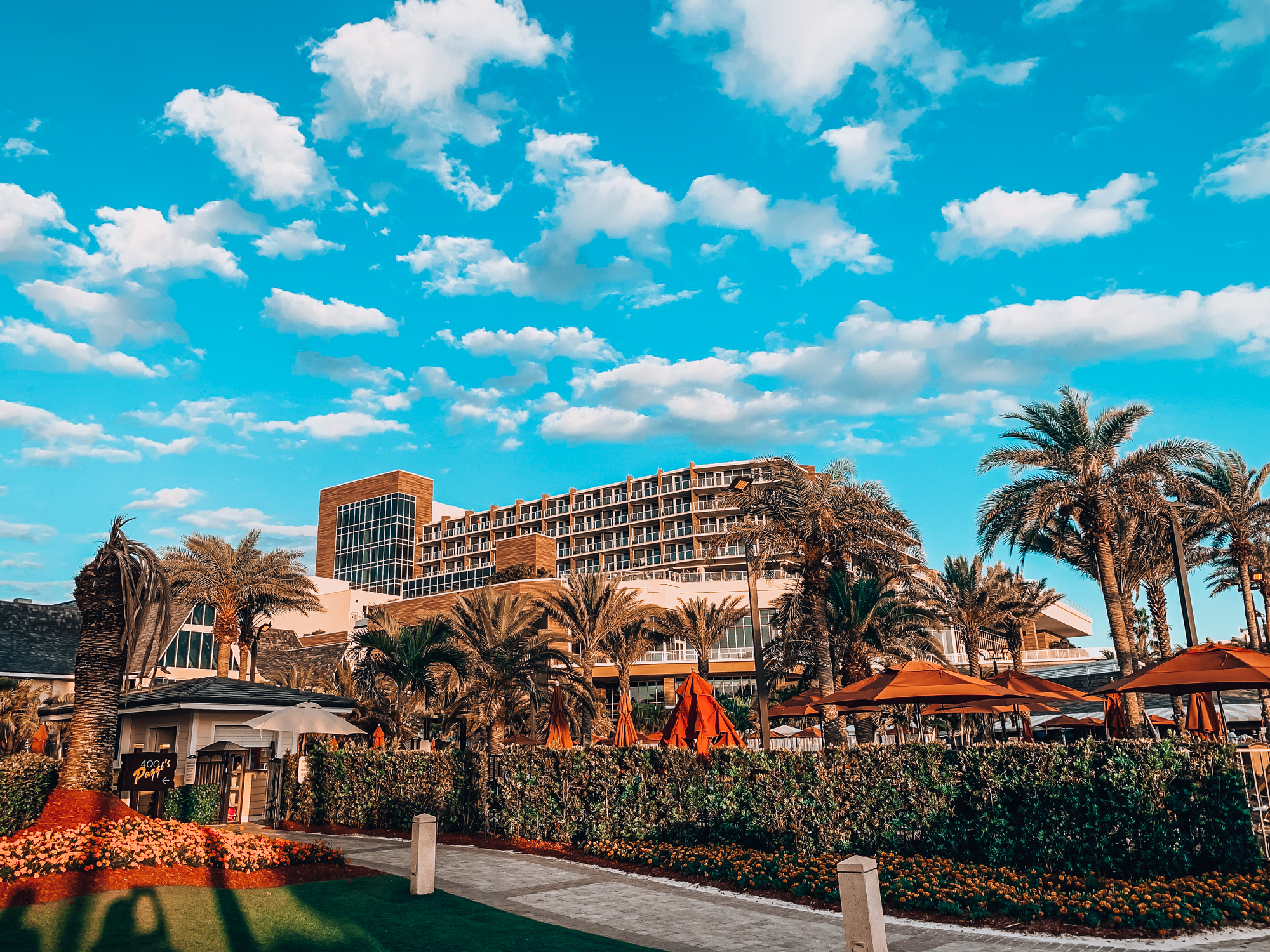 How to Get There
The JW Marriott is located on Marco Island which is roughly about 30 minutes outside of Naples.  For Floridians, it is a perfect long weekend staycation destination.  We live in Tampa and it takes a little over 3 hours to get there.  We usually stop at the Costco in Naples to gas up and grab any snacks/beverages before heading to Marco.  For the locals to Florida who live in the Miami area, I highly recommend getting out of South Florida to check it out.  My inlaws met us to watch our little one during the trip and it was just over an hour for them.  Most out of town guests that we talked to flew into Ft. Myers airport which is about an hour away.  The hotel can arrange for transportation or Uber/Lyft or rental cars are great options.  As I said, there is so much to do on property that I really don't think a rental car is that necessary if you are out of town.  The property is walking distance to other restaurants on the island if you do want to venture out but I warn you it is a sleepy island that shuts down very early.  Plus, there are so many great dining options on the property that you don't need to leave.
Check-In Process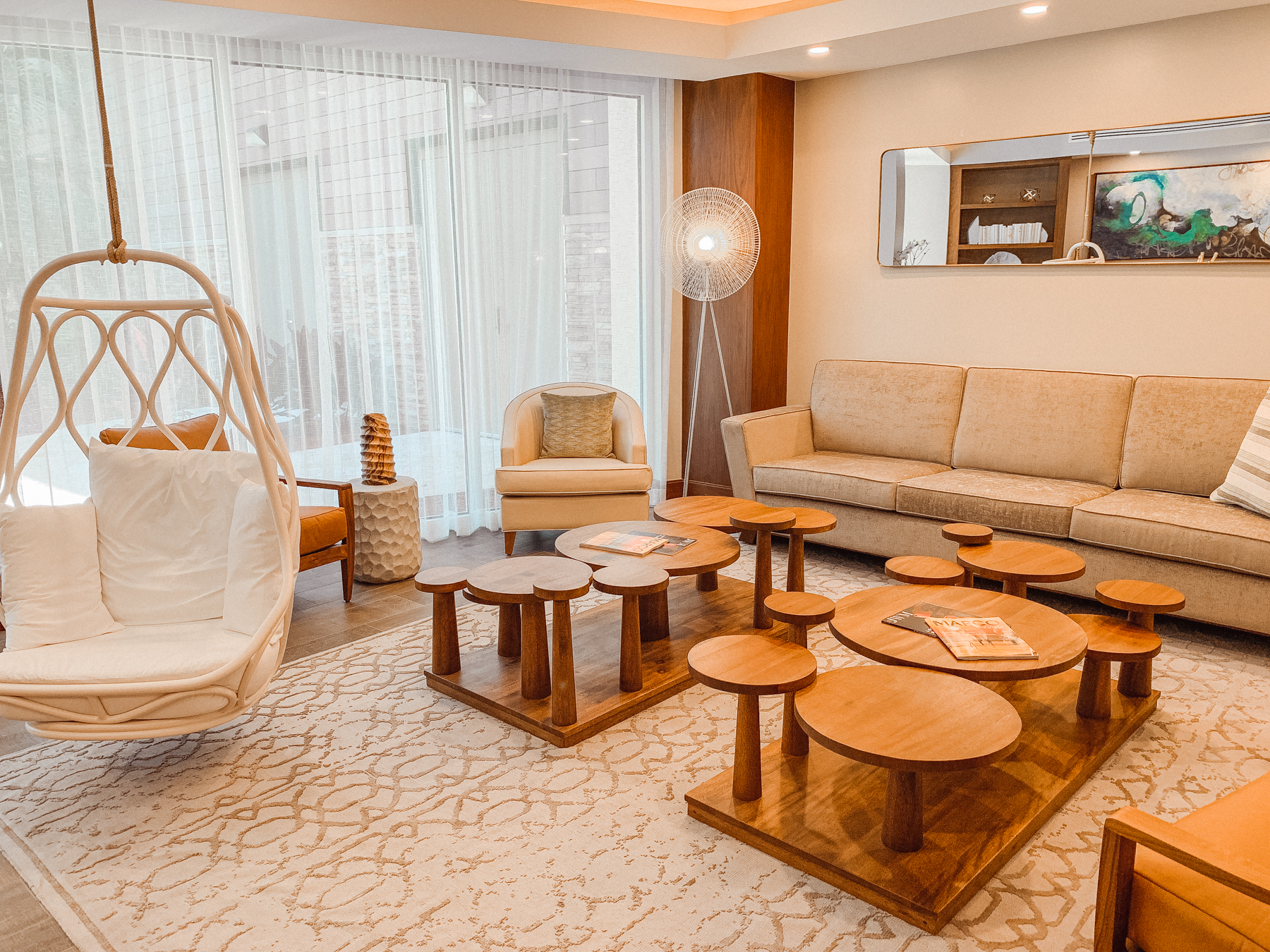 I am a very specific and detail orientated person so I will walk you through it all.  Once you get off the highway it is a very easy drive out to the JW property.  When you pull up to the hotel, it is a fairly steep drive up and there is a lot going on with people checking in and out.  The valet services handle it all with ease.  We were immediately greeted and were brought a luggage cart that was skillfully packed since we not only had our clothes, drinks, snacks, (20 blogging outfit changes) but also Patrick's pack and play plus everything that you have to travel with a toddler to keep them entertained.  Even though we stayed in the Adults Only Tower, we did have another room to have our little one and inlaws that came to watch him.  It was the best of both worlds.  We were given a luggage tag that we gave at check-in.  By the time we had arrived at the room, all of our stuff was skillfully hung, placed, and ready for us.  Talk about service!  Now, Paradise by Sirene has its own check-in lounge when you enter it is to the left.  We were greeted by a glass of Moet champagne while they attended to another couple in front of us.  After we checked in we were given Sirene wristbands that unlocked our doors.  So nice not having to constantly fumble for a key.  The lounge area was available during our stay and we dropped back in to grab a Nespresso coffee and Voss water throughout our stay.  It was a nice luxury that made it feel more personable since it is a large property overall.
The Rooms
My husband and I went to Greece for our honeymoon and we kept on commenting the whole time during our stay that we were transported back there. The rooms had a very similar vibe with natural earth elements, minimalistic feel, and breathtaking views of the water.  When you walk in, you are immediately taken back by the sweeping blue ocean and breeze off the Gulf. The rooms are ample in size, have balconies overlooking the water, stocked with complimentary Nespresso pods and Voss water.  The beds are beyond comfortable and I had my first real night of sleep since having a toddler.  It was heavenly.  We honestly did not spend that much time in our room since our schedules were jam-packed with activities around the resort.  I will say since there are no kids on the floors, it was very calm/quiet, and restful.
The Food/Attractions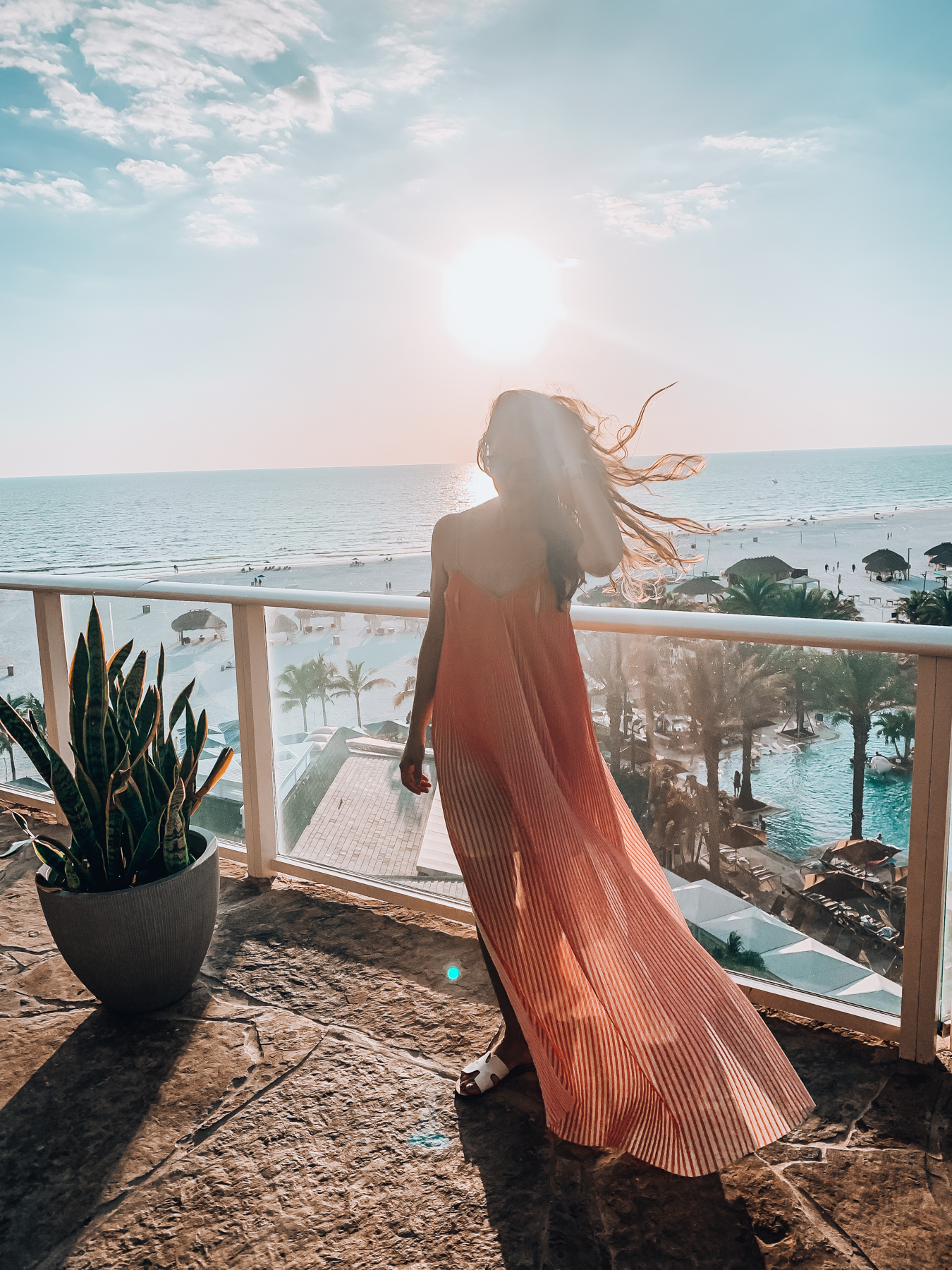 After we freshened up we headed down to the 5th floor to Tesoro which is an Adult only restaurant lounge area.  We had a quick drink on the outdoor space overlooking the pool.  It was very windy our first night so not the most ideal for photo opportunities but this is the place if you want to catch a sunset.  When we were in Santorini, the minute sunset rolled around people were out by the thousands taking in the views.  There is nothing more peaceful than the breezes off the beach and watching the sun dip into the Gulf of Mexico.  I definitely recommend heading up to that area to take in a sunset with a glass of wine.  After that, we headed to Tesoro for dinner.
Tesoro
Tesoro is located on the 5th floor of the Lanai Tower in the Adults Only area.  When you walk in there is a sitting area to the right, a wrap around bar with hanging basket chairs, an outdoor space to view the beach/property, and the restaurant is to the left.  It is a Mediterranean inspired menu with lots of tapas, small plates, seafood, curated cheeses, meats, and a wine menu that is expertly paired to the food.  Our waiter Chris was bubbling with excitement and passion for the chef and food.  I plan on writing a full review of just this experience but here is a recap of our favorites.  I highly recommend the octopus, hummus, the black baba ganoush, the crispy lamb ribs (a must!), the cauliflower, and flatbreads.  I think you can stick to the small dishes and be perfectly satisfied.  I had the lobster for dinner which was incredible.  Mark had the coffee rubbed strip steak.  My only feedback would be to have that in a ribeye, the strip steak fell a little flat for both of us.  We finished with the pure chocolate emotion cake which sounded rich but it was just the perfect amount of decadence and sweetness.  We let Chris make the call for the wine pairings since he had quite the wine knowledge.  I started with a buttery chardonnay, a bold cabernet for dinner, and a dry rose with dessert.  He nailed every selection perfectly.  While you dine, take in the views of the beach and palm trees in the breeze.  It is one of the best views in the resort if you ask me.  This one of our favorite experiences during our stay.  We were fortunate to have my inlaws watch my little one because this is an adult only dining experience that can't be missed!
10k Alley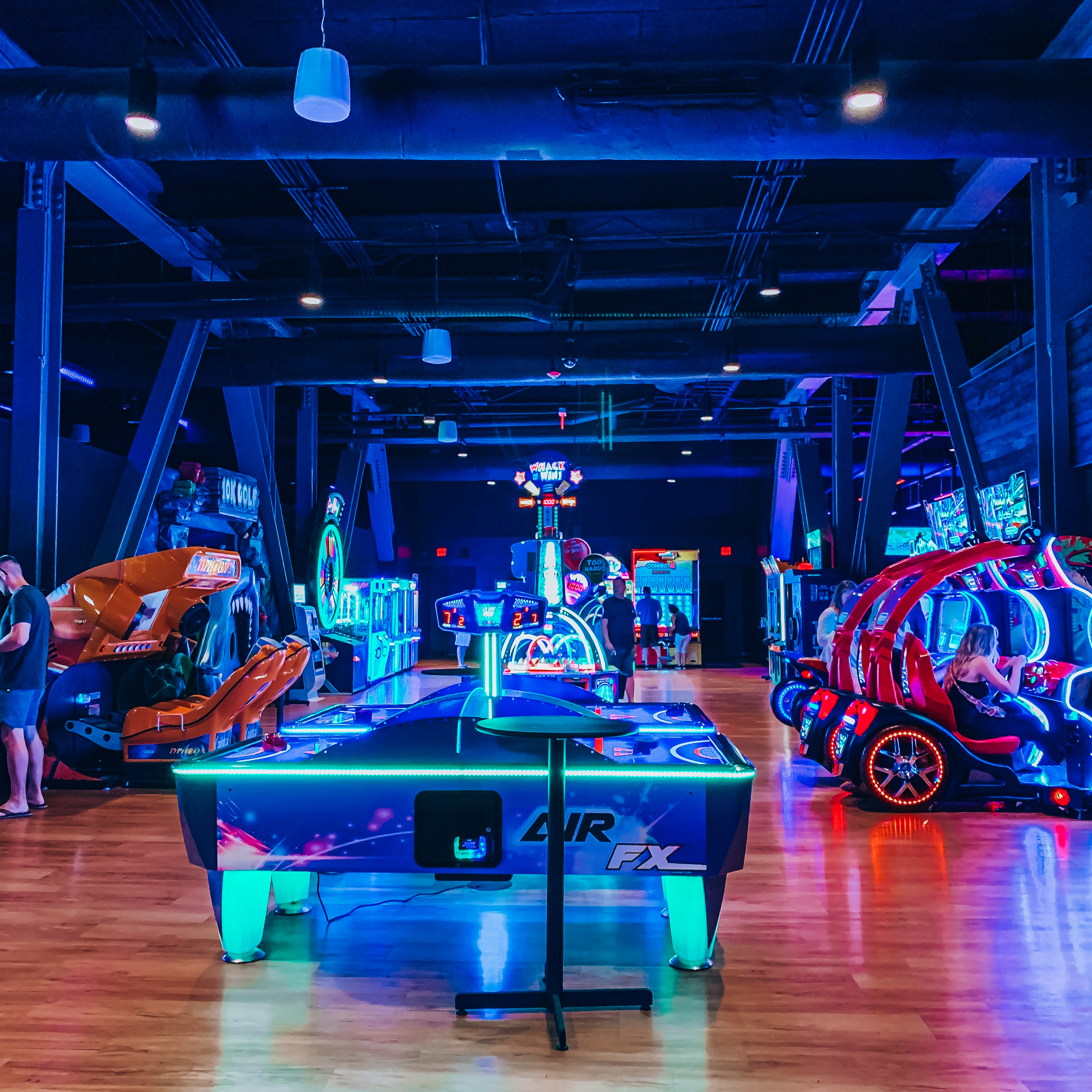 When you come off the elevator of the 5th floor you can head left to 10k Alley or right to Tesoro.  10k Alley was one of our favorite things!  It is a huge entertainment area with every single game you can think of plus bowling, a golf experience suite, virtual reality area, black light mini golf, with a full bar menu with drinks.  Until 10 pm kids are allowed in.  There were plenty of parents having a cocktail in the middle with a burger while their kiddos ran around playing games.  It looked like there were a lot of families that came with other families bowling, hitting up the golf simulator, and having a great time.  It is one of those spots where you see dads wearing babies, drinking a beer, and just totally relaxed.  We were scheduled to have a bourbon tasting after dinner but we were so full we opted for mini golf and bowling instead.  The food menu looked really good and would be a great option if you wanted a more casual dinner while the kids played.  After 10 pm it is adults only and it becomes more of a bar type of hangout.  Definitely a really great addition to the property that you may not know about if you were staying in another tower.  The 10k alley is available for all of the hotel guests no matter what tower you are staying in!
Breakfast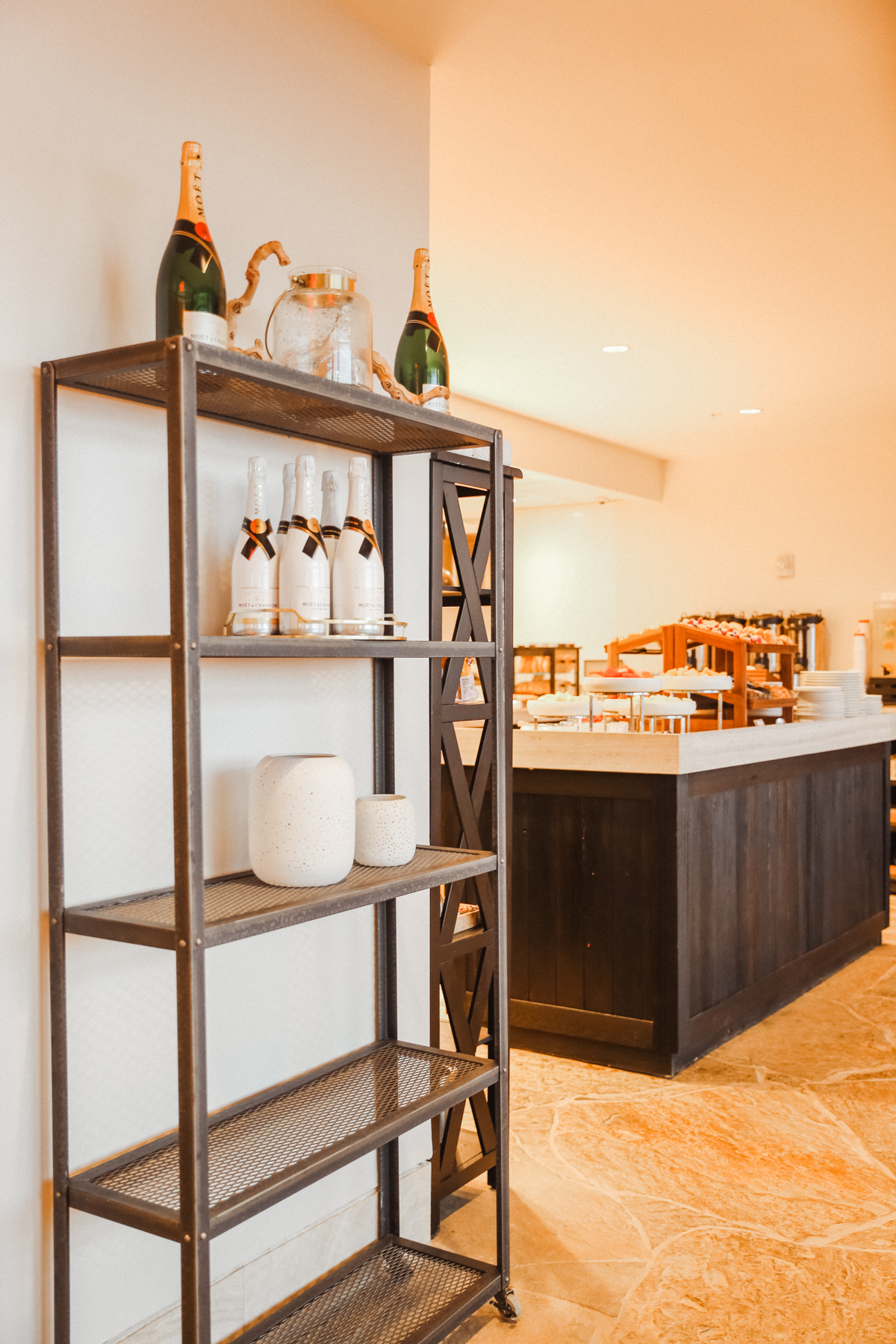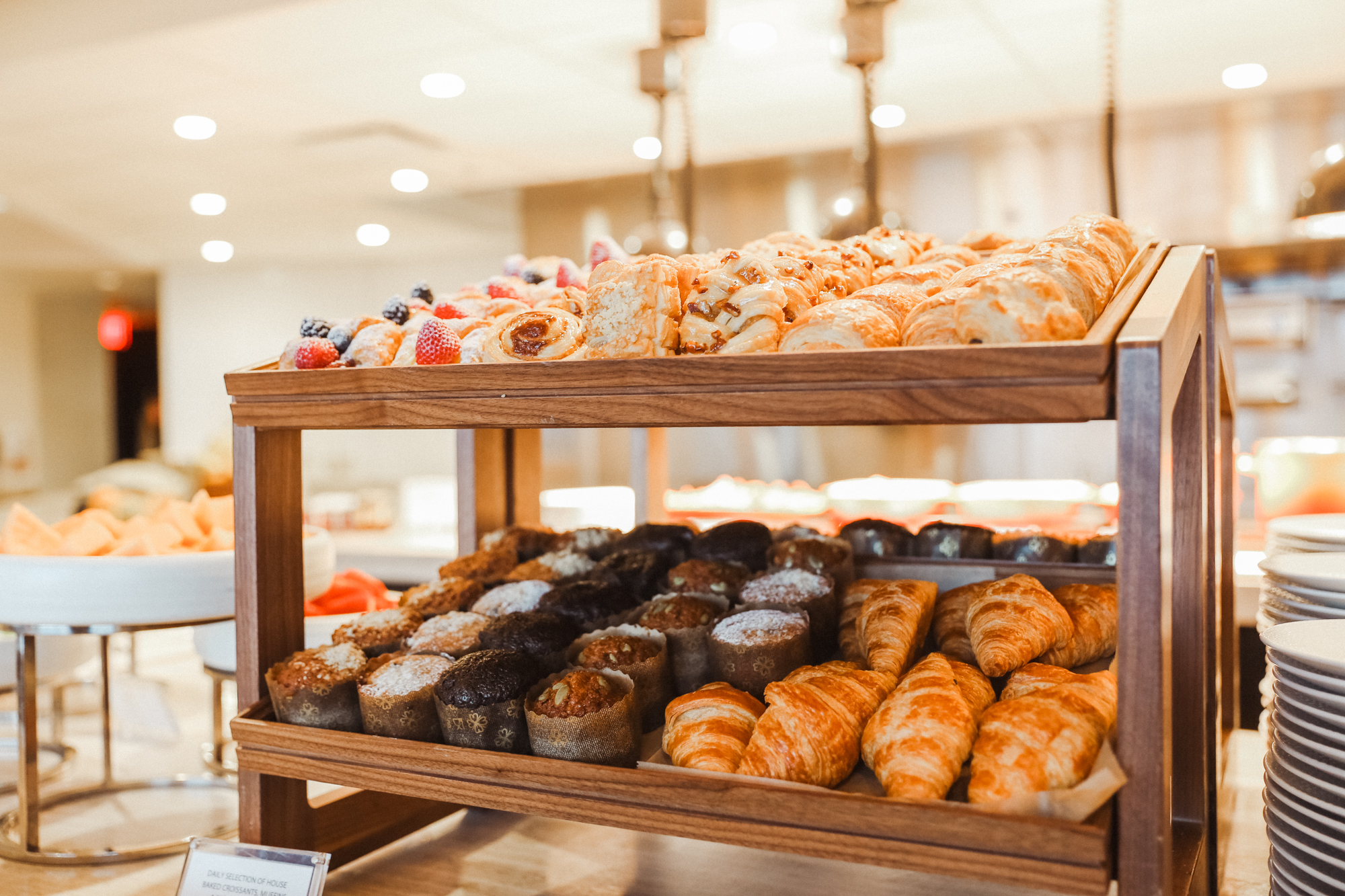 With your room at Paradise by Sirene, breakfast is included.  We woke up every morning and headed down to Tesoro for breakfast.  I was very impressed with the selection, quality of meats, bread, cheeses, and they even had a gluten free section.  It was very calm and clean.  It was such a nice start to the day.
The Adults Only Pool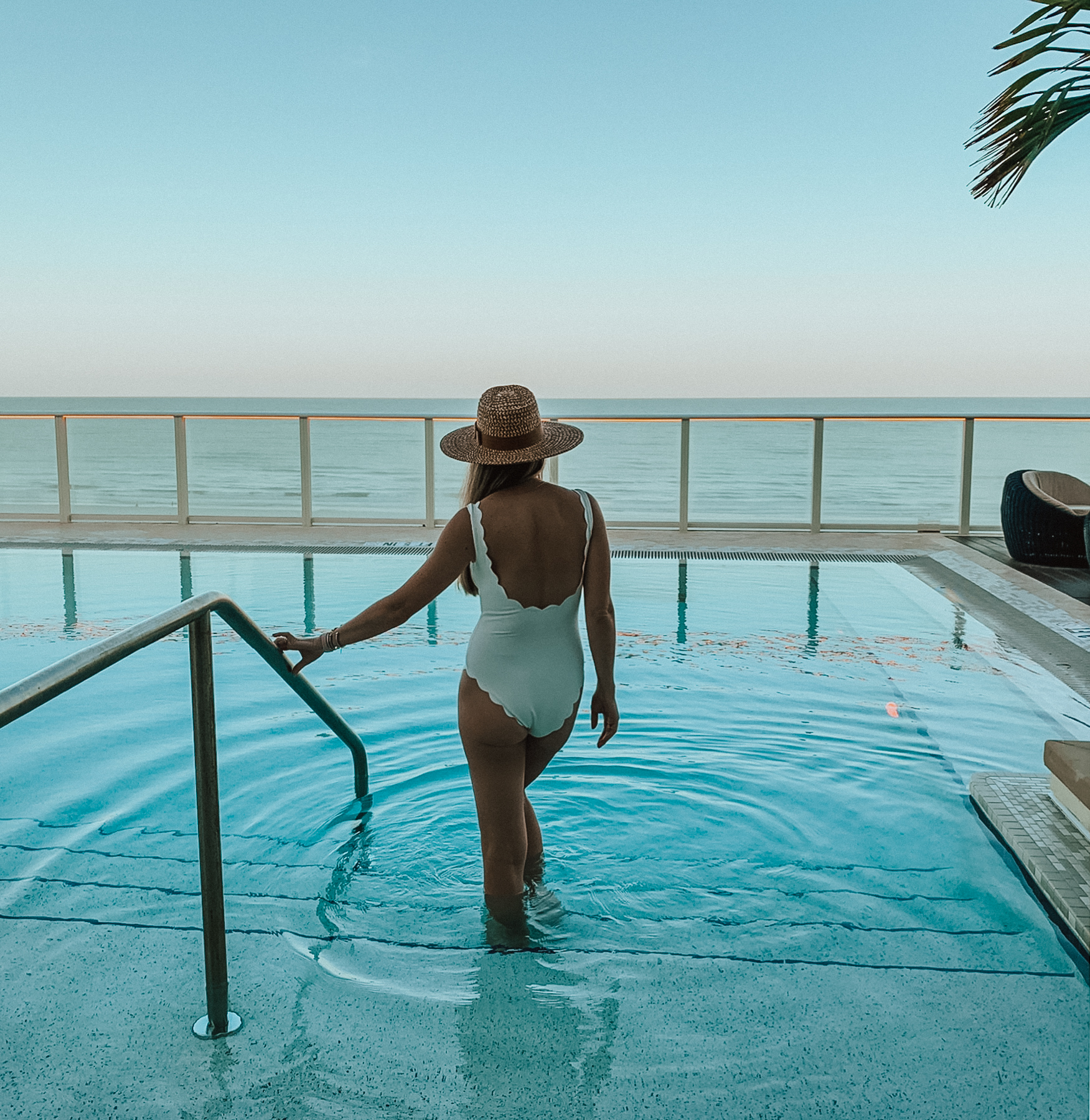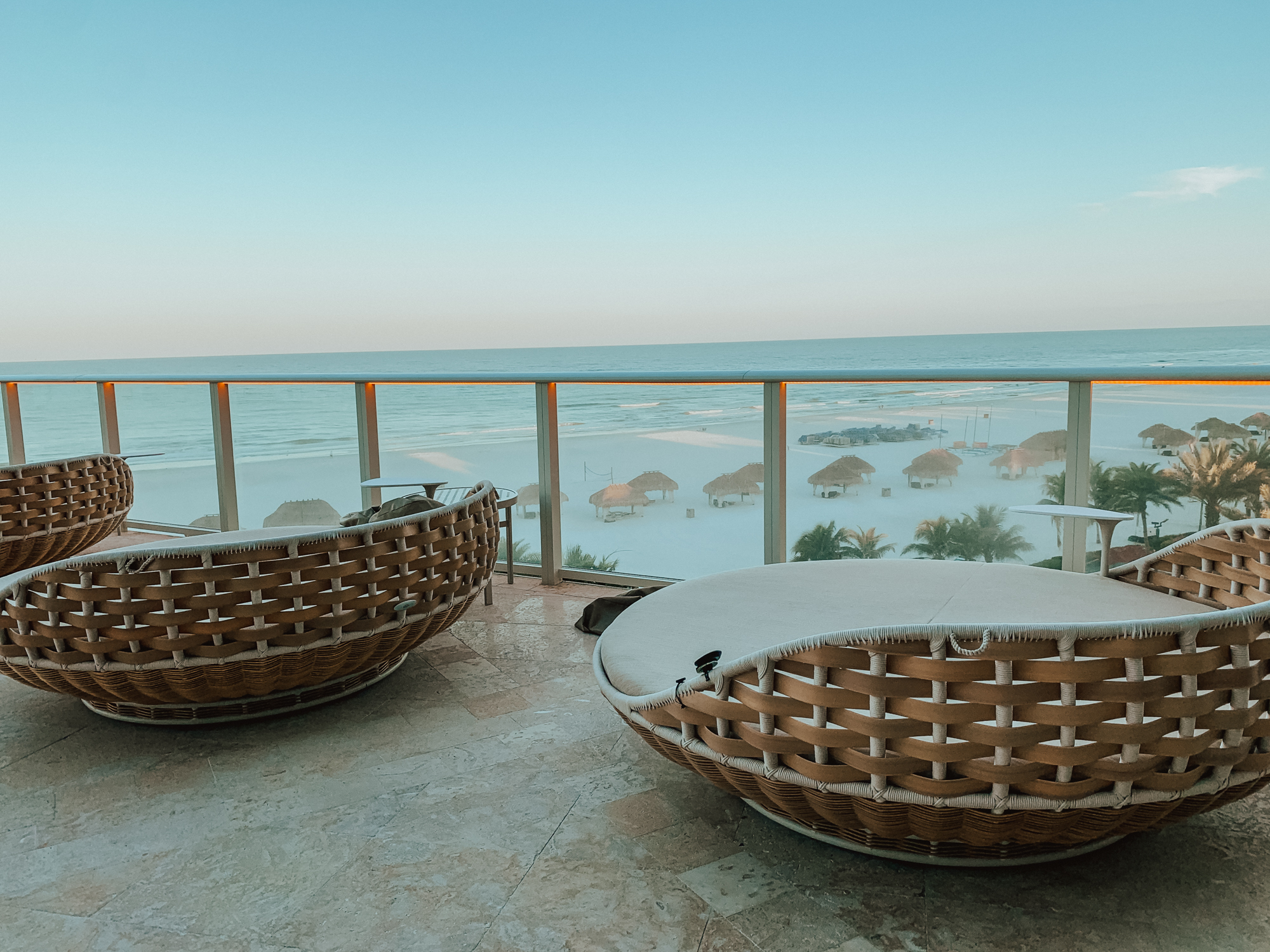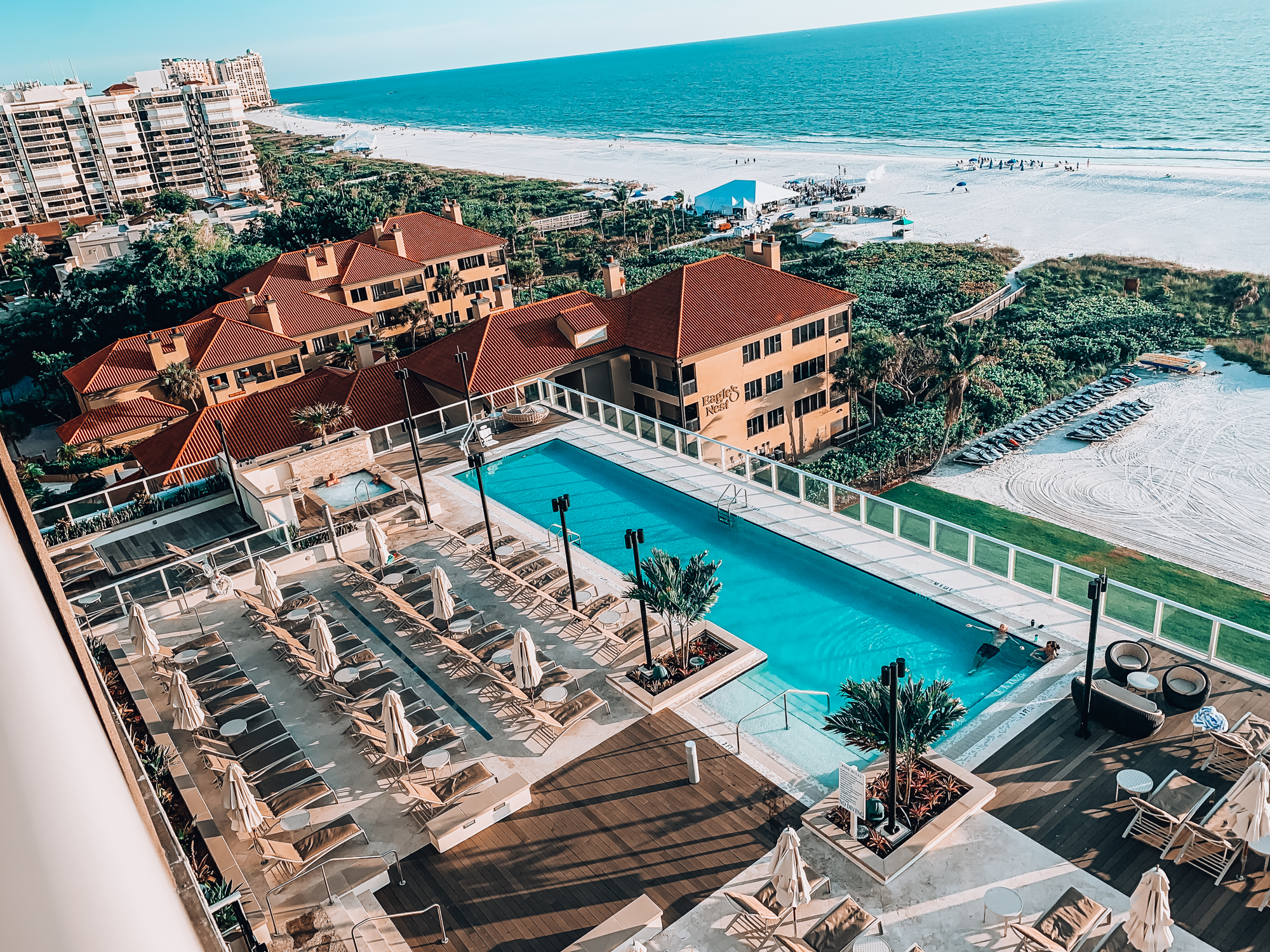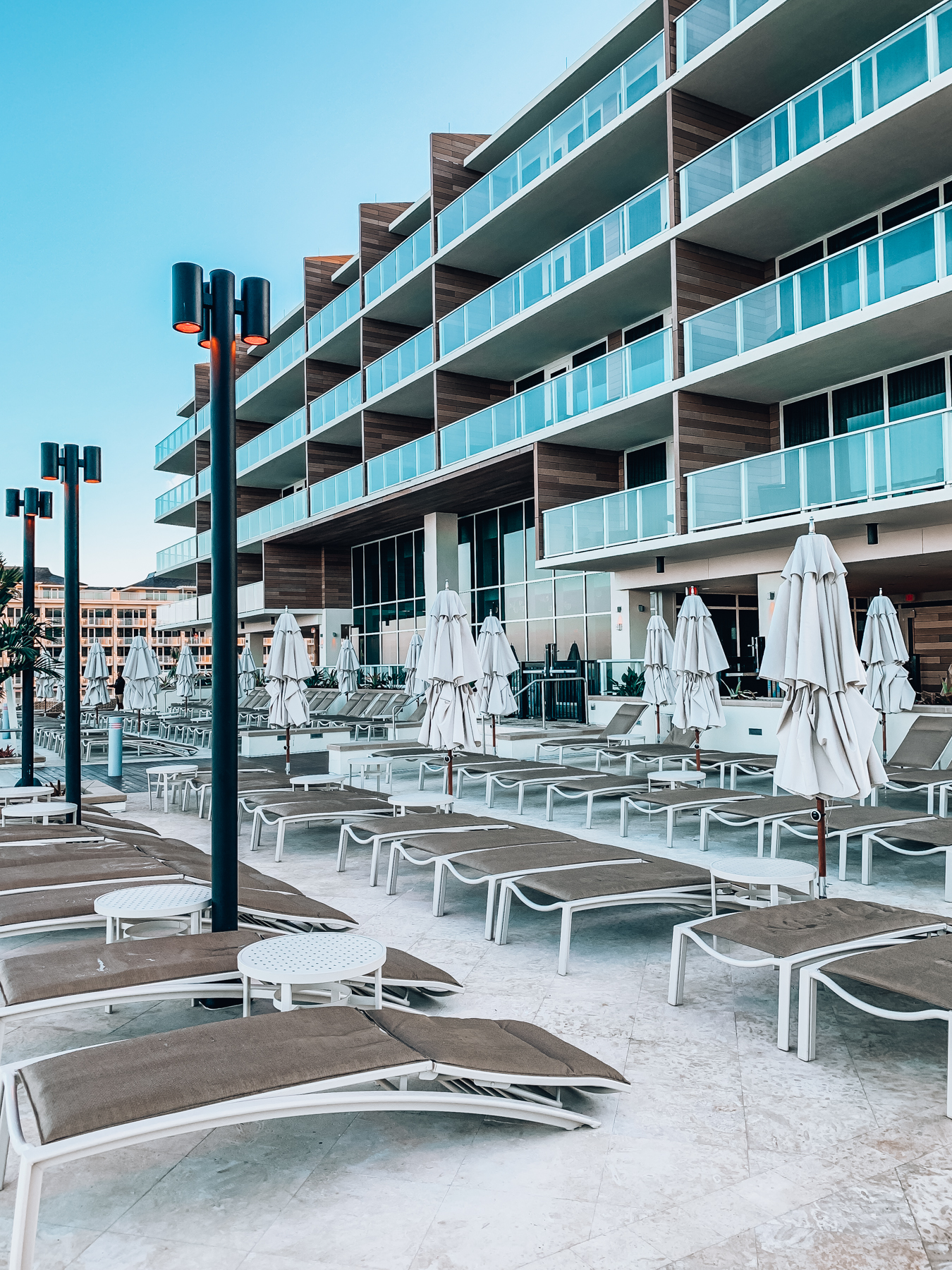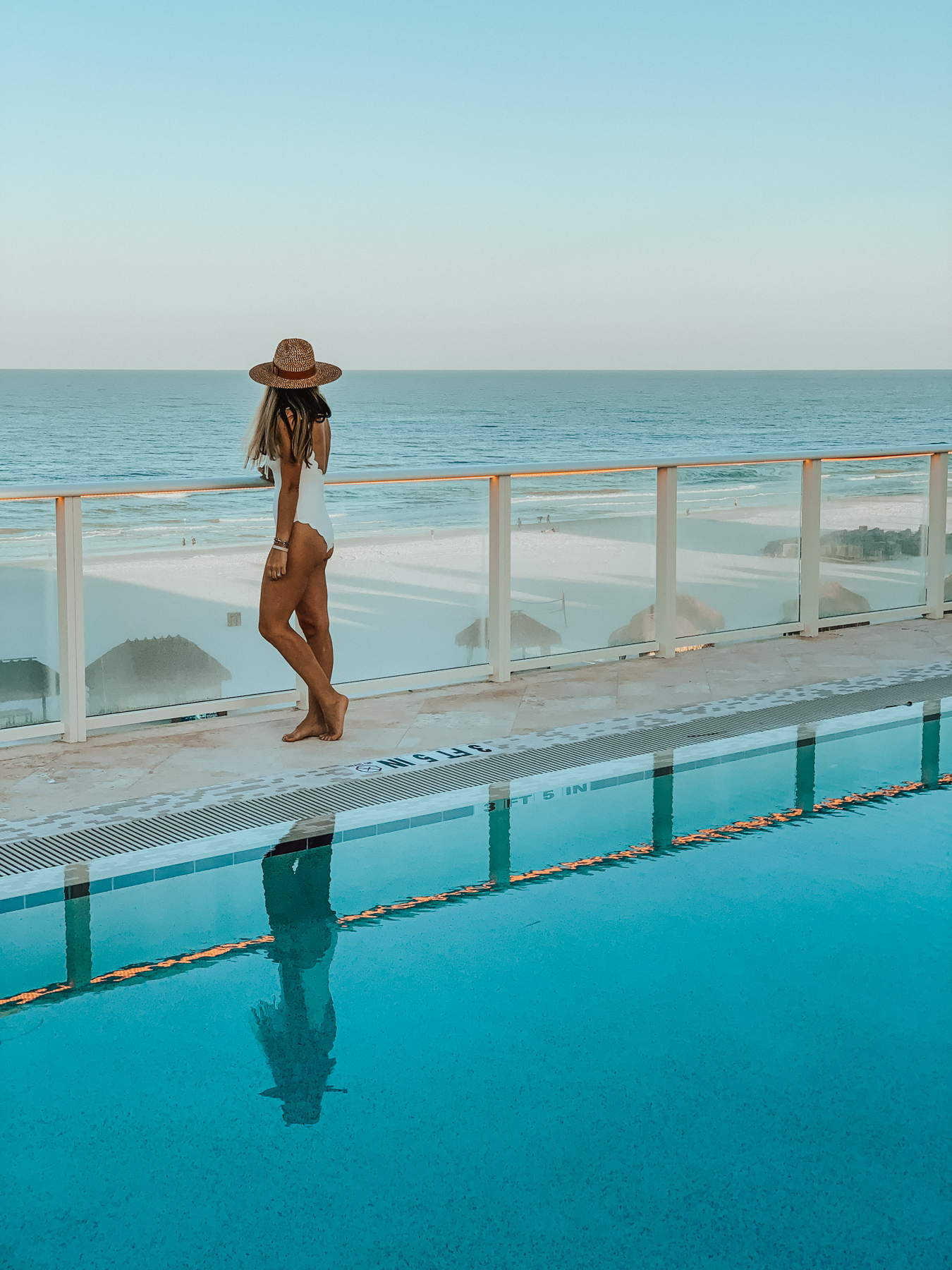 white scallop bathing suit find here |||  hat find here
The property has two large pools that are open for all the hotel guests.  I will say they get very crowded and you run into the people who "mark their territory" by placing towels on chairs early and then you're left standing there going ummmm so is someone actually here?  We had a blast at the other pools with our son since they are filled with floats, waterfalls, and at the kid's pool, they have a waterslide.  At the Paradise by Sirene, there is an Adults only pool on the 5th floor that overlooks the beach.  There is lots of lounge chairs and furniture over the whole deck area if you want to relax with a drink in hand overlooking the beach.  You can also order food with a simple flip up of the flag on your chair.  The pool was absolutely gorgeous, warm, and the best way to relax.  I would recommend going to the beach in the morning and then hit the pool with lunch for the rest of the day.
The Spa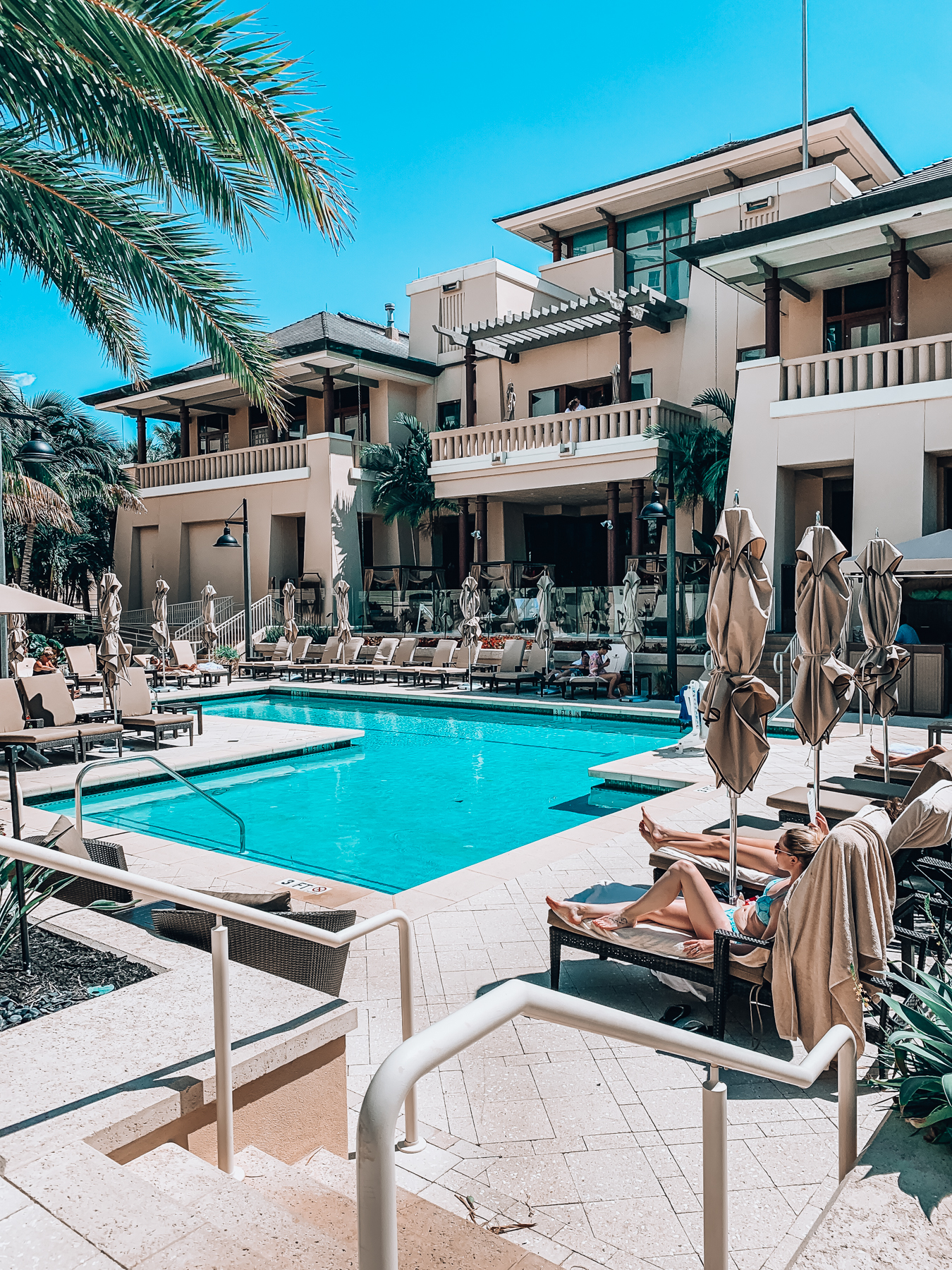 The JW Spa is the best-kept secret of the JW Marriott Marco Island.  It is not located in the Lanai tower but tucked away on the side of the property.  Get any non-express service and you have access to the facilities all day long (or you can buy a day pass for $45).  I had a facial and Mark had a 50-minute massage.  It was probably one of the best facials I've had in a long time (the 50 min ultrasonic facial).  My skin was glowing and Mark met me by the pool with a glass of lemon water proclaiming that was the best massage he has ever had.  For sleep-deprived parents, this was the ultimate luxury and I am so thankful for the experience.  There are workout rooms in the spa area, fully equipped locker areas, hot and cold water spa areas, a lounge quiet area and my favorite is the pool.  The other pools like I mentioned can get a little rowdy with kiddos.  This is total serenity.  Lay by the pool, have lunch brought to you, and soak in all the sounds of the beach waves rolling in.  There is also a salt mineral pool that overlooks the grounds and is beyond relaxing and therapeutic.
The Beach
Marco Island is known for its white sand beaches, blue water, and sand dollars by the dozen.  My favorite thing to do is get up early, walk the beach, have breakfast and then head back down to relax.  There are tons of chairs with umbrellas set up which comes with your resort fee.  Paradise by Sirene has its own exclusive area that is adult only.  We went back and forth to hang out with our kiddo and then catch a few minutes by yourself.  You don't need to head to the property if you need anything, there are plenty of JW staff that will help get you anything such as drinks, food, etc.  When we were staying there was a big convention so they had set up a stage for musical acts during the week.  It was close to the property so it didn't interfere with our beach experience but there definitely is always something going on at this popular resort.  It is definitely a destination for weddings as well.  We were actually down there 6 weeks prior to a wedding for Mark's friend.  The food was excellent!
Other Activities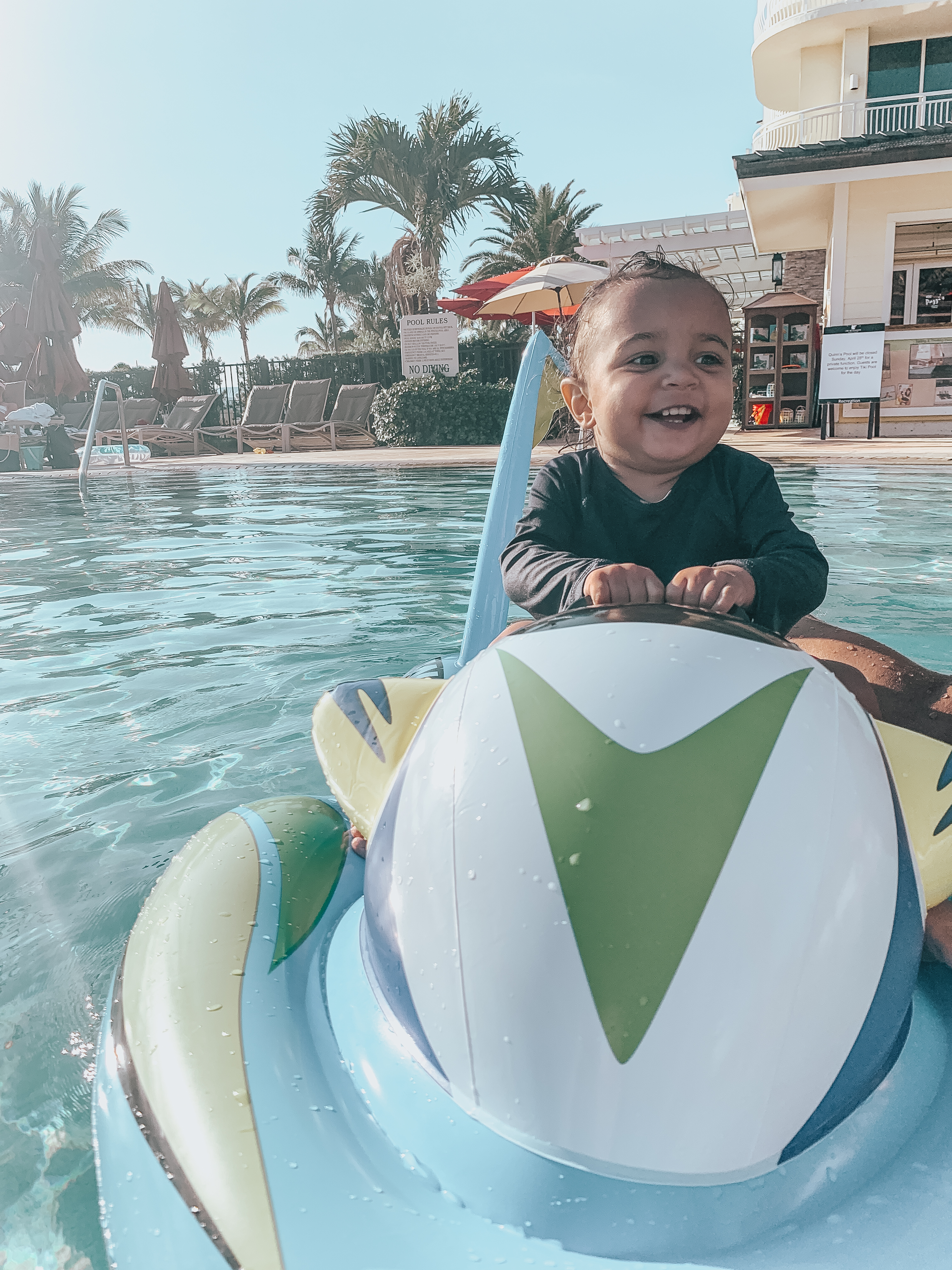 A lot of families that we ran into were staying for their Spring Break up north.  There are tons of activities to keep you busy during your stay.  There was a handout they gave us check-in in that tells you about everything going on each day from sunrise yoga, to golf, a shelling boat experience, tons of workout/group activities, the list was pretty endless!  There is also an activity center for kids that if parents want a few hours to themselves, the kiddos can head there for various activities with staff members.  There was also 10k Alley that I mentioned but the main draw is definitely all the pools.  Patrick loved being on all the floats and there is a kids area of the pool for toddlers and little ones so you can let them get there feet wet with lots of water stations.
Places on Property to Eat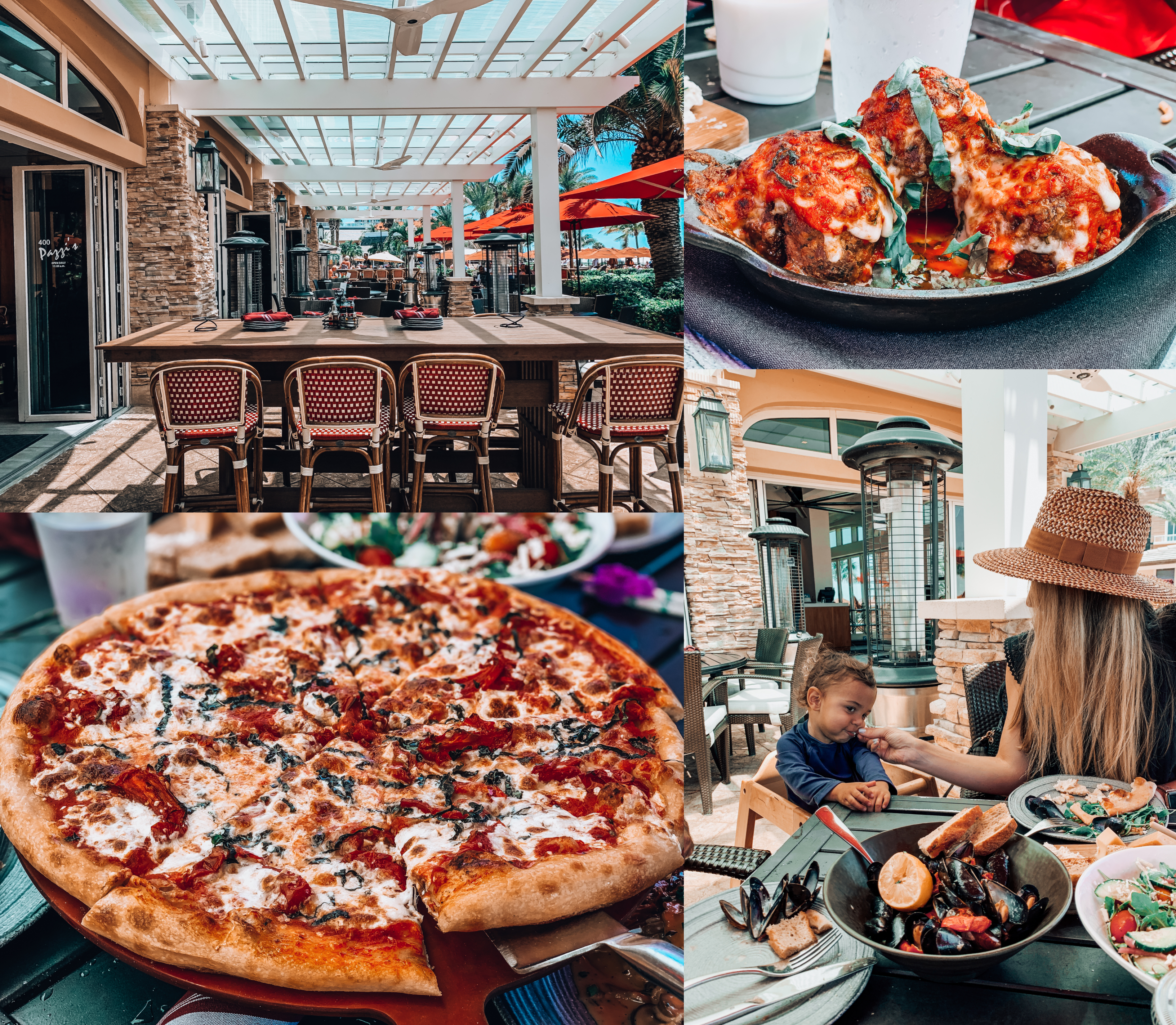 As I said, you really don't have to leave the property to eat.  Every type of food you want to eat, they have it.  We dined at 400 Pazzi's which was one of our favorites with Patrick for lunch.  We then went to Ario for dinner which we are still talking about the Wagyu ribeye that we had.  If you go to Ario definitely ask to sit at the bar of the kitchen.  It was basically like dinner and a show.  The chef was talking to us the whole time, we saw how the kitchen was run and even had a tour of it afterward including the dry age room.  Every single chef we met the whole weekend was completely passionate about their food. They pride themselves on local farms, ranches, and produce.  Quinn's on the Beach if you want a casual meal.  Menchies for frozen yogurt.  There is sushi inside at Korals and Kane beach bar that is a must to take in the most spectacular sunsets.  There is something for everyone from casual to fine dining without being snobby.  We enjoyed every single meal we had.
So there you have it!  My review of the JW Marco Island Paradise by Sirene Lanai Tower.  I wanted to say that we all work so hard and we need to take the time to really enjoy life.  I know that sometimes it feels like Groundhogs day of getting up, work, dinner, dishes, clean the house, laundry, rinse and repeat. When you have a luxury vacation to look forward to, it really gives you goals and a reason to work so hard.  When you to decide to spend your hard earned money on a vacation you want to feel appreciated and pampered.  This property is worth your time and efforts.  I hope you will consider it if you are in the market for an upcoming vacation.  Florida is not all theme parks and touristy areas.  You can head to paradise without a passport at the JW Marriott Marco Island!  I would be happy to answer any questions for you!  Thank you for the JW Marriott for hosting us.  It was a trip of a lifetime and we can't wait to go back!
Follow on Bloglovin
Want first dibs on shopping and sales? Sign up here on Liketoknowit for direct links sent to you
Want my daily posts sent to your email inbox?!?!  Then click here and make it happen
Follow my looks along on Instagram
Pin along with me on Pinterest || Like Meet @ the Barre on Facebook
Reader Interactions