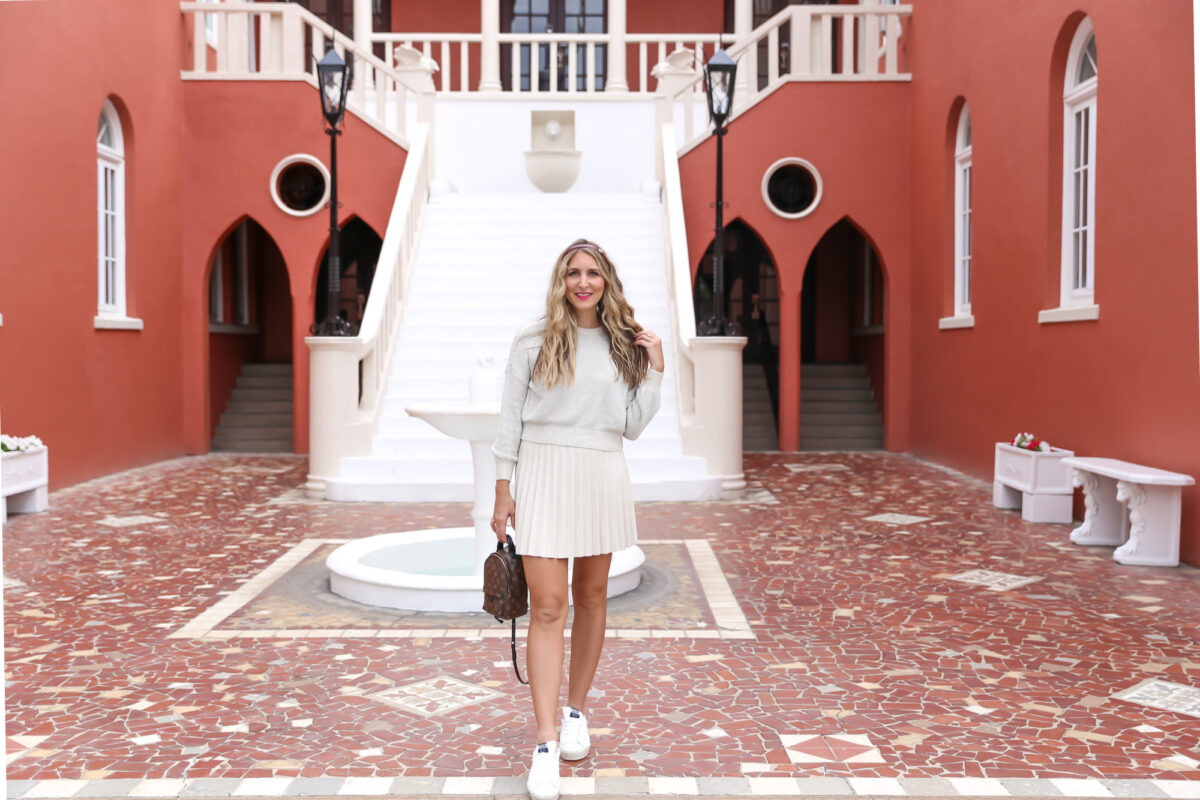 This post may contain affiliate links. Purchasing through them help support this website.
Currently in Florida the weather is still a little hit or miss.  We have had a few "cold" days and some days that already feel like Summer is here.  I picked up this outfit from BB Dakota because I thought the sweater would be super versatile with any bottom and the skirt could be dressed up or down easily.  The sweater is currently on sale.  I have ordered no lie 10 pairs of Golden Goose sneakers over the years and none of them ever fit me.  I am a true size 9 and with European/Italian sizing the 39 were always a little too tight and the 40's were too big.  They don't come in half sizing.  I finally found the Hi Star version and the 39's fit perfectly.  I also was never really down with all the distressing so the pair I snagged is a true white and I love them.  They also are very flattering on the leg since there is a platform/lift to them.  You know I'm honest about if something is worth the splurge.  I think there are tons of other great alternatives like Veja Sneakers but I do think I will get good wear out of these.  They did not require any breaking in and I like the clean look of this particular pair.  They elevate a mom running errands outfit in my mind and can also be worn around Disney for the entire day.
Both pieces are from BB Dakota.  This is not a sponsored post, I just really do like the line.  I tend to buy since everything is very on trend and the price points (especially on sale) are good.  In skirts I definitely size up because I have hips and sometimes I feel like the bottoms are Junior sizing.  Keep scrolling for a little guest appearance.  Trying to sneak in some pics with a toddler is always fun :-)
Sweater on sale BB Dakota (called Heat is On)
Skirt (size up, runs in Junior sizing, I went with size 8) BB Dakota here
Golden Goose sneakers in the High Star line.
Palm Springs mini here
Vintage Chanel headband (found in a thrift shop) but similar here
I wanted to give a random shot out here.  My favorite Metallic Birkenstock sandals are back in stock and they sell out super quick.  Grab them while you can here.
Tell me something that you have splurged on lately that you felt was worth it.  Also, this shooting location gave me major Gossip Girl vibes (to which my husband promptly rolled his eyes at).  I have watched that season in entirety multiple times (that and Gilmore Girls). What has been a series that you have watched many times?
Follow on Bloglovin
Want first dibs on shopping and sales? Sign up here on Liketoknowit for direct links sent to you
Want my daily posts sent to your email inbox?!?!  Then click here and make it happen
Follow my looks along on Instagram
Pin along with me on Pinterest || Like Meet @ the Barre on Facebook
Reader Interactions