This post may contain affiliate links. Purchasing through them help support this website.
I am excited to share with you a beautiful Florida resort review.  My family had the pleasure of staying at the LaPlaya Beach and Golf Resort and it was one of our most recent top stays.  When we travel down south it is usually to Marco Island.  This was our first time staying in Naples and the LaPlaya resort did not disappoint. The resort is situated right on the beach which is one of my requirements when traveling with a little one in the state of Florida.  Toddler boys have so much energy and I love how he can play in the sand while I can relax.  I also look for hotels that are high end but are still family friendly.  There is nothing worse than feeling uncomfortable with your kiddo in a stuffy non kid friendly resort.  There was so much for him to do between the beach, pools, games set up around the resort, and even the small things like feeding the koi fish.  This is a very family friendly resort.  The LaPlaya Beach and Gulf Resort is right between the Gulf of Mexico and Vanderbuilt Bay.  It was so relaxing opening up the balcony doors and hearing the calming ocean waves lull you to sleep.  Here is my full review of the LaPlaya Beach and Golf Resort.
Where it is Located
The LaPlaya Beach and Golf Resort is located in Naples beach and bay front.  The main hotel is on the beach and there are also rooms that overlook the bay.  We had the pleasure of staying in the newly renovated Beach House rooms which opened up directly onto the beach.  Naples is a very easy drive over from South Florida.  If you were flying in from out of state I would recommend either flying into Fort Myers or Naples airport.  We drove from Tampa and it was a little over two hours.  It is also very close to grocery stores and downtown Naples.  Walkable from the hotel are a few restaurants and bars if you are staying for an extended period of time and venture off property.
The Rooms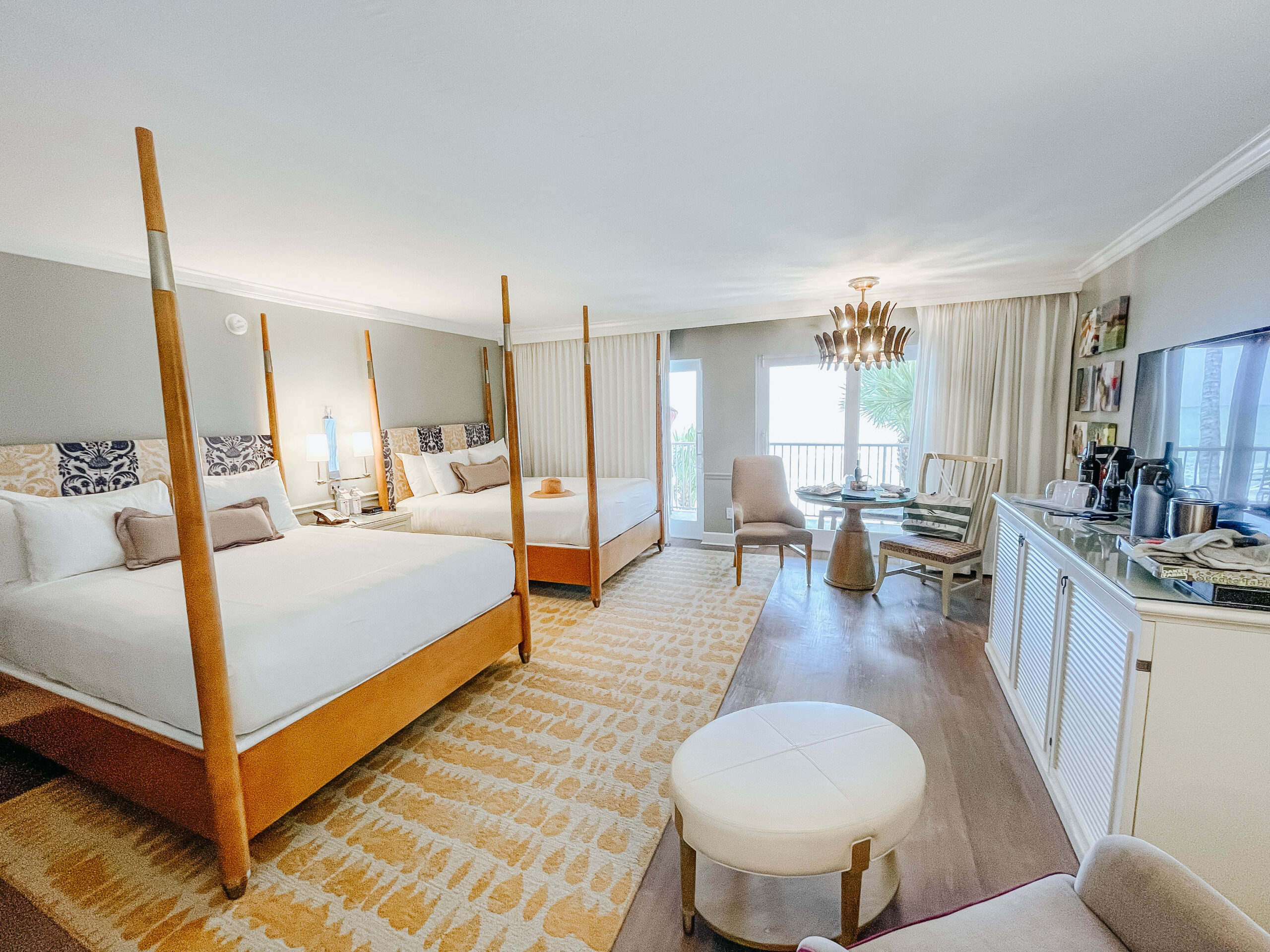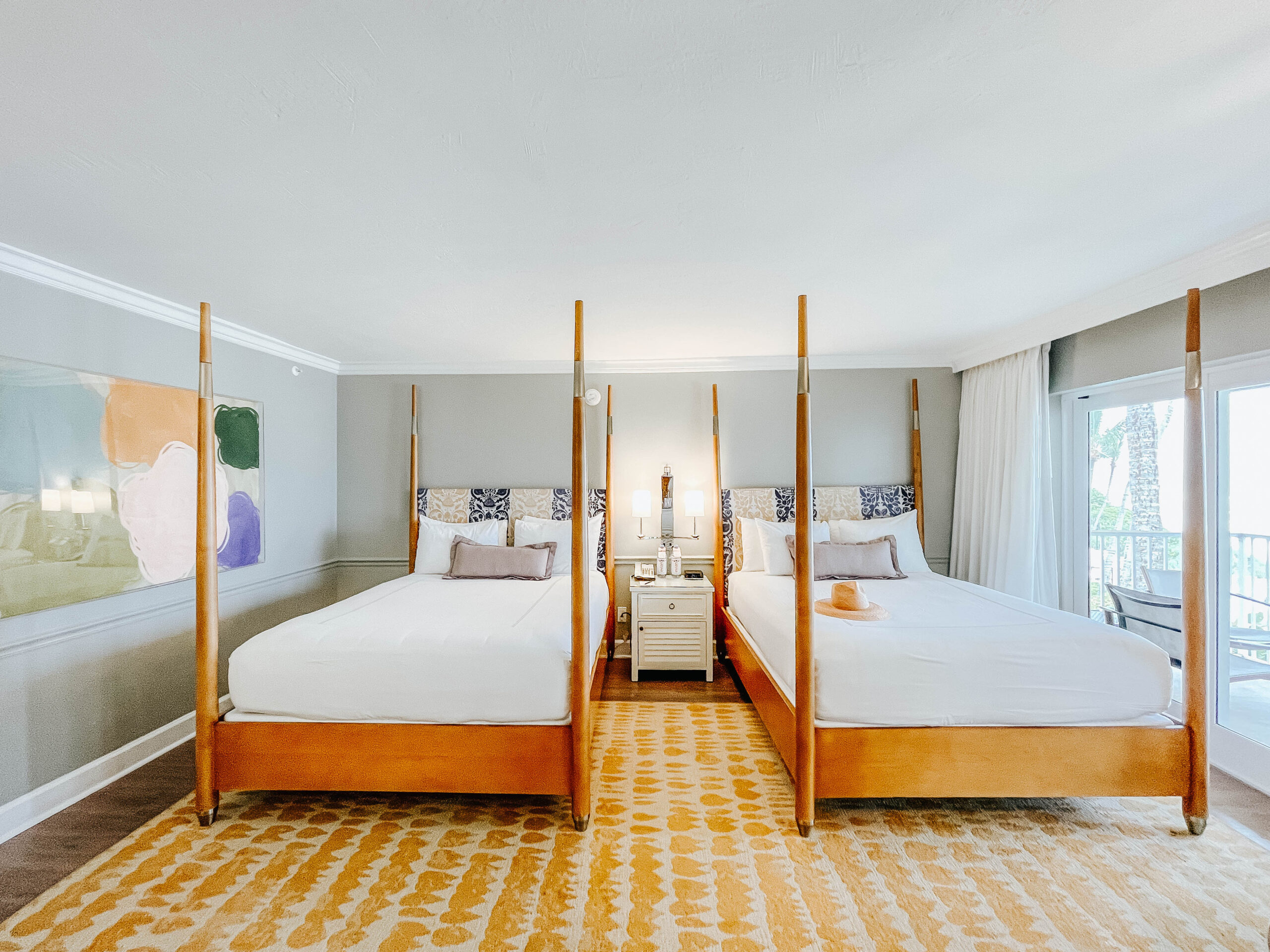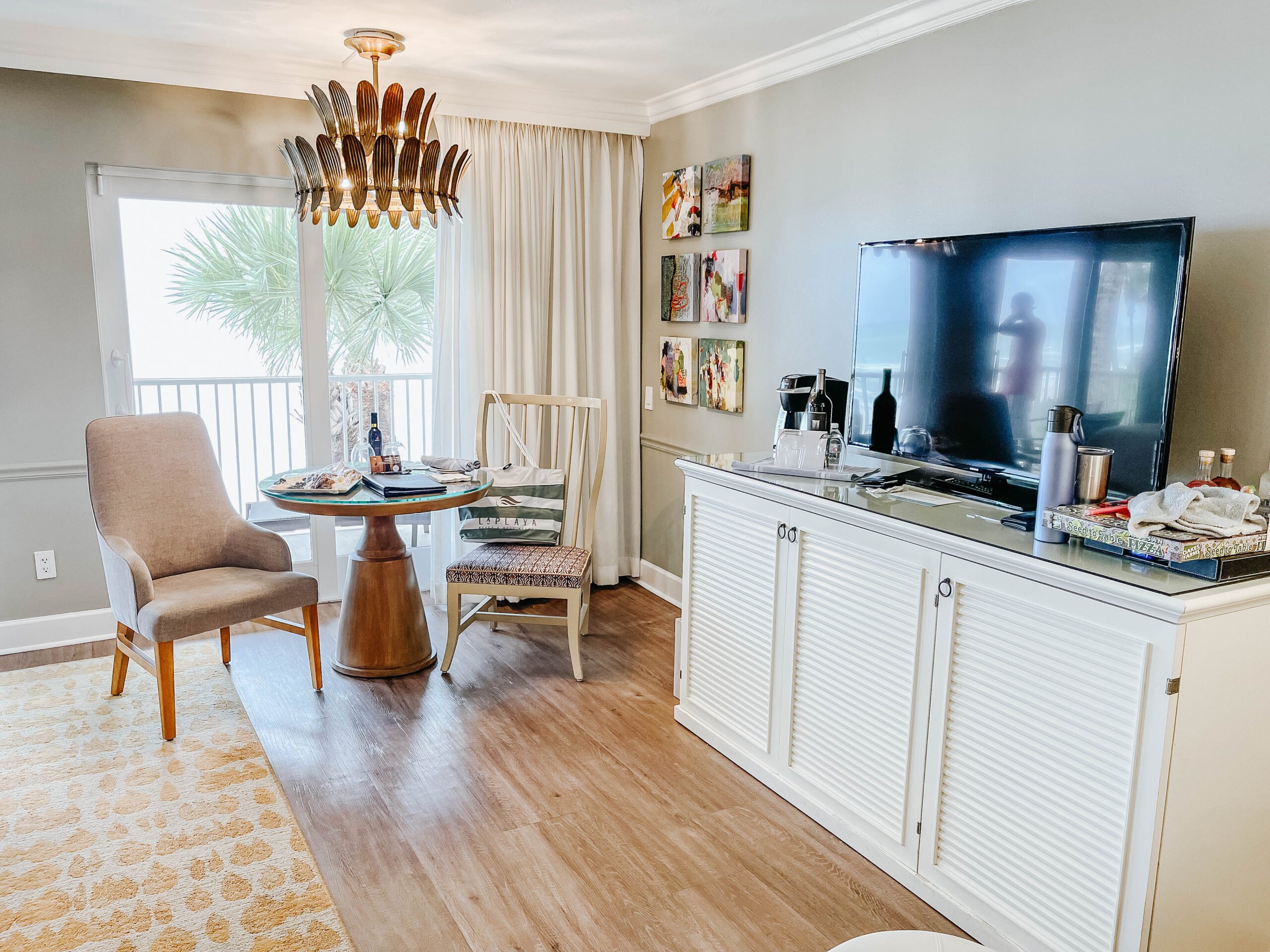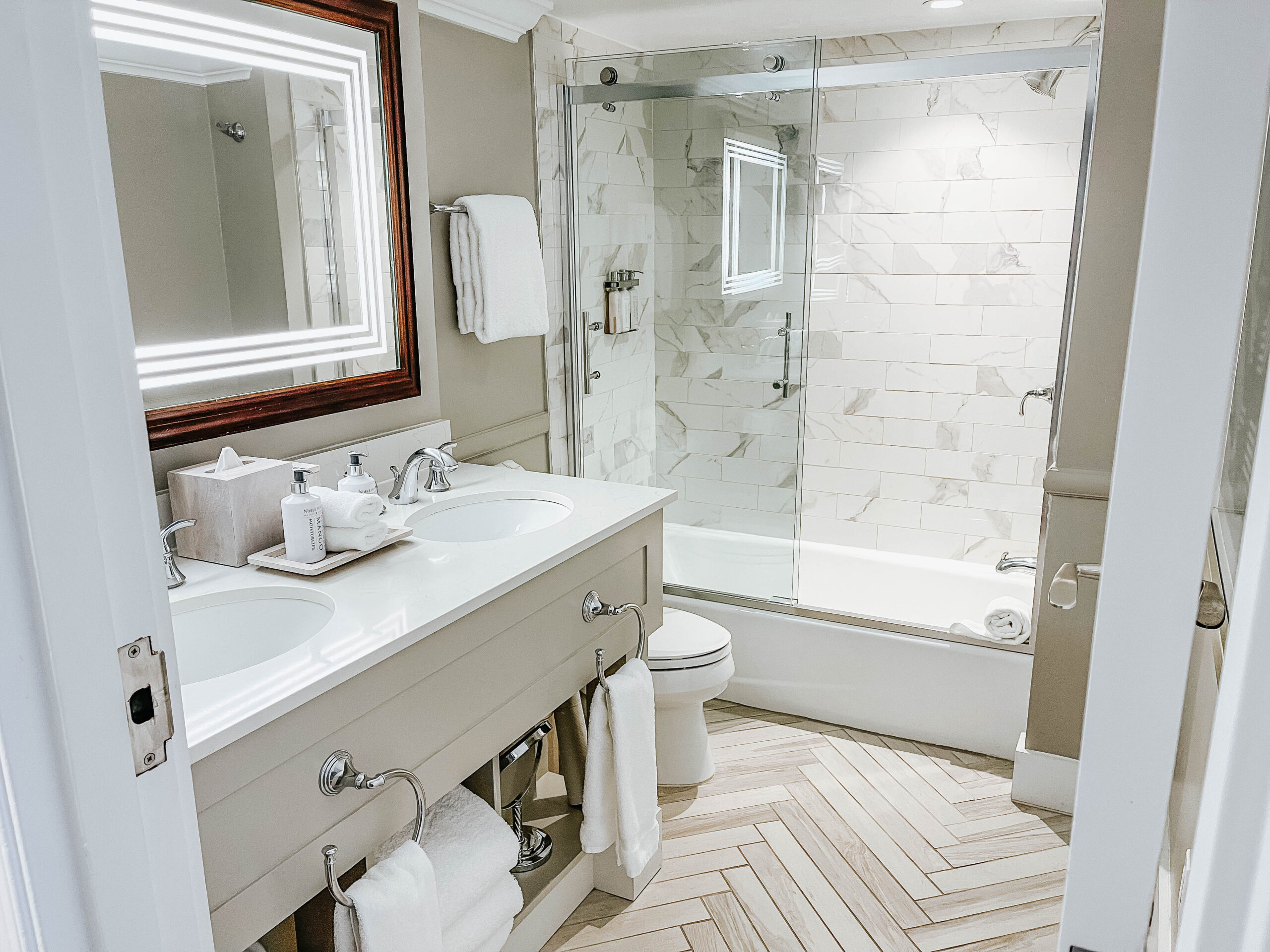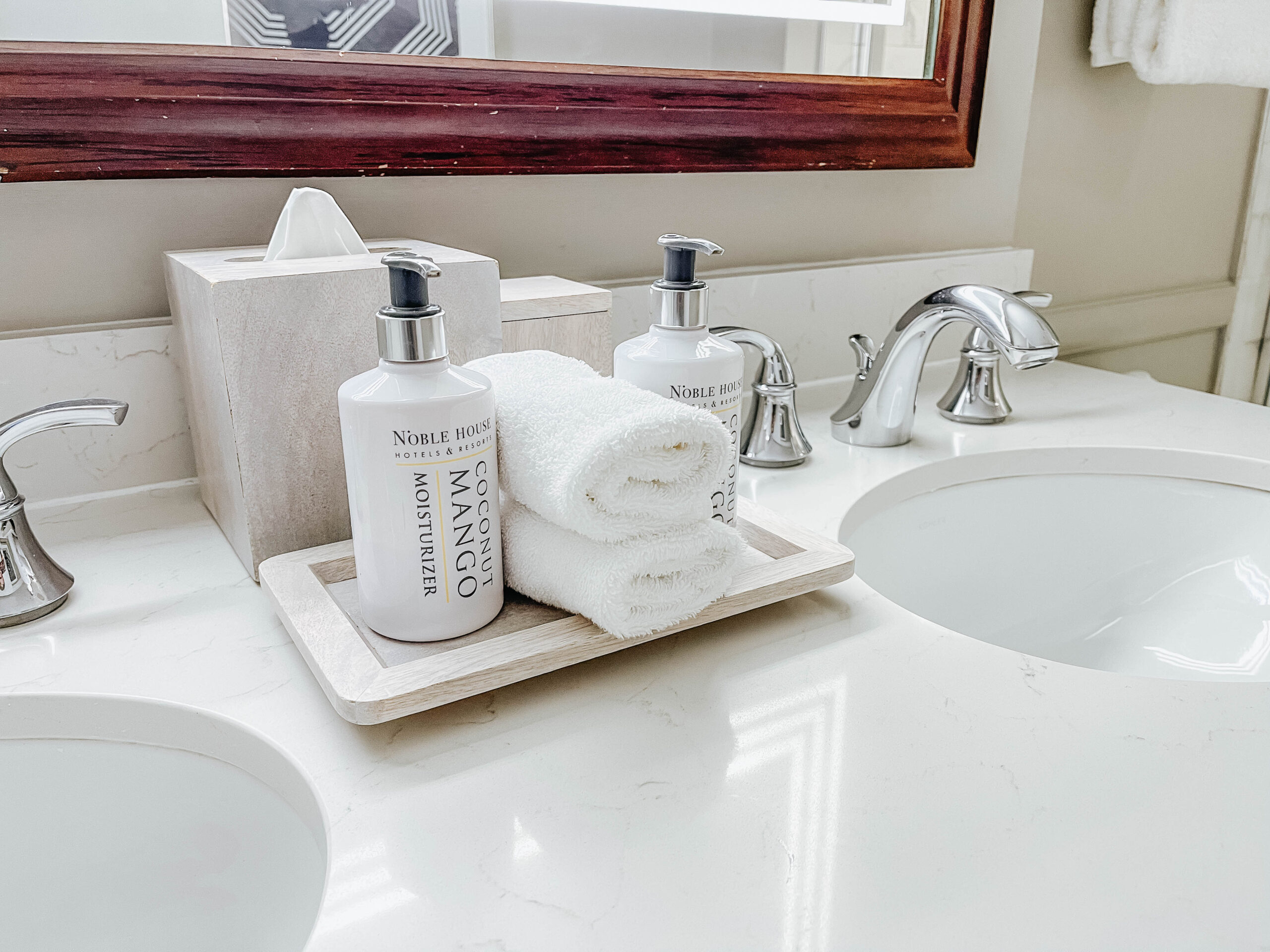 We stayed in a newly renovated Beach House room on the third floor.  It was plenty spacious with two queen beds.  The beds were very comfortable, the bathroom had the best lighting, and I loved sitting out in the morning with a cup of coffee on the balcony listening to the waves roll in.  It was a very easy walk out to the beach and multiple pools.  We also had a special setup for Patrick that he absolutely loved.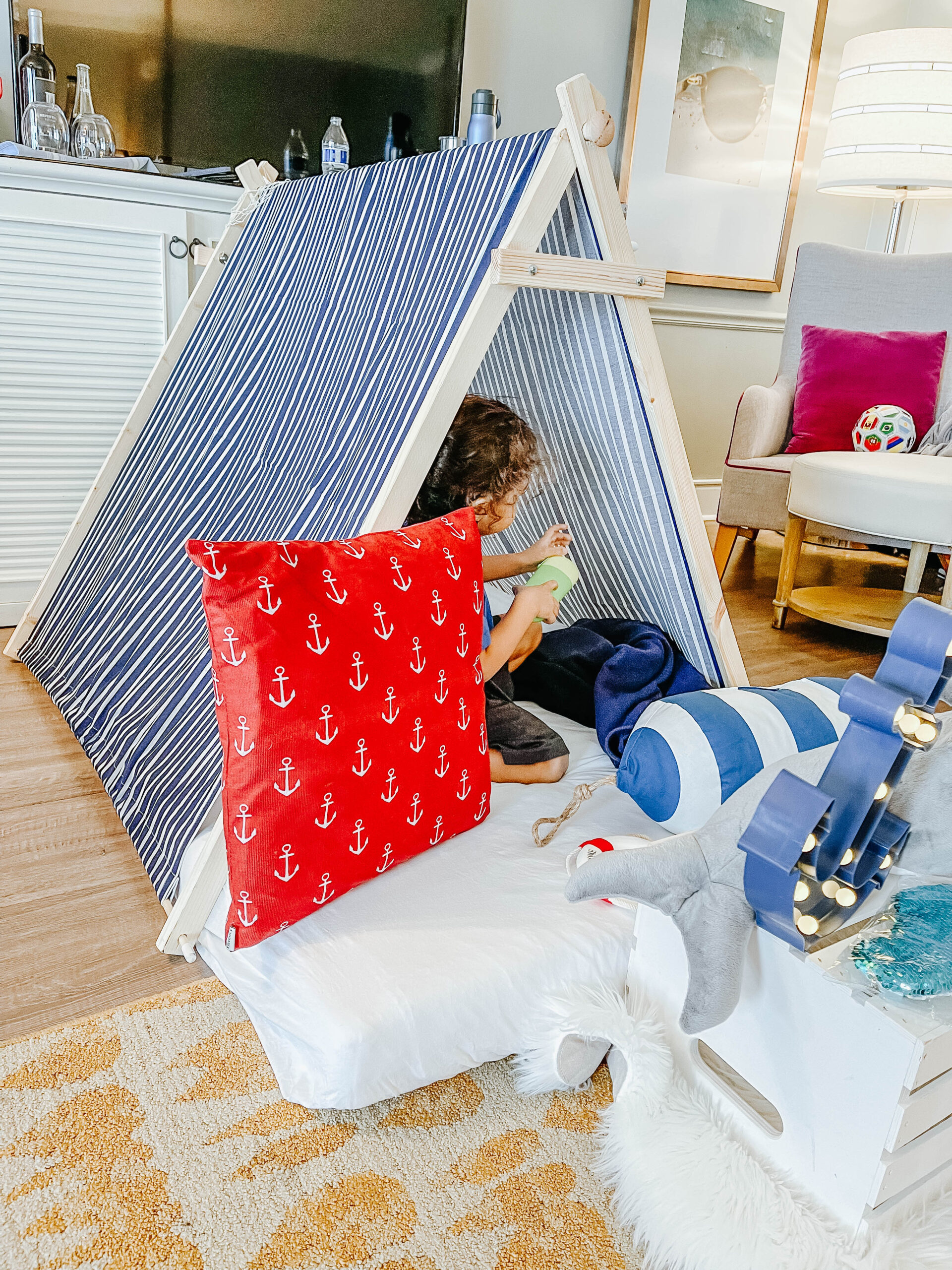 They set up a Kids Dream Experience Sleepover which was a nautical theme.  He was so excited for his own special sleeping quarters.  It was also extremely helpful since it kept him busy and not up to his usual actives of touching every surface and trying to make calls to the front desk.  He actually slept in it for the majority of the night which was a huge plus since I usually have to share the bed with him during trips.  If this is something you are interested in you can let the concierge know so that they have it set up upon your arrival.
The Food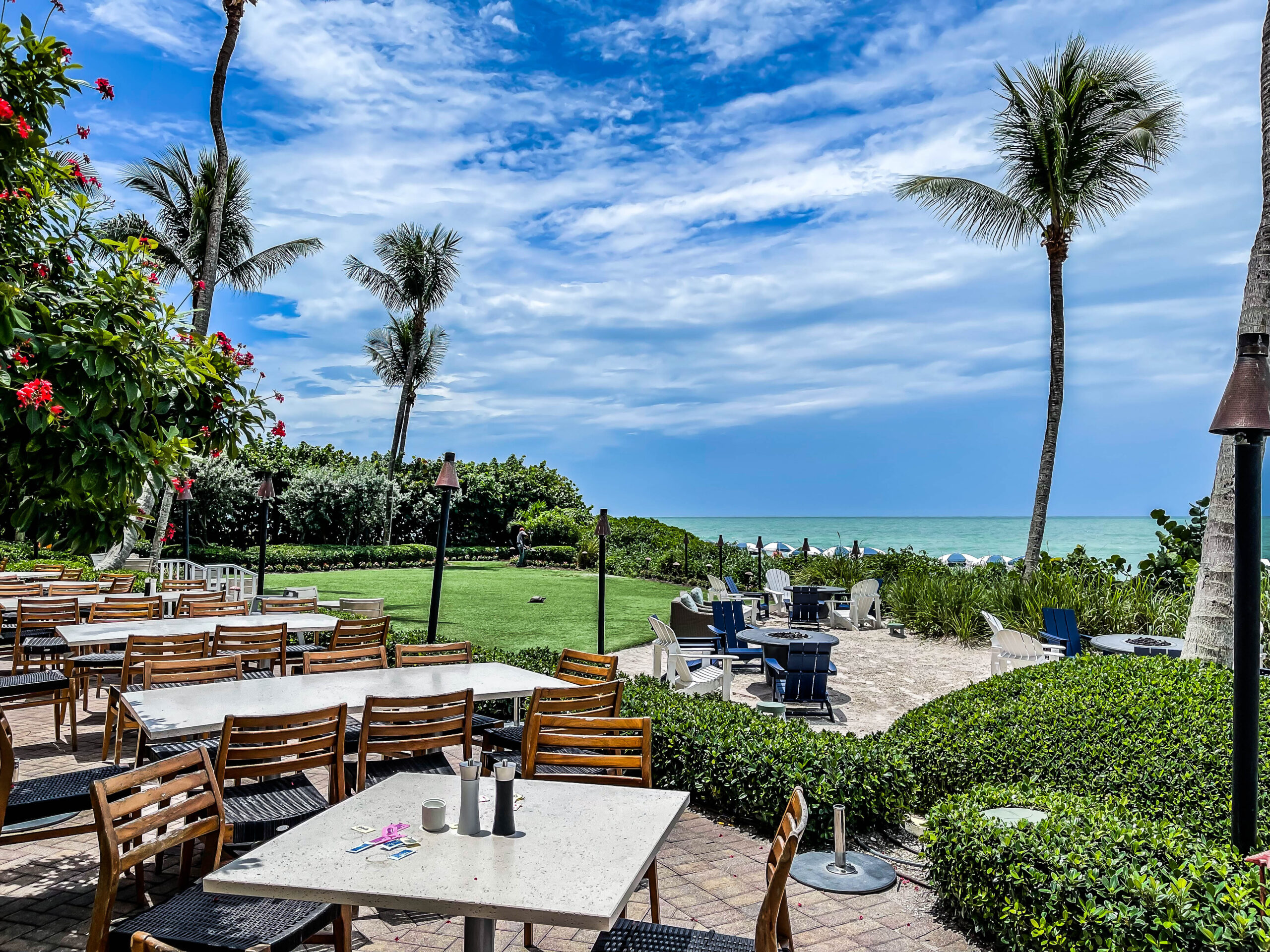 When I shared I was staying at the LaPlaya Resort I had so many people message me about how amazing the food at Baleen was.  We are definite foodies so my interest was completely peaked and I was looking forward to our dining on property.  Baleen is open for breakfast, lunch, and dinner.  We were able to partake in lunch, dinner, and the morning coffee bar.  The coffee was a tad pricey so the last day I did utilize my in room Kerig machine.  We had lunch sitting on the porch of Baleen.  We split a Grouper Ruben which was absolutely delicious and not wimpy on the big piece of local grouper.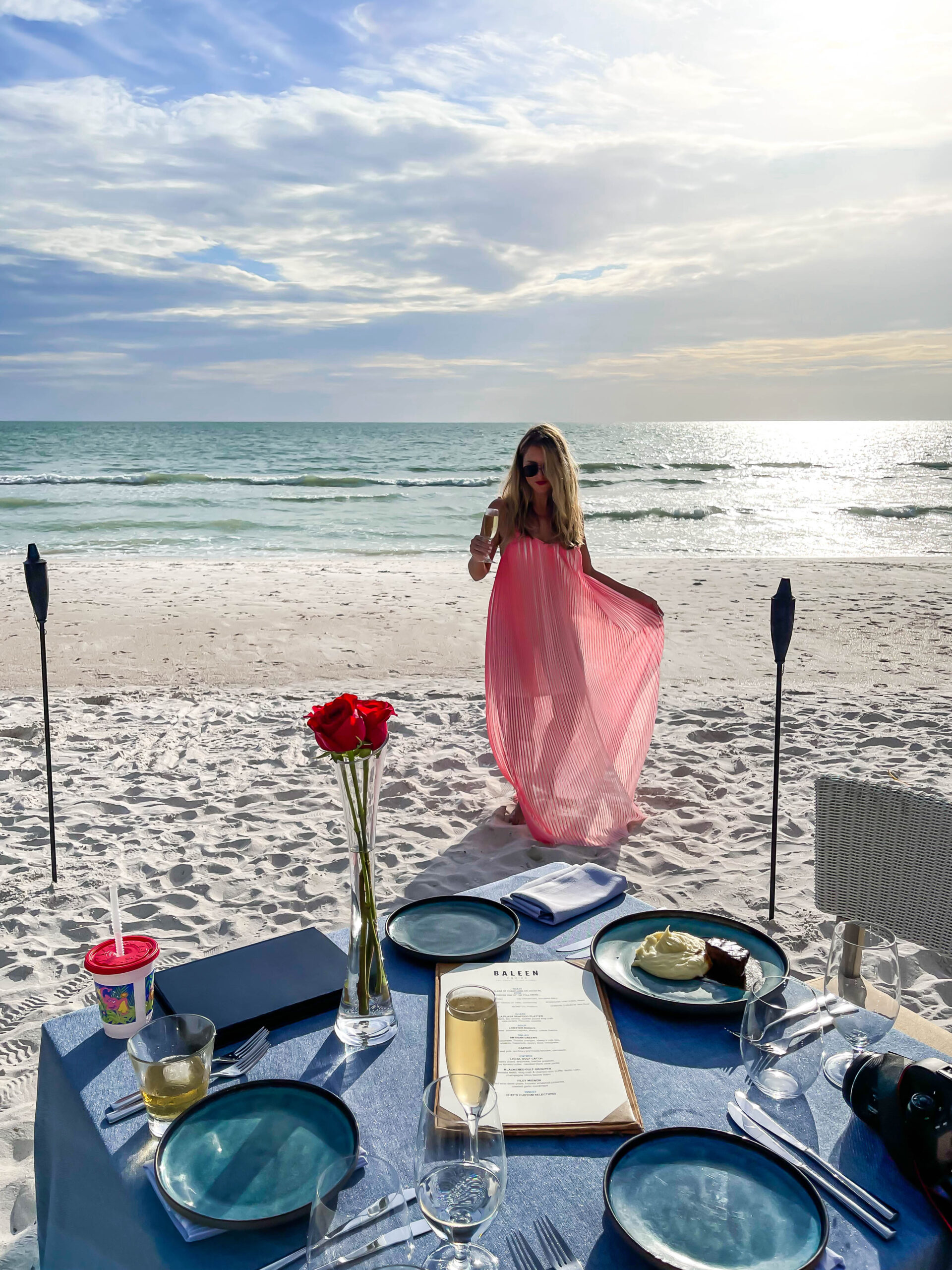 This is where it gets really good.  We had the absolute pleasure of getting to experience the private beach dining.  Our table was set up right on the beach and had an intimate dining experience that ended with a beautiful sunset.  Our waiter was Vladimir and his level of service was top notch.  Patrick was even included in the reservation.  He played in the sand for the first half and then got a little bit of screen time while we enjoyed the courses which included a seafood tower, lobster bisque, and main course of either Grouper or Filet Mignon.  You can view the full menu here.  This is definitely a special occasion type of splurge but it was 100% worth it. This is probably one of our top travel memories and are so thankful for the beautiful opportunity.
The Pools
There were four pools on property.  My biggest pet peeves about large resorts is the hurry up in the morning to get down to the pool to save your chair with towels.  We did not run into that at all here.  Half of the guests were at the beach so there was plenty of pool space.  We also rented a poolside cabana one day which was a nice way to get out of the sun and relax on the most plush lounge chairs. Toddler pool naps are the absolute best.  There was plenty of availability and I highly recommend renting one for the day.
Amenities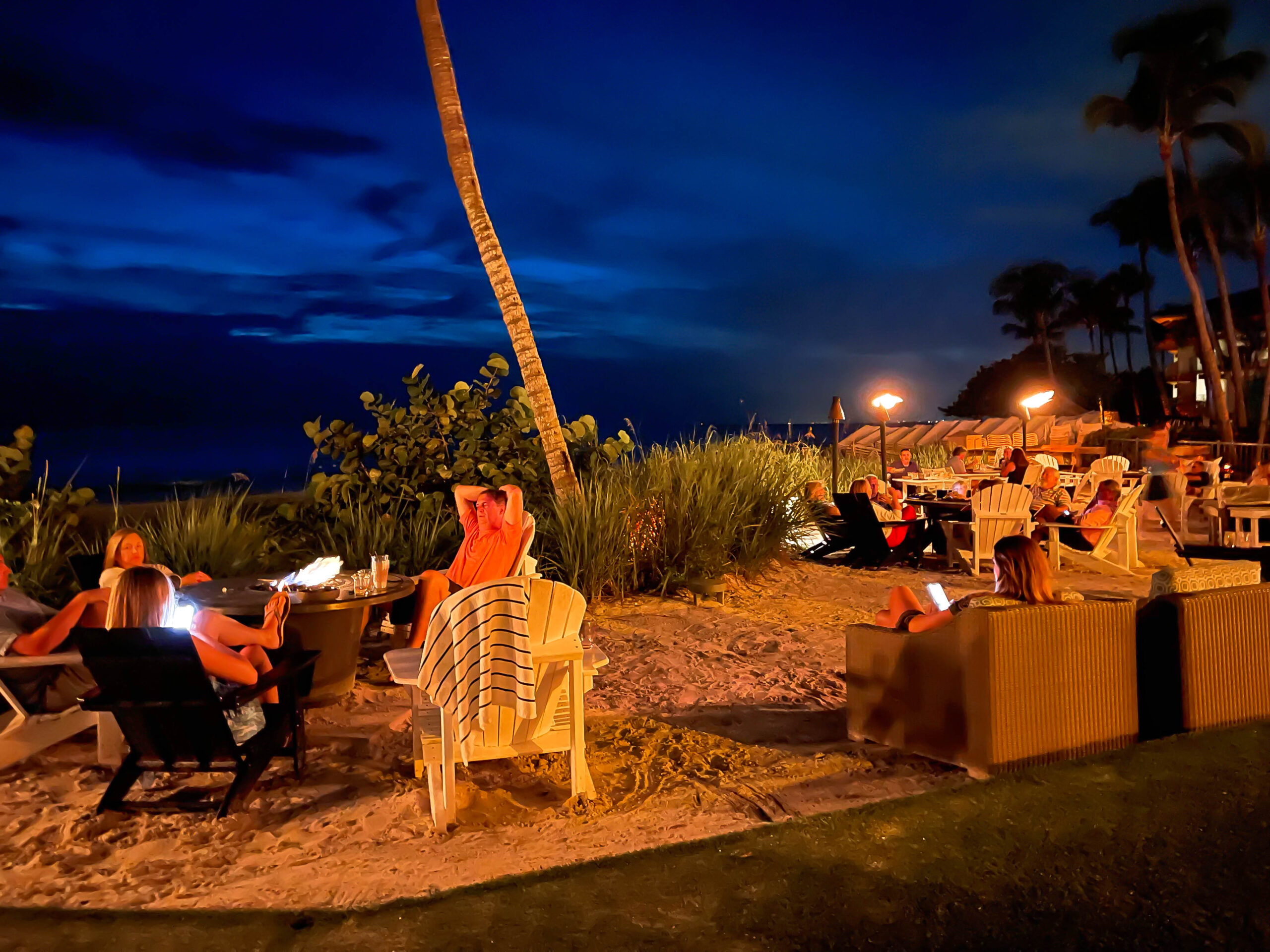 There is plenty to do on property.  The hotel staff was readily available to set up beachfront loungers and umbrellas.  There are four sparkling large pools and games scattered throughout the property such as large connect four boards.  There was a small but well equipped fitness room.  There is also Spa Terre where we were able to indulge in a hot stone massage Thursday morning.  If you are a golf enthusiast there is an award winning 18 hole golf course.  Beach Cruisers to check out the local area.  Fireside s'mores and beachfront dining.  We were there a few days and never had to leave the resort.  There were also the ability to rent jet skis, kayaks, and standup paddle boards on the beach.  You can view all the availabilites here.  There is babysitting services from various agencies that can be arranged for an hourly fee.  Also, beach toys are available for little ones for the beach.  At night you can cozy up to the fire pits with s'mores.
Takeaways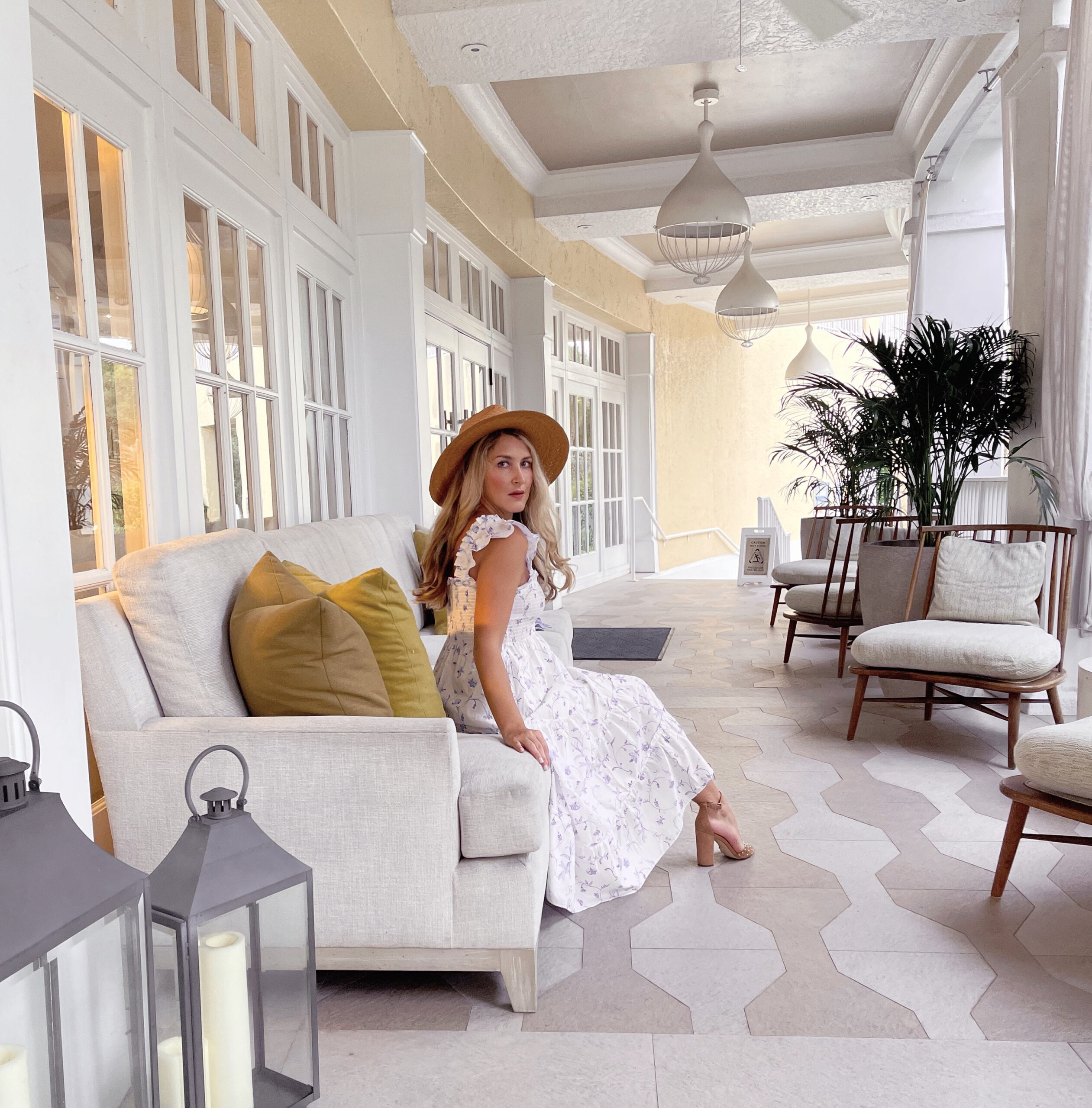 This was such a pleasant surprise of a vacation.  We usually stay in large beach resorts that can sometimes feel a little overcrowded.  This was an intimate luxury beach resort that had a lot of personal touches.  It was a short drive from Tampa or the East Coast.  It was luxurious without feeling pretentious.  The rooms opened up onto the beach.  There were plenty of pools to choose from.  There was a ton of great amenities and the dining far exceeded our expectations.  It is a family friendly resort but not overrun if you wanted a more quiet oasis to relax.  I highly recommend putting the LaPlaya Beach Resort on your radar.  We can't wait to go back.  I would be happy to answer any questions.  This was a trip that we will remember!
Follow on Bloglovin
Want first dibs on shopping and sales? Sign up here on Liketoknowit for direct links sent to you
Want my daily posts sent to your email inbox?!?!  Then click here and make it happen
Follow my looks along on Instagram
Pin along with me on Pinterest || Like Meet @ the Barre on Facebook