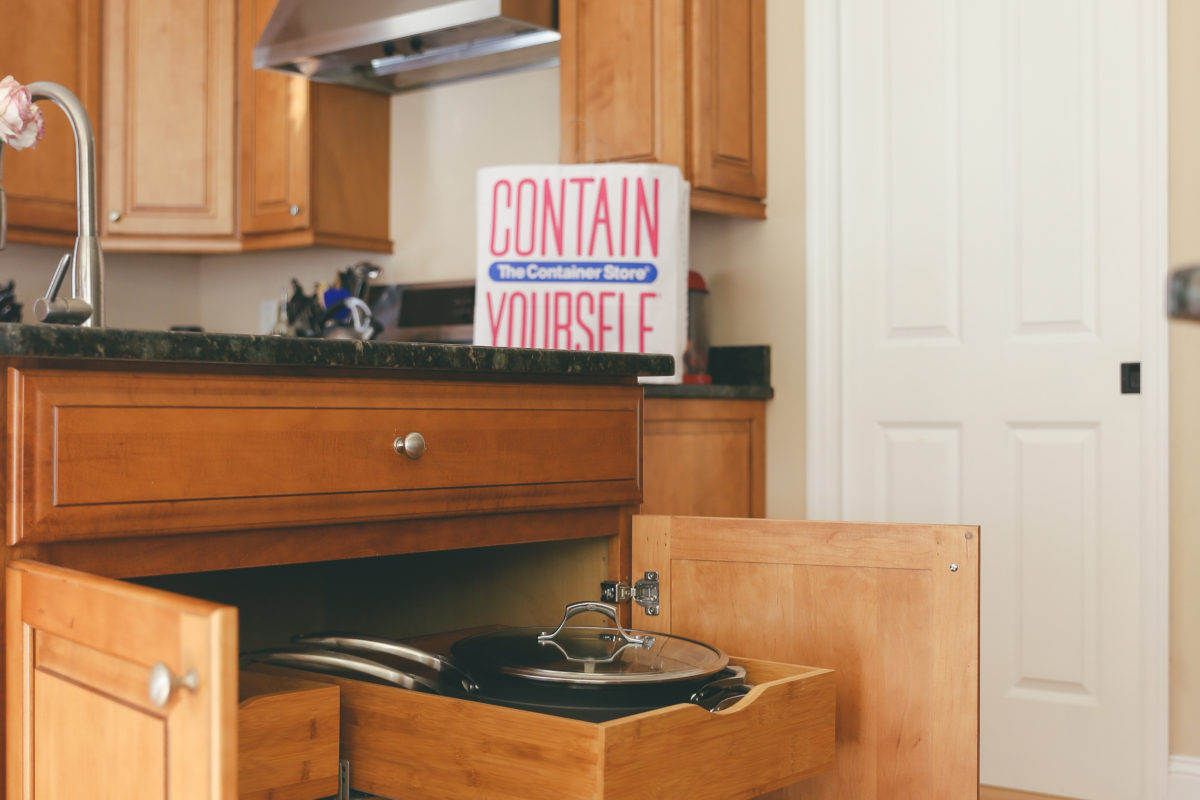 This post may contain affiliate links. Purchasing through them help support this website.
I'm so excited to work with The Container Store again and to share their newest sale with you!  Remember from this post when I had a custom Elfa closet installed in Patrick's room?  I am happy to say that I am still LOVING that decision.  It has made a basic closet so functional and livable.  The Container Store currently has hundreds of items in their Kitchen and Pantry department.  I seriously spent hours perusing the website and in store.  I really wish I would have known about their selection when I got married.  I would have loved to have registered there.  They have so many handy gadgets, kitchen essentials and all the organizational tools you need to maximize your space.  I can't wait to share with you what I picked up!
First off, did you know they can install custom Bamboo pull out drawers for your cabinets?  They also have instructions for self installation if you are handy like that.  I have very large cabinets and a ton of pots and pans from my wedding.  I'm going to be honest, I pretty much used the same 3 things to cook in because they were in the front and I kind of forgot about what was in the back.  I mean I have a red Le Crueset dutch oven that was in the back that I didn't even remember getting.  These bamboo drawers are so affordable and can be installed by The Container Store which is what I had done.  Once again I had such a talented installer who was meticulous.  She made these pull out drawers look completely custom.  I was worried that the heavy pots and pans would be too much for them but they hold up to 80 lbs.  When my sister redid her kitchen she was quoted an exorbitant amount of money for these type of pull out drawers and she was blown away with the price point from The Container Store.  I think she is going to have them done in hers as well.  They are also so much easier on your body, I don't have to squat down and reach into the back to get to my pans.  I am so pleased with them and I think they have really upgraded my kitchen without breaking the bank.
Also, you know that mixer that takes up so much counter space or gets buried/forgotten in a pantry?  Check this out!  Look how functional right?  The 11 inch drawer fits the mixer perfectly!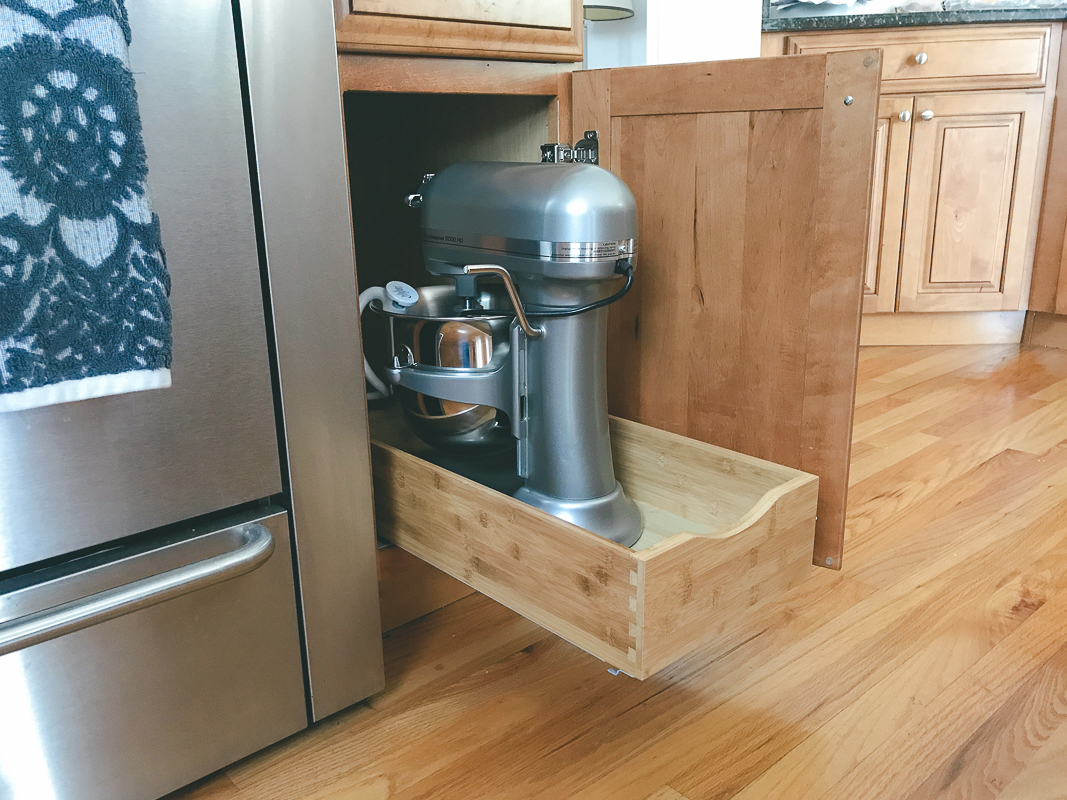 Let's talk about all the fun kitchen accessories now.  I hate washing and drying wine glasses, I'm always afraid they are going to fall and break.  Plus, when you put them glass down they never dry quickly.  Check this out.  Best part is that it folds flat for storage.  This would be such a great engagement or housewarming gift.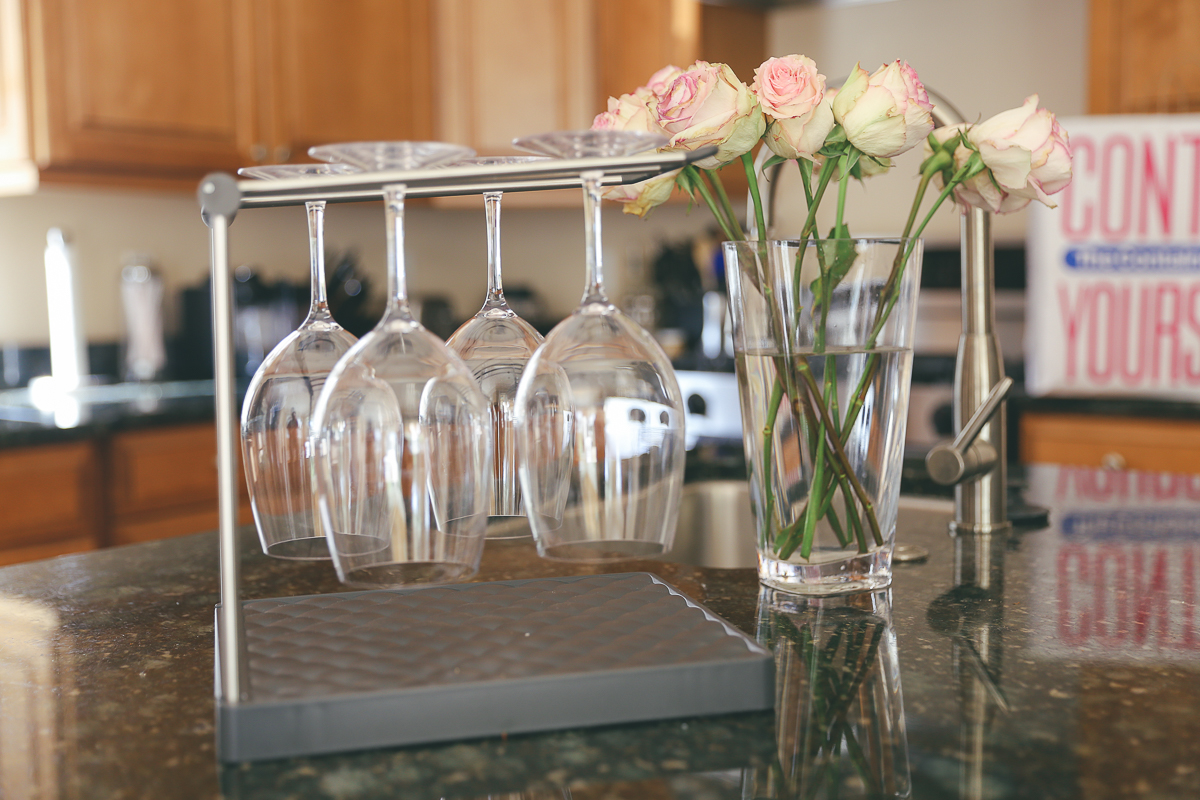 Some other really cool gadgets.  This spiralizer!  I had a really big one that took up so much room that I ended up giving it away.  This one is so compact and does such a great job.  This guac lock is the real deal.  It kept my guacamole good for at least a couple of days plus it doubles as a serving bowl.  Watch the how to video here.  Basically every single product that Oxo makes is amazing.  I'm obsessed with this strainer that pops in and out, takes up such less room right?  These glass storage containers seal super tight and you can never go wrong with cutting boards right?  Also, how cool is this Jar with built-in salad dressing container?
I also didn't realize all the storage options for inside of your fridge.  These bins make it so easy to put like-minded things together.  I also love the lay flat storage for wine bottles.
Last, everyone has that one junk drawer in their kitchen right?  These multi sized bins make organizing them so easy!  This drawer was such a disaster but now everything has a place.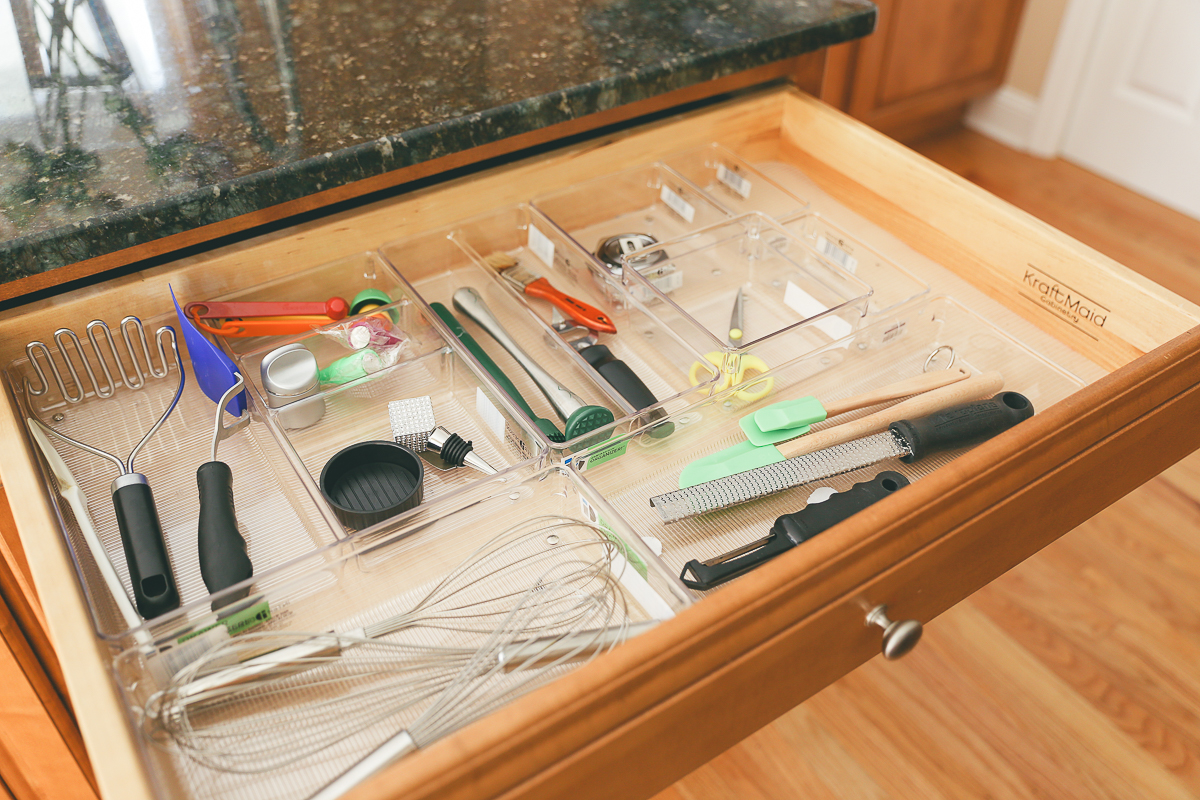 Don't forget you can also have Elfa storage installed in your pantry.  Basically anything you can dream of for organizing your kitchen can be found at The Container Store!  Did you know about all their kitchen options?  I highly recommend checking out all the products during the sale or if you are getting married anytime soon registering with them!
Thank you to The Container Store for sponsoring this post.  I did receive complimentary products for my full review.  The review and opinions are 100% mine, thank you for supporting the brands that work with Meet at the Barre.
Follow on Bloglovin
Want first dibs on shopping and sales? Sign up here on Liketoknowit for direct links sent to you
Want my daily posts sent to your email inbox?!?!  Then click here and make it happen
Follow my looks along on Instagram
Pin along with me on Pinterest || Like Meet @ the Barre on Facebook
Reader Interactions