This post may contain affiliate links. Purchasing through them help support this website.
This is a sponsored conversation written by me on behalf of Ivory. The opinions and text are all mine.
For those that know me, I am a pretty Type A scheduled person.  Before I had my baby, I began researching the best baby schedules when it came to eating/sleeping/etc.  He is such a good baby and I think already has my exact personality.  He is very laid back, go with the flow, but likes to meet expectations.  The one schedule I have him on involves having a bath every night before bedtime.  He absolutely loves his bath and does not cry going in or out.  I love watching him kick his feet and splash his hands in the bath.  It's a nice time for Mark and I also to be together.  We have our unspoken assignments.  I gather all the supplies and get the water ready.  Mark undresses him and talks to him.  I man the actual bath and lotion rub down.  Then Mark gets him dressed and cleans up for us.  It is such a sweet time together as a family that I really look forward to.  Afterwards the babe is all relaxed and ready to eat then shortly followed by sleep.  I do have some book reading in there he patiently obliges to even though he is just counting the minutes till it's time to eat.
I had the opportunity to work with Ivory and was delighted to do so!  The company has been around for 138 years!  It is whipped with air and is so pure it floats in water.  The less ingredients in a label is what I tend to gravitate towards.  I also like it can work for the whole family. I particularly use the Ivory Free & Gentle Body Wash with Pear & Sandalwood.  The bodywash is free of dye and parabens. It doesn't leave your skin feeling dry like other traditional soaps and has a nice clean smell.  It has a nourishing moisture formula sensitive on skin yet serious on the clean!  It also contains the #1 Dermatologist-Recommended moisturizing ingredient. Families have trusted the Ivory Brand for over 138 years.  A company has to stand behind its quality to be around for that long right?
The Ivory Original 3-bar and Ivory Original Body Wash are both free of dyes and heavy perfumes. The Ivory Original 3-bar is the same pure soap families have trusted for generations but with a new look. The Ivory Original Body Wash has a new gentle formula which my family loves.
There is seriously nothing better than a newborn baby smell right?  I think a lot of that has to do with their baths.  Ivory leaves the little ones and your entire family clean with its simple formula.  It is also an affordable price point and a little goes a long way.  I love the memories we are building together as a family and the company that has been taking care of families for generations past and to come.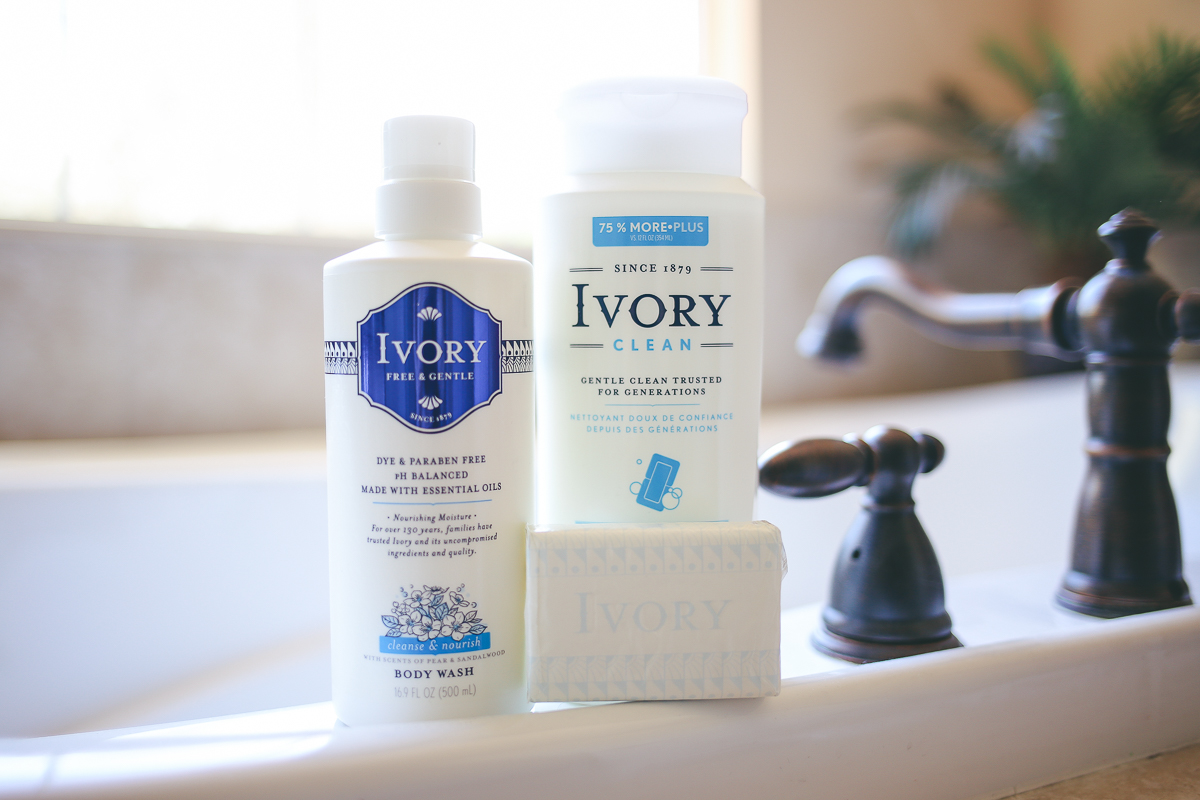 Thank you to Ivory for sponsoring this post and to my readers who support the brands that work with Meet at the Barre.
Follow on Bloglovin
Want first dibs on shopping and sales? Sign up here on Liketoknowit for direct links sent to you
Want my daily posts sent to your email inbox?!?!  Then click here and make it happen
Follow my looks along on Instagram
Pin along with me on Pinterest || Like Meet @ the Barre on Facebook
Reader Interactions