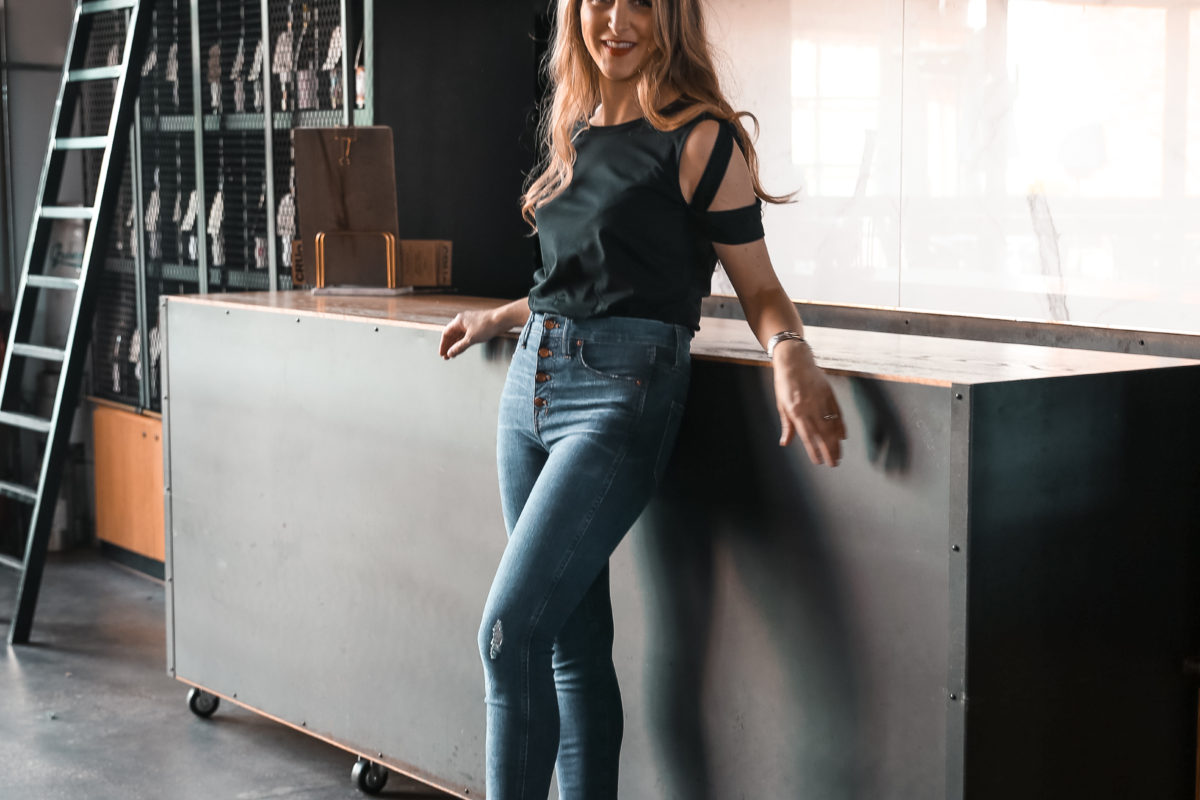 This post may contain affiliate links. Purchasing through them help support this website.
Hello, my dolls!  Wow, that was the longest break I've ever taken from blogging.  What a nice holiday vacation and start to the New Year. I unplugged from social media and rarely cracked open my computer.  I spent all the time with my family and soaked up all the holiday feels.  I was just feeling so oversaturated with social media and the swipe up for the matching holiday jammies/sales.  Did anyone else feel like that?  I think others took a break as well, things were definitely quiet around blog land.  Anyways, back to the start of the New Year and new content!  I wanted to share a few favorites that I've been loving lately.
This Helmut Lang top dresses up every outfit |||  The most flattering high waisted jeans ever, size down on them  |||  These DVF heels are so comfy and are the perfect heel height
Shopbop has a great sale going on.  I picked up another Rails plaid shirt.  They are incredibly soft, the perfect weight, and don't wrinkle.
This blush is the perfect natural flush.  It has super clean products (EWG certified) and great staying power.  I have it in the twinkle shade.  They also make the best belly oil for pregnancy.
A recommendation from Things I Bought and Liked account.  This jewerly cleaner is the real deal (enough that I actually paid for shipping ;-)  It makes your jewelry look showroom quality.  I don't think my ring has ever been this sparkly.
I put up a mini tutorial on my Instagram stories about how I curl my hair with the Chi Curl and Spin wand and I've never had so many DMs about something.  It's currently on sale and the cheapest I've ever found it.  If I get a longer nap than 45 minutes from Patrick, I'm making an attempt at a real how-to video.  It keeps my curls for days and it uses infrared heat so it's less damaging.
My hair is the longest it has ever been mainly because I have zero time to get it done.  I do contribute the length and health of my ends to this product.  It is pricey but I plan on a repurchase when it's out.  It seriously feels like a mini keratin treatment.  Spray on towel dried hair and then finish with your conditioner.  You will see I difference.
I am a big believer in SkinCeuticals products but I was recently sent some Neutrogena products from an Influenster sample box and I was blown away with this wrinkle cream.  I have fine lines on my forehead and 15 seconds after I put it on, I felt a little tingling and my fine lines were significantly less noticeable.  I then finished it off with this gel hyaluronic acid cream and it made my skin super soft.  Definitely worth checking out for good price points (under $20).
If you shred Macbook charging cords as I do from stuffing them in bags check out this one.  I got it for $20 and so far it charges up like a dream and for a fourth of the price.
Mommas out there please give me all your mom hacks for transitioning to a milk cup.  He's not a huge milk drinker, to begin with, but hates pretty much every cup I give him.  Currently, he will tolerate for like three sips this one but I'll take all the recs!
We checked out the new Bartaco Secret this weekend and it was a Crispy Brussels Sprout with a carrot puree.  It was so good!  I ordered 4 and pretty much did not share with Mark.  I highly recommend checking it out if you are local!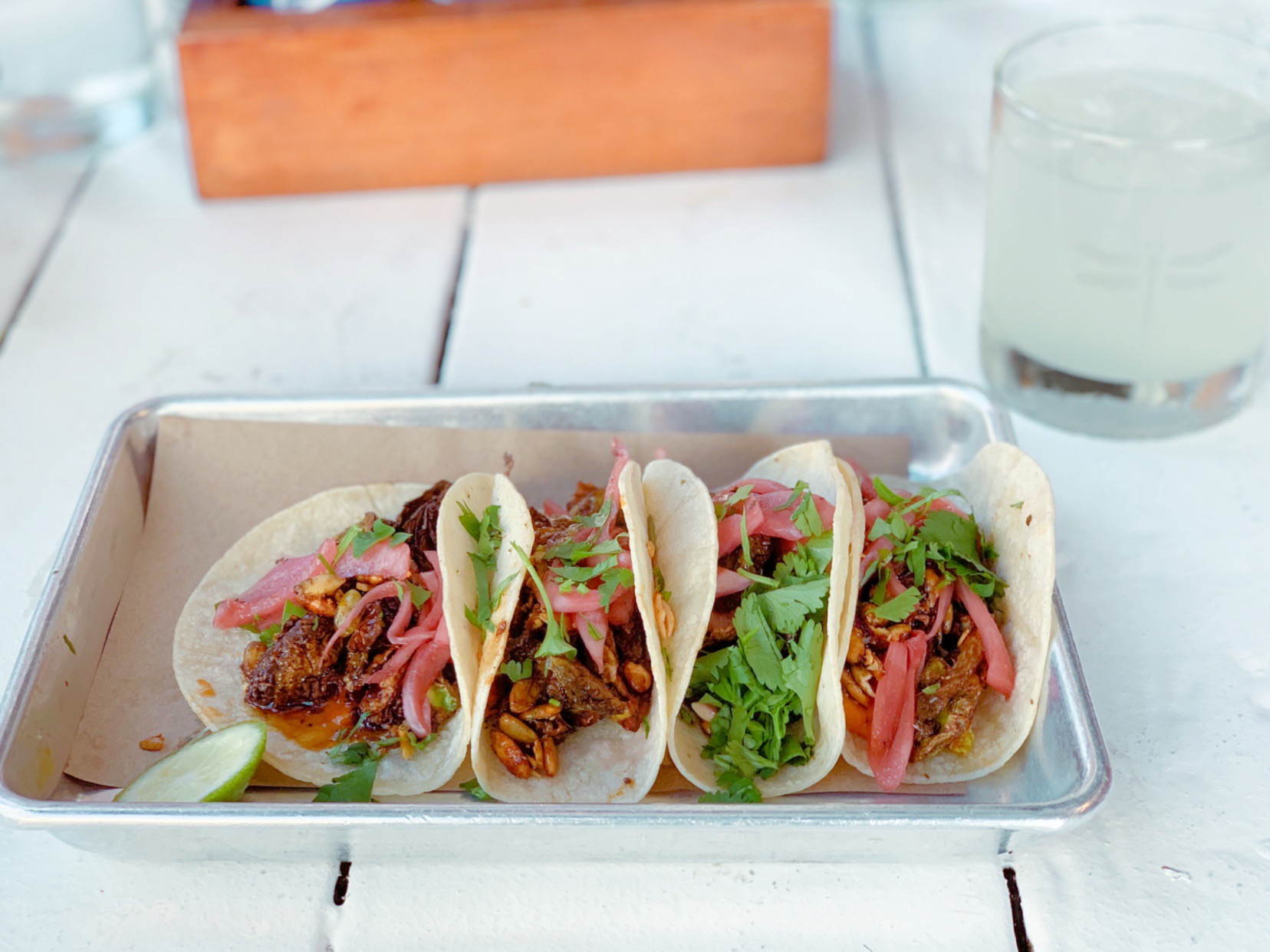 Alright, that's about as much as I can get in right now because my little one is up already.  My goal is to get back to posting three days a week for the New Year!  Monday, Wednesdays, and Friday.  I have a plan and I'm going to stick to it!  I love my creative outlet here and I never want it to feel like a chore.  The break was such a nice way to clear my head and get back to creating content I'm proud of!  Did you take a social media/blog break over the holiday?
Follow on Bloglovin
Want first dibs on shopping and sales? Sign up here on Liketoknowit for direct links sent to you
Want my daily posts sent to your email inbox?!?!  Then click here and make it happen
Follow my looks along on Instagram
Pin along with me on Pinterest || Like Meet @ the Barre on Facebook
Reader Interactions