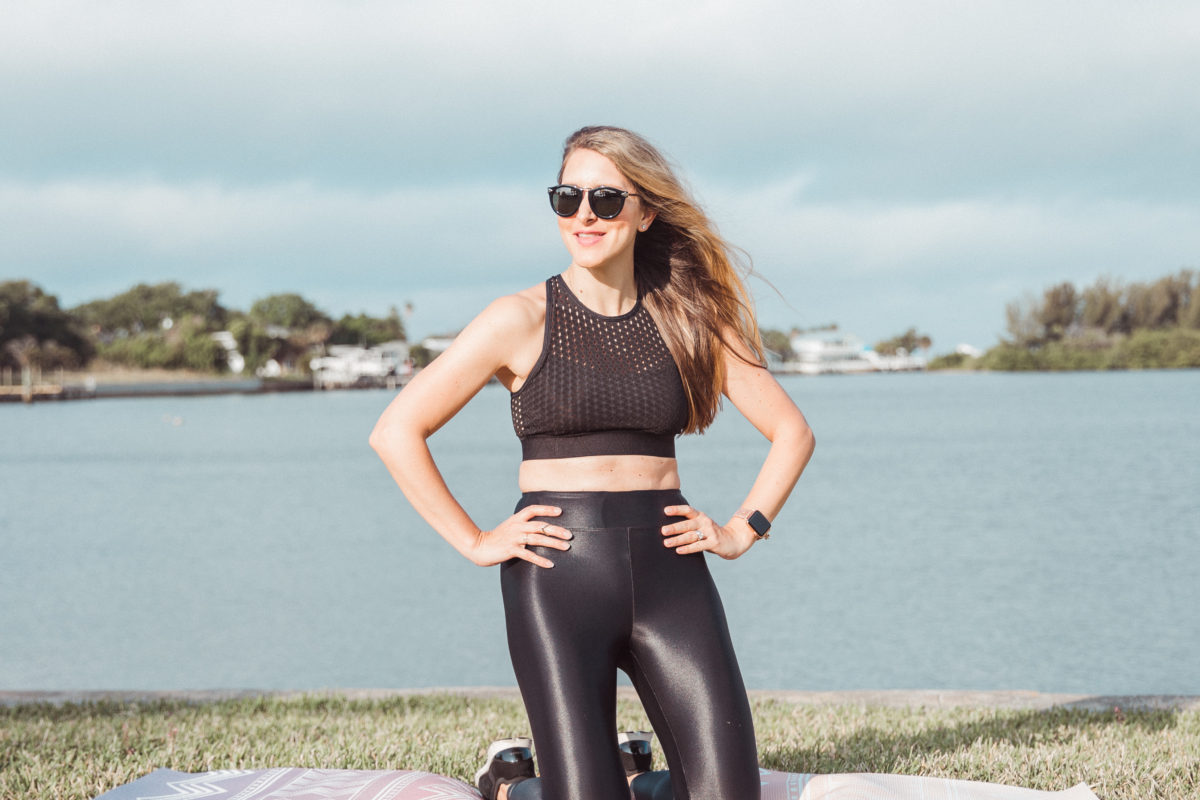 This post may contain affiliate links. Purchasing through them help support this website.
This post is sponsored by FAGE; however, all thoughts and opinions are my own.
The other day one of my friends asked me to take her workout class.  She was trying out to be an instructor at a multi-purpose local gym that I have really wanted to check out.  Before I went to the class I had all those new class/routine jitters.  Where do I park, how early should I get there, what if I throw up in the middle of the class, what if I totally can't finish it, will people be nice, what will the setup be, etc, etc.  I have taught a ton of different workouts over my years ranging from spin to barre.  Even with that, I still have that lack of confidence when I am taken out of my routine.  I'm also a total Cancer (my sign) which is comfortable with my home surroundings and don't want to come out of my crab shell often.  Well, I am happy to say that I went to the class which was a hot HITT class and totally nailed it.  I was able to keep up the whole time and felt so amazing afterward.  There is no better feeling than that post endorphin high am I right?  As I was driving back, I seriously considered joining the gym but then my schedule of life brought me back down to reality.  My current day consists of 10 hour work days.  I always have one floating day off a week but I usually fill that day with my local college teaching day or working on content for the blog/Instagram.  I'm up early and home late.  I really do not think I could get up at 5 in the morning to work out and at night I want to spend all my precious time with my little one.  Same goes for the weekends, it is really all consumed with my kiddo.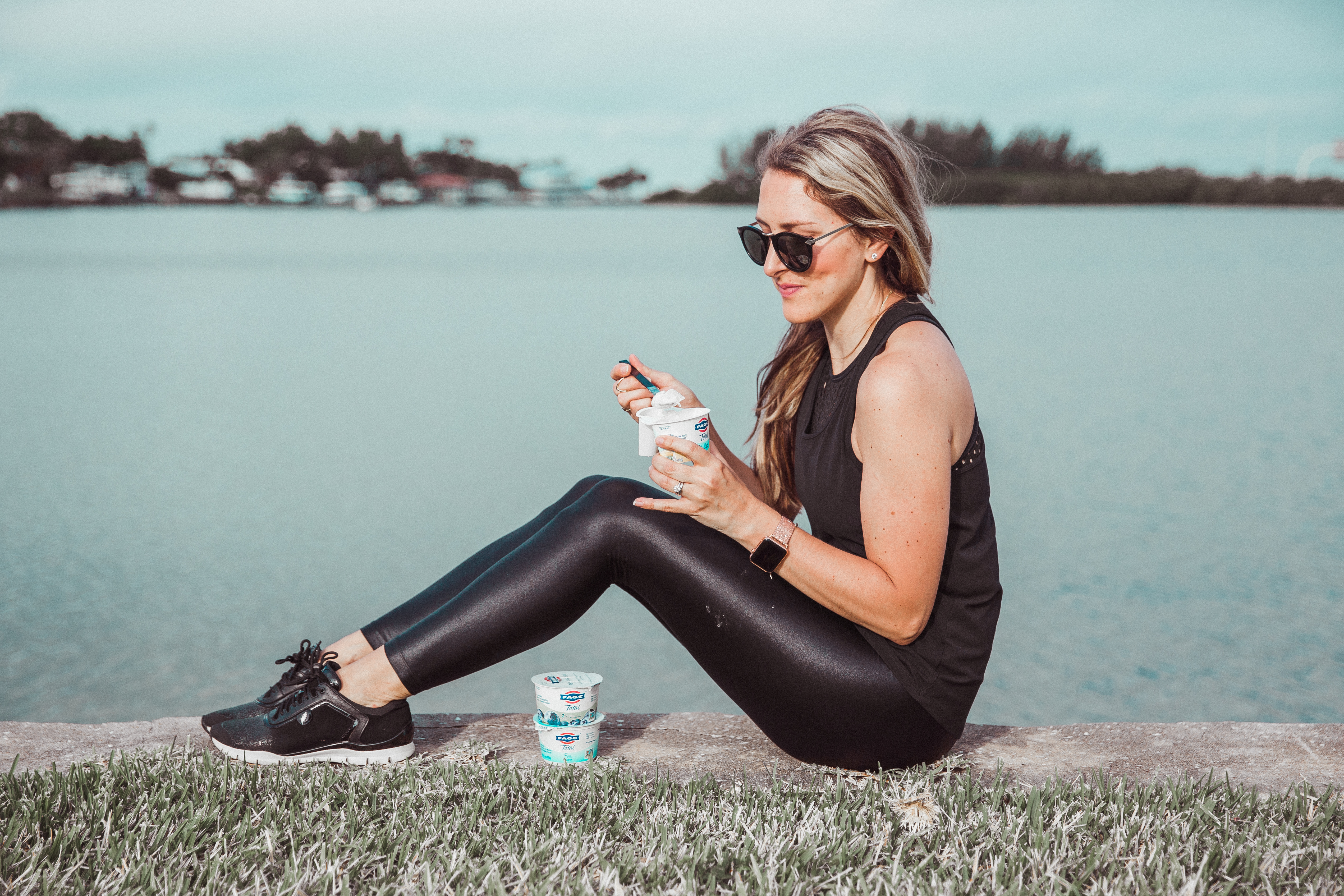 There has been a quote floating around something to the effect of saying you are too busy and replace that you can't do something by saying it's not a priority.  Working out in the past for me was always part of my routine.  I would leave right from work and hit a class at least 4 times a week.  Now, I'm running home from work and grabbing my little one to see him at night.  I just haven't found that balance of being able to fit in classes around my current schedule.  What I've been doing is at home workouts either via Pure Barre on demand, YouTube or honestly just coming up with my own quick routines.  We always take a walk as a family at night and then I usually get on the ground with Patrick and do a few quick rounds of abs or thigh work.  Sometimes I pick up his 20+ lbs self and use him for squats.
I am definitely not in the same kind of shape as I was before my child but I feel like I am more realistic and forgiving than I was before. It's all about fitting in a quick workout at home to get the heart rate up, a little sweaty, and trying to keep up my strength.  Here is a quick thigh workout that I often complete.  It helps tone up the thighs and can be done anywhere.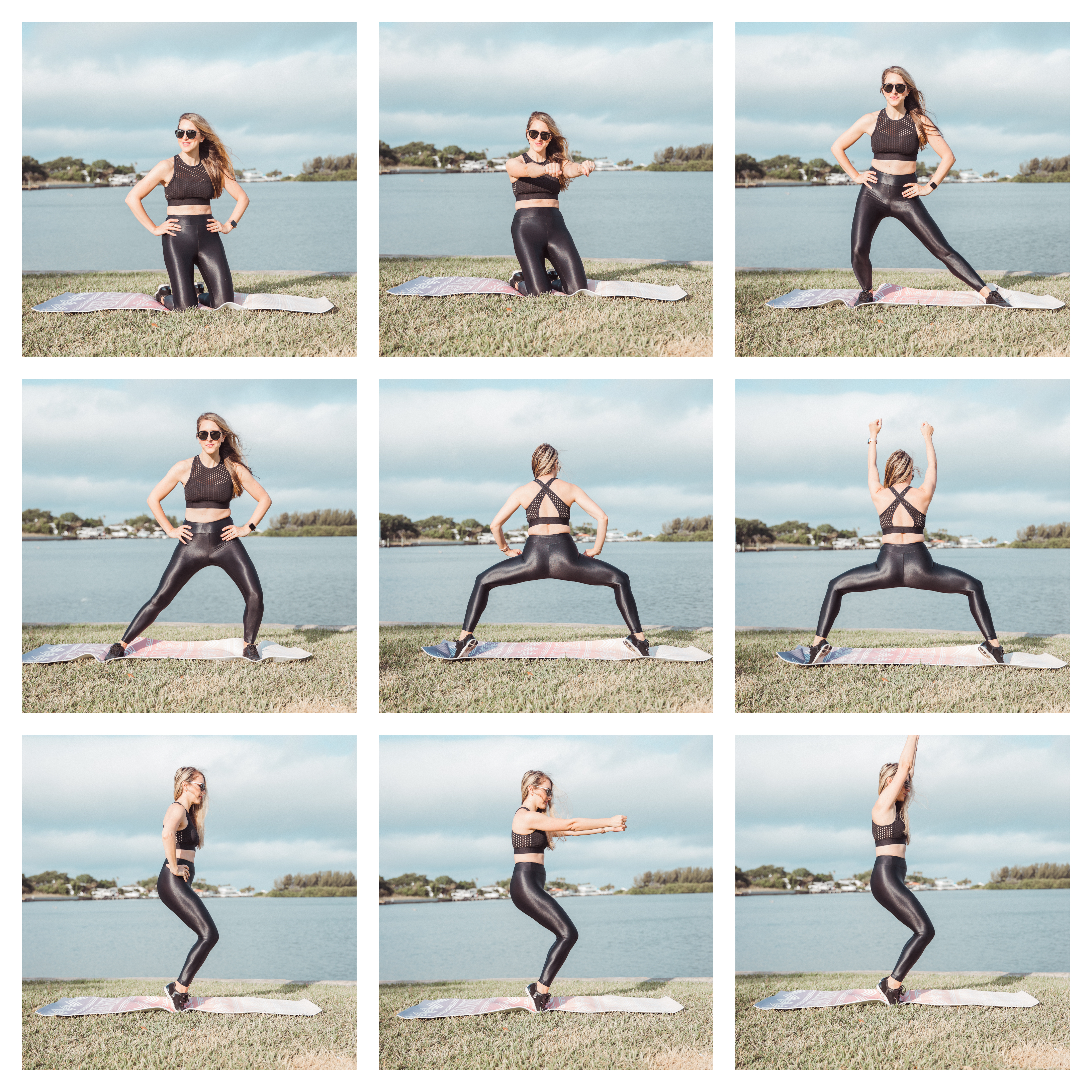 Exercise #1 hold for 45 seconds, then shoot the arms forward and slightly lean back for another 45 seconds.  Find that edge right where your thighs are engaged, start to shake, and hold it there.  Stand and get into a side lunge and slowly bend down into a deeper lunge 12 times, hold low and pulse out for 15 seconds.  Switch to the other side.  Take your feet out wider than your hips, bend your knees and come up to your tiptoes.  Slow bend down with the knees 12 times, stay low, shoot arms up, and pulse out for 15 seconds.  Come fit hip-width apart and parallel.  Hands to the hips, sink down 12 times.  Shoot arms forward for another 12 counts, arms up and pulse down 15 seconds.  Rest one minute and repeat the circuit again.  3 times for maximum thigh burn :-)
After I'm done with my workout, I like to grab a quick protein packed meal.  After I completed the Faster Way to Fat Loss, I realized that fat was really not the enemy and it helps to keep me full as well as burn fat.  I have been opting for full-fat yogurt and one of my favorites is FAGE.  I love the 5% whole milk Split Cup yogurt.  They come in a variety of split cup options including the Sicilian Lemon which is my absolute favorite.  Patrick also has yogurt every morning so it's easy to stock up on it for both of us.
I usually can't get him to eat Greek yogurt but he loves the FAGE Total Split Cup options.  They have such a rich and creamy taste with all the delicious mix-in options.  I am super picky about the sugar content for the foods I give him and the FAGE Total plain yogurt has no added sugar.  Plus, you can see the info here for the Split Cup with 30% less sugar.  They are Non-GMO Project Verified and made with milk from Non-GMO fed cows. The FAGE Total plain yogurt is made with only milk and live active yogurt cultures.  The best part is the taste.  I actually look forward to my yogurt after my workout and it keeps me full until lunch.  They are also available at pretty much every local grocery so you don't have to worry about going out of your way to pick them up.
Tell me some of the ways you fit in your workouts and your favorite post workout meals!  Thank you to FAGE for sponsoring this post and for supporting the brands that work with Meet at the Barre.
Follow on Bloglovin
Want first dibs on shopping and sales? Sign up here on Liketoknowit for direct links sent to you
Want my daily posts sent to your email inbox?!?!  Then click here and make it happen
Follow my looks along on Instagram
Pin along with me on Pinterest || Like Meet @ the Barre on Facebook
Reader Interactions