This post may contain affiliate links. Purchasing through them help support this website.
Today I am excited to share with you a full review of the brand new JW Marriott Bonnet Creek hotel in Orlando.  You know my love for the JW properties over the years.  The JW Bonnet Creek just opened in July 2020.  It is no secret that the hotel industry has been severely impacted during the pandemic.  My family has not traveled or stayed in a hotel since February.  We have been very strict when it comes to social distancing and not taking any unnecessary trips outside the house.  We pretty much go to work, the grocery store, and home.  We live in paradise and I really wanted to support the Florida travel industry.  The JW Bonnet Creek once again just opened and I can tell you they are following every rule.  Every employee wore a mask as well as the hotel guests.  In your room, there were hygiene kits that had masks, wipes, and hand sanitizer.  Lounge chairs were spaced at the pools, in between guests every table was disinfected, and the hotel was spotless.  I felt extremely comfortable with bringing my family there.  Let's get into the full review of the JW Marriott Bonnet Creek. You can also check out all my travel hotel reviews here.
Where the Hotel is Located
The JW Bonnet Creek is located on Disney property.  There is a resort shuttle that will take you to the parks and Disney Springs.  If you are a Disney pass holder the hotel has special rates.  You will definitely have a comfortable bed and beautiful accommodations waiting for you when you get back from the parks.  From Tampa, it was less than an hour away with no traffic.  When we left, there were pretty much two right turns and we were back onto I4.  Since it is on Disney property, when the fireworks start up again you will be able to view them from the hotel.
The Rooms
We had the pleasure of staying in one of the executive suites.  These were so well thought out.  There is a pull-out couch, tv, and half bath.  If you are traveling with kids, they are able to shut the door and have the tv on without disturbing the parents.  They also have their own bathroom so they aren't constantly running in and waking up the parents.  They also have adjacent rooms that if you travel with additional family or a nanny can open into the adjoining room.  There was a huge walk-in closet and a beautiful bathroom with a large soaking tub.  We give Patrick a bath every night so it was nice to be able to stick with our routine.  The signature JW products were there.  I love their aromatherapy lines.  The beds were very comfortable.  I also loved for sanitary purposes, all high touch zones such as remotes were in a sealed bag.  Very smart!
The Food
I am pretty used to staying on property during the duration of my stay since hotels usually have multiple restaurants to offer.  At this time, I would consider the dining options more of a "soft opening" type of approach.  There is one option for dinner that has a somewhat limited menu.  Since being at other hotels now during this peculiar time, that seems to be the trend.  When we went to the JW Marco last weekend, the restaurants were open but once again with limited menus.  I think knowing that ahead of time is very helpful for expectations.  There was a full-service lunch restaurant as well that also brought food out to the pool area.  We had the margarita pizza and it was excellent.  If you are staying for multiple days I would recommend checking out Disney Springs or even ordering in food from local food delivery.  The hotel is slated to open multiple restaurants in the upcoming year but at this time there is one place for lunch and one for dinner.  The breakfast is a grab and go approach with a few hot items but no formal sit down breakfast.  We had a fridge in our room so we brought yogurt and breakfast items.
Since I have been at the property, the Sear + Sea has officially opened.  The restaurant is participating in the upcoming Magical Dining in Orlando.  We drive over from Tampa just to try some of the restaurants in Orlando.  There is a Prix fixe menu for $35 per person and $1 of each will be donated to a local charity that provides COVID support to families.  This is the 15th year running.
There is also a fabulous 6th-floor rooftop deck that will have the amazing views of the fireworks when they are up and running again.  It is a beautiful space for weddings and events.  There will also be a high-end Asian restaurant that I cannot wait to go back to.  It will have the best views of the city.
The Pool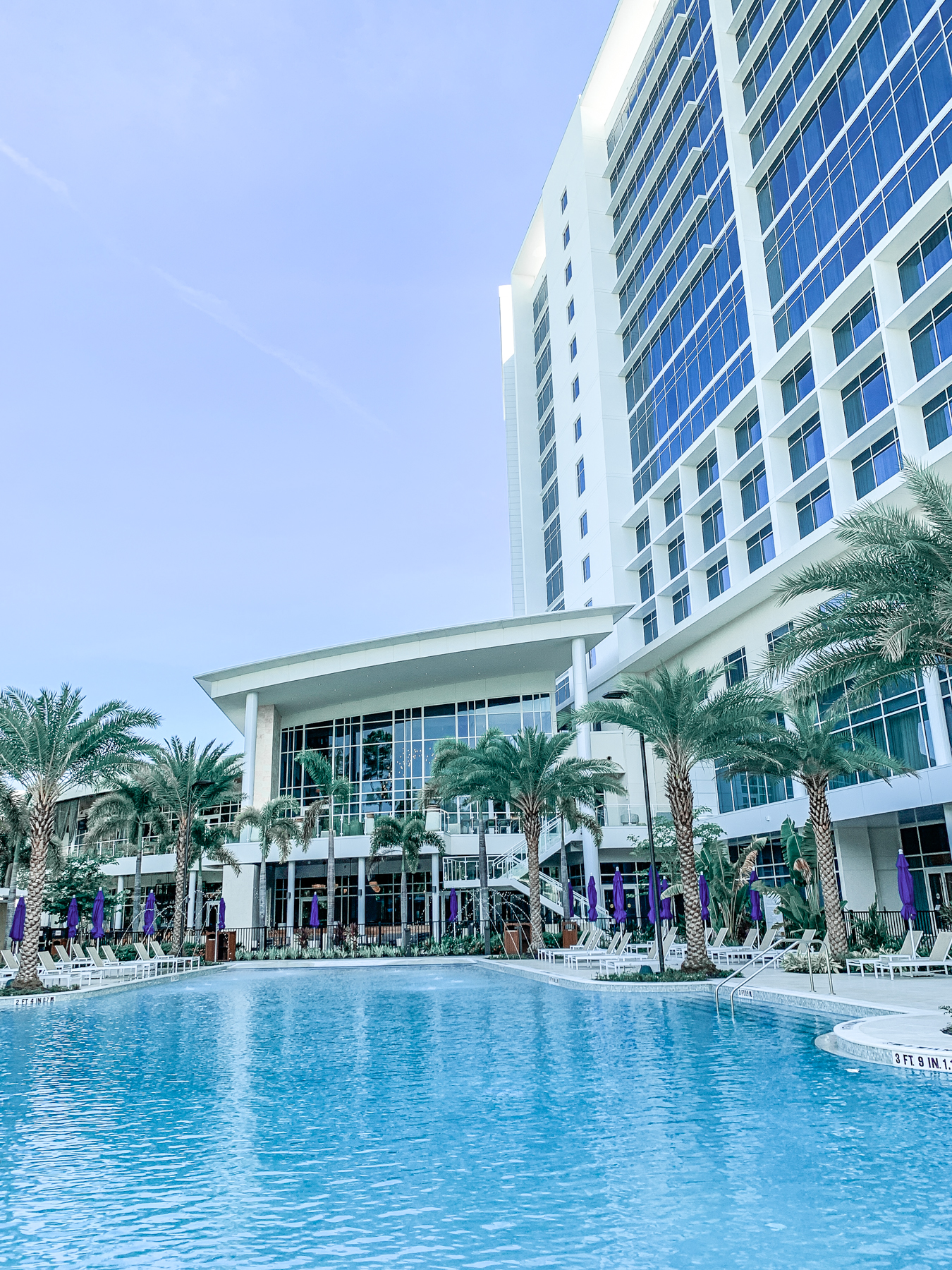 This is the shining star of the property.  There are two huge pools.  The front one is a kids pool that is pretty shallow throughout.  My toddler absolutely loved it because he could stand up pretty much half of it.  There is an adults-only pool in the back which is deep and serene.  There are also lounge areas with frosty beverage service.  They also have a small kids splash pad in the back that Patrick enjoyed.  We were given a cabana for the day and I can honestly say that when we go back I would get it again.  It was so nice with a little one to be able to escape the sun.  We had lunch brought out from the restaurant and Patrick even snuck in a nap on his momma.  We were there pretty much all day and it was so nice to relax.
Amenities
The gym is fully up and running by appointment only.  We only stayed for a short weekend so we did not partake.  I was told it is very clean and overlooks the pool.  There is a 6th-floor outdoor mini-golf course that we played.  There is also a rock-climbing wall and rope bridge to burn some energy with little ones.  There is a whole indoor space that will be utilized for a kid's center when the occupancy is higher in the future.  The spa is not up and running but I will definitely be back once it is.  It is an almost 10,000 sq foot spa with 10 treatment rooms.  Since we arrived on Friday there was a complimentary wine and cheese tasting in the lobby.  Once again, the hotel just opened.  The typical amenities that you come to expect with JW properties will be open but it is good in my opinion to know ahead of time what is open at this time.
Takeaways
There are a lot of options when it comes to picking a hotel in Orlando.  A lot of the hotels have been around for many years and can feel dated.  The JW Marriott Bonnet Creek is a sparkly brand new hotel that is squeaky clean.  The staff is top-notch and I felt extremely safe during this precarious time for travel.  If you want a nice weekend away where you can relax by the pool, jump over to Disney Springs for shopping, or even if you want to partake in the parks, then I highly recommend this hotel.  I would encourage you to stay informed about which accommodations are available and know that food menus like most hotels right now are limited.  The staff takes extreme pride in this property and it really shows.  I can't wait to see how the hotel progresses and will definitely be back.  This is a gem of a hotel and I fully expect to be one of the top contenders in the luxury hotel brands in Orlando.
Thank you to the JW Marriott Bonnet Creek.  I did receive a complimentary stay for my honest review.  Thank you for supporting the brands that work with Meet at the Barre.
Follow on Bloglovin
Want first dibs on shopping and sales? Sign up here on Liketoknowit for direct links sent to you
Want my daily posts sent to your email inbox?!?!  Then click here and make it happen
Follow my looks along on Instagram
Pin along with me on Pinterest || Like Meet @ the Barre on Facebook