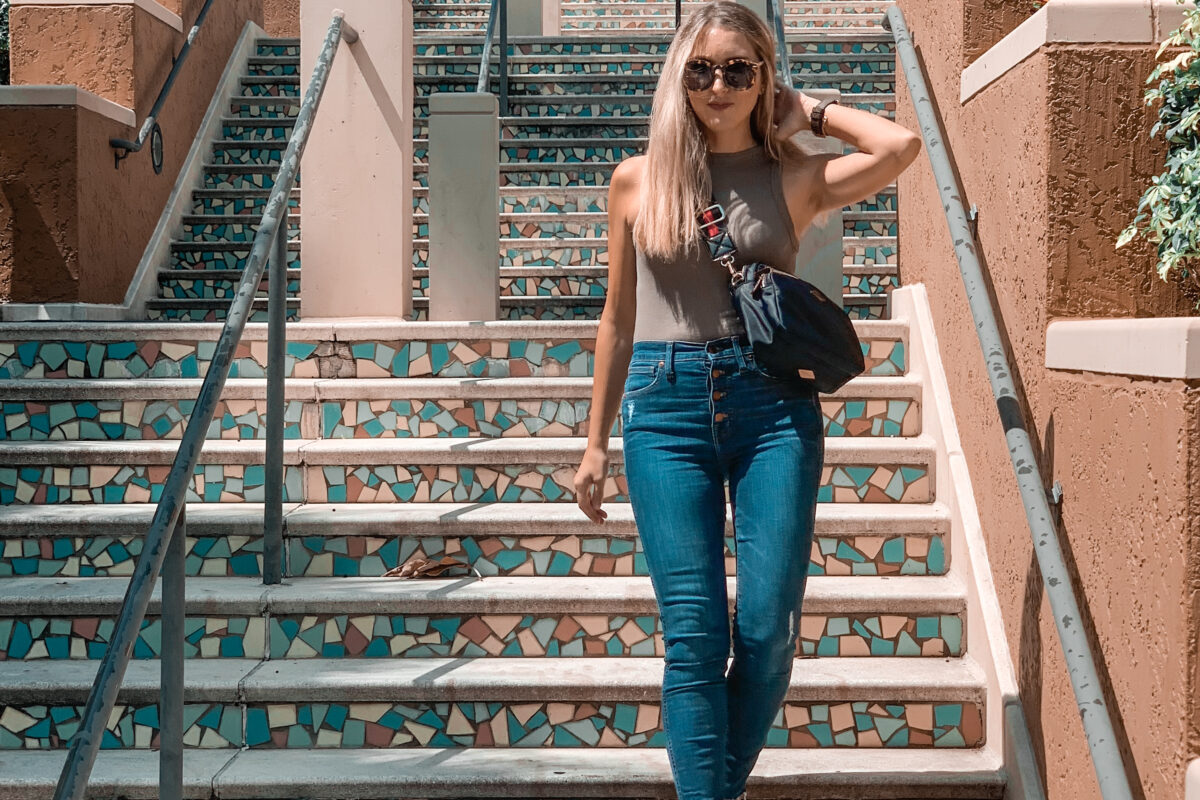 This post may contain affiliate links. Purchasing through them help support this website.
Hello hello!  I was going through my archives the other day and I realized that I used to make really great tutorial blogger content especially when it came to photography.  I put a poll on my stories and the overwhelming feedback was that yes people wanted me to create that kind of content again.  I don't fancy myself as a cutting edge content creator.  I am amazed at what people are creating online.  I do think I am researched and can help give guidance to the people who have fun making content but don't take themselves too seriously.  I have been playing around with the Reels feature on Instagram.  I will say that Instagram is really pushing this right now.  I've noticed you don't get as much actual engagement (people tend to watch but don't like or comment as much).  However, you get a ton more views and the chance to go more "viral" than with static in-feed posts.  I feel like I have just scratched the surface on this.  I am using the App Inshot to create my content.  You can add videos together with still pictures.  I really like the editing feature to cut the length of the videos to keep it under the 15 seconds.  I will give advice though, make sure to add your text to the middle of your work.  If you add it to the top or the bottom it will get cut off in your overall feed unless people open it up in Reels.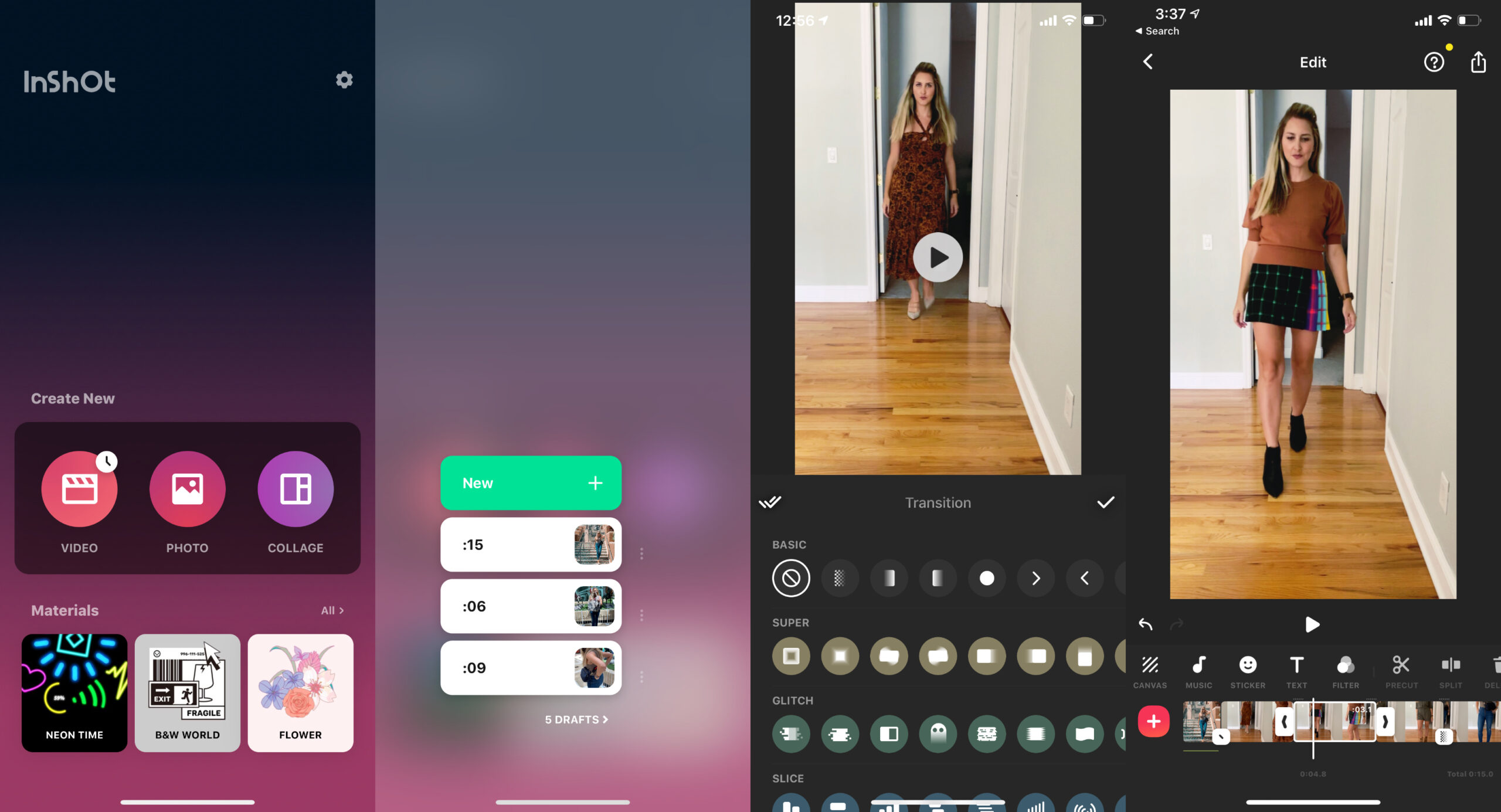 This is the latest Reel I just did.  I wanted to showcase 5 outfits for the Fall.  I set up a tripod (this one is less than $35) and did a really easy walk out and by the camera.  I had 5 outfits so each video needs to get cut down to under 3 seconds.  I used the transition features in Inshot to help with timing and added a cover photo.  When you make a Reel you can either upload your own cover photo (which I think helps with maintaining your aesthetic) or it will grab a still shot from your Reel which I don't think looks as nice.  There is a ton of editing capabilities within Inshot that you can play around with, from adding filters, transitions (helps when people do those jump into new outfits etc.) and text.  You can trim each individual video and then add the transition if you want.  I would tell you just to play around in the app.  It is very friendly and self-explanatory.  When I uploaded to Reels I added a fun song to go along with it.  This is the video without the audio but you get the idea.
Here are all the outfit details.
Look #1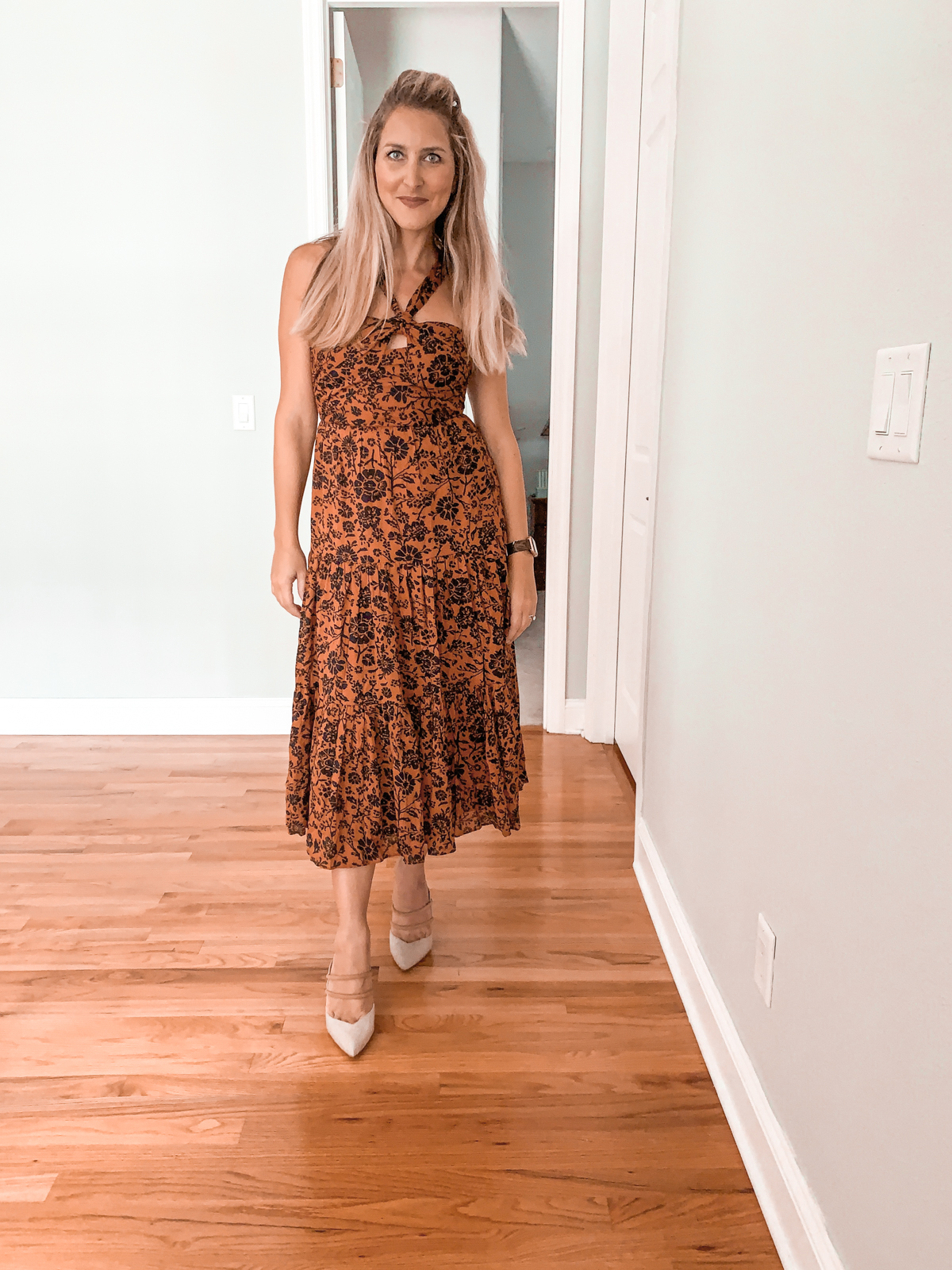 How perfect would this dress be for Thanksgiving?  BB Dakota dress fully stocked full price here ||| Shoes are old from Schutz but similar here
Look #2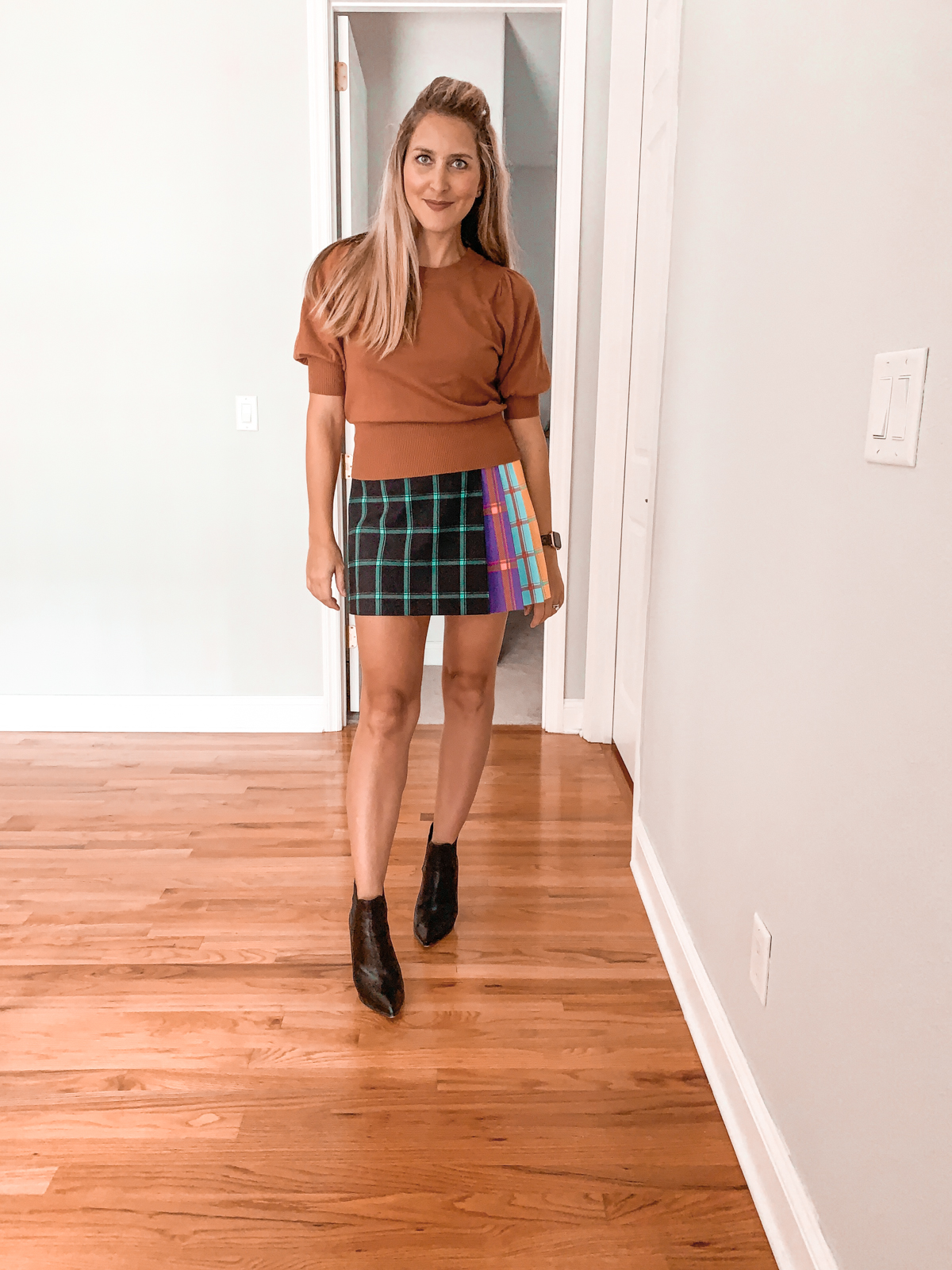 BB Dakota Puff Sleeve Sweater ||| Skirt is old from Alice + Olivia but similar here love this look and it's under $50 here III  Booties are old but similar here under $50 here
Look #3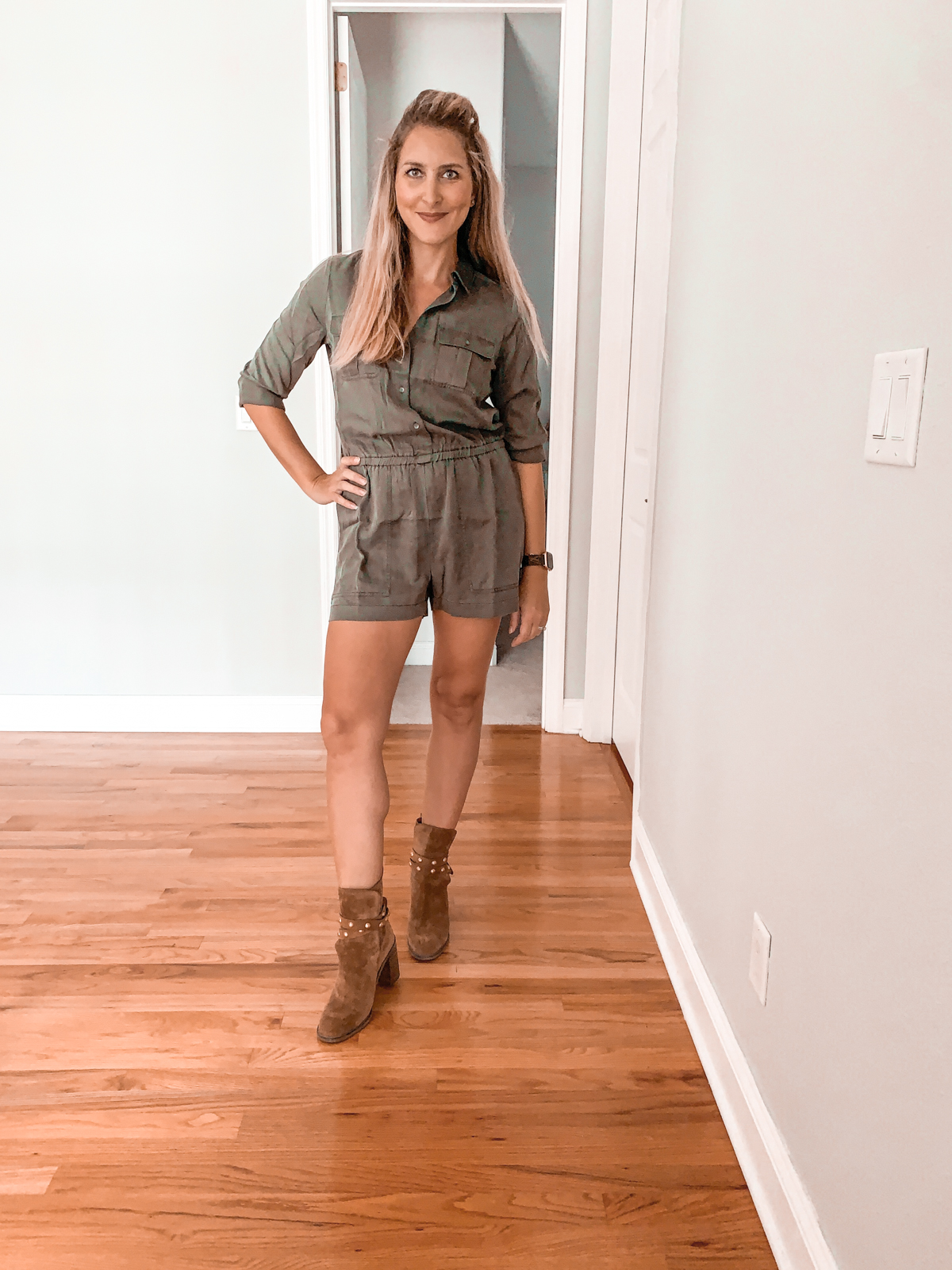 I am obsessed with this romper!  It is under $36 and the quality is on point.  I put it up to my Rails coat which is the same look and the fabrics are identical.  I went with a size 6 but could have gone with a 4.  Find it here |||  Booties are old Chloe but find here similar under $50 here
Look #4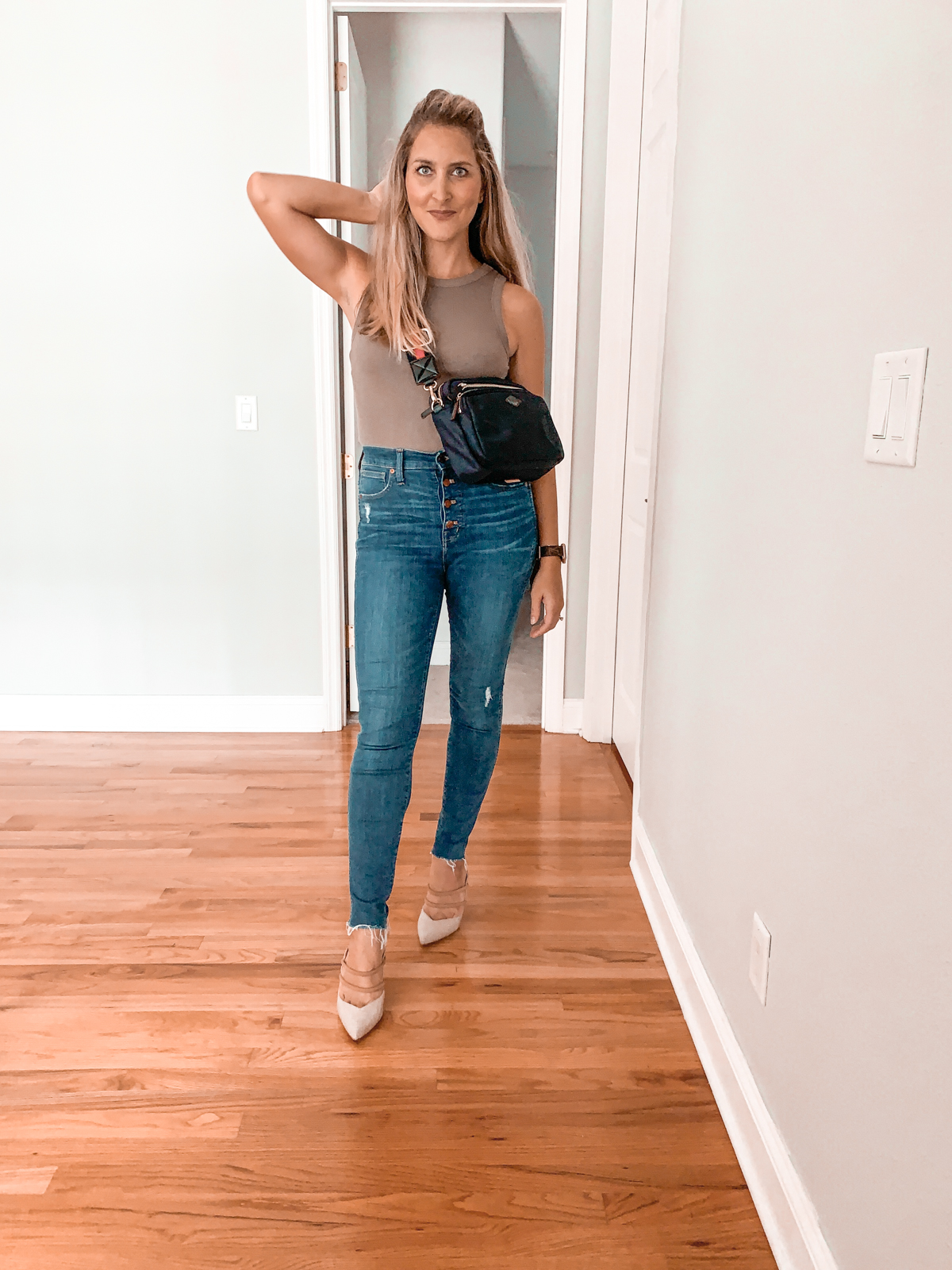 Tank under $10 here went with a size medium, the neckline is so flattering |||  Jeans Madewell find here ||| Crossbody bag MZ Wallace find here (love the strap!!)
Look #5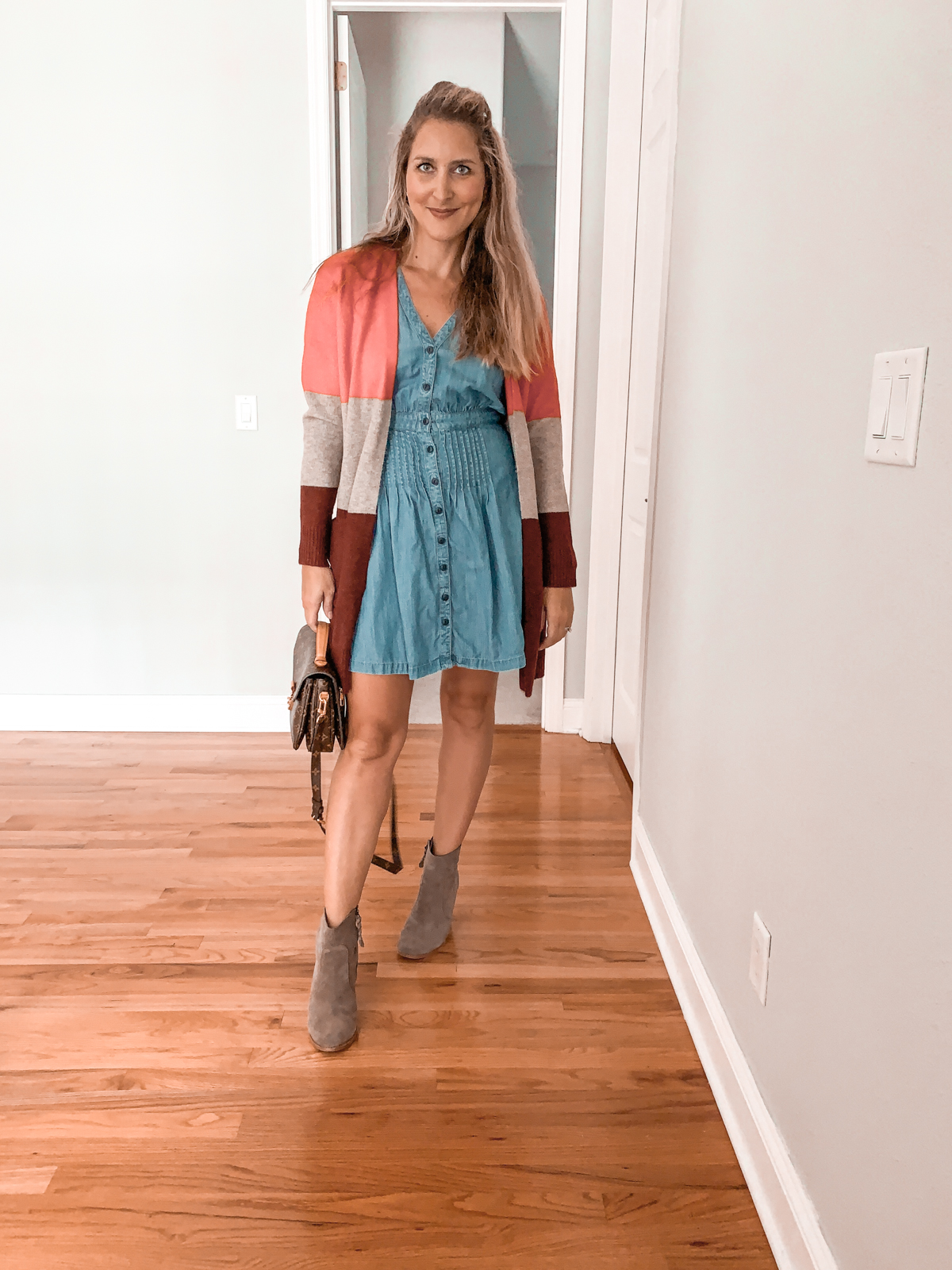 Dress is Madewell old but newer update here |||  Sweater is under $30 here |||  Booties old Joie but similar here under $35
So there you go!  I should also note I used this lighted tripod to take these pictures.  I also didn't have to bother my husband and was able to capture all this content.  Win-win!  Have you tried Reels yet?  What is your favorite editing app for creating?  Let me know if you like these tutorials.  I really want to get back into the photography ones as well.  Give me any questions that you want me to work on.  Also from my poll, the majority seem to be using Lightroom for editing so I will definitely share some of my favorite presets, etc.  If you like this post I would be so appreciative if you would pin and share on your social media platforms. Thank you so much!
Follow on Bloglovin
Want first dibs on shopping and sales? Sign up here on Liketoknowit for direct links sent to you
Want my daily posts sent to your email inbox?!?!  Then click here and make it happen
Follow my looks along on Instagram
Pin along with me on Pinterest || Like Meet @ the Barre on Facebook
Reader Interactions